The opening of Muntu Vilakazi's debut photographic exhibition at Goethe on Main earlier this month was more than a little unusual.
Near one entrance to the gallery, on Main Street in the Maboneng precinct in downtown Johannesburg, stood a cherry-red 2002 Toyota Supra spitting exhaust fumes as it was periodically revved by its owner, Irvin, an entrepreneur featured in the exhibition.
Next to it, at a perpendicular angle, stood a silver, box-shaped 3-series BMW driven by "King Ghetto", whose other car, an E36 Beemer, is doing "doughnuts" in some of the photographs.
Although the antics inside the gallery had the unintended effect of driving some viewers to a nearby courtyard to escape the fumes (rain notwithstanding), Vilakazi and his subjects had made their statement: the East was in the house.
About half of the photographs on the show depict the car and bike culture in the East Rand townships of Katlehong, KwaThema and Vosloorus, where Vilakazi grew up and where crowds thrill to the antics of daredevil drivers spinning their wheels.
The other half consists of house music-driven party scenes, where black youth and young adults dressed to the nines – or in fraying T-shirts – consume alcohol and soak up the vibe at venues such as KwaDubula in Vosloorus and Hurricane's in Katlehong.
I put it to Vilakazi that his show, which features roughly 20 framed pieces, was more a celebration of township culture than a critique of it. His response was ambivalent.
"I'd say it's your opinion and I'm glad that you looked at it and came up with that," he said.
"I gave a talk at Instant Grass recently in front of other photographers, writers and fine art students. I said, for me to tell the story of my generation, I don't need to dig deep. It's here. I experience it every day. You walk out of here right now and you experience it.
"If you see a celebration rather than a critique, that's you. But there are people who have never been to a township on a Sunday I hope they get taken to Hurricane's [through the photographs] to a random intersection in Katlehong. I'm sure there are people who'll find this simple, and it is simple – I'm shooting from the hip."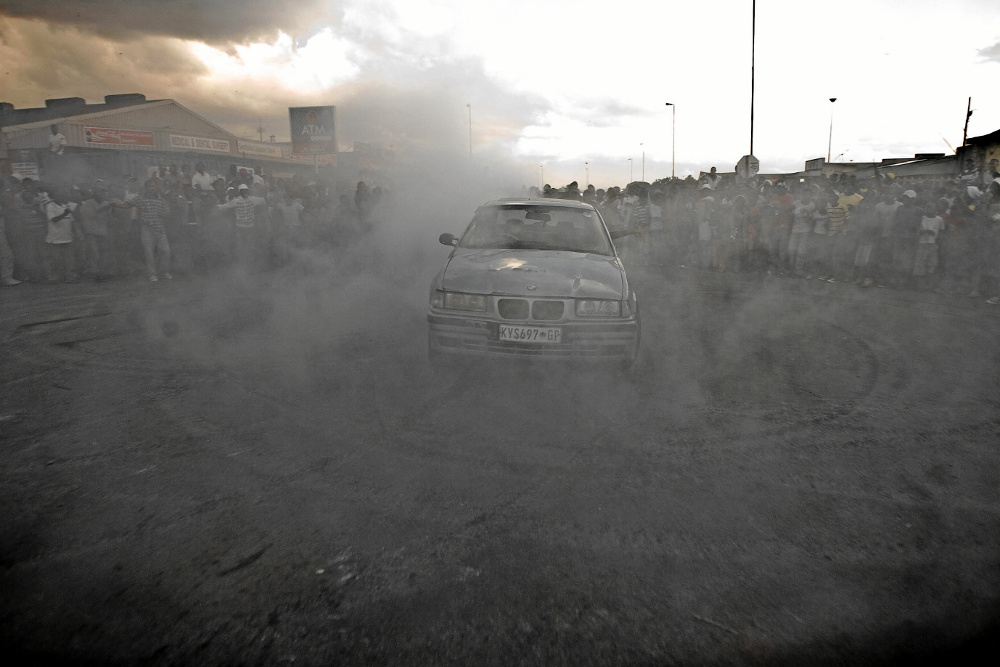 A BMW being revved by its owner. Photograph supplied
Vilakazi steers the conversation to some of his photographic choices, where he reveals that "shooting in colour was important because we are colourful people, we wear bright clothes. I can't say I'll never do black- and-white, but I don't see myself telling a love story or a post-[19]94 story in black and white, when people go to a mirror and do colour co-ordination before they go out. Why should I rob people of that?"
Even though Vilakazi insists that he was just shooting from the hip, some of the photos – even those that did not make the edit – have an unexpected eloquence.
There's the lone, mohawked, orange helmet hanging off a palisade gate at Hurricane's in Katlehong. The photo, taken after sunset, is framed in such a way that the helmet is almost at the centre of the image, hovering above the busts that populate the lower part of the photograph like some extraterrestrial being.
There's an obliquely framed photograph of a line of box-shaped 3-series BMWs, shot from an angle at which their bonnets, rims and grills are visible. The hosepipe snaking just inches in front of the fleet, on a neatly trimmed lawn, speaks more about the politics of cleanliness than it does about "the politics of bling", which is the exhibition's title.
Vilakazi was introduced to photography in the late 1990s by a neighbourhood street photographer named Alpheus Khumalo. "I started hanging out with him – that's where I came across terms like shutter speed and aperture. He had enough equipment for me to play around with.
"In high school, I would take that [Minolta] camera to school and charge R5 a picture. I would print at the Chinese shop for R1, which means I was making R4 a picture, minus the film. But the film was cheap back then."
There was no TV in the Vilakazi home, so the young Muntu spent much of his youth glued to newspapers. He only picked up the book The Bang Bang Club: Snapshots from a Hidden War in 2004, but remembers seeing Kevin Carter's Pulitzer Prize-winning photograph of a vulture stalking a child "when it first appeared in the Star in the Nineties".
Vilakazi enrolled at the Market Photo Workshop in Newtown, Johannesburg, in 2002 and first published his work in the now defunct Kitso, a community newspaper then run by West Indian immigrant Sean Harris.
"My parents were supportive once they saw something published in Kitso," he said. "That sparked my interest in photojournalism."
Vilakazi later did a stint as an intern at the Mail & Guardian under then photo editor Dean Hutton, whom he remembers as "one of the harshest people I've ever had to work with – the number of assignments I had to reshoot …"
He went on to work for the Times Media Group (then Johnnic) under the tutelage of Bang Bang Club alumnus Greg Marinovich.
In 2008, Vilakazi's work featured in the book Prospects of Babel: New Imagery from the Congo alongside photographers such as Marinovich, Pieter Hugo and Victor Matom.
In the credits of the book, Marinovich left Vilakazi a little note that read: "Muntu Vilakazi is the only photographer here with a job. He needs to fix that and start taking photography seriously."
Although still working within the constraints of editorial work at City Press, Vilakazi's exhibition – his first solo show – proves he is ready to start telling the stories itching to leap out of his antsy, wiry frame.
Having looked at Vilakazi's treasure trove of photographs from which this exhibition is culled, I can say that he has merely touched the tip of the iceberg with his current exhibition. If there is one criticism to be made about The Politics of Bling, it is that Vilakazi has compressed a comprehensive and multifaceted body of work into too brief a summary. But perhaps space and budgetary constraints had something to do with that.
---
The Politics of Bling: An East Rand Culture Quest runs at Goethe on Main until March 16