It is a 700km drive northwest of the Namibian capital of Windhoek along a tarred road to Opuwo, a town of roughly 15?000 people. The OvaHimba, pastoralists, who tend Nguni cattle in the drought-prone Kunene region and sometimes pose for photographs taken by travellers, speak of the settlement as a place of "iron oxen" and drunkenness.
A German anthropologist, who for more than a decade studied the broader economics and culture of boozing here, has characterised Opuwo as "a frontier town drinking its way into modernity". But a very different version of Opuwo's modernity caught the attention of 22-year-old Kyle Weeks when he passed through the town by car early last year. Driving north along Mumbijazo Muharukua Avenue, the Windhoek-born photographer saw a group of fashionable young OvaHimba men wearing traditional neck rings and shirts declaring allegiance to global fashion brands and faraway football clubs. Their noticeable self-confidence intrigued Weeks.
"On leaving town, I was surprised to see evidence of this hybridised fashion sense even in the more remote settlements, and all the way up to the border between Namibia and Angola," he told art historian Michael Godby. It is not really fashion that Weeks was registering, but a shift in his encounter with the world around him. He first visited the Kaokoland, as the Kunene region is still known, as a child with his father, a transplanted South African who runs a camping retail store in Windhoek. By 2009, when he met Leigh Daniz, a British-born commercial photo-grapher in Windhoek, Weeks had visited this northern territory a number of times. When he finished high school he enrolled in a photographic course at the Stellenbosch Academy of Design and Photography. On visits home he would continue to visit the Kunene, albeit now also photographing its indigenous people.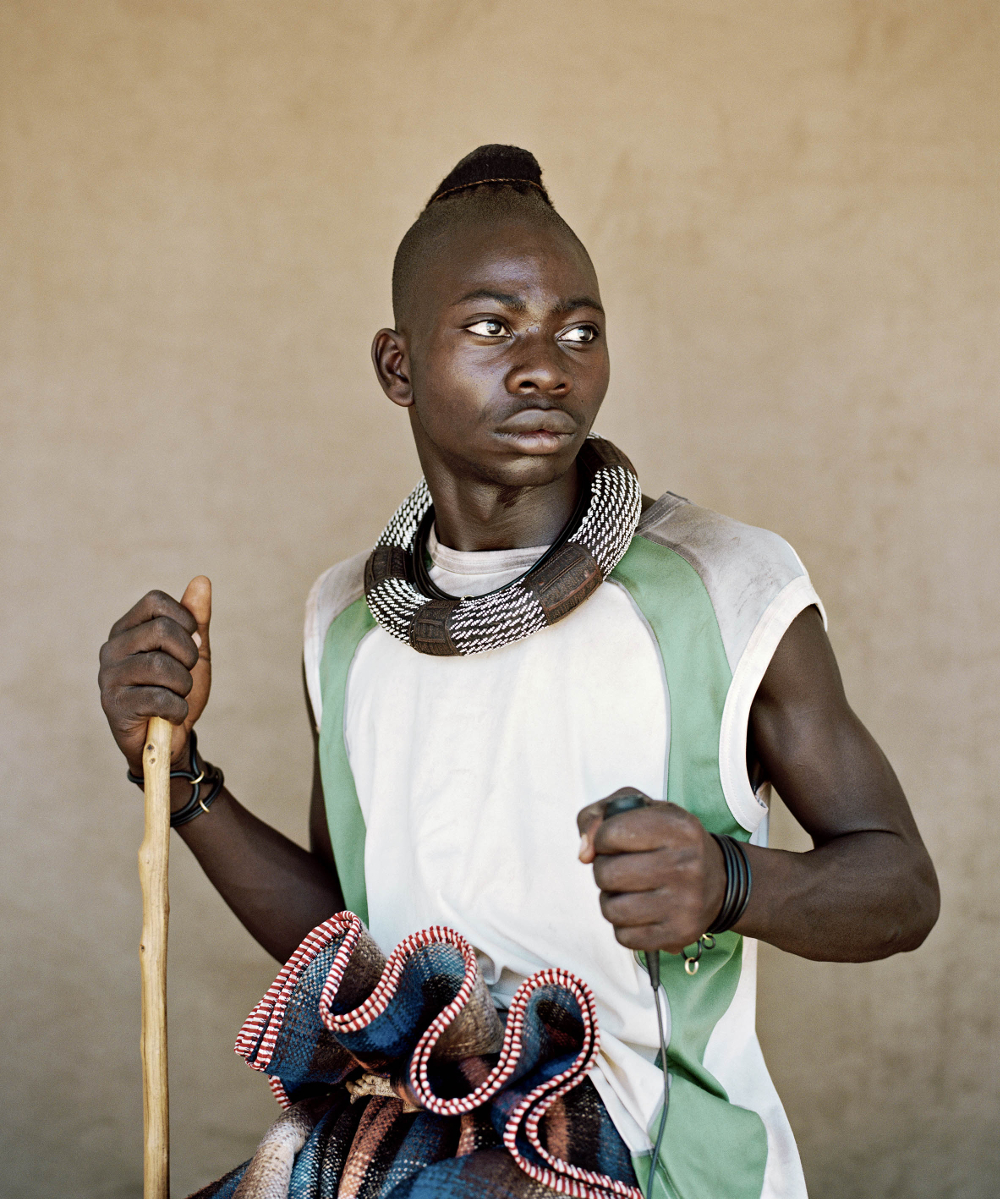 A skewed image
These early photographs, Weeks would later come to realise, were marked by "a kind of fleeting, unfiltered touristic eye". Differently put, his juvenile photographs rarely acknowledge anyone not smeared with red otjize paste (butterfat and ochre, scented with plant resin) or somehow different from him. "If you type OvaHimba into Google or any search engine, you barely see any photographs of young men," explains Weeks when we meet at dealer Johans Borman's Claremont gallery to discuss his series of assisted self-portraits of OvaHimba men. "It is mainly women and children."
Weeks blames tourists for perpetuating the skewed image of the OvaHimba as rusticated pastoralists living outside history. He says tourists consciously avoid the young men in Western attire because of their search for "visual difference" – not a common humanity. Weeks credits two of his lecturers, Jared Thorne and Danielle Bekker, for influencing his world view. "Kyle was an exemplary student not just because of his acumen or photographic ability, but because of his curiosity," says Thorne, an American photographer and former CNN journalist who now lives in Cape Town. "Too often standout students lack the inquisitiveness and relentlessness to execute their artistic vision. Kyle is one of those rare students whose execution exceeded my expectations."
Thorne, an accomplished portraitist, began mentoring Weeks in 2011. He watched how he developed his project, moving from a view of the OvaHimba that reiterated the impoverished beauty of ethnographic photography to a collaborative process that offered his sitters a measure of personal agency in the final portrait. "The first photographs that Kyle showed me seemed to reify the Himba's people otherness instead of embracing their cultural heritage," says Thorne. "What was inspiring is that Kyle recognised his initial intervention as problematic and went back to create new images that allowed the Himba people to define their own identity." Crucial in this process was his encounter with the work of Alfred Martin Duggan-Cronin, an Irish immigrant who graduated from Kimberley compound guard to South Africa's pre-eminent photographic ethnographer.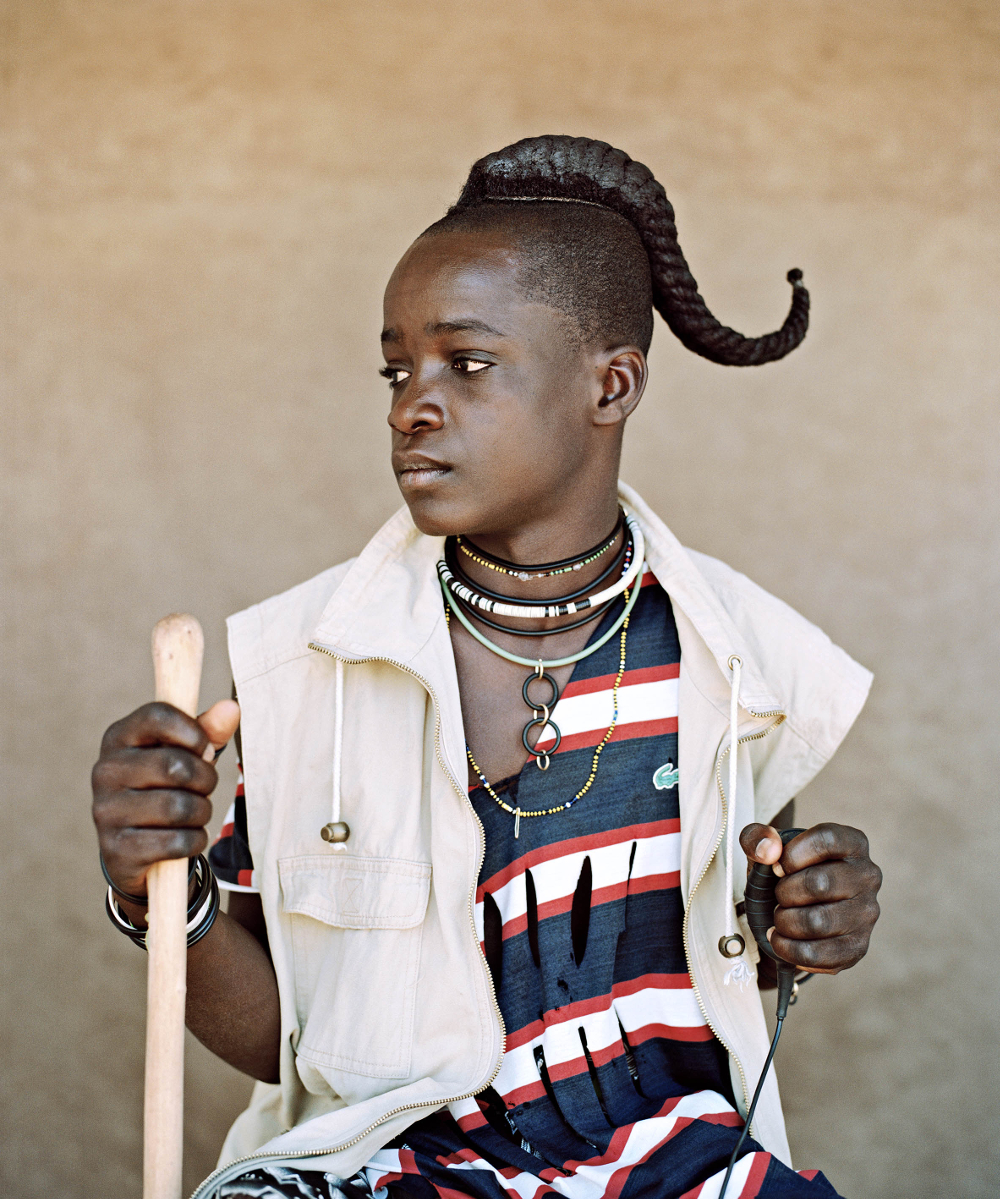 Starting in 1919, Duggan-Cronin spent 25 years travelling across Southern Africa documenting (in some 8?000 photographs) the subcontinent's indigenous underclass. Duggan-Cronin catalogued his sitters – among them childbearing mothers, mischievous sons, proud fathers and significant elders – in his magnum opus, the Bantu Tribes of South Africa, an 11-volume book published in instalments between 1928 and 1954. Namibia, or South West Africa as this former South African protectorate was known, has its own Duggan-Cronin: his name Carl Hugo Linsingen Hahn. A former Springbok rugby player, Hahn arrived in the Ovambo floodplain in 1916 and assumed his duties as native commissioner in 1921; he held the post until 1949.
Known as "Cocky" by friends, Hahn's manner earned him another nickname among locals: "Shongola", Ovambo for sjambok. In a way, Hahn's photographs of OvaHimba subjects, many now held in the National Archives of Namibia, operated like his whip: they disciplined sitters, also beat them into submission. This is not to deny the pastoral habits and particular customs of the OvaHimba photographed by Hahn. But the image of a prelapsarian world claimed by Hahn's strikingly scientific and not unbeautiful photographs, has to be understood in a larger context. When South Africa began administering Namibia in the 1920s the OvaHimba were excluded from integration into the larger state. "Through the deployment of both regulations and force, the Himba and Herero in Kaokoland were kept traditional," wrote German anthropologist Michael Bollig in a 1998 study of Namibia under South African rule.
Modern OvaHimba men
It is not entirely a stretch to propose that Weeks's portraits offer a reconstituted view of the OvaHimba as participants in modern and independent Namibia. Of course, things are never this simple. In post-independence Namibia the OvaHimba are marketed as rural naïfs to foreign visitors by a democratic government that is at loggerheads with its far-flung northern citizens. For the past decade the OvaHimba have opposed the planned construction of the Orokawe hydropower dam in the Baynes Mountains, northwest of Opuwo. Much of this context and history is, of course, contextual to an appreciation of Weeks's portrait series. "People ask me all types of difficult questions that I try to answer as best as possible," concedes the photo-grapher. "But I'd say for the majority I just occupy myself with the young men, not their culture as a whole."
To this end he limited himself to photographing men aged between 18 and 26, a restriction he says was an important part of his broader strategy of narrowing the distance between photographer and sitter. Each self-portrait is the outcome of a 45- to 60-minute session in which Weeks posed his sitters in his temporary studio, took preliminary digital snaps to give his collaborator an idea of possible poses, and then – working with translator Johannes Tjikongo – briefed them on the mechanics of the shutter release attached to his medium-format film camera. The rest was up to the individual men.
"What I found with the majority of sitters, the first few frames were quite playful or they closed their eyes," says Weeks. "As we reached half an hour they settled in and became more deliberate in their approach." Not so their audience, who watched every pose from an oblique vantage, commenting and joking throughout. "By the end of day, everyone wanted to take part. Those who were hesitant at first watched and became eager to participate," says Weeks, who is unfamiliar with a similar self-portrait series produced in 2001 by South Africans Adam Broomberg and Oliver Chanarin in the Rene Vallejo Psychiatric Hospital in Cuba.
Weeks photographed 90 OvaHimba men. They included 26-year-old Vezepaumwe Hembinda from Okangwati, one hour north of Opuwo. He presented himself with a Dutch wax fabric shirt and tales of his recent trip to Argentina with a film crew. Hembinda also told Weeks how he had traded 20 head of cattle for a Toyota bakkie. The importance of cows in these young mens' lives is pervasive. The Stock Theft Act of 1990 prescribes strict minimum sentences: two years without the option of a fine for livestock valued under R500, and lengthier sentences for more serious offences. Asked whether the ubiquitous culture of the selfie has penetrated the Kunene region, the blue-eyed photographer first scratches his blond hair. No. But, he continues, they do put their cellphones to other uses, notably to record themselves singing.
"Many of the young men walk around with earphones listening to their self-recorded songs, which elaborate on their love and devotion to their cattle," says Weeks. His gee-whizz delight at this discovery is still palpable.
OvaHimba Youth Self-portraits is on at Johans Borman Fine Art until November 7; 16 Kildare Road, Newlands, Cape Town; johansborman.co.za