Set in a (functioning) palace in the middle of the Rajasthan desert, the Zee Jaipur Literature Festival is like Bollywood for the brain. All the cerebral celebrities are here, recognisable by the yellow-bibbed volunteers that usher them between stages, signings and interviews.
The Nobel laureates are on the bill (VS Naipul, Amartya Sen). So too are the bright young things (Eleanor Catton, Samantha Shannon) and the Cool Brittania crew (Hanif Kureishi, Will Self). Even South Africa is represented by some intellectual heavyweights (Damon Galgut, Mark Gevisser).
You could easily think of the Zee Jaipur Literature Festival as just another elitist gathering, but then it does something no Bollywood film dares – offer its fans free access to the wit and wisdom of its stars through a packed programme of themed talks and panel discussions, simultaneously taking place in five venues over five days. If you get a seat, that is.
Expect standing room only when Amartya Sen fulfils his role as the keynote speaker for this, its eighth year. And don't think it will be any easier when Hanif Kureishi, Amit Chaudhuri, VS Naipaul and Paul Theroux take to the stage to find a "House for Mr Biswas".
That's because the festival prides itself on being egalitarian in a way that India is not. As William Dalrymple, celebrated author and co-director of the festival puts it "all events are completely free; there are no reserved spaces for grandees; our authors mingle with the crowds and eat with them on a first come, first-served basis."
More or less … if you ignore the colour of the lanyard strings that separate the speakers from the delegates, the press from the crowds. You can buy a delegates pass to gain "exclusive lunches and dinners with speakers and authors". But in theory, no one is off access – not the speakers and not the cultural music events, available to anyone and everyone at 400 Rupees (less than R100) per event.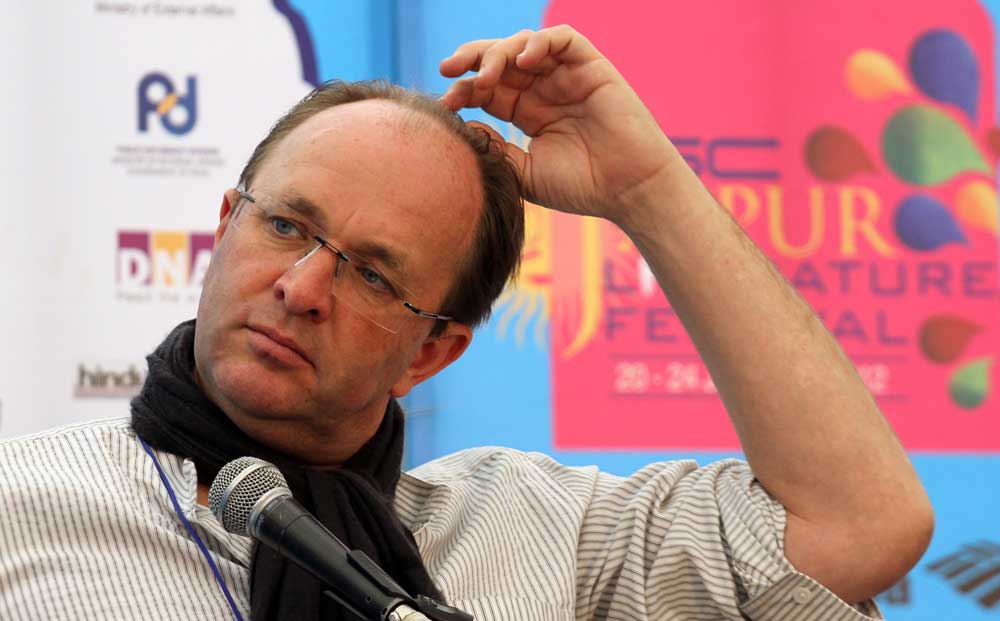 William Dalrymple, a historian, writer and the co-founder and co-director of the literature festival.
This egalitarian theme seems genuinely entrenched in the festival's ethos. From the choice of speakers to the variety of topics, the festival does not separate the literary from the visual arts; the traditional from the popular; giving equal access as it does to filmmakers, physicists, actors, chefs and artists alike, even launching the pinup for popular culture itself in the "Masterchef India CookBook".
Where other festivals might excuse their dwindling numbers with the usual "the book is dead" rubric, this festival proudly embraces its sponsorship model, welcoming branded stages and product placements alongside a growing audience that reached 250 000 people last year. And not an ageing audience either. The sight of giddy school groups chasing autographs is as commonplace as international tourists failing to hide their practical Western shoes under playful Indian silks.
When you see some of these literary giants, dwarfed by the big stages and crowds, you would be forgiven for thinking them smaller and older than their book sleeves would have you believe. But then they start speaking in poetic rhetoric that could open parliaments or send soldiers skipping into battle and you know for sure that they are true literary stars, doing what they do best – making you examine society, your life and how these intertwine in a way that questions the very meaning of your existence. Especially as a writer.
In the end it's really about the reader and the writer coming face to face instead of page to page, which can be as exhilarating as seeing your favourite literary character come alive on the silver screen or as disappointing as watching a movie kill your favourite book – as Hanif Kureishi and others will be attesting under their theme "adaptation" in days to come.
The hard truth is that not all writers make great orators; not all laureates can inspire beyond the blank page. And there in lies the rub but also the genius of a democratic festival that lets you plan which speakers and themes to seek out, only to let the masses (of elbows) decide for you. And so you stumble on a new author or subject matter the way you might a good book – because it availed itself to you when no-one else would. How I love the element of surprise.
The Zee Jaipur Literature Festival runs from 21 – 25 January in Japiur, India.