An animal-friendly diet is not so difficult, as vegans are ­attempting to show during a ­month-long promotion in Cape Town. Many people consider veganism as hard core and somewhat puritanical, a fringe practice for vegetarians who have become unhinged.
Besides threatening the moral self-esteem and belief systems of the carnivore majority, most people are stumped by the simple question: What the hell does one eat? No fish, flesh or fowl. Sometimes not even honey. Without dairy or eggs, many of the favourite things vegetarians rely on for protein and flavour, such as cheese, cottage cheese, milk and yoghurt, are also off the menu.
Aware of this, the Cape Town Vegan Challenge is a general invitation to people to try veganism for a month. And several restaurants have taken up the gauntlet.
April has seen cooking classes, dinner parties, documentary film screenings and even a vegan bring 'n braai. Upcoming events include a vegan weekend away in Greyton, a screening of Speciesism: The Movie (speciesismthemovie.com), a vegan cheese and wine evening, and local participation in the worldwide vegan bake sale (which this year, for the first time, includes China).
Central to the challenge is the vegan restaurant, Plant Café, and the Vegilicious Good Food Society, a non-profit organisation founded by University of Cape Town students who believe "cruelty-free living should be accessible and sustainable".
I first went to Plant when it opened as a hole in the wall in the Bo-Kaap in 2013 with a very limited menu. It was a refuge for vegans who wanted something ethically benign but tasty. I used to go for the quesadilla and rice-paper rolls. The toasted tortillas were filled with hickory-smoked refried black beans, caramelised onions, roasted salsa, chili and covered with home-made cheese (I think cashew-nut based).
The rice-paper rolls were stuffed with buckwheat noodles, mushrooms, avocado and cucumber, sprinkled with cashews and sprouts, and served with a sweet chili sauce to dip and ginger-miso dressing.
What's on the menu?
Plant has since moved into the central city to an attractive and spacious new home. Now, I go for the vegan English breakfast – scrambled tofu instead of eggs, two rashers of tempeh instead of bacon, grilled mushrooms, tomato and sautéed potatoes, with toast (rye, sourdough or ciabatta) on the side.
For lunch, I recommend the protein salad. It is a large bowl of quinoa, marinated crumbed tempeh "bacon", chickpeas, sundried tomatoes, cucumber, rocket and sprouts, with nuts and seeds and the delicious ginger-miso dressing.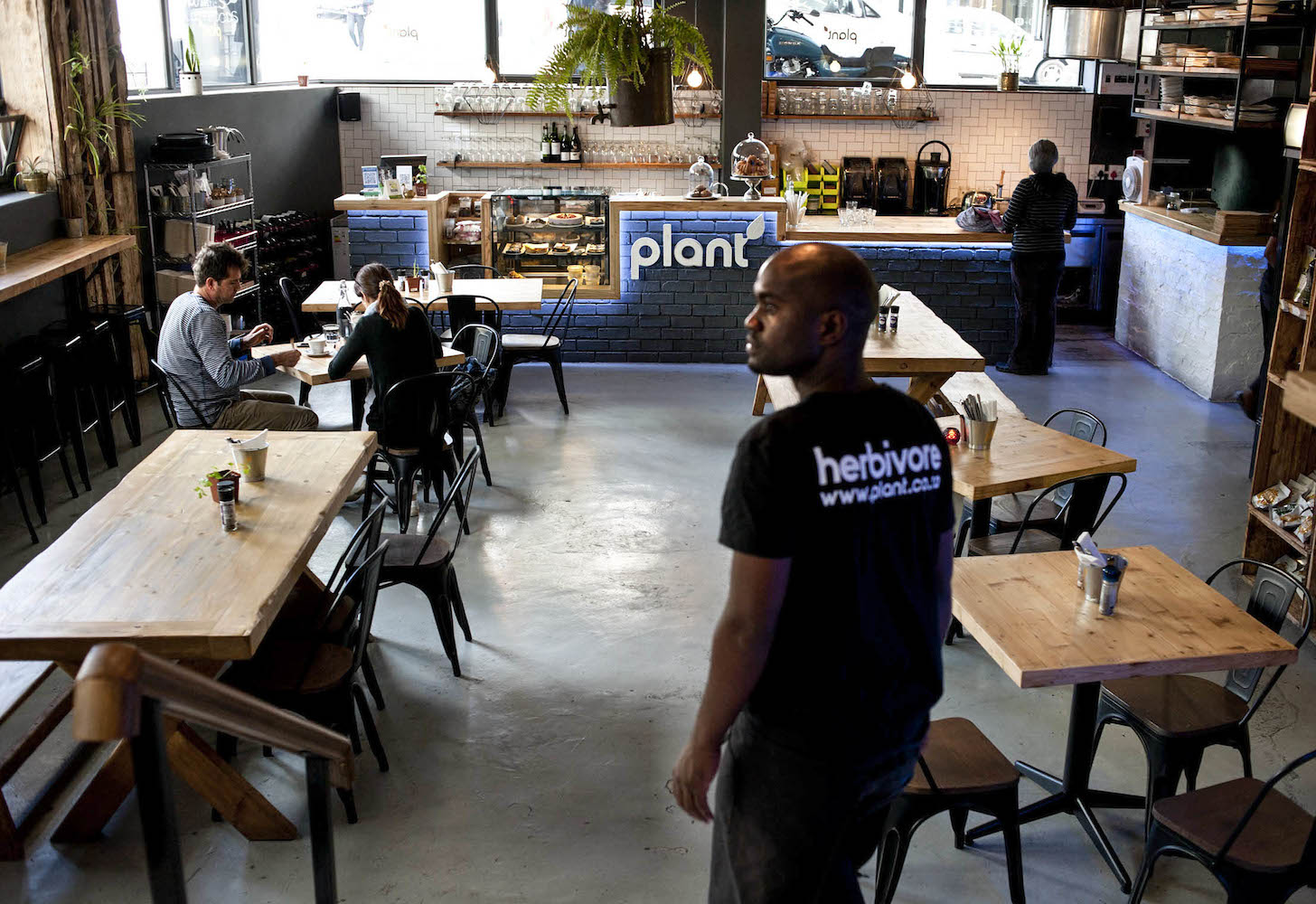 Plant restaurant in Cape Town serves vegan treats. (David Harrison, M&G)
Fairly recently, Plant opened for dinner from Wednesdays to Saturdays offering mushroom and spinach lasagne (with creamy butternut sauce and nut-cheese topping), sweet and sour tofu and a "Buddah Box" – brown rice layered with sesame encrusted, marinated tofu steaks, grilled baby corn, delicate beans and baby carrots with peanut-miso sauce and ginger-miso dressing.
Plant also does a superb catering job. I was recently at a 25-year reunion of sorts where everyone was on a different diet. Thanks to Plant, the host could rest assured everyone could eat everything – think mushroom sushi, tempeh bruschettas, hummus and guacamole pitas and plenty of cupcakes and sweet ­canapés.
Taking up the vegan challenge
People try veganism for many reasons – ideas about their health, concern over their weight, evidence-based fears of the environmental apocalypse looming over our planet, or religious beliefs such as Jainism, but most often it's simply out of visceral disgust for the cruelty of the meat industry.
Most proponents know they are considered weird, although things are changing. The vegan invariably has to put up with being the butt of a joke of some fool at the dinner party or family get-together who thinks they are the first one to have jokingly asked: "Hey, how's your rabbit food?"
The answer to which is: How many carnivores does it take to change a light bulb? Zero; they prefer to stay in the dark.
Vegans can come across as supercilious and contemptuous of the rest of us, so they take a more strategic approach – baby steps are encouraged, such as starting with meatless Mondays. There are also vegan smartphone apps and the internet is awash with information.
Vegetarianism certainly isn't difficult in our major cities. Veganism is a few steps away for most of us though, and the Banting fad hasn't helped. But if you think about it, you already eat many vegan dishes: oats with nuts and raisins and fruit for breakfast; peanut butter sandwiches, wraps, Mediterranean meze and salads for lunch; many pasta dishes (just hold the Parmesan) for dinner. Indian, Thai, Turkish and Levantine restaurants have plenty of vegan options.
A little awareness
Vegilicious has a surprisingly long list of Cape Town vegan-friendly restaurants (www.vegilicious.co.za), 33 currently. Rather astonishingly it includes fast-food chain Steers, which has a veggie burger for R43 on the menu, though I can't imagine many vegans walking through those doors and basking in the stench of burger meat.
In line with responsible journalism, a word of caution. Vegans need to make an effort to eat enough protein (roughly three cups of lentils, beans and tofu daily will do for most people), and they have to watch out for deficiencies in calcium, iron, vitamin B12, zinc, iodine, choline and two omega acids – eicosapentaenoic acid and docosahexaenoic acid. So don't skimp on walnuts and seaweed.
A little awareness is all it takes, and there are always supplements in tablet form if necessary.
---
Plant, corner Buiten and Loop streets. Phone: 021 422 2737