The chief executive officer did this by promising a much-needed cash injection to distressed operations and sourcing capital from unsuspecting investors – then failing to make the payments. As Govan Whittles reports, Vantage Goldfields' Lily Mine, where the bodies of three workers remain trapped underground, is apparently his latest victim.
At 11am on Tuesday, as the Vantage Goldfields board met to consider legal action against AfroCan Resources Gold, the flight of the company's chief executive Brian Barrett was crossing the Indian Ocean, bound for Mauritius.
By the time he touched down at Sir Seewoosagur Ramgoolam International Airport, the deal had fallen apart and mine bosses were gunning for him.
In May this year, after months of behind-the-scenes negotiations and an application for business rescue, Vantage named AfroCan as the knight in shining armour that would inject $11-million to save Lily Mine and expand the neighbouring Barbrook mine. The AfroCan investment would have been the primary cash injection Vantage needed to secure an additional loan of R100-million from the Industrial Development Corporation (IDC).
But the Vantage executives sitting in on that teleconference this week were not the first ones to be left with their heads in their hands. And this is not the first time Barrett has presented himself as a knight in shining armour. An investigation by the Mail & Guardian this week uncovered at least six criminal cases and pending civil suits against Barrett.
Brian Barrett
"Those were my savings and nothing ever materialised. I lost R75 000, a friend R150 000. Others lost R50 000 and R25 000. We were from Soweto and opened cases against them [Barrett]," said Chopho Moshoeshoe, a Soweto businessperson who invested in a Tanzania deal after Barrett presented a financing model.
An officer at the Dobsonville police station confirmed that seven dockets naming Barrett as the prime suspect have been sent to prosecutors at the Protea Glen court for a decision on whether he should be charged.
The cases relate to AfroCan's bid to source funds for an exploration and mine development operation in Tanzania and were opened by, among others, Moshoeshoe and Phillip van Vuuren of Centurion. They lost R75 000 and R450 000 respectively after allegedly being convinced by Barrett that they could nearly double their investment.
"I lost all that money. He's such a pro, it's unbelievable. You meet the guy, you think he's so upstanding," said Van Vuuren, a mining engineer.
For Moshoeshoe, the failed venture led to him losing his savings and ending up with what appears to be a worthless share certificate.
"I sold my [MTN] Zakhele shares and received a certificate signed by Barrett. He said we need to meet shareholders in Canada but it never materialised. He promised to pay our money back around Christmas time but it didn't come in. Then he kept postponing until he ran away and didn't want to meet with us," Moshoeshoe said this week.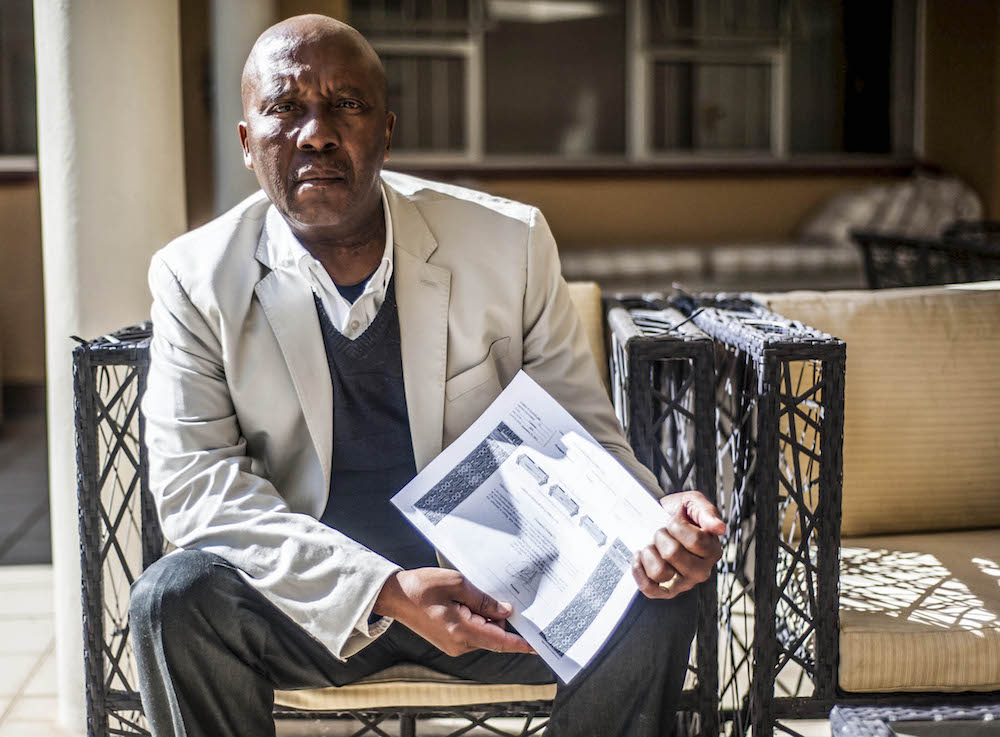 Tricked: Soweto businessman Chopho Moshoeshoe with his AfroCan share certificate. He claims to have been duped by Brian Barrett. (Lutendo Malatji)
But Barrett denied swindling the pair. "It's news to me. I'm not aware of any police case against me. I don't believe that [I swindled investors] in any way, shape or form, and I have the records to prove that," he said.
Barrett said the investors were aware of the risk to their investment and claims that Van Vuuren and Moshoeshoe will be compensated.
"Now that we are in the process of listing AfroCan [on the Toronto Stock Exchange], all minority shareholders to AfroCan will get their money back. The shares they had in that project will be swapped for shares in the listed company and then they can trade those for the money," he said.
A decision on whether Barrett will face criminal charges related to the Tanzania cases is expected this month.
The M&G has also discovered that Barrett was found guilty of fraud, forgery and embezzlement in two unrelated cases heard in Durban in 1993 and 1994, where he was given a suspended sentence.
Advisers involved in the negotiations between Vantage and AfroCan admitted that Barrett's charismatic presentation style and knowledge of the industry influenced their decision to go ahead with the deal.
After this week's board meeting, Vantage announced that the investment from AfroCan had been officially withdrawn as Barrett had failed to make the first two instalments amounting to $2.5-million. It now plans to recover this money through the courts. The $11-million investment would have bought AfroCan 26% of the company's shares.
The deal followed a surface collapse at Lily Mine on February 5, which killed surface workers Yvonne Mnisi, Pretty Mabuza and Solomon Nyarenda and trapped their bodies in a container 800m beneath thousands of tonnes of rock and debris.
Barrett and his AfroCan grand promises to Lily Mine started six months ago, three days before the collapse. This was when Barrett visited Lily Mine with his AfroCan colleagues to discuss a possible investment in the expansion of Barbrook.
"Negotiations for investment [in Barbrook] were at an advanced stage then but, after the collapse happened, Brian went cold and we didn't hear from him for more than a month," said one of the parties who took part in the negotiations.
Halfway through March, Barrett was back in the picture, and by April AfroCan agreed to invest in both Lily and Barbrook. It was during the meetings held after the fatal collapse that Vantage's chief executive, Mike McChesney, and union representatives were mesmerised by Barrett's commitment to resume operations and recover the bodies in the container.

Philip van Vuuren at his home in Centurion, too, claims he was duped by Brian Barrett. (Oupa Nkosi, M&G)
Barrett did not hesitate to place his commitment to the project in writing. In an undated letter sent to McChesney, Barrett wrote: "AfroCan, together with its full team of corporate and legal advisers, are working around the clock to inject the funds as provided for in our transaction."
At the end of May, Barrett signed the subscription and placement agreement, committing AfroCan to the $11-million investment, with the first payment of $1-million due by June 1, and the second payment of $1.5-million due on June 30. The agreement does not make provision for the withdrawal of the investment.
After failing to make the first payment, Barrett received a notice of breach from Vantage and, on June 23, he again met McChesney to raise concerns about the company's black economic empowerment status and the IDC loan.
"When we signed, we were assured that the IDC money was secured and restarting operations was not on condition of recovering the container," Barrett said this week. "The best rock engineers in the world cannot guarantee that container will be recovered."
The M&G has learnt that, after missing the deadline, McChesney offered AfroCan a larger share option of more than 40% in exchange for a larger investment, which would remove the reliance on the IDC loan to resume operations. On June 27, the Vantage chief executive once again wrote to Barrett, giving him two days to respond to the new offer and indicate whether the second payment of $1.5-million, as per the signed agreement, would be made.
"That letter drove my guys mad. What did he send it for? That particular action, putting us back on terms after we had just had a meeting, it really got up every nose. Mike's snotty email said, if we don't pay within two days of 27 June, they will sue us. What kind of negotiation was that?" a furious Barrett said.
The deal was derailed because of a misrepresentation of the IDC loan and the government's insistence that the container be recovered before mining can resume, he said.
After the second payment deadline was missed, lawyers letters were drafted to inform Barrett he was being sued by Vantage.
Although Vantage did not lose any money during the negotiations, the payment of 900 workers' salaries, overtime and call-out allowances has been delayed for four months.
The business rescue practitioner at the mine, Rob Deveraux, said it was once again trying to find an investor to bail the mine out, and they had several people in mind. But he warned that Vantage will not rest until Barrett is exposed.