Well I hate it when the blood starts flowin'
But I'm glad to see resistance growin'
— Johannesburg, Gil Scott-Heron
Greg Tate laughs, long and languidly, when I read the working title of one of his talks during his upcoming South African "maiden voyage".
The title — Blood Bonds: The Rise, Fall and Reawakening of Cultural and Radical Activism within the African-American and Black South African Family Unit — seems like unnecessary bait for this writer and cultural philosopher to holler and riff about.
After the laughter, transmitted via a Skype call between Johannesburg and his beloved Gotham (aka New York City), Tate tells me that he's not quite ready to take the topic to its expected metaphysical hilt (which he could in a lighting flash), but he promises to "talk generally about resurgence of mass mobilisation politics in the [United] States, a moment encapsulated by #BlackLivesMatter".
For Tate, it's been well over 30 years of dissecting the fuckery of Uncle Sam and the anguished, unmutable responses of its supposedly expendable former slave hands. His has been a singular voice that first came to distinction in the US in the pages of the New York weekly The Village Voice.
For two decades at the Voice, Tate wrote a new religion into cultural critique, using Amiri Baraka's Black Music and an organic take on futurism as the bedrock of his style guide.
In a go-to review of his 1992 collection of essays, Flyboy in the Buttermilk, Simon Reynolds writes that Tate formulated a critical language to deal with the "anything's-up-for-grabs state" that saw "the rise of the postmodern black".
But Tate's language and preoccupations were also about laying bare the primordial facts of such repackaged notions, so that, as Baraka suggests in Jazz and the White Critic, the black critic could imbue his "native knowledge of the underlying philosophies and local cultural references" that produced any mutations of art forms that critics were struggling to contextualise.
The reclamation act that was 2003's Midnight Lightning: Jimi Hendrix and the Black Experience, for instance, was of unparalleled cultural significance. As this writer who was only then (at the age of 24) beginning to experience Hendrix, it was both exhilarating and confounding that somebody responded to, as the Aleem Twins say, a compulsion to listen to this southpaw's canon in reverse. Exhilarating because the epiphany was not mine alone, yet confounding that such a work had to exist at all.
Tate so understood the existentialism of blackness that he foregrounded a matching critical style. Cognisance of this approach eases the shock of hearing Tate equate the #BlackLivesMatter movement with the Black Panthers' storming of the California Capitol in 1967.
"#BlackLivesMatter, just as a hashtag, has had such a polarising impact in terms of left, right and centre politics in America. It kind of speaks to the medium being the message in this generation," says Tate.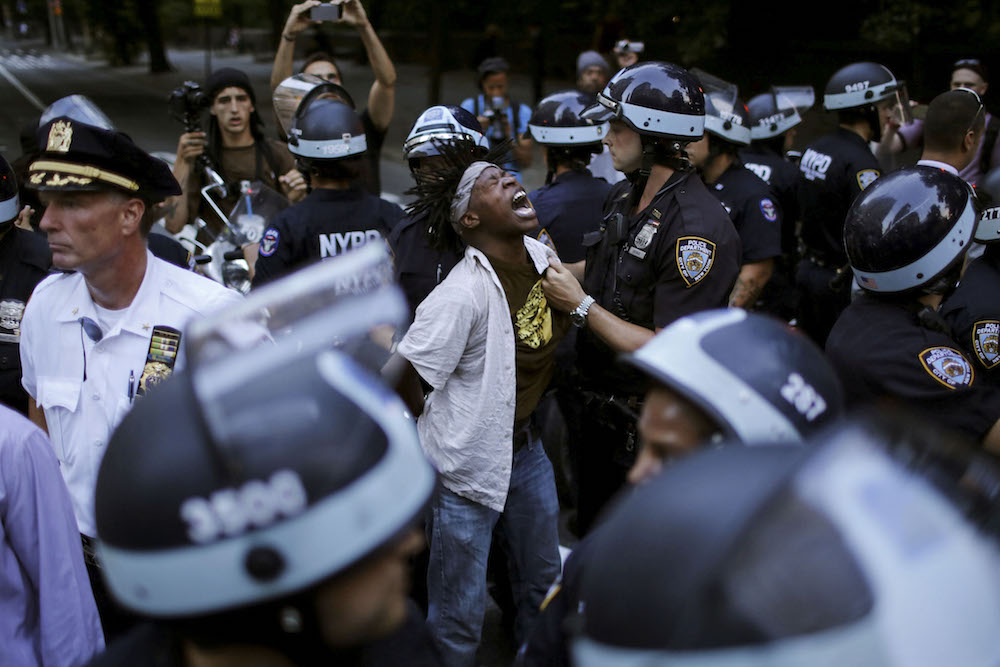 "Whereas the Panthers had to make their theatre statement by going on the steps of the state house in California, with shotguns and ammunition belts, black leather jackets and berets, this generation can actually send the right wing into a frothing fit with just a hashtag."
Even more interesting is that Tate sees himself as being close to the margins of the quick-witted, performative nature of the Twitter-aided revolution, a tradition whose mutation he should claim some credit for.
Tate laughs again, a little bashfully this time, before offering: "I'm one of those people that hits a generational wall with Twitter. As a medium, I just don't get it. I know it's a generational feeling, but one that is not universally true among people that are of my age group. Because I know people even younger than me that feel like it requires more attention than they are willing to give. But I have a very active Facebook page and I think it has something to do with the verbosity of being a journalist."
For Tate, the vitality of the #BlackLivesMatter movement is a natural by-product of its emergence from a slice of the population who have "come into adulthood knowing a black presidency and discovering the limits of it in America".
There is a creeping cynicism about how Tate views the role of music in current discourse.
The titles (or perhaps title) of a 2014 talk at the Society of Ethnomusicology in Pittsburgh seem to speak for themselves: Justice for Mike Brown vs The Silence of the Lambs, or Why Black Popular Kulcha's Current Elite are Too Sold-out, Skeered and Glitch-assed to Soundtrack the Revolution in Ferguson.
As harsh as the title is, in the talk Tate actually speaks of the symbiotic role between music and struggle, with, for example, beboppers foreshadowing the civil rights movement and the antics of James Brown seeming to echo the movement.
By the time he gets to the 2014 Ferguson unrest, sparked by the fatal police shooting of 18-year-old Michael Brown, Tate offers a reminder that some of the immediate musical responses came from the likes of Diddy and The Game. He does not mount a defence or mockery of the artists but instead points his audience to the YouTube comments section of the collaborative track Don't Shoot, in which an argument ensues about the nature of hip-hop and its ability to respond adroitly to the lived pressures of black life in the US.
"That strain [of black resistance] in hip-hop has never really stopped," says Tate. "It just depended on the artists. But capitalism is a tsunami. A lot of the artists just followed the money, as a lot of people will in any capitalist society."
On the day of our conversation, Tate must head over to Brooklyn's Commodore Barry Park to introduce rock icons Bad Brains, Fishbone and Living Colour at the annual Afropunk concert. That Tate must do the introduction speaks to the lasting legacy of the Black Rock Coalition (BRC), which he founded in 1985 with Living Colour's Vernon Reid, Eye & I's Dk Dyson and Konda Mason.
It was precisely these problematised and fluid takes on the ideas of rock and punk that have propelled Afropunk into an aesthetic that is resolutely black but above the parochialism of genre.
"If I talk about the differences between what Afropunk is doing now and what the BRC was trying to do, it is that they are just a whole lot more better organised than we were around entrepreneurship, marketing and organising this free space not just for hardcore black musics but the diversity," says Tate.
"Yesterday (Saturday August 27) at Afropunk, Flying Lotus was there, George Clinton was there, Laura Mvula was there. There was a young black artist from Toronto, Sate. Cee Lo. There is nothing else like it in America."
For an unrelenting YouTube fiend, it has often been the Black Rock Coalition Orchestra's unexpected representations of the black music canon that are timelessly funky and paradigm-shifting.
And although Tate will be the first to highlight the importance of institutional support and patronage for cultural production, one hopes he realises that he is himself an institution, one whose coded words evoke the crowning achievements of kings past and yet to be born.
"He is the Basquait of cultural criticism," says fellow critic and author Bongani Madondo, drawing a parallel between Tate and the iconic American street artist.
"The parallels between their bodies of work are striking. They are inventive in a highly playful yet deep and highly controlled manner. Their works give off a sense that they are unstructured but they stay true to the Miles Davis philosophy: flight-of-fancy solos that appear free but have an inbuilt responsibility and awareness of vast universal African traditions."
Greg Tate will be speaking at the Open Book Festival at Cape Town's Fugard Theatre on September 9, before heading to Johannesburg to launch Flyboy 2 at the Keleketla! Library in Troyeville on September 10, and then give talks at the Jo'burg Art Fair on September 11, the Goethe-Institut on September 13 and Gallery Momo on September 15. Phone Gallery Momo at 011 327 3247 or email [email protected] for more details.