1
In 1982, the South African painter Marlene Dumas produced a collage titled Three Women and Me — women whose husbands were assassinated or had been political prisoners: Betty X (Shabazz), Winnie Mandela and Pauline Lumumba.
The first image in the triptych is a woman in a headscarf, flanked by a man in a suit. There is a crowd in the back. A blur of human beings. A weight. A mass. En masse. The last image, another woman in a scarf, standing at a podium with three mics in front of her. She's looking away, staring helplessly to the right.
The middle image is a little different. The woman depicted appears to be naked to the waist. Her arm is at her chest, obscuring her breasts. Her hair is cut close to her face.
She appears again in another Dumas painting almost 26 years later. She is still topless. Two men appear at her side, clothed. The image is repeated: in one frame she stands square in the centre of the image, blue. In the other, one leg steps out in front of the other, a little bit yellow, a little bit green.
The woman is Pauline Lumumba, the widow of the assassinated Patrice Lumumba who, in 1961, marched topless through the streets of Leopoldville in the Congo to mourn and to protest against the murder of her husband.
She is not alone. The men look to the ground, heads hanging heavy with pain. Pauline looks straight ahead and walks 10km from the "African Section" of Leopoldville to the United Nations headquarters. She comes in peace. She comes in pieces. She carries a white flag soaked in all our blood, all our tears.
2
"Honey, de white man is de ruler of everything as fur as Ah been able tuh find out. Maybe it's some place way off in de ocean where de black man is in power, but we don't know nothin'. So de white man throw down de load and tell de nigger man tuh pick it up. He pick it up because he have to, but he don't tote it. He hand it to his womenfolks. De nigger woman is de mule uh de world so fur as Ah can see." — Nanny, Their eyes were watching God
3
The Aba Women's Riots escalated in 1929 in British occupied Nigeria. Thousands of Igbo women protested against the colonial policies that were introduced in 1914. Warrant chiefs were appointed by the British to rule on their behalf. They became increasingly oppressive. But it was the plan to impose taxes on the market women that sparked the protests.
The women employed a tradition called "sitting on a man" that was used to sanction men. They danced and sang around the homes and offices of warrant chiefs, invading their space until their demands were met.
4
In 1992, Kenyan mothers led by Wangari Maathai resolved to secure the release of their sons who had been detained as political prisoners by Daniel arap Moi's government. The women, aged between 60 and 70, staged a hunger strike at Freedom Park. On March 3, the government sent the police in to end the protest. They hit the women with batons and threw teargas at them. Maathai was beaten unconscious. To stop the attack the women stripped naked and shouted: "What kind of government is this that beats women! Kill us! Kill us now! We shall die with our children!"
5
"and when we speak we are afraid
our words will not be heard
nor welcomed
but when we are silent
we are still afraid
So it is better to speak
remembering
we were never meant to survive" — Audre Lorde, A Litany for Survival
6
The Women of Liberia Mass Action for Peace helped to end Liberia's second civil war. In 2003 Christian and Muslim women of all ages embarked on a protest that lasted for months. They employed tactics such as a sex strike (depriving their husbands to force peace), prayer, vigils, hexes, curses, marches, sit-ins and surrounded the building where peace talks were taking place. Police were warded off when a leader, Leymah Gbowee, threatened to strip naked. Later, the group helped with the elections that saw Ellen Johnson Sirleaf being elected.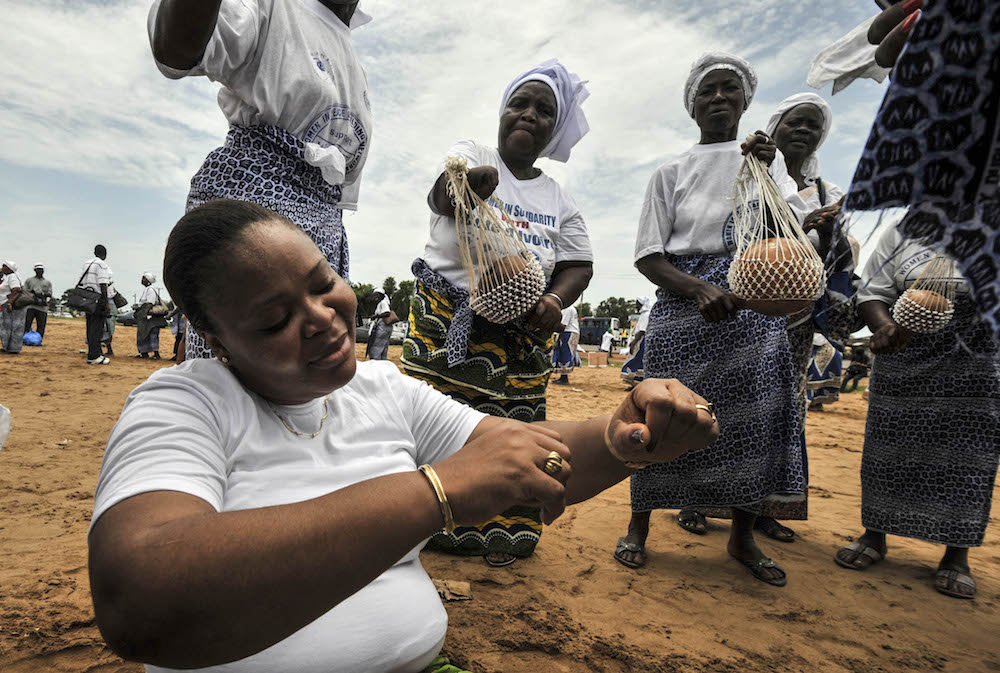 7
In May this year, about 200 women in Ebonyi, Nigeria, stripped to protest against the detention of the president general of the community for allegedly demolishing a widow's house. The police public relations official called the protest action "unfortunate and shameful. Our men who earlier got to the scene were repelled because of the sight of the nakedness of the women."
8
In April this year, after a reference list was released making public the names of alleged and known rapists, students at the university currently known as Rhodes sparked protests on campus against a system they believe protects and shelters rapists. They demanded that the university's rape policy and definition of rape be changed and that the burden of proof be removed from victims. Police came in and shot rubber bullets at students. After two days of violence, women students stripped topless. Your timeline is filled with fleshy mounds and rape apologists. Apparently, the naked female body is good to look at when in violation, but when a woman undresses of her own voltition it is shameful.
9
On October 3 this year, when Sarah Mokwebo, Hlengi Ndlovu and Lerato Motaung stripped off their tops outside the Great Hall of the University of Witwatersrand, Johannesburg, they were demanding that police officers stop firing at the protesting #FeesMustFall students with stun grenades, rubber bullets and tear gas. With their arms above their heads, crossed at the wrists and, tears streaming down their faces, they pleaded with the police. "Stop shooting us, comrades. This is for free education. This is for you too."
Police commissioner Khomotso Phahlane called the naked protest "immoral and misguided".
10
"To be naked is to be oneself. To be nude is to be seen naked by others and yet not recognised for oneself." — John Berger, Ways of Seeing
A search for the hashtag #freethenipple on social media leads to a more socially concealed iteration of the bare breast resistance against the patriarchy, accessible through the distance of a screen, but a nascent protest nonetheless by women around the world.
Andiswa Luthuli is being called South Africa's #freethenipple ambassador on social media after posing for a photograph sans bra in a Durban nightclub. Which part of the areola elicits brandishing by words and deeds?
Is the immorality in the appearance of women's bare breasts or is it because the breasts appear without permission?