Q: What is "to spin"?
A: When you spin is when you go into town to steal. This is when you have gone to the rounds, "uya eroundini". You may steal from shops, or steal wheel caps, or do "gryp and naak" (handbag snatching), or even "housa" (house-breaking and theft).
— The Era of the Jackrollers: Contextualising the Rise of the Youth Gangs in Soweto by Steve Mokwena of the Centre for the Study of Violence and Reconciliation.
There is no doubt that, in South Africa's history, the story of the BMW E30, popularly known as the box shape, represents the triumph of forceful appropriation and self-representation.
As much as the 325i and the 325iS models, known colloquially and respectively as iBotsotso and iGusheshe, have shed their connections to the gangster image that popularised them, it is the remaining traces of this receding connection that lends these cars their unceasing present-day endearment.
Veteran car spinner Jeff James (44) says: "It's true, when it comes to iBM nabotsotsi, even now they still associate the two. A guy driving BM is a tsotsi. It's so sad. I'm not going to run away from that point; it started like that. It was a car loved by abo grootman bethu [elder gangsters] and by then it was the fastest car, a very famous car. We've tried to transform the thing into something better, a sport, but that perception is still there."
James says the car's association with gangsterism was coincidental, a product of BMW's aspirations to be taken seriously as a racing brand clashing with the ungovernable generation of the 1980s.
The BMW E30 was manufactured between 1982 and 1994 but the first 325i models appeared in 1985. The first iS models, known as Evo1, appeared in 1990 as a response to the Opel Kadett 16 V in the racing stakes. "We grew up under KBS — by then they were known as Amakabasa, amagrootman ase Orlando," says James.
"In fact, most of them are back from prison. Amakabasa ahluphile la elokishini [were notorious here in the township] because of the stealing of cars, to start with, and the bringing of those cars into the township. They were famous for kidnapping women, especially the beautiful ones. If one of the gang members died, they'd use those cars in the township [go spinning in them]. When the newer models came in, the crime levels in the township were going down. Also those that own these cars now have nothing to do with the lifestyle of the past."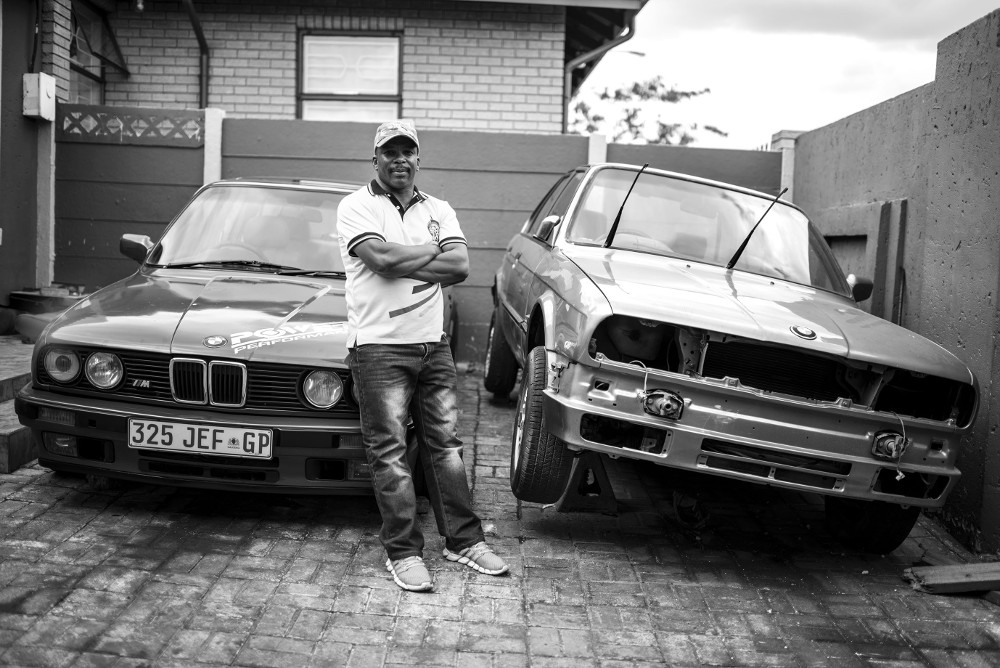 In the The Era of Jackrollers paper, Mokwena refers to Jackrollers as a specific gang that operated between 1987 and 1988 in Diepkloof, Soweto, whose activities included rape, abduction, car theft and robbery. But "as the abduction of women became fashionable, anyone who did it could be called a jackroller, and jackroll became a commonly used verb in the township vocabulary".
By the early 1990s, what started out as an expression of gangster flamboyance was morphing into a people's motorsport. "We started spinning in Aeroton [near FNB Stadium], that Shell intersection," recalls James. "Ennerdale right up to Eldos [Eldorado Park], Soweto, Bosmont, West Rand, we'd all meet there, every Thursday.
"Cops would keep us on the run, be it Johannesburg metro police, the police, the army. But the following week we'd be back there and those arrested would have been released."
The charges, James says, would be reckless and negligent driving, but then the cops "would check your car, they'd check your record for active cases". In its early days, the hobby was something of a contact sport, with white people using the same drag for racing and people being accidentally hurt from crowding the streets for a better view.
Baba, an early enthusiast of the sport who represents a spinning crew called Jozi Spinmasters, says a white culture of spinning was also happening parallel, but without the requisite flair. "In those days [the 1990s] you'd see the white men spinning the V6 Fords. The white people used to spin as well but not like us. They'd just stand still by a robot, make a small donut and then go home, that's it. It was never like this, where people would do so much stunts, and you go like, 'what the fuck.' Everybody started with a box shape," he says.
Contrary to popular belief, it is a Botsotso rather than a Gusheshe that is popular among spinners. On a Thursday night, on a popular track called Wheelz n Smoke, near Alberton, south of Johannesburg, a white Zulu-speaking spinner named Skoppaz sets the record straight: "Zonke lezi'iymoto ezila amafour-door, black bumper, 325i, igama lazo iBotsotso [All these four-door cars here that have black bumpers and are 325i are called Botsotsos]. iGusheshe is 325iS. It's a two-door with a body kit, it's not really made for spinning. Iyaspina but asiyispini thina [it can spin but we don't use it]."
Gusheshes, a sportier version of the Botsotso, are usually better preserved and therefore fetch steeper prices on the market, hence their rarity on the track.
The spinners at Wheelz n Smoke present Botsotsos in various stages of upkeep, a suggestion of their ubiquity and lower price on the market. Some are stripped down "spin buckets", with missing bumpers or bonnets. Others bear other utilitarian streaks, being towed to the track rather than driven. Most have modified engines to allow them to perform their stressful tasks with greater ease. Skoppaz's one, for example, a graffiti-painted model, has a V8 engine.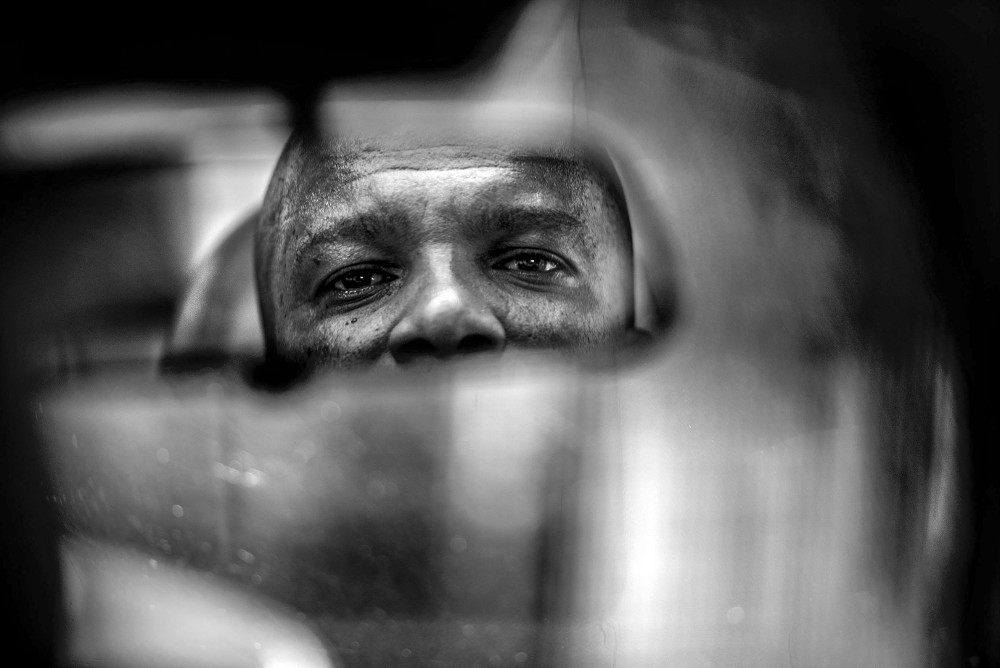 "Before the 3 series got popular [in Soweto]," says James, "the older models were 535s, probably 1978 models, then 735s and then these ones [box shapes]. When the box shapes came out, it was easy to get caught [with a stolen one] because the cars were new, but then again, it was not easy to keep up with the car."
James says because of the association of spinning to a criminal past, cops were often heavy-handed in their attempts to squash the sport. "The end of Aeroton was through violence from soldiers and police," he says of their early forays into the sport. "We got into Shareworld [an entertainment arena nearby] around 2002. That's how we transformed it because it was actually hooliganism."
Shareworld, an amusement area that sprang up in the 1980s, was abandoned by the time James, Bhubesi and other spinning enthusiasts took it over. James says the authorities turned a blind eye to their act of appropriation until World Cup mania hit. "That lasted until 2009, before they destroyed it for the World Cup. They levelled it down and we went back to the street again."
Within the safety of an enclosed area, James says the stunting in Shareworld went into overdrive. "Bhubesi was the first man to jump out of the car [while it was spinning], then we followed. To this day I take my hat off to him as the first one. That's how Shareworld got its reputation. People would tell you that at Shareworld you can see people climb out of spinning cars."
Bhubesi, a tall, balding taxi owner in his early 40s who spins in an iconic gold cabriolet, says most of his stylistic innovations were accidental. "When you're used to a car you pick things up, like if you take your foot off the accelerator, you notice that it sticks. Then you sit on the door, then you steer from the outside, so it progresses naturally, step by step. So I didn't learn from someone; it was from experimenting with the car.
"For example, why would the accelerator lock? It has a plastic pedal that sticks when it catches heat. It doesn't retract on time when hot. Also, my steering rack would not return quick enough. It had no transmission. From there people upgraded from those discoveries."
When spinners speak about their affinity for the BMW, they oscillate between an almost erotic romanticism and a macho appreciation for the car's brawny characteristics.
Take long-time spinner Eric Maswaya. "This is a unique car: it has its own sound. It has a Botsotso sound, that's a 325. Even if it's converted to a multivalve I can hear, it's still a BM engine. You drive down in the street, it draws attention. Even a small child can tell you."
"The way it looks [the Botsotso], what people do with it, it just leaves people with a question mark," says Baba. "It's just made for it, there's no other car like the box shape. It's the torque, it's the power, it's everything, the adrenaline. It's a stress reliever, put it that way. It's a huge stress reliever. That's why a lot of people do it. When you spin a car it's just, ja…"
For Leng, a Reiger Park resident and an expert spinner of a red Botsotso, there is a beauty born of physicality at play. "The way it tones and beats, and its looks. Look, it has looks, this car."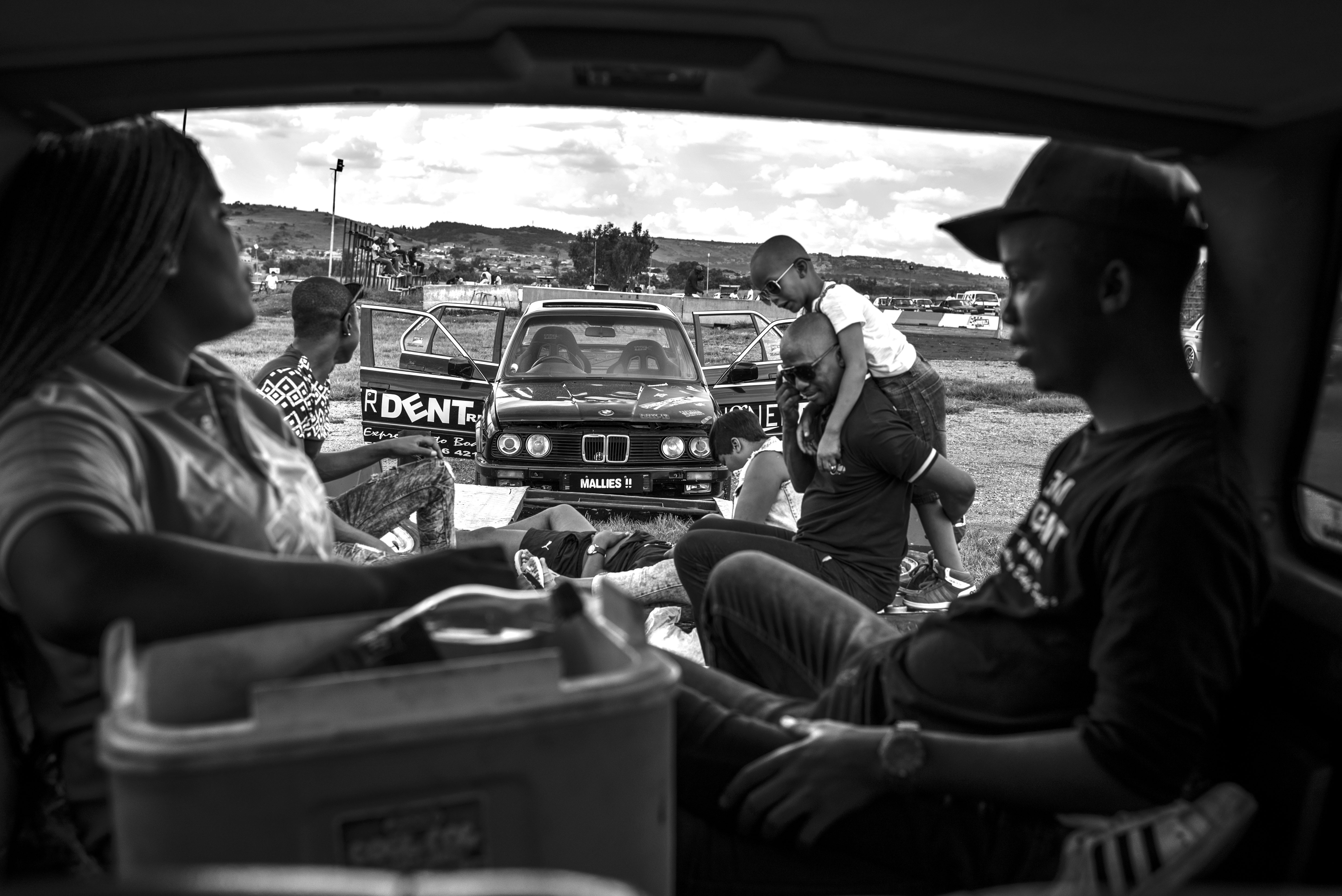 Of late, however, the hypermasculine narrative of the car as an appendage to outlaw power and all that comes with it is up for interruption. On the track, someone like Stacey-Lee May breathes a nonchalant femininity into the sport. She spins in a pink and grey Botsotso labelled "Team Stacey", sometimes with her sister in tow, upsetting the historical visuals (still present in the world of spinning) of women being the eye candy to the technical wizardry of the male spinner.
Her mechanical team is all male and includes her father, although visits to the track are more or less a family affair. Her mother, Lizel, functions as May's press agent. Although May plays into a heteronormative femininity ("We sprayed it pink to represent me and my grandmother, who passed away from breast cancer"), it is perhaps disingenuous and counterproductive to women's equality to set her up as a cat among the pigeons. But there are wider signs that, outside the track, and in the wider public space, there are slow, steady moves to claim more than just the passenger seat.
Enter The Honey, the Tumblr photonovella by Rendani Nemakhavhani who also plays the part of Honey. In short, Honey is a feisty and persuasive partner to the thugged-out Gavini, played by Kgomotso Neto Tleane, who also photographs some of the scenarios. Specific scenes have paid homage to the popular TV series Yizo-Yizo, particularly in the way the iconography and street cred of the Botsotso has been dispensed.
Yes, Honey occupies the passenger seat in a chapter where she and Gavini discuss taking their thug passion to new heights. But the way she is framed and styled (popping through the sun roof in a bright red dress) suggests her to be more than just an appendage. In other chapters, she perches proprietorially in front of the vehicle in All-Stars and with a see-through handbag.
Taken in the context of her and Gavini's relationship, one can argue that Honey is in the metaphorical driver's seat, although seldom photographed that way.
"It's always been a fantasy of mine to be in that car and to be a certain way in that car," she says. "It gives me some kind of power, I feel invincible. Everything that is translated on to the character [Honey] starts with me and what my fantasies are. The car for me is a symbol of power.
"The Yizo Yizo thing, as well, was that there was a certain type of power that was related to the people who drove that car in the series. They looked invincible, making me feel like, 'hey, that's how I want to look and how I want to feel as well: invincible.' When they are seen in different spaces, outside of those cars, they had to try to prove really hard that they were powerful people. When you are in the car, all you need is for it to arrive or spin it a few times and then, hey, that person is like the dog of the moment."
Botsotsos abound in The Honey. In recent chapters of the series, Nemakhavhani has started featuring Stacey May's car and May herself, in cameo roles, suggesting her to be restless with the association cars have with masculine power. A recent photoseries on her Tumblr has her perched authoritatively in front of a minibus taxi while a man kneels to the side of the frame, washing the vehicle. Other shots have her in the driver's seat.
"That car [the box shape], in particular, has created such a strong aesthetic for itself in the association it has with gangsterism and how that community works," she says. "It has become like a thing that almost everyone associates that car with. I don't see it being placed in a different environment and being associated differently."
Nemakhavhani's intervention represents a distant shout across a windswept valley. Perhaps inaudible to an ossified chauvinism, but a shout nonetheless.