An unrepentant Helen Zille believes a debate on colonialism should not be shut down.
The Western Cape premier was the last speaker in a snap debate in the provincial legislature over her recent tweets, which were seen to be lauding aspects of colonialism.
Zille is facing an internal party process over her colonialism tweets.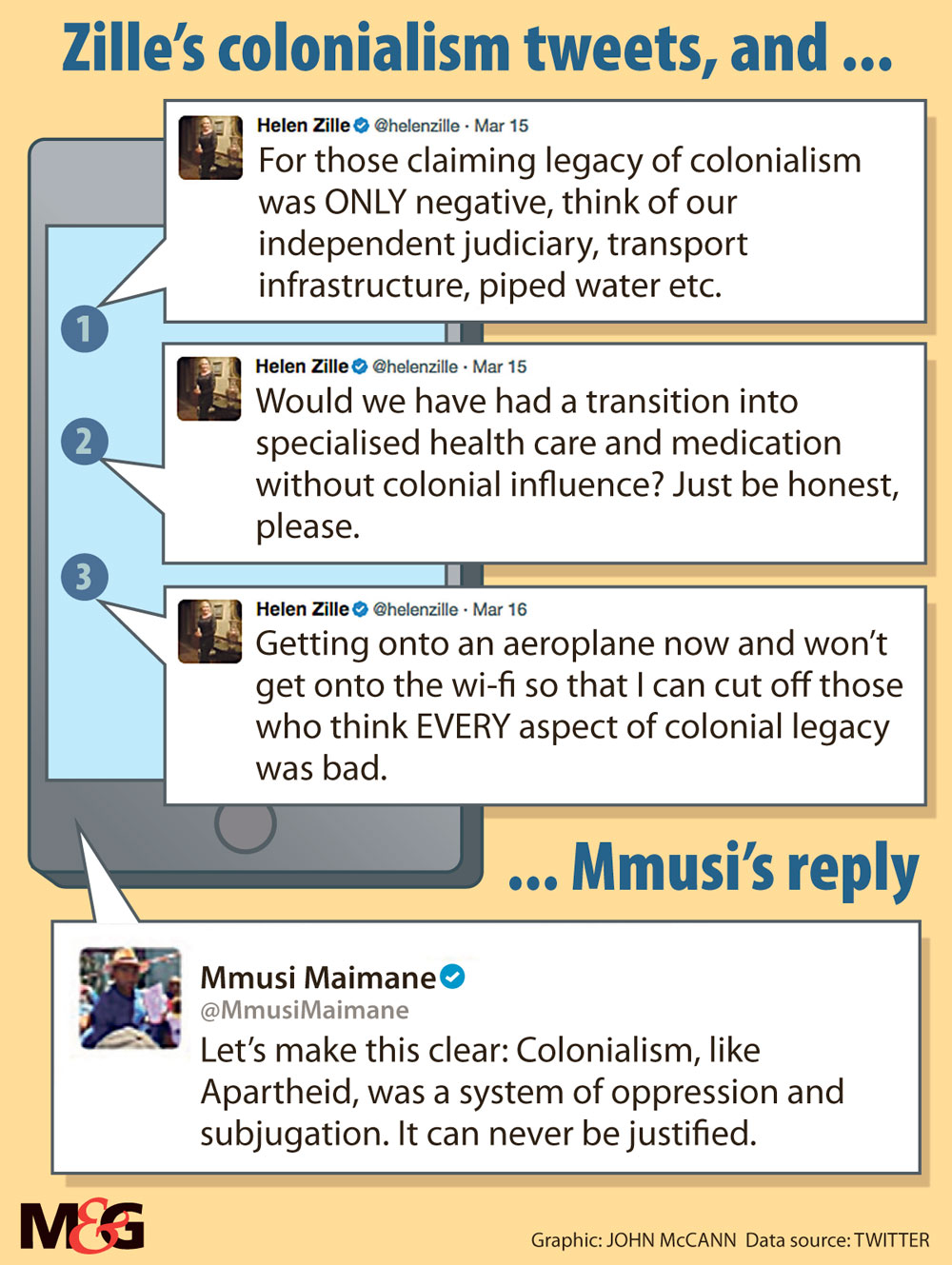 In a series of tweets on her way back from Singapore, the premier tweeted about colonialism, and ended off with: "Getting on to an aeroplane now and won't get on to the wi-fi so that I can cut off those who think every aspect of colonial legacy was bad."
On Tuesday, the premier bemoaned the reaction to "her statement of fact".
She said she was glad that her tweets had led to a debate, and again apologised "if anyone genuinely thought I was praising, defending or justifying colonialism".
She had never supported or justified, praised or promoted colonialism, she said.
Her visit to Singapore and Japan was eye opening, she said.
"It seemed to me that the colonised has overtaken the coloniser on the world stage, and I thought it was worthwhile asking why," she said.
Religion and colonialism
She said if she were to state that the worldwide legacy of colonialism was causing an average of 3 287 human deaths daily, people would be outraged if anyone suggested the benefits might outweigh the costs.
"I am talking about the motor car. Today in South Africa, this colonial leftover is not only a means of transport, but the ultimate status symbol," she said.
She also made an example of religion in relation to colonialism.
"To be consistent on the principle, if people believe the price was too high to acknowledge any advantage, then they mustn't drive a car or visit most houses of religious worship," she said.
She questioned the "political tsunami" over what she had said about colonialism, when textbooks in schools also talked about the positive effects of the time.
"If people believe that South Africans may say things that others may not, then the police must draw up schedules of what can be said by whom, and make sure this is in line with the Constitution," she said.
'You must now resign'
This was impossible and undesirable, Zille continued.
During the debate, ANC and Economic Freedom Fighters called for Zille to resign over her tweets, while the African Christian Democratic Party called for the premier to be forgiven.
The Democratic Alliance focused on the "sins" of the ANC, with MEC Debbie Schafer outlining how President Jacob Zuma and Social Development Minister Bathabile Dlamini had "breached the oath of office".
She said Zille's tweets did not amount to a breach of her oath of office.
DA MPL Masizole Mnqasela pulled out files of Zille's struggle credentials, referring to the premier as "honest, trustworthy, humble, and a humanitarian that has helped countless people".
The ANC's Khaya Magaxa said Zille was close to being a raving racist, while the EFF's Bernard Joseph said it was time for her to do the right thing.
"You must now resign," he said. – News24