There are no participation medals in the Premier League. The winners get all the spoils and adulation from fans, pundits and the like. The losers? About three months to think about what they have done. Oh, and all the criticism in the world from fans, pundits and the like.
In this spirit, looking back on the year that was, there are certain candidates we could dare to classify as the "biggest losers". Yesterday's failings could well translate into today's shake-ups, so it's worth casting an eye to the future as well. These are not the worst performers per se, but rather those who flattered to deceive, failed to live up to expectations (read: price tags) or just didn't turn up to the party.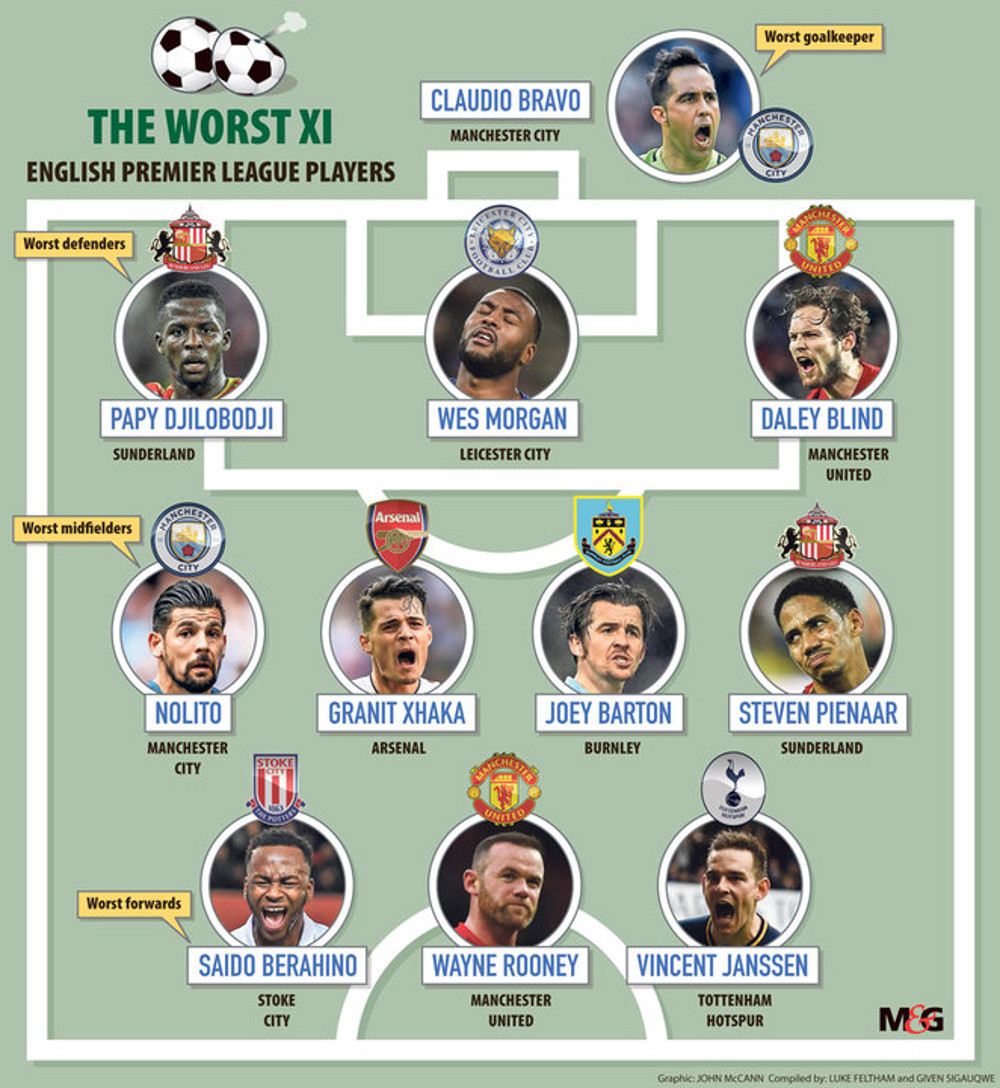 Arsenal
Arsenal's affinity for fourth spot is arguably the longest-running joke in the Premier League. Opposition fans find no end to the enjoyment of ridiculing their uncanny knack for finding their way into the position more often than not in recent memory. But behind the joke lies a record that is nothing to be scoffed at.
Arsene Wenger has guided his charges to Champions League qualification every season since he joined the club. An incredible achievement, mirrored only by Manchester United … at least until their Moyesian slide.
The sun appears to be setting on that record now, however, as the Gooners need a healthy dollop of good fortune on the final day if they're going to keep it up. Liverpool and Manchester City wins will be enough to sentence them to Thursday-night football in the Europa League.
Now in his 21st year, the team's wiry Frenchman has had a season to forget. From ArsenalTV to anti-Zuma marches, cries of #WengerOut have overshadowed anything he has put together on the pitch — which has far too often been nothing to be proud of in either case. Failure to sustain a title challenge, lackluster performances and unresolved contracts have all contributed to a palpable sense of frustration and anger from the club's support base. Worst of all, storied holiday St Totteringham's Day was cancelled!
If Arsenal continue to produce the type of torrid displays seen at their low points this year, 2016-2017 may well go down as Tottenham Hotspurs' watershed moment in their rise to North London dominance.
Vincent Janssen
Signed from AZ for €22-million, the hope was that Janssen would provide steady, consistent cover for the indomitable Harry Kane in the Spurs attack. One outfield league goal later and it's clear that hope was merely that.
The Dutch international has gone nowhere near the form that saw him bag 27 goals in the Eredivisie last term. At times he has looked so uncomfortable leading the line that you could be forgiven for wondering if he would be more at home on a Quidditch pitch.
Lack of opportunity also falls flat as an excuse. Untimely injuries for Hurrikane Harry have contributed to Janssen getting 25 appearances with which to prove his worth. Son Heung-min and Dele Alli, however, were the ones to pick up the mantle and keep the Spurs title challenge afloat.
With few silver linings to take from his performances, it will come as no surprise if Janssen heads to pastures new this winter.
Mourinho and Guardiola
Two distinguished managers, two underwhelming performances. Five years ago these two were contesting the el Classico at the pinnacle of football. Now their respective Manchester clubs have failed to hit any significant high notes and have spent much of the season locked in a battle for Champions League places.
Given the resources at their disposal, Manchester City's damp squib of a league performance must be considered one of the flops of the year. The Sky Blues have arguably the most complete squad in the competition and so Guardiola must shoulder significant responsibility for their failure to click as a unit. Gone are the days of Kompany steel. In its place: a defence more porous than a second-hand sieve.
If he had any doubts before, the Spaniard will now have no illusions about the competitiveness of the English game. Pep Guardiola is used to dominance, having been in charge of possibly the best team this century, in Barcelona, and a Jup Heynckes's crafted Bayern Munich side. Now, he has received a harsh lesson that an embarrassment of riches will only take you so far in the Premier League.
By contrast, recent history has left his rival with much to prove. A pathetic title defence with Chelsea saw José Mourinho get the sack and his CV blemished. A struggling Manchester United offered him redemption. World-record-signing Paul Pogba and the immense Zlatan Ibrahimovic were supposed to return both club and coach to glory.
That didn't quite go to plan. Bland, dry performances at Old Trafford have forced the club to settle for sixth — a far cry from where they belong. Europa League victory will mean the Red Devils finish on a high, but that won't change what has been a poor league display.
Wayne Rooney
The United legend's stock has taken the same trajectory as his hairline this season. An undoubted all-time great, "Shrek" has always relished the role of club talisman. Even during his off spells, only the brave would bet against him rising to the biggest of occasions.
But that's all changed under Mourinho, ironically the person who tried desperately to bring him to Stamford Bridge only a few years ago. Rooney has languished on the bench for the most part, watching idly as Ibrahimovic has captured the plaudits. He did manage to complete his inevitable chasing down of Sir Bobby Charlton's club scoring record, but that's likely the only moment of his exploits this term that many will remember.
Anthony Martial and Marcus Rashford have clearly been earmarked as the future of the club, leaving Rooney's own in significant doubt. In that regard, a big money move to China could beckon for the England captain. But even that could have a few pounds knocked off it after these latest displays.
The underdog story
The once-in-a-lifetime event that was the Leicester miracle has proved to be just that. Despite largely managing to keep their team intact, it was the combination of others significantly ratcheting up their performances and the not insignificant loss of midfield pivot Ngolo Kante that saw the foxes going from fighting for the grand prize to scraping themselves out of the relegation pit. For much of the season, the highly fêted Jamie Vardy and Riyad Mahrez looked less like giant slayers and more like Sunday league footballers.
Although the 2015-2016 league was a feast for the neutrals, it's business as usual this time around. Only Everton came anywhere near to penetrating top six dominance, and the suspected suspects were relegated.
And of course "boring, boring Chelsea" marched to the title with authority. As you were.