After six years of desperately searching for a "greener pasture", Moses, a poorly paid Ugandan medical laboratory technician sick of struggling to put food on the table for his family, thought he'd found one.
The destination? Libya — a country some 3 000km away, still mired in conflict six years after the fall of dictator Muammar Gaddafi, and at the heart of Europe's worst migration crisis. A country about which he knows little.
Yet Moses, who didn't want to use his given name, is now one of hundreds of Ugandans vying for jobs with the Benghazi Medical Centre in the failed North African state, through a local recruitment firm. It's a deal Uganda's labour ministry has praised as a wonderful opportunity to fight unemployment in both nations. But health activists in the East African country warn it will place even more pressure on a system already grappling with huge staff shortages.
For Moses, a churchgoer, the benefits outweigh the risks. "I've been watching what was taking place in Libya and I was a bit afraid about the country. Being a Pentecostal [Christian] and Libya being a pure Muslim country, I was also scared."
"I'm not 100% happy with the destination but the working conditions in Uganda are not favourable."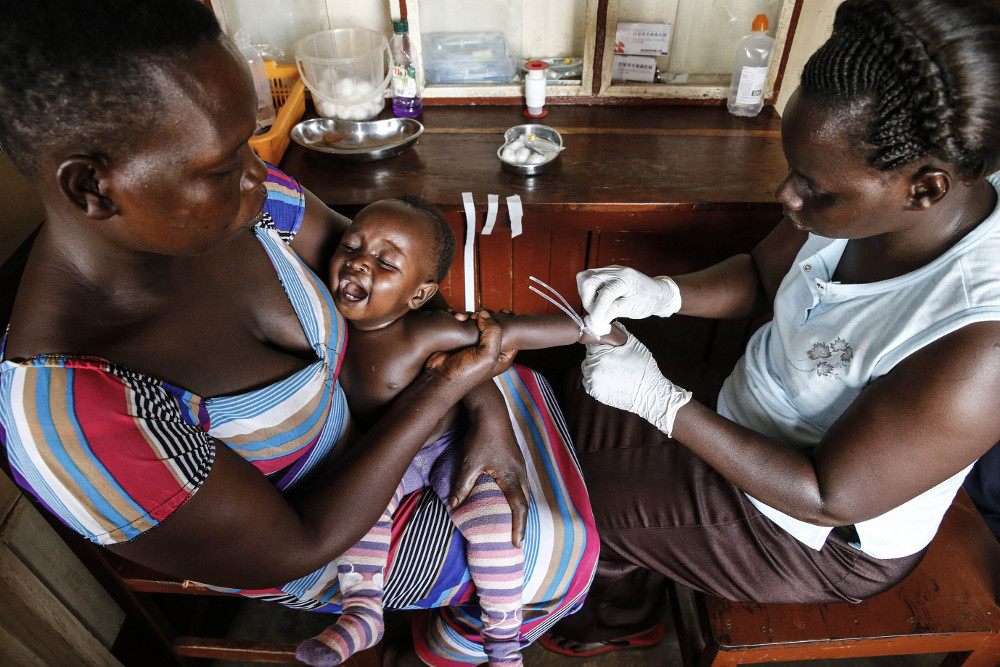 Moses (28) is struggling to look after his wife, an unemployed midwife, and two-year-old child on the R1 070 monthly salary paid by his government job.
When he saw a television advert by Middle East Consultants Limited (MEC), he was intrigued.
The recruitment firm, based in Uganda's capital, Kampala, and registered with the labour ministry, says it has already "exported" more than 7 500 workers abroad.
The consultancy has now turned its sights to Libya, embarking on a hiring blitz across Uganda. The company charges applicants nonrefundable fees for registration and medical tests, which is not mentioned in the ads. In Moses's case this was R760, more than half his monthly earnings.
The ad he saw boasted a salary of nearly R11 000 a month with meals and a transport allowance — which his current job lacks — plus accommodation. Other ads have "urgently" sought nurses for up to R25 500 a month, with one in a local newspaper calling for about 2 000 people. The consultancy has also advertised for surgical, intensive care, emergency, paediatric and cardiology professionals for Libya.
The arrangement includes free return air tickets, but only on completion of a two-year contract. MEC managing director Gordon Mugyenyi said the first batch of medics — 500 nurses and midwives — could leave in the next two months.
This is not the first time Ugandan medical professionals have been targeted for jobs in other countries. A few years ago, Uganda's plans to export about 300 medical professionals to Trinidad and Tobago in exchange for oil and gas training were scrapped after the government was sued in a landmark medical "brain drain" case. The United States slammed the bilateral agreement and Belgium froze $12‑million in aid money over it. Uganda has only one doctor for every 25 000 people, well below World Health Organisation (WHO) standards.
The medical brain drain is a continent-wide problem. In 2011, more than 10 000 graduates from sub-Saharan Africa registered to work in the US, an increase of almost 40% in a decade, according to one report.
The fresh deal, however, also brings concerns about employees' safety. Some Ugandans who have gone to the Middle East to work as housemaids through local recruiting firms have been forced into sexual slavery and exploited. Uganda and Libya have "always had and continue to have strong ties", said Uganda's labour minister, Janat Mukwaya.
Kampala is home to the Gaddafi Mosque, a gift from the despot to Uganda.
Despite Moses's reservations about embarking on a new life in Libya, he still made the 100km bus journey to Kampala from his home in eastern Uganda for an interview. "The past few months we've been going through a challenging season; food is very expensive," he explained.
By 6am the next morning he was at the consultancy's headquarters, just one of dozens of young Ugandans clutching their CVs.
Several applicants were upset that the registration fee was not mentioned in the ads. Many are now anxiously awaiting feedback from the company, with some saying they are not being properly informed about the process.
Others are relying on a new gig. "Our salaries, they're too small," said 28-year-old Gerald (not his real name), a nurse in western Uganda.
"I liked Gaddafi because he invested a lot in Uganda. If there's an opportunity to go to work in his country, it's like paying back."
The father of one applicant said: "I'm not worried about anything."
When the consultancy and Mukwaya were asked about measures to protect Ugandans working in Libya, such as an evacuation plan, neither could elaborate. MEC has said it will monitor working conditions and visit employees every quarter.
"It is a good opportunity for Ugandans when you compare our payments here," said Mugyenyi, adding: "No way, I'm not concerned" about medical brain drain.
Mukwaya pointed out that the company was regulated and held a valid licence. "If I have a surplus [of medical personnel], I'll offload that to any person who wants them," she said. "It's a good trade-off for me."
Ugandans are already working "in hot areas like Dubai, Abu Dhabi, have very good English and are very hard-working", said Mukwaya. "There's nothing outrageous about this."
She said applicants would have to go undergo HIV tests because "we can't afford to export people who are sick".
Margaret Kafeero, head of public diplomacy at Uganda's foreign ministry, stressed that the agreement was a private one.
"Libya is undergoing a period of strife and we warn any individuals that go there that we may not be able to offer adequate consular protections in case of any negative eventuality," she said, adding that Uganda had no diplomatic representation in the country.
Mayambala Wafrika, chairperson of the Worldwide African Congress, which has helped to rescue Ugandans who have run into problems in the Middle East, was alarmed by the deal. "Who will be held accountable if doctors end up in trouble?" he said.
Asia Russell, the executive director of advocacy group Health GAP, said the export of medics would lead to "more preventable death and sickness in Uganda".
"The ministry of health should intervene and halt it immediately," she said. "Government must increase the concentration of health workers in the public sector and their remuneration to resolve the health worker crisis in Uganda."
Dr Anthony Mbonye, Uganda's director of health services, said the health ministry was "concerned" but that the WHO endorsed the free movement of labour. "You must pay [health workers] and attract them to stay here," he said, adding this was "not a priority" for the government.
For now, it appears that Libya is willing to pay health workers properly — and that's incentive enough to overcome applicants' fears.
"Even if you tell me I'm going next week, I'm ready," said Moses.