Phumzile Sibiya thought she was dying. She had no way out. No option. Death was imminent.
"When the taxi rolled the second time I had already given up any hope of getting out alive."
The 17-year-old said, on Monday last week, she and 14 other pupils were travelling home from the Ngwane High School in Nquthu in northern KwaZulu-Natal when the taxi's brakes failed and the driver lost control of the vehicle.
"Other kids were screaming with fear. I did not even have the energy to scream or cry — I was ready to die," she said.
She lost consciousness and came around to find people surrounding her. She doesn't know how she got out of the taxi.
Some pupils were taken to the Charles Johnson Memorial Hospital in Nquthu and others were taken to the local clinic, but were later transferred to the hospital.
"I hurt my head and had minor bruises on my body. The hospital gave me pills and an ointment to rub on myself and sent me home," she said.
Sibiya was lucky; she survived the accident. Others have not. So far this year, 27 pupils have died in crashes while travelling to or from school. These are the numbers that have been reported, and the real number could be higher.
Most of the accidents happen in rural areas where schools are far from pupils' homes, and the children are often crowded into taxis and bakkies, which are often also not roadworthy. Their parents pay for the transport where provincial education departments fail to provide it.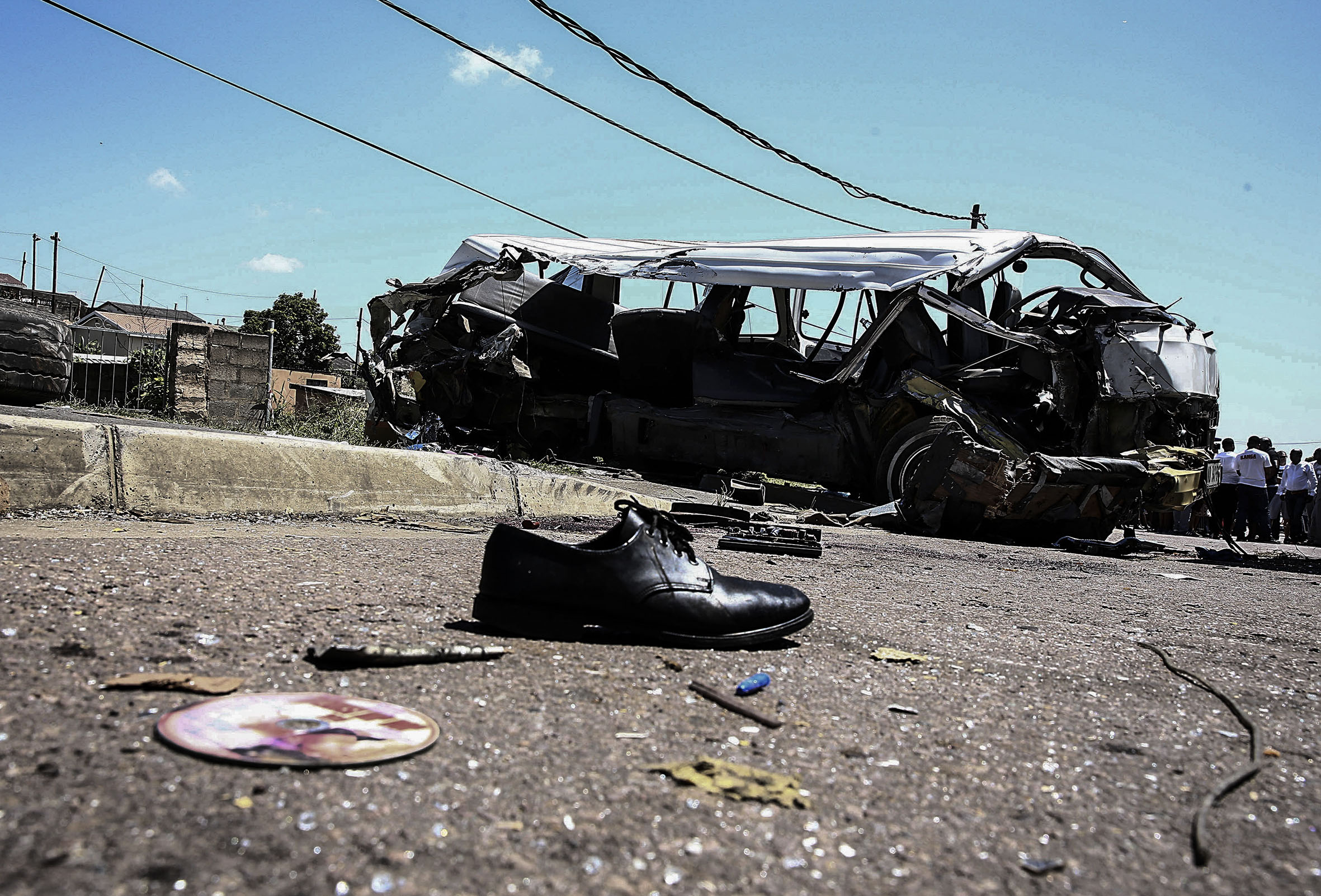 [Four pupils died when a taxi hit a bus in Ntuzuma, near Durban. An NGO has gone to court to get the KwaZulu-Natal education department to provide school transport. (Gallo Images/The Times/Thuli Dlamini)
The 19 pupils who died in April when their taxi crashed into a truck between Verena in Mpumalanga and Bronkhorstspruit in Gauteng made world news.
The pupils travelled to Gauteng because there were no schools that offer isiZulu in Mpumlanga.
These are some of the accidents in which schoolchildren died or were seriously injured:
• In February, a grade R pupil died in Port Shepstone when the bakkie in which she and 15 other pupils were travelling was involved in an accident.
• In May, a pupil died and 23 others were critically injured in Ekombe near Nkandla in KwaZulu-Natal when the bakkie in which they were travelling overturned. The Zululand Observer reported that the driver had offered the pupils, who were hitchhiking, a lift. The driver lost control of the vehicle, which landed on its side in a donga.
• Also in May, five children were injured when a bus and a bakkie the pupils were in crashed near Mbazwana in northern KwaZulu-Natal.
• In June, five pupils from the Gumzana Senior Secondary in Bizana in the Eastern Cape died when an overloaded bakkie taking them from their villages to school crashed. Three pupils were critically injured.
• On Tuesday last week, a 14-year-old died when a bakkie taking 17 pupils to school crashed between Mandeni and Eshowe in KwaZulu-Natal. Six other pupils were critically injured and were airlifted to hospital.
Despite the accident she was in, Sibiya is one of the fortunate pupils in the Nquthu area whose parents can afford to pay for their transport to and from school. Others must walk.
An application by lobby group Equal Education to force the KwaZulu-Natal education and transport departments to provide transport to and from 12 schools in the Nquthu area is due to be heard in the high court in Pietermaritzburg.
The Ngwane High School is not the nearest school for Sibiya. But, even if she attended the Hwanqane Combined School, which is the closest school to her home, it is still far.
"A journey to Hwanqane is about an hour and 30 minutes [of walking]. I would have to wake up very early to [go] to school by foot. It is not safe, especially for a girl," she said.
Last month, the Mail & Guardian reported that the provincial department of education, in its answering papers to Equal Education's application, said the country's bleak financial situation hindered it from providing transport for all pupils who need it.
It said the economy has affected the province's fiscus and the department can't make the "constitutionally recognised right of access to education in all its facets a reality on account of this".
But in a replying affidavit filed by Equal Education early this month, it said the situation in the province is "dire" and "it is insufficient and unacceptable to simply state budgeting constraints when human rights are being violated".
"From what is stated here in the answering affidavit and the annexures that support the answering affidavit … learners are not only being denied access to schools but also their right to equality, human dignity, life and the right to security of their person," the court papers said.
It said the relevant departments are not fully aware of pupils' needs, which is the reason they don't prioritise transport.
"While it is noted that budget allocations are political and legislative, the principle of rationality is still required. Further, where human rights are being infringed, the state cannot simply hide behind budgetary constraints. A budget and how money is both allocated and spent involves both executive and administrative actions, which should have some rational connection to government policies," Equal Education said.
In the 2016-2017 financial year, the department of basic education said 521 711 pupils needed transport, but only 419 849 got it. The provinces with the biggest shortfall were KwaZulu-Natal and the Eastern Cape. This year, 96 714 pupils who should be getting transport are having to walk to school, according to a report presented to the portfolio committee on basic education.
The National Learner Transport Policy, released in 2015, states: "The ability of learners to access education is hampered by the long distances they have to travel to get to school, threats to their safety and security and the cost of transport. Learners have difficulty accessing educational institutions due to the inadequacy of learner transport and insufficient schools in areas where they live."
The policy leaves it up to provincial governments to determine the distance pupils would have to travel to school to benefit from provided transport.
The KwaZulu-Natal department of education's draft policy on transport says pupils who have to walk more than 3km to school must be provided with transport.
But pupils who attend a school preferred by their parents and not those nearest to their homes will not be allowed to use provincial transport.