'In the news, people are portrayed in one particular way," says photographer and 2015 Ernest Cole award-winner Masixole Feni. "If it is not shameful, it is about them being disgusting."
In the poverty safari stakes, Western Cape-based Feni is circumspect enough to see the indignity of a situation rather than the indignity of people being depicted.
His Drain on Our Dignity series, currently featured at the KZNSA Gallery in Durban as part of the Ernest Cole award (until September 28), is filled with images of flooded shacks, sanitation mishaps and women either washing clothes or, literally, putting out fires. In these images, some of which were shot while Feni was on assignment for social justice website GroundUp, there is a marked lack of an intrusive voyeurism, even as Feni documents the putrid world of portaloos and their cleaning routines.
Feni, clearly aware of the tightrope, avoids erring on the side of poverty porn, but there is, arguably, a distance that can be read in a number of ways. One, if one is to take him at his word, is that Feni was trying to bring out the "beauty in the ugliness" of the places he was photographing, and thus avoided anything that would get in the way of the landscape and built environment.
The other is that Feni probably had no time to develop the closeness required to fully turn his project from the merely factual to the truly lyrical. It's a pity, for Feni is evidently a gifted photographer with a keen eye for symmetry and a knack for deploying depth of field as a storytelling tool.
If I understood Feni correctly, there were upsides and drawbacks to having to produce the work during his freelancing arrangement with GroundUp.
"It was teamwork," he said. "I'd go from one area to the next when service delivery issues flared up. I was encouraged to work with GroundUp, but I also shifted the camera away from protest and the throwing [of]stones and focused on who these people were that found themselves in the centre of the protests and the most inhumane ways in which people are meant to collect their own faeces. The camera took me to the unfamiliar even if I knew some of these places."
By this, Feni means he discovered other strands of the narrative that he sought to pursue, such as the angle of these privately contracted workers having to collect shit in their own neighbourhoods in some cases.
Since its inception in 2011, the Ernest Cole award has been received by Dave Yudelman, Ilan Godfrey, Graeme Williams, Feni and the 2017 recipient, Daylin Paul. As their names suggest, the first three recipients were white and male; incongruent choices if one considers the background and personal sacrifices that Cole, a black photographer who captured the unfolding of apartheid in black people's everyday lives, made to pursue his work — sacrifices that continued to haunt him to his death in 1990.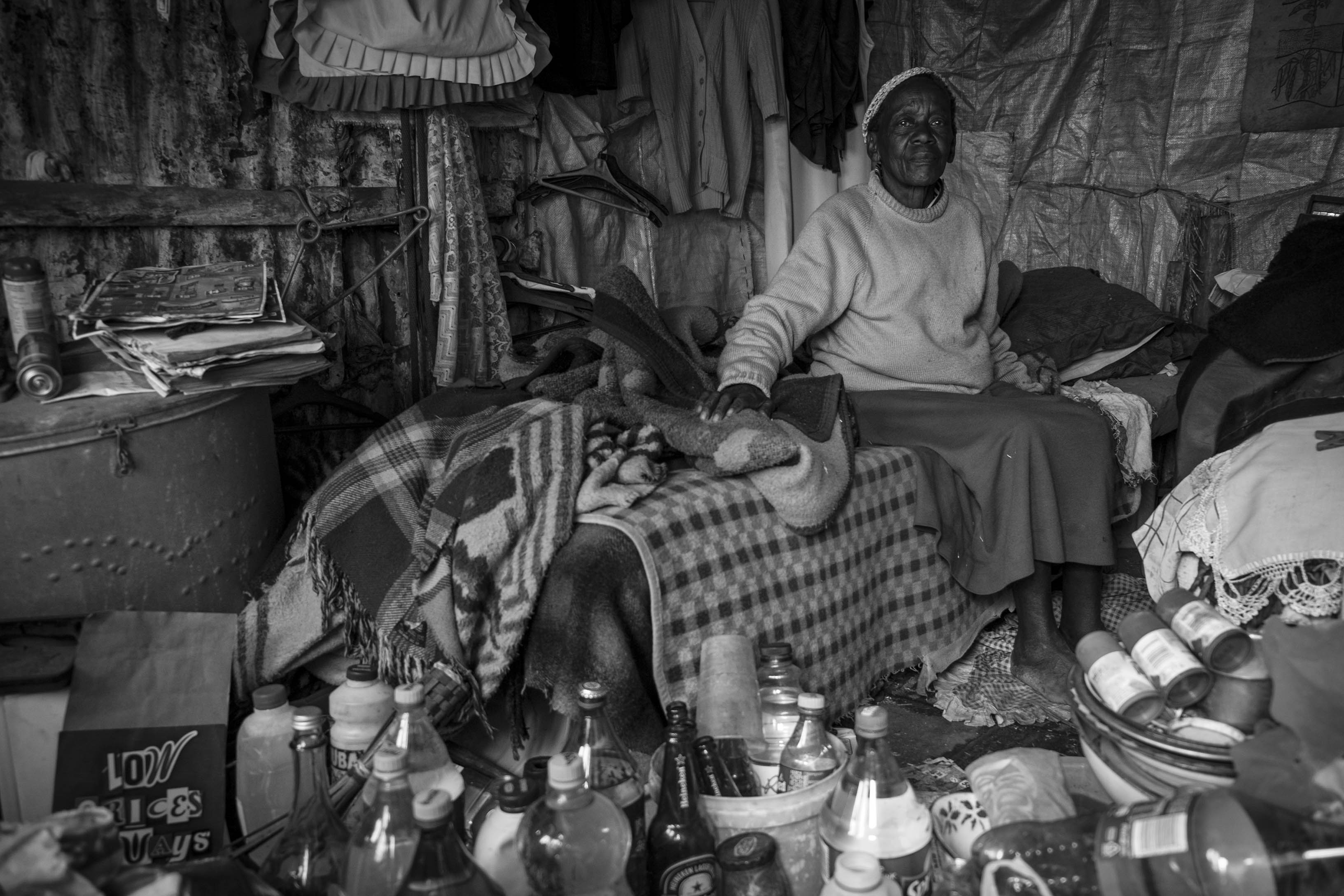 [In the footsteps of Ernest Cole: 2017 winner Daylin Paul's Broken Land (Daylin Paul)]
The award, which gives a photographer R150 000 to complete an existing project, was co-established by photographer and chief curator of the Centre for African Studies Paul Weinberg alongside David Goldblatt in 2011.
Although Goldblatt has often spoken endearingly of Cole, the astounding magnitude of his bravery and technical proficiency, as exhibited in the book House of Bondage, he would not be drawn into discussing the racial profile of the awards, stating that what he was interested in "was the quality of the work. I mean, when we started the award, there were not enough good photographs to be passed around [to warrant a black person on merit], but the selections were made in honesty in a way that we thought would make the award effective."
The importance of race and the limitations it presents are self-evident when discussing Cole's life work. To continue to produce the images published in House of Bondage, Cole had to alter his racial classification from African to coloured, changing not only his classification but also the spelling and therefore the pronunciation of his last name from Kole to Cole. That an award bearing that name could be oblivious to the importance of representivity in the selection of its winners is quite inexcusable.
"The process of the awards was determined by adjudicators linked to the University of Cape Town and outside people," says Weinberg.
"The adjudicators, demographically, came from all persuasions of South African society. What happens in documentary photography, in general, is that people who have come from privilege are at an advantage over photographers coming from other places.
"These are the historical contradictions that exist, but we have worked hard to broaden the base."
The slowness at broadening this base has, in some ways, come to taint the award. In a number of ways, Feni's final product reveals something about the difficulties inherent in the award's transition from being one that took these "historical contradictions" for granted into one that seeks to overturn them.
Feni says he met with Goldblatt and Weinberg on a monthly basis. Was this enough to respond to some of the circumstantial challenges Feni faced, who confessed, for instance, to losing a Mark 2 camera purchased with his award funds in a robbery of his Mfuleni shack before he could make much headway with it.
In other ways, the award's slow transition has led to work that leaves a sour aftertaste in the mouth.
A quote at the back end of Williams's brilliant collection of photographs (A City Refracted) says the photographer's "highly subjective views" of Johannesburg "portray less about the outside world and more about his internal wars". It's an interesting quote for it cuts to the heart of my discomfort with Williams's mesmeric photographs, produced behind the protective wall of the black bodyguards who accompanied him as he photographed Johannesburg. What could be more contradictory to Cole's "ninjalike" approach, to quote Goldblatt?
Perhaps for the legend of Cole to loom large over South African photography but not much over the award itself is a grave mistake.
Ernest Cole Family Trust spokesperson Leslie Matlaisane says the award was established prior to the formation of the family trust. A subsequent agreement between the University of Cape Town (which hosts the award) and family members was overseen by a party no longer involved in the proceedings.
"I'd have done it [the agreement] differently," says Matlaisane. "We had to let him go because he hasn't been keeping the family abreast of the proceedings. To a certain extent it does promote Ernest Cole but it does nothing for the family."
Cole's work continues to be unearthed, often through sleuth-like work through a series of smokescreens, smokescreens that in some cases were created by people the photographer had entrusted with the care of his unpublished works.
In Cole's country, it would bode well for all parties bearing his good name to at least be on the same page of history.