As first impressions go, Atlanta is all about heat.
After landing at Hartsfield-Jackson International Airport at 5am, and braving the terrifying gauntlet of American airport security and customs, the city greeted us with the kind of heat that sits on your shoulders like a Sesotho blanket. Even in the dying days of summer, and even at five in the morning, Atlanta's heat is inescapable.
As our busy morning unfolded, the city's heat only grew, concentrating itself into thick and humid columns of air. My team and I — an all-women crew of South African music journalists — were there to cover the Red Bull Culture Clash, an indoor music event that showcased four genre-diverse teams who battled it out in a multi-round sound clash, with the winner decided by the volume of the crowd's response.
Inspired by traditional Jamaican sound clashes that emerged from the rhythmic and competitive streets of Kingston in the 1950s, Red Bull's own version first took place in 2010 at London's Roundhouse.
It makes sense that Red Bull's first "new generation" iteration of the iconic event took place in London, where sound clash culture had already established itself as an important part of black British street culture by the 1970s.
Back then, disc jockeys and engineers such as Jah Shaka and the Freddie Cloudburst Sound System played rocksteady, R&B, ska and reggae on the streets of southeast London, loading up their trucks with turntables that transformed the organised battles into street parties. Today, sound clashes are held all over the world, playing everything from hip-hop and trap to Afrobeats and grime.
Very soon, distinctly South African genres such as kwaito and gqom will be added to the inventory of clash sounds, as Red Bull brings the event to Johannesburg this weekend, taking place at Orlando Stadium.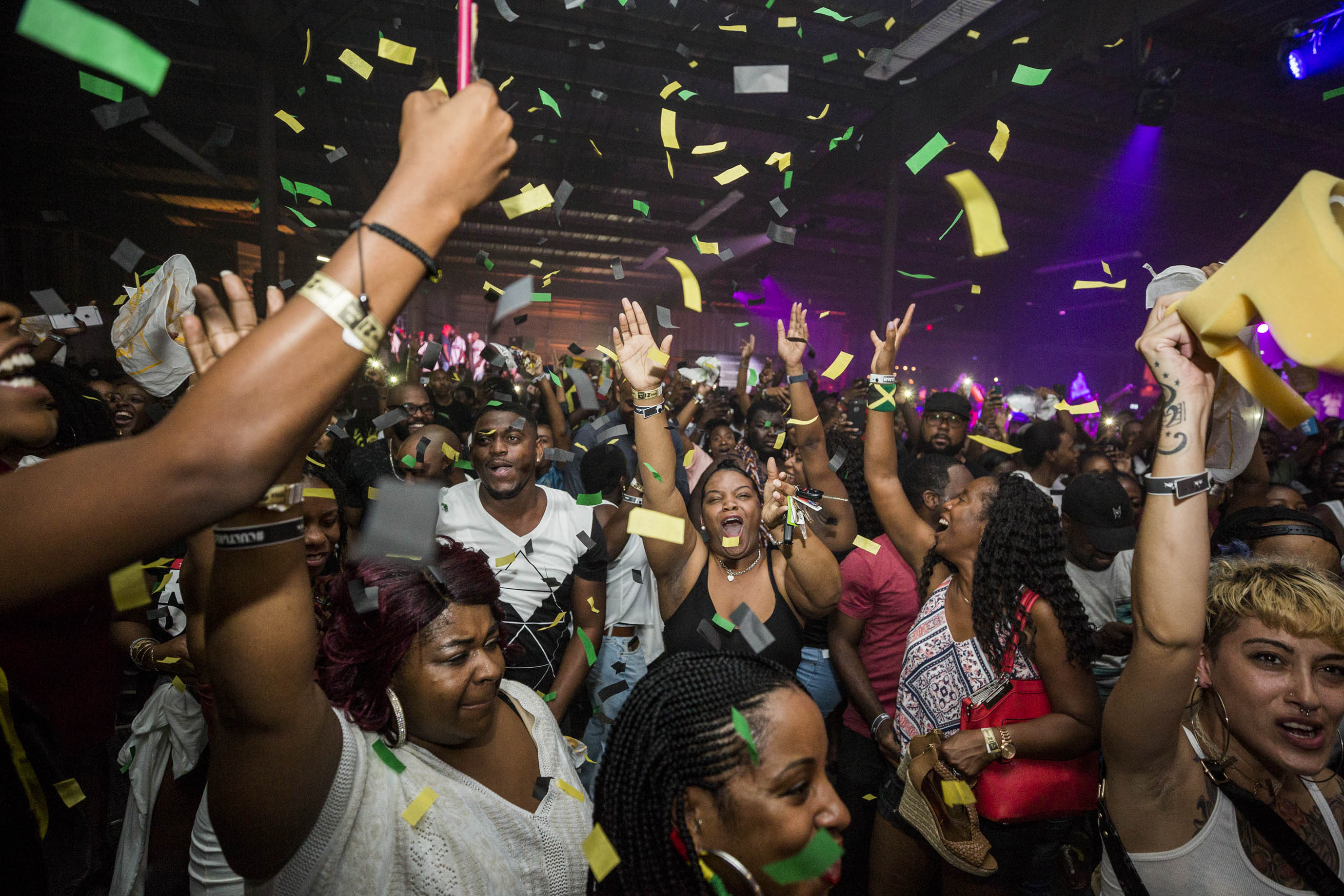 [The crowd's response is a taste of what's to come this weekend (Cam Kirk, Red Bull Content Pool)]
Atlanta's event, set in a huge industrial warehouse at 787 Windsor, gave us a taste of what to expect in Jozi. Each of the teams appealed fiercely to the audience with their energetic performances, representing the best of their own city's heat, while playing savage diss records and bringing out surprise guests to the rapture of a thunderous crowd.
I had the opportunity to sit down with each of the sound systems before the Culture Clash, interviewing their crew leaders at the slick W  Hotel downtown to get a feel for their approach to the competition.
The first sound system I spoke to, Team Enjoylife, from Toronto, filled up the conference room with their enthusiasm and noise, in contrast to their softly spoken team leader seated among them, 20-year-old beat-prodigy Ebony Oshunrinde, better known as WondaGurl.
For such an influential producer, working on loud bangers such as Rihanna's Bitch Better Have My Money and Jay-Z's Crown, WondaGurl was surprisingly quiet and subdued. I asked about whether this underdog quality was an advantage in the Clash. Emphatic nods rippled across the room in response.
"Everyone underestimates Canada. I don't even want to just say America but the whole world thinks it's just this bland, nice place. But they have no idea about the diversity and culture that's in Toronto alone, in Montreal, in Vancouver … And I think that's what we'll show tonight. To remind you about what having fun is all about."
I certainly understood, mentioning that I used to live in Vancouver. Cries of "Ayeee!" and "Family!" lit up the room with their energetic warmth.
"We just want to give everybody a taste of what Toronto is like, in terms of how multicultural and how diverse our city is. We know that a lot of the other guys are going to come out and play to the crowd, some of them are Atlanta-based, and so they'll cater to Atlanta, as they should. But we're from Canada, and we just want to give you an idea of what that's like, what it's like being at a Toronto party. We want to create that kind of vibe. To just escape Atlanta for a bit. If we can do that, if we can execute that properly, then we'll be alright."
Giving the audience a sense of their home city was a sentiment that was shared in the next room, where I interviewed Nigerian-British rapper, Tinie Tempah. His crew, Disturbing London, bridged Lagos and London with their sound, blending darker genres like grime with hip-hop and dub.
"I'm drawing inspiration from wanting to win, and I'm drawing inspiration from, I guess, London. This whole summer I have been doing a lot of performances in Ibiza and I got a massive residency booking loads of different artists, and curating festival line-ups, if you will. So I guess, I have been putting sound-systems together for the past three summers. I'll be bringing some of that energy tonight."
After connecting over Black Coffee's recent residency at Ibiza's legendary Hï club on Playa D'en Bossa, I asked Tinie whether he had any advice for our South African crews on how to approach the Culture Clash.
"I would say get creative with your team. In the South African music industry, I'm sure there's loads of different crews, different sets of peoples, different sounds. So when you're doing a sound system, sometimes it's good to collaborate, cross-pollinate, share ideas and sometimes it's amazing to work alongside artists people wouldn't expect you to work with. So I would definitely say that.
"Use your network, and really be ambitious, and try to win. And once you know who you're up against, be as creative and as imaginative as possible. And I guess, the last thing, and I'm going to try do this tonight, is have fun. It's all fun at the end."
The cross-pollination of sounds and ideas are certainly aspects that the South African crews are already clued into. Durban kwaito ambassador DJ Tira, who'll be performing at the clash on Saturday with Durban Massacre Sound System, hinted at this in our interview this week.
"We're going out there to have fun, we're going out there to represent our sound and we're going out there to make sure that we make people dance, and to have a lot of energy on stage. At the same time, we're planning everything to the T so that we take this opportunity to show people who we really are musically, to just impress the masses," he says.
"We're working with [L'vovo] Derrango, who's a big performer himself, we have got Professor, who's a hit factory, we have got vocalists serenading the ladies. We're going to try blow people's minds."
When I ask the producer what he would do if he had the chance to represent South Africa in Atlanta, he replies that he would "definitely bring my dance crew. But, at the same time, I would have to bring a sound that they can relate to as well, and to have those hooks for people who may not understand isiZulu, so that they can still dance. I would bring my own gqom music and mix it up with those turn-up sounds that they know so it's not just gquuuum gqum gqum! all the time [laughs] You know?"
DJ Tira and his Durban Massacre Sound System will be joined by AKA, who heads up the Top Boyz Sound System, South African reggae duo Admiral and Jahseed, who lead the African Storm Sound System, and Nigerian dancehall artist Patoranking and his Red Hot Sound System.
When I ask Tira about what he thinks his fiercest competition will be, he mentions Patoranking's crew, who have also embraced the mixing of genres and influences, with members from Nigeria, Ghana, Malawi and South Africa.
"The Naija sound is on! The Naija sound is on fire," says Tira. "And the reggae guys, you know, they're the reigning champions. So it's anyone's game. You cannot afford to take anyone for granted. And I saw who the ragga guys are bringing. Names I respect like abo-Oskido and stuff, so kuzofiwa straight."
In a recent interview with Red Bull, Patoranking, who has worked with Wizkid, Sarkodie and more of the continent's biggest stars, expanded on why he thinks the Naija sound is exploding on to the global stage.
"I always wanted to build an audience for myself in Africa first. I feel like that's been cemented and now the aim is global domination. I'm going worldwide. I think the success of the music has largely been because of the subject matter. I sing about real things: everyday life, falling in love … that type of stuff. People always relate to that."
With the Culture Clash relying on audience response, it's easy to see how relatability would be an advantage.
In Atlanta, Unruly Sound System from Jamaica triumphed by bringing out Atlanta's hip-hop OG, Jermaine Dupri, at the last minute, surprising the crowd, which nearly brought down the warehouse with their noise.
At its heart, sound clash culture is about showcasing musical adaptability and imagination while never losing sight of your roots.
As Cleveland "Clevie" Browne, co-founder of Silverhawk Sound System, which ruled Jamaican dancehall in the 1990s, said: "The clash is very important in bringing the best out of anyone."
The Red Bull Culture Clash takes place on September 23 at Orlando Stadium. Doors open at 6pm and tickets are available on the Red Bull website. Follow #redbullcultureclash for more information