What gets lost in the passage of time? Eventually … everything.
Language changes. We respond differently to visual cues. Our values morph. And, in South Africa, because racial segregation is no longer legal, although no less real, some contextual aspects in which one experiences a production set at the height of apartheid no longer hold true.
Back in 1959, the original King Kong seemed to draw its sociopolitical gravitas from every angle. There was its multiracial production team featuring the likes of Todd Matshikiza for the music and Pat Williams for the lyrics. There were mixed audiences at its opening, audiences who refused to leave its opening at the University of the Witwatersrand when the curtains came down.
Set in Sophiatown, even as it was being demolished, there was the spectre of the mounting damage of apartheid policies to contend with. Slotted in between this epochal event and others to follow, such as the Sharpeville massacre and the Rivonia Trial, King Kong was in, and of itself, a political act. Also, King Kong the man, the ultimate tragic figure, had died a couple of years before.
With a swagger comparable to that of Jack Johnson, the first African-American heavyweight champ, Ezekiel Dlamini was born in Vryheid in 1921. He left his father's house at the age of 14 and worked as a gardener in Durban before going to Johannesburg as part of a touring football team, and stayed.
Setting up shop as a professional gambler, Dlamini got into the sport of boxing after laughing at the boxers in a Jo'burg gymnasium. Trainer and former professional boxer William "Baby Batter" Mbatha decided to teach the youngster a lesson by beating him through his "cushions", which is how Dlamini had derisively referred to boxing gloves. It was then that Dlamini decided to become a boxer.
Blessed with good natural size and boxing talent, Dlamini was not averse to intimidating would-be opponents and distant challengers, in one case taking a train to Durban so he could fight Sam Langford, who had issued a boast about beating the boxer anytime, anywhere. When Dlamini confronted the man at his place of work, a friend of Langford's intervened, saving Langford's skin.
Dlamini's life, it seemed, was more colourful outside the ring than it was in it. It is a fact brought to life by this musical, which loses something of its essence when it is transformed into a contemporary narrative. King Kong looks good on paper and, indeed, to the eye. Andile Gumbi and Nondu-miso Tembe are charismatic enough as the respective leads King Kong and Joyce.
Gumbi, aesthetically, evokes the lean physique of the young, "pretty" champion Cassius Clay, as opposed to a figure congruous with the name King Kong. The costumes, styled to evoke the 1950s, are crisp and fresh, decking the likes of Petal (Lerato Mvelase) in suave vintage garbs that would be the envy of any modern fashionista.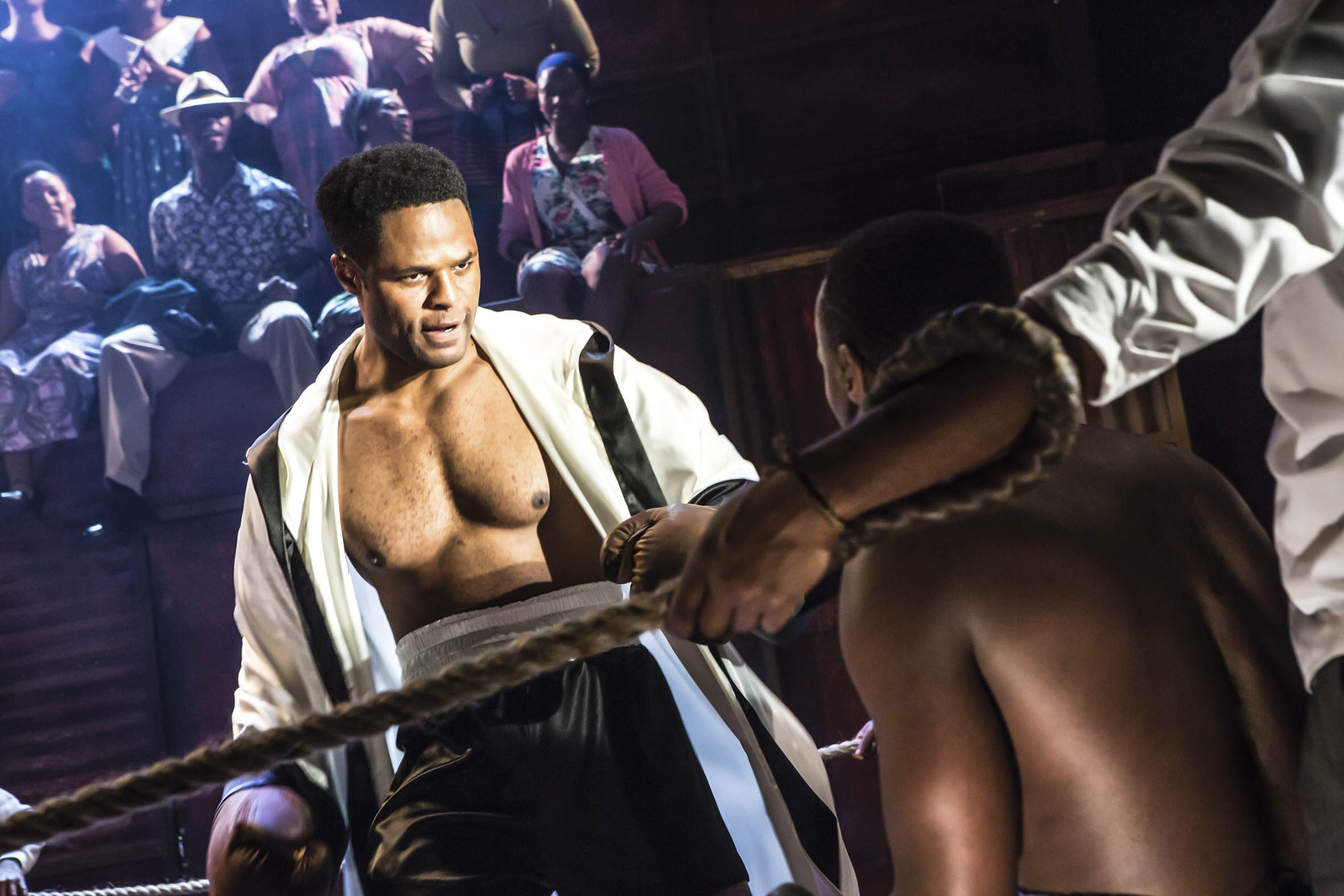 [Andile Gumbi playing a "pretty" champion Cassius Clay (Daniel Rutland Manners/ King Kong the Musical)]
The choreography also (handled by Gregory Maqoma) is entertaining and a throwback without being over the top. The boxing ring fight scenes are brief, creatively lit and inventively structured. The band is tight, but the music sometimes seems like a runaway freight train; at once part of this musical but, at the same time, parallel to everything that is going on on-stage. It is a strange incongruity, one that, at times, creates the sensation that the cast is at odds with the band or drowning in its sonics. There is simply not enough in the form of timeously deployed dynamics that makes the music an enhancement to the drama.
Having said that, the ensemble voices in this production make a strong impression, which brings me to another point about the story. For much of it, the subplots and supporting casts propel the story forwards during its lulls, of which there are several. Mvelase and Ntando Rapatla (Miriam), for example, respectively play potential love interests to King Kong and his trainer Jack (Tshamano Sebe), before finding love elsewhere — "right under her nose" in the case of Petal and Pop (played by Sne Dladla). Miriam also spends much of her time rejecting Jack's advances until he "wears her out".
Perhaps it is a function of the actual story and their roles as supporting actors that their relationships develop at a more organic, believable pace. In the case of our leads' affair, King Kong and Joyce fall head over heels during the course of one song, scuppering any audience connection to their love scenario. By contrast, Miriam and Petal wait in the wings, making their double wedding a sweet emotional triumph and, in some ways, stealing the show from the wings.
This raises another question: What does it mean to indulge in the storyline of King Kong in 21st-century South Africa? At its essence, it is the story of a boxer (no doubt a charismatic hero in the cultural milieu that his stardom emerged from) who murders a woman who will not wait for him.
In 1959 South Africa, forced to participate in a racially segregated sport and quickly climbing to its ceiling, King Kong quickly became a folk hero. A 2006 account of his life by Deon Potgieter tells the story of King Kong running down Marshall Street carrying dumbbells, kids trailing after him, earning him the nickname King Marshall. King Kong, like Joe Louis was to the United States during World War II, was black South Africa's wartime hero in a time when the options were limited.
But King Kong is a tragic hero, a brute who kills his partner because she moves on while he is in jail, and spurns him after his release and subsequent match loss to a middleweight boxer.
The structure of the story does little to contextualise Joyce's actions in a manner that sees them outside the ambit of villainy. Women like her were castigated in a particular time and place. These days, the audience expects them to have agency. Within the context of the story, this is hardly developed. When, in the second act, Tembe sings Funny How Smart I Can Be and Still Be a Fool, about Joyce's oscillating love affairs, it is, perhaps significant that a man in the audience felt compelled to shout: "No, you're not, baby. You're not."
Some of today's current mores should have been transferred to the staging and storyline in one way or the other.
This is not to call for a sombre musical but to point out that its current combination of entertainment and national nostalgia is a little socially anachronistic. King Kong remains what is it meant to be, a hit musical of an accidental hero revised for its enduring place in the national mythology.
So, although King Kong was a hero in his day, he falls short today, singing, in his swansong: "I killed my love to prove my strength to another man."