The titles of Robby Collins's one-man shows kind of tell you the story of his trajectory. You have 2013's That Bushman's Crazy, an ode to Richard Pryor's Grammy-winning 1974 stand-up album That Nigger's Crazy. This year, the lanky dude who always gets mistaken for Trevor Noah and AKA has been touring Son of Carol through various spots around the country.
The show, the last leg of which has kicked off at the Goliath Comedy Club in Braamfontein, cements a direction Collins has been pursuing for a good few years, that of turning his "colouredness" into a more universally relatable experience as opposed to wearing it on his sleeve.
"I remember when I started, I used be very coloured-coloured-coloured," he says at a nearby bar in Braamfontein, minutes after performing a snippet of his one-man show to a small audience of journalists.
Inside, spread around a long wooden table a group of youngsters await their birthday girl. The house music threatens to drown out his deep, evenly projected voice. "Once, [after a show,] a coloured lady walked up to me and said: 'You know, not all coloured people are poor.' I was like: 'Actually, she is not wrong.' So my thing was: I'm not going to talk about it as being coloured. I'm going to talk about me … You can't argue [with] my story."
On stage, hawking his new material, Collins jokes that his comrades are pulling away from "political" references because "we all don't know what the fuck is happening with our country. We are trying to figure it out together before we can actually talk about it."
This turns out to be a bit of an exaggeration as, evidently, Collins can't help but speak to the times.
His material contains swipes at "whites marching for Vitality points" in reference to #ZumaMustFall, and whites losing their shit at "the most peaceful restaurant in South Africa", referring to Spur. But the reality is that it is social media, more than the hurtling, ruinous Jacob Zuma years, that is making our comics sit up and scratch their collective heads.
"Comedians are becoming more personal because all the social commentary is done on social media," he says from his seat not too far from the birthday table. "So why must I talk about [former Zimbabwe president Robert] Mugabe when there have been a million tweets? You've done every joke I could have done. Plus, behind the tweet you're not looking at expression. A tweet can be rewritten. You go: 'Ah, that's too long.' When people don't retweet it, you're like: 'Okay, delete.'"
The other problem with Twitter and its attendant performances of wokeness is that there is just too much tone policing for comedians to contend with, not to mention the instantaneous aging of still-in-progress material at the push of a button.
With all these changes, it is probable that some comedians are finding themselves in a strange new world, having to play catch-up with new discourses as their monopoly on social commentary meets its comeuppance from faceless trolls and self-styled cyber-activists.
Collins, however, is doing better than most. His style has always been conversational, more like a languid raconteur in your lounge than some guy threading his way through rehearsed material. In a segment in which he tries to address #MenAreTrash, Collins segues from asking us how then do we regard Nelson Mandela (considering his history of infidelity) to a bit about Winnie Madikizela-Mandela not getting her dues, considering her role as "Mandela's touring manager before he could tour".
It is reminiscent of a part at the end of one of the recent Dave Chappelle specials, in which the comedian appraises the legacy-destroying Bill Cosby sexual assault allegations by asking us to weigh them up against Cosby's history of philanthropy. It was risqué on Chappelle's part, but could've landed differently had the specials not been weighed down by a barrage of transphobic jokes. It was on Twitter where Chappelle's special was roundly criticised even as most of the American media were fawning over his return.
Collins doesn't exactly rush to his idol's defence but proffers that it is perhaps this alienation from social media and the discussions that take place there that has recast Chappelle as a brilliant mind who has lost touch.
As for Collins, he hasn't seen much action on social media lately, even as he hops across South Africa's nooks and crannies. "I haven't been on Twitter or tweeted since May, simply because …" — his voice rises a few decibels — "we all act like we care about things to jump on the trend.
"So we go from Karabo [Mokoena, who was allegedly killed by her boyfriend]: '#MenAreTrash. #MenAreTrash. #MenAreTrash.' Next day, Bonang does something. 'Oh, Bonang can't read.' And now we are dissing a woman. The same women who were defending women are now dissing a woman?"
For Collins, who mines so much of his material from his upbringing in several of Durban's segregated townships, he often falls back on the adage "the truth defends itself". This is his defence to a fan's assertion that, in an older gag, he fat-shames his high-school crush who rejects him as a teenager only to bump into his still-slender, successful self some years later.
But just how deep Collins goes is made clearer when the roots of his joke about "NikNak toes" is revealed to me by his sister Claire. That, right there, is him making light of a hereditary toe deformity some members of the Collins clan suffer from.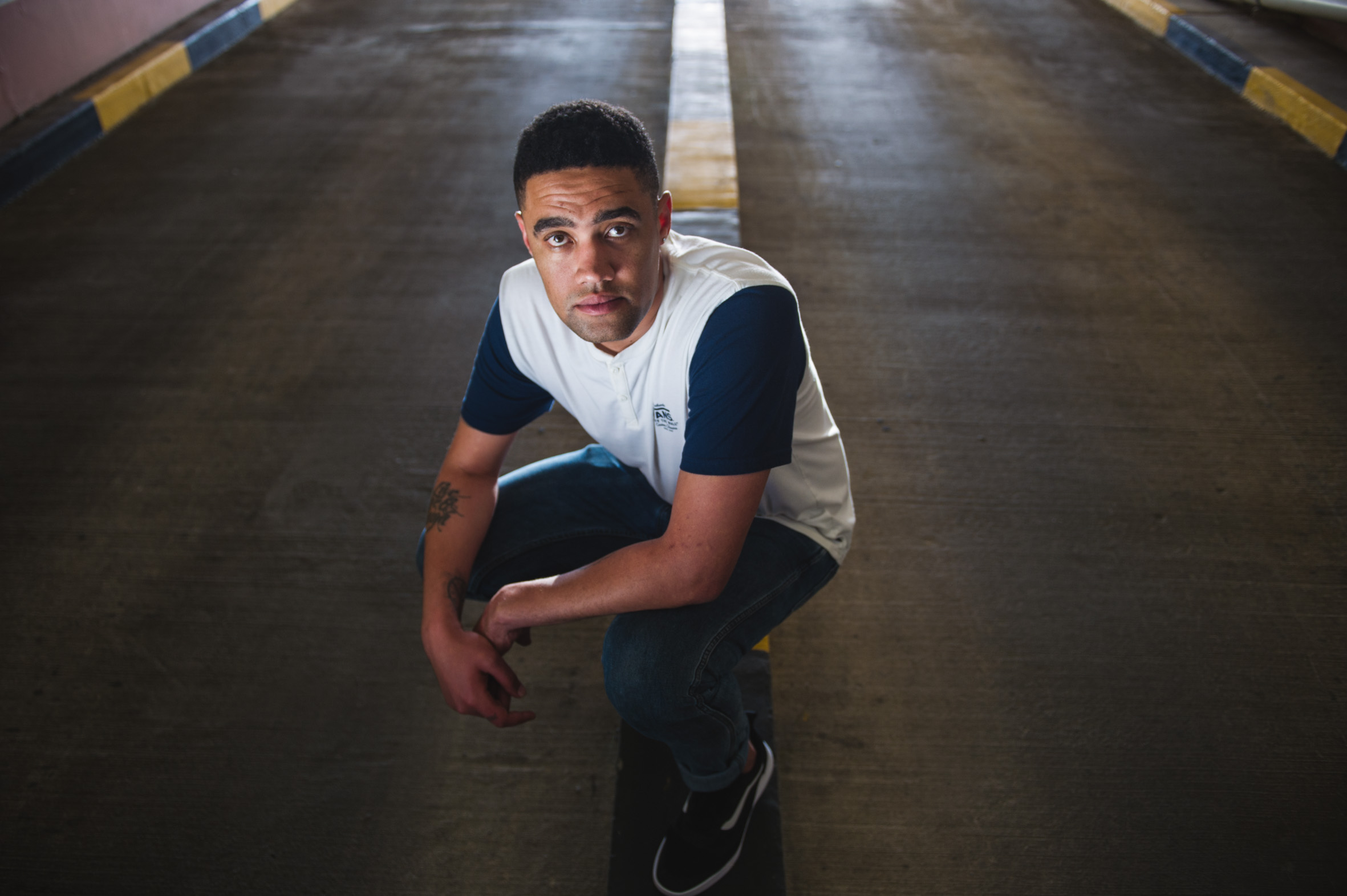 [Carol's Son Robby Collins (Photo: Delwyn Verasamy)]
"When I heard it for the first time," says Claire, "I was like: 'Oh my word, you're gonna like … I hope you're not gonna isolate those members of the family that have the NikNak toe.' But the way that he told it, to this day I hear friends of mine and colleagues talk about that or reference that and they are not aware that I am related to him. It makes me realise that there are other families that have it, and it's that relatable thing."
For Claire, a medical student, there are plenty of cringeworthy moments that come with being the sibling to a stand-up comedian, but she believes "his truthfulness, honesty and willingness to be vulnerable with them" is what connects him to his audience.
"It's beautiful to see that," she says in a series of carefully considered WhatsApp voice notes. "It's almost like jazz, the journey that they go on together."
But there is another key aspect that renders Collins something of a comedic savant: apartheid.
Yes, it is indeed my theory that you can blame the genius of Collins on history — in particular, the very fucked-up idea of "colouredness". It is a theory I posit, successfully, to friend, entrepreneur and fellow comedian Jason Goliath, at whose comedy club Collins is wrapping up his Son of Carol tour.
In the South African comedy trade, colouredness is something of a "superpower", as Goliath puts it.
"Because under apartheid we were placed in the middle, you are kind of forced to understand everybody's culture, what it's about," he says in a brisk but informative phone interview.
"I'm fortunate, throughout my life, to have spent time with just about everybody from a cultural point of view, which makes us relatable because we understand. That relatability comes across as edginess because it seems as though we have more insight than we naturally should."
"Racial" profiling aside, Goliath dares me to find two comedians who are on stage more than Tats Nkonzo and Collins, whether for pay or for other aspects of the daily grind, like honing consistently funny material.
Back at the decked-out table in Braamfontein, the birthday girl has arrived. The house music, possibly a Shaun Escoffery track, is cranked up a bit louder, forcing us to conduct the rest of the interview outside in a narrow, crowded passage, where Collins glances at his watch and announces that he has another stage to hit.
At a charity event for a deceased friend of Goliath's, the crowd on this night at the Gold Reef City Barnyard Theatre is about 95% white, with an average age of probably 49. It is a line-up of about eight comics — all male, all young, mostly black. It is a crazy array of styles and approaches. Goliath, the MC, keeps things light, dishing out domestic gags while introducing the acts.
When Collins comes on stage, he more or less matches the preset energy levels. His delivery is brisk, but it's in his tone that you feel his cognisance of his audience.
He does the gag about white people expecting us to join their marches: "Where were they when Cassper [Nyovest] was trying to fill up the Dome?" There's a missing solemnity and therefore a missing sting in his voice, a tailoring of material achieved without much tailoring.
He employs quick, efficient segues, transitioning from "people who let us down this year" to "people who were forgotten", thereby reframing his bit on Winnie. When he speaks of her enduring "hotness", the sprinkling of black faces in the audience whistle and voice their agreement. In the dark, I hadn't realised they were there. "If I saw her around the club at 2am …" he says. There is a pregnant pause on the way to the punchline. It is drowned out by the sound of all the men erupting in laughter.
Robby Collins's Son of Carol runs at the Goliath Comedy Club in Braamfontein until December 2. Book tickets at goliathcomedyclub.com