On a sweltering Sunday morning in Mthwalume on the KwaZulu-Natal south coast, with the national broadcaster's microphone pointed at his face, Nazareth Baptist Church member and spokesperson for the Thembezinhle faction Nkululeko Mthethwa speaks of the programme of the day. He tells the reporter that an announcement about the successor could very well be made that day.
It is a curious moment of equivocation, one perhaps aimed at driving television audiences, for one would imagine these matters to be guarded by strict, pre-determined protocol.
News channel ENCA runs a live broadcast of the funeral, taking place at the maternal home of Vela Shembe, providing a belated, if fleeting national focus on the deceased church leader and his congregation. Mthwethwa's comments, which changed as the day wore on, may have been made with the live coverage in mind, to keep the viewers glued to the screen as successive tributes were paid to Vela Shembe.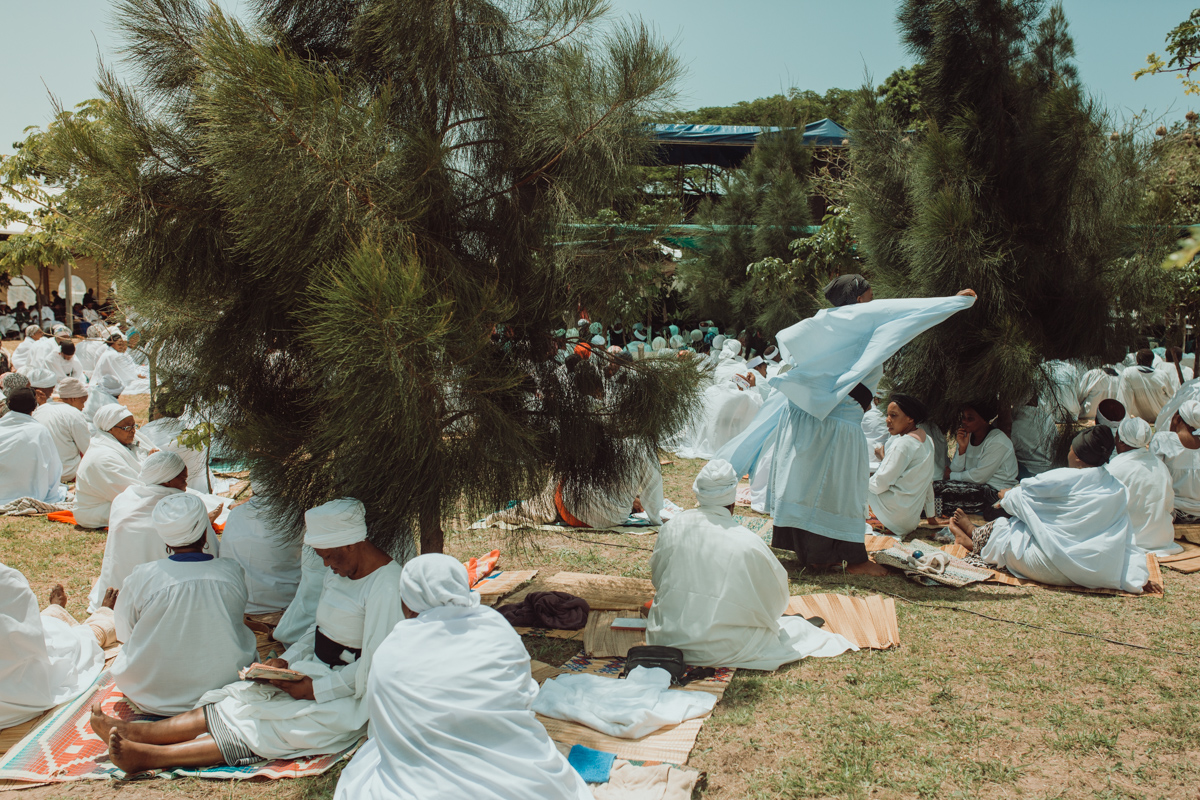 Worshippers huddle around the Mthwalume temple where the funeral service of Vela Shembe took place (Matthew Kay)
Locked in a half-decade long succession battle with his nephew Mduduzi Shembe, Vela Shembe's was vindicated last year when the Durban High Court found him to be the legitimate leader of the church as elected by the deed of nomination authored by the late Vimbeni Shembe, the Ebuhleni leader who passed away in 2011. The matter was appealed by Mduduzi Shembe, with the judgment being reserved.
With Mduduzi Shembe and his followers hanging on to the capital that is Ebuhleni in eNanda, with its thousands of worshippers and a millions-strong membership exceeding that of any other group, the effect of the succession battle was to turn Vela Shembe and his followers into pariahs in their own movement. This status was perhaps exemplified by the relative smallness of Sunday's crowd, a manageable throng not quite filling up the temple, an open, grassy area roughly a third of the football field.
The media reported the cause of Vela Shembe's death as cancer, with seemingly no other details of his demise forthcoming. Interviewed by the Mail & Guardian, Mthethwa says Vela Shembe had complained of severe pain in his legs and died a few hours later in the presence of a family member on the night of November 24. According to Mthethwa, he did not die following "a long illness" as media outlets had claimed. "Well, he was unwell in July, but by October he had been back to good health, even helming the services. In this way his death was unexpected because he had been healthy." The contradictions in that statement are hard to ignore, for even last year, as the Durban High Court announced Vela Shembe as Ebuhleni's rightful leader, he, according to Mthethwa, embarked on a sabbatical to "rest" and was not available for interviews.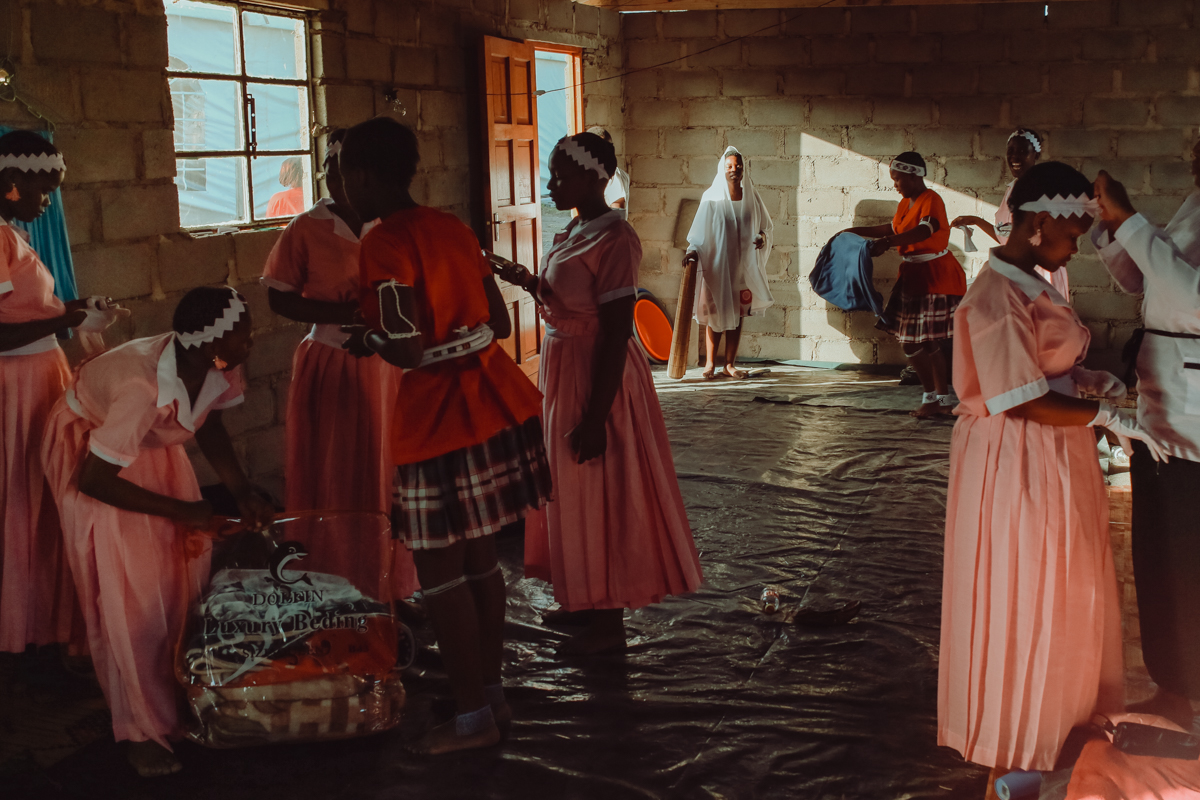 Maidens prepare for their roles as part of the funeral procession (Matthew Kay)
A preacher I speak to, by implication, also seems also to poke holes into Mthethwa's narrative, stating that, seemingly as a premonition, Vela Shembe had taken a more instructional tone during sermons, as if laying out instructions before leaving earth.
Perhaps steering the focus away from a supposedly long and debilitating illness is a purposeful move, one meant to preserve the dignity of a man whose reign was practically spent in court, and otherwise away from the grandeur of Ebuhleni. It was at Ebuhleni in 2011, on the occasion of former leader Vimbeni Shembe's funeral, where a preemptive strike by the Qadi king Mqoqi Ngcobo had ensured the ascension of Mduduzi Shembe to the head of the church. Today, Ngcobo is still regarded among the Thembezinhle faction as the "great divider who tore a nation asunder."
As the day wears on, it is announced that Vela Shembe's successor will be decided on December 16. He tells a crew of TV reporters that: "We don't know whether anybody has received a nomination, but there is a process of managing that … If somebody has a nomination he will go to the particular committee and discuss with that particular committee, not to be influenced but to make sure that all the t's are dotted and all the i's are crossed. So that we make sure that whenever he (the new leader) takes the podium, whatever is announced is proper and fit because we do not want to repeat the past because we were caught off guard…"
Sbu Shembe, a member of the church related to Vela Shembe says: "The king [Vela Shembe] did not want that (a succession announcement) on the occasion of his passing because it becomes too much like a celebration. We forget that there is a body we are burying. We wanted to give ourselves the opportunity to grieve and mourn before entering into the realm of succession, at least give us our seven days to remove our mourning garments."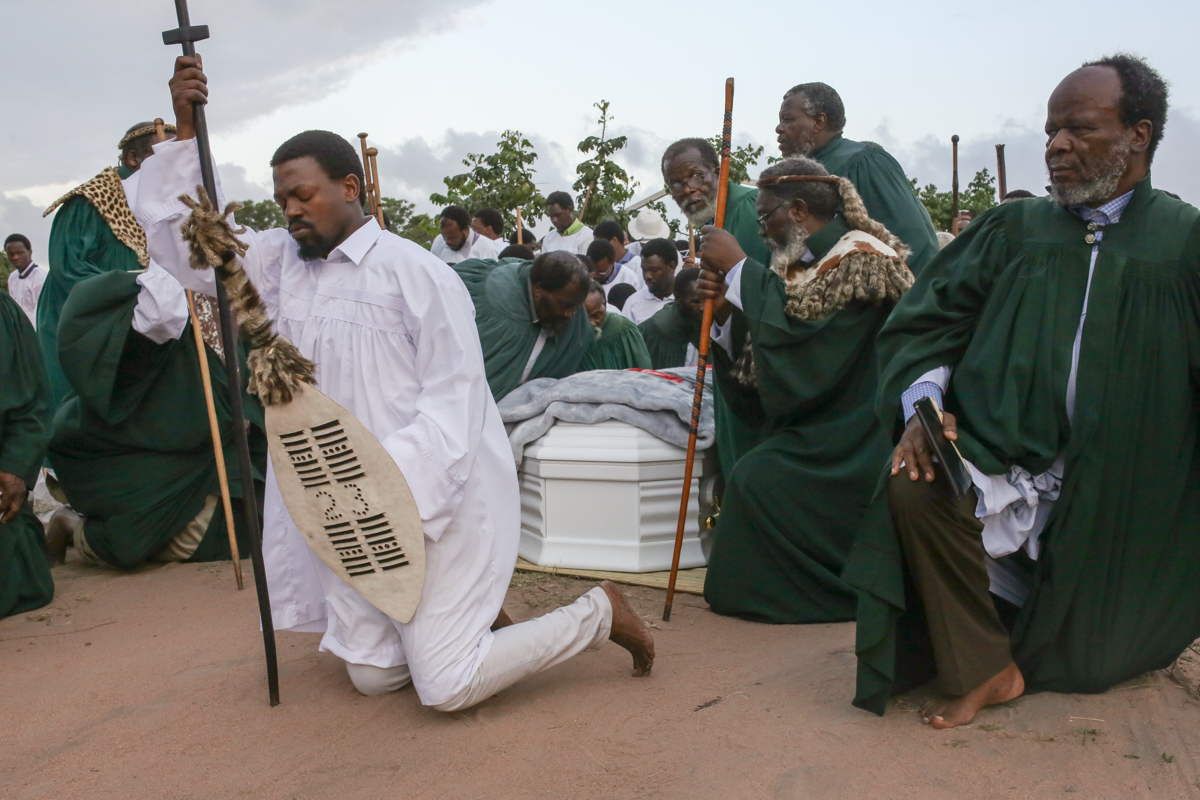 A guard of honour consisting of church officials and the family of Vela Shembe pray duringthe church leader's send off. (Matthew Kay)
A thread about the passing of Isaiah Shembe repeated by several mourners says funerals have not always been the occasions of succession. Mthethwa tells the M&G that when Isaiah Shembe died in May 1935 his successor, son Julius Galilee Shembe, was only announced in July of that year.
Vela Shembe was buried according to the church's rites of burial, with his coffin circling the temple in a guard consisting of preachers and members of the church in various ceremonial dress. It was then destroyed with hammers and axes before being set alight. As for the burial of his actual body, those in the know referred to it as a planting in the earth, so that his being may continue to replenish his mission. It takes place either at sunset or sunrise. Born in 1962, Vela Shembe is survived by his mother, wife and 13 children.