Despite what pop culture makes us believe, the holidays aren't just about pool parties, family dinners, road trips and other things that involve you leaving the house and the comfort of your bed or couch. Although this is not a promotion of the sedentary lifestyle, a little lazing, snacking and series binging is a different way to be festive. Whether you want to pass the time in between being social or catch up with what everyone has been watching throughout the year, this list should be a helpful starting point.
Big Mouth is an adult animation on all things early teenagehood. The series follows best friends Nick Birch and Andrew Glouberman and their classmates as they figure out puberty, masturbation and sexual arousal. The teens are guided through these new experiences with the help of what I would call "sex guardian angels", known as the "hormone monsters".
Why you should watch it: Big Mouth is a hilarious, and somewhat educational, look at something we have all been through — puberty. And now that that part of our lives is over, it's fun to reminisce about the difficult times with a laugh a minute.
Genre: Adult animation
Where to watch it: Netflix
Westworld takes place in the fictitious Westworld, which is basically a Wild West-themed amusement park with a hectic android upgrade. This world was created to cater to the indulgences of high-paying guests who can do as they please to the androids humans without the fear of retaliation. So if you have the money, you can have your wildest and most socially unacceptable fantasies come to life.
Why you should watch it: By fulfilling their fantasies, the amusement park's guests undergo an unconscious voyage into self-discovery, while the androids discover their non-human element and work at escaping it. This intimate delving into the characters' development captured its viewers and may do the same thing to you.
Genre: Science fiction & western
Where to watch it: ShowMax
This Is Us follows triplets Kate, Kevin and Randall as their lives intertwine. Although they grew up in the same home, where they were awarded the same opportunities, their paths into adulthood are completely different. It's a "same but different" type of story.
Why you should watch it: Every now and then we all need a big ugly cry for varying reasons. Some of us need a little nudge to do this and, after binge watching This Is Us, you may have trouble closing the tear tap.
Genre: Drama
Where to watch it: DSTV Now
Marvel's Luke Cage is set in Harlem where a sabotaged experiment gives Luke Cage superstrength and unbreakable skin. After the mishap, he lives as a fugitive, attempting to rebuild his life, confront his past and fight against the evils of the city.
Why you should watch it: They may say this about every second superhero, but Luke Cage is the actual guy next door. He works in a barbershop during the day and at a prestigious nightclub at night, so it lets you believe that maybe the person you see in traffic might be a superhero. Each episode is named after a rap song and the soundtrack is filled with jams from the likes of Wu-Tang Clan, A Tribe Called Quest and Nina Simone.
Genre: Action
Where to watch it: Netflix
Black-ish takes us into the Johnson family household where advertising executive Dre and his wife Dr Rainbow Johnson (Anthony Anderson and Tracee Ellis-Ross) and their five children live in a big house in a classy neighbourhood à la the Huxtables but in Los Angeles. As a black man living a cushioned life, Dre starts to question whether his success has resulted in too much cultural assimilation for his family and tries to establish his and his family's ethnic identity.
Why you should watch it: At first glance it may seem like an old fashioned family sitcom but it defies traditional family roles. Rainbow and Dre are a real parenting team — and Rainbow runs it, of course. Black-ish also manages to incorporate issues that are applicable to a range of people — parents, the working class, students and those living with extended family — through the use of humour, without being distasteful.
Genre: Comedy, satire
Where to watch it: DSTV Now
Lockdown is a prison drama inside a women's correctional service. Imagine Orange is the New Black, for us. Just the first five minutes takes us into the inmates' chilling everyday lives. There are alliances, romances, fears and a whole lot of corruption behind the walls of Thabazimbi.
Why you should watch it: By being set mostly in Thabazimbi, the viewer is given an opportunity to know characters, even if you start mid-season. There's also the fact that we get to see South Africa's actresses flourish with very little male interference. The likes of Dawn Thandeka King, Lorcia Cooper and Pamela Nomvete, among others, take on roles that surpass what they have done in the past, in terms of developing their characters.
Genre: Action, drama
Where to watch it: DSTV Now
Stranger Things is set in the fictional town of Hawkins during the 1980s and takes a look at the collaboration between childlike sensibilities and the supernatural. Season one focuses on the investigation into the disappearance of a boy in the midst of supernatural events in Hawkins. The boy's friends group together to search for him, led by a girl with psychokinetic energies.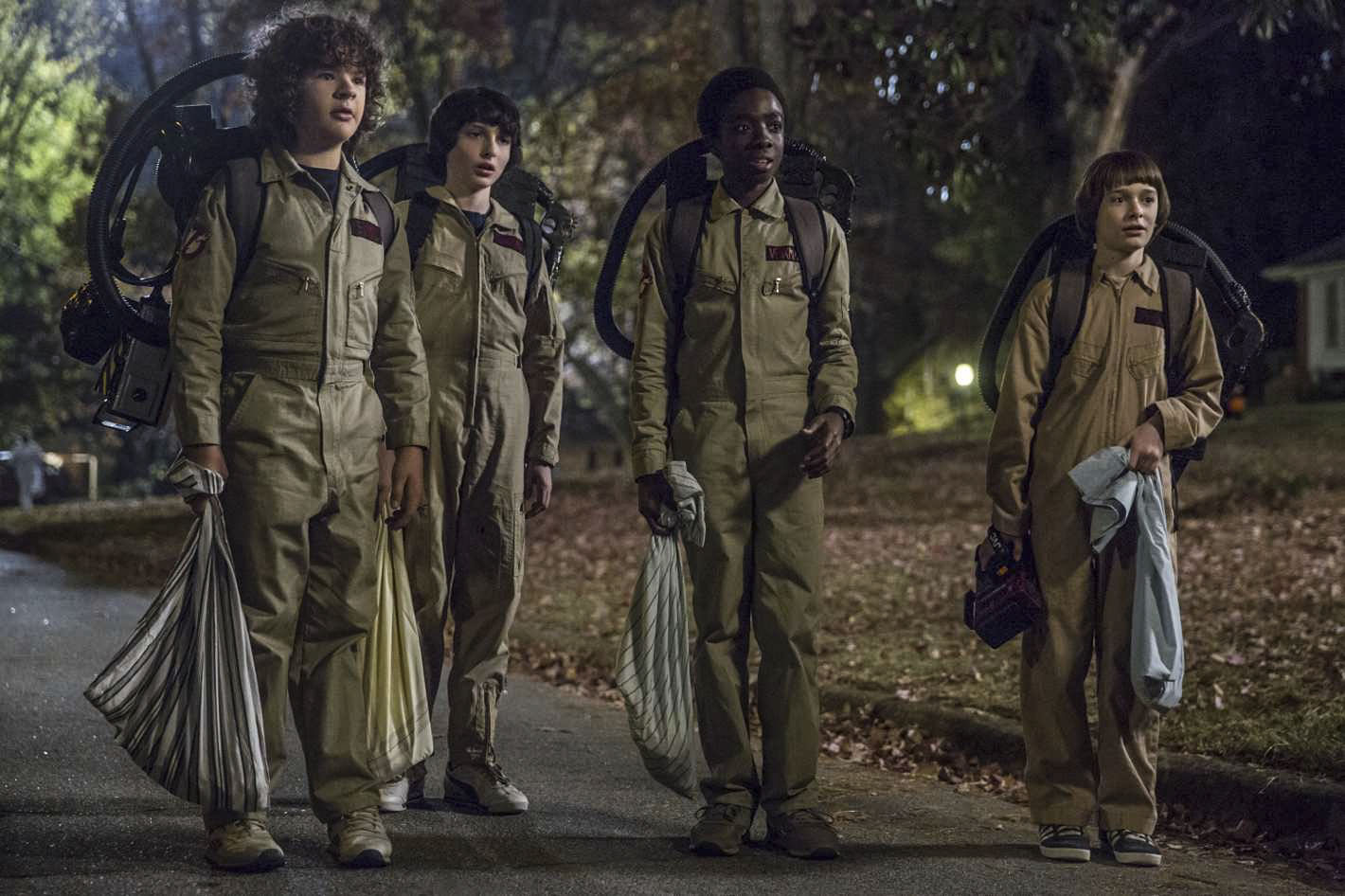 [Do it for the children: Stranger Things younger characters maintain its darkness]
Why you should watch it: Do it for the children. The younger characters, Mike Wheeler, Lucas Sinclair and Dustin Henderson (played by Finn Wolfhard, Caleb McLaughlin and Gaten Matarazzo), manage to display the amusing banter and social structures that exist between youngins while maintaining the darkness of the series and this makes it more believable.
Genre: Science fiction, horror, supernatural
Where to watch it: Netflix
The Crown is a biographical story about the reign of Queen Elizabeth  II. The drama series lets us into her marriage, her sister Princess Margaret's relationship with Peter Townsend, the Suez Canal crisis and her life story through to her (possible) retirement.
Why you should watch it: With just eight episodes, The Crown makes getting to know Queen Elizabeth a breeze you can get through in one night. Plus, if you take away everything we know about the royal family, this is a come-up story because viewers get insight into what it must have been like for Elizabeth to ascend the throne.
Genre: Drama, biopic
Where to watch it: Netflix
Ozark follows financial planner Marty Byrde who abruptly relocates his family from a suburb in Chicago to a summer resort community in the Missouri Ozarks. This happens after Marty has to pay off a debt to a Mexican drug lord, after being involved in a money-laundering scheme that goes wrong.
Why you should watch it: Ozark's characters leave their moral fibre at home. So when they have the choice to choose between repenting their evil or scheming, they pick the latter. If you like messy, this is for you. Do not let the accountant front fool you.
Genre: Crime, thriller
Where to watch it: Netflix
Muvhango started out as the first Tshivenda drama in 1997. Now the soapie has become a multilingual platform to showcase most of South Africa's cultures and languages. In its 16th season, the show continues to strengthen the conflict between those who run the Vhakwevho family construction business and those who come into contact with it.
Why you should watch it: Next to its South African soapie peers, which have run for much of the same time, Muvhango (pronounced with a soft B and not a V) has managed to retain a good sum of its main characters, which has allowed its viewers to form a solid attachment to the characters. In celebration of the series' 20th anniversary the first season is also available on YouTube, so viewers can start in 1997 and work their way up to 2017 to see how the plot and visuals have changed over the 20-year period.
Genre: Drama
Where to watch it: YouTube
Blue Planet II is the magnificent sequel to the BBC's Blue Planet nature documentaries narrated by the great David Attenborough. Each episode is a meticulously constructed odyssey into the deep oceans, coral reefs and oceanic wildnernesses of our planet, with groundbreaking ventures into parts of the seas humans have never ventured such as the bottom of the Antarctic where previously unknown sea life is discovered and much much more.
Why you should watch it: The educational aspect aside, the cinematography of this series is exceptional, it is simply mind blowing to not only see but hear the expansive universe of the waters and you can watch it over and over with the whole family.
Genre: Nature, documentary
Where to watch it: DSTV on BBC Earth
If you've already seen these and are looking for other, fresh holiday binge watching, you might also like the following breakout shows from 2017: The Handmaid's Tale, The Night Of and Queen Sugar seasons one and two.
---
A bootlegger's festive streaming cheat sheet
An entire world exists outside the traditional subscriptions for content that we have become accustomed to using.
Ideally, this world would only include services such as DSTV Now, Netflix and Showmax. But with the expense that comes with subscriptions and data — along with the limit on shows available in South Africa — some consumers choose to make use of the not-so-legal routes.
Melissa: I use Netflix and pirate sites like gomovies, fmovies. The reason is that not everything is available on Netflix. They show limited content because of agreements with MultiChoice. DSTV has a monopoly on new series and other content. Netflix can show a new season of House of Cards immediately in the United States, but here we have to wait. If I could, I would watch all my series on Netflix. It's simple, it downloads quickly, but I have to use pirated stuff. Because I'm on Twitter, everyone else is watching the new shows.
Michael: Yo, I used to subscribe to Netflix. It doesn't have the quality of the US Netflix so I stopped. I don't use Showmax. I'm busy. When I do watch, I stream online on sites like B Movies. I use fibre with a speed of about 20mbs, for R600 a month.
Simone: I use Netflix, chosen because it seems to offer the best range of content for the money spent. We are unlikely to consider an extra streaming option, because one seems like plenty. We don't use location blockers, although we have thought about it to get access to more content, and that is something we will probably look into next year. We access streaming via fibre, which has been the catalyst in pushing us from traditional TV to online streaming. But I also pirate and download from Pirate Bay and torrent sites.
Siya: I watch Netflix. R150 a month for the last year and a half. Definitely value for money, but some of the shows are wack and old. I like the foreign films and foreign series options. Otherwise I stream off platforms like gomoviez, putlocker, 123movies, watchtvseries. I don't use any of the others. I use Tidal though, have a subscription. Best access to the latest shit, featured stuff like exclusive events for subscribers, exclusive shows, music videos, special content, artist playlists and mini docs. R140. It's the couch potato scholarship.
Anelisa: I'm not a big series or movie watcher. My favourite series Big Bang Theory and The Fixer both air on DSTV and its Catch Up so I don't really have to go anywhere else. I use Popcorn Time when I am not at home and am really bored. Also, I can use it to stream when I'm in a wi-fi area and then rewind when I am not.
Ruth: I download off Putlocker and Popcorn Time. Before that I'd get stuff off my friends' computers or watch DSTV, but not anymore. It's full of repeats, not a lot of new stuff on. You kind of feel like you're out of the loop of what everybody else is watching. Because people would be watching Stranger Things and all these new series and M-Net gets it much later. It's such a mission to record. I ended up not watching a lot of stuff. Like repeats on Comedy Central and Friends and stuff. I recently moved out of home so we use a 50 gig limit per month router, which is R300 a month.
Although Netflix is clearly providing the best value for money for streaming on demand content, most people interviewed are still diehard bootleggers because of prohibitive data costs and the relative lack of availability of content when it comes to South Africa. — Kwanele Sosibo
*Pseudonyms have been used to protect avid bootleggers