"Only the lonely," Roy Orbison warbled, "Know the heartaches I've been through/Only the lonely/ Know I cry and cry for you."
An apt soundtrack for the ANC presidential gala dinner on the eve of the party's national elective conference, where there appeared to be plenty of lonely souls — or, at least, people looking to snuggle up to a blessing and a pillow of cash for the night.
Middle-aged businessmen, several ANC veterans and, sadly, just a smattering of young ladies looking to be interviewed for a position to assist me personally.
Overall, very few successful pairings.
Nobody wanted to network with Basic Education Deputy Minister Enver Surty. Despite paying tens of thousands of rands for the flesh-pumping privilege, the businessmen at his table steered well clear, leaving empty chairs on either side of him.
Jacob Zuma's businessman bae Vivian Reddy, who was sitting at a half-empty table for 10 people when the starters were served, was down to a single dining companion by the time the steak main course arrived. Perhaps they thought they'd landed at the wrong table: Reddy's hands did have the white-gloved look of the swish waiters. Building malls on children's sports fields is about as revolting as farting in the voting booths at ANC conferences, apparently.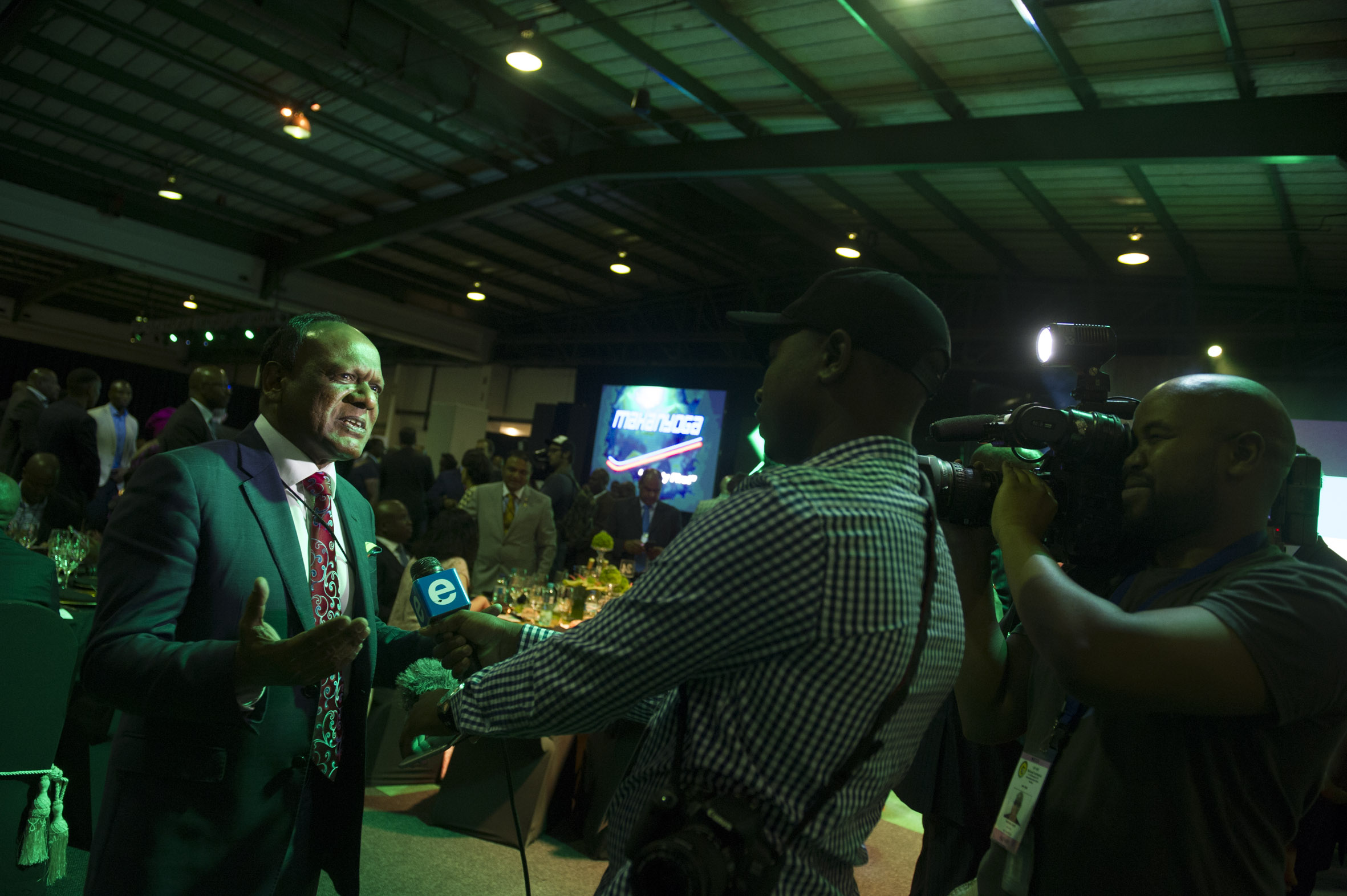 [Reddy, steady, action: Jacob Zuma's pal, Vivian Reddy, speaks his mind to an e.tv crew (Delwyn Verasamy)]
But I'm not sure; I don't know ANC precedent or protocol, because this is my first conference. I'm only here because my business colleagues assure me that President Jacob Zuma is the most accommodating leader the country has ever had. Even if you rock up at Nkandla with a banky of 20 cent coins, he'll sort you out with something, they say — and they don't mean rat poison from the presidential spaza shop in Nkandla.
This is reassuring, because I haven't had two R200 bills to start a fire with since that Eskom loan to provide the parastatal with below-grade coal went up in smoke.
So I was emboldened when Zuma made it clear that the ANC was up for sale at any price: "I always joke that investing in the ANC is always rewarded with blessings upon blessings, because you do something wonderful to support this organisation. It is one of a few of its kind," he said.
Zuma is inspirational; he has made it clear that the days of principled leadership like Albert Luthuli and OR Tambo are well and truly over.
"The ANC as a living thing cannot be like an angel, because it is living," he emphasised.
But of course, any devilish behaviour, including looting the state and state-owned enterprises, is only done for the benefit of the country: "The ANC works and it loves our people," said Zuma. "It is those who do something who at times commit mistakes. If you do nothing then you commit no mistakes."
Apparently "it is worse if you are like the ANC, which is in a hurry to solve the problems of the country and therefore we might have a lot of shortcomings. But bear in mind that it's all done in the good spirit to try and quicken the process of solving our problems. So, if we do the wrong thing to you one day, bear with us, forgive us, because it was all in the good spirit to try to address the problems of this country," said Zuma.
None of the "mistakes" — including spending R250-million on his personal residence in Nkandla, breaking his oath of office or selling off state assets to vulture capitalist cronies such as the Guptas — is anything more than an attempt by the president to create a more equal and just society.
This is a bit concerning. I like my capitalism upfront and uncluttered by pseudo-revolutionary rhetoric. Even if it is just the president talking left and driving South Africa off its ever shorter runway from his Emirates First Class seat.
My first impressions of the ANC national conference are suitably confusing. I thought ANC secretary general Gwede Mantashe was supposed to be as immovable as the Amathole mountains. Instead the ANC's "chief executive" scurried across the Nasrec floor faster than a Gupta crony packing for the desert when summoned by someone who may or not have been the Chinese ambassador.
But we all need friends, I suppose. Especially the president. Despite his best efforts to sound jocular he appeared a little bereft of someone to give him a cuddle. Perhaps it was because he was hanging out with Sdumo Dlamini, president of Cosatu, who must feel like an only child with halitosis in the trade union federation at the moment.
Zuma's other dinner guest was Patrice Motsepe, the moneybags owner of Sundowns who also happens to be the brother-in-law of Cyril Ramaphosa — Zuma's deputy president and most obvious threat to the familial succession plan Nxamalala has lined up.
He must have been feeling Orbison's Only the Lonely, described by the New York Times in 1960 as possessing "a clenched and driven urgency". The president, too, made a hurried mid-dinner dash for the loo, with a manservant tagging behind, black briefcase in hand. Exactly what kind of deposit was going to be made has yet to be confirmed.