ANC treasurer general Zweli Mkhize's shock withdrawal from the party's leadership race on Sunday is seen to be a calculated move to boost the hopes of the slate headed by Nkosazana Dlamini-Zuma to take control of the party.
It is expected that some of Mkhize's supporters, specifically those from KwaZulu-Natal, will now throw their weight behind her campaign.
As Dlamini-Zuma and Cyril Ramaphosa officially confirmed their acceptance of nomination as president of the party, Mkhize took to the stage to announce his withdrawal from the three-way race for the position of deputy president.
Mpumalanga chairperson David Mabuza and national executive committee (NEC) member Lindiwe Sisulu are left to contest the post.
NEC member Naledi Pandor had earlier declined nomination for deputy president in a move seen to strengthen Sisulu's bid.
The Mail & Guardian has established that Mkhize — who has been insisting on unity in the party — recently met the KwaZulu-Natal provincial executive committee declared null and void by the court and President Jacob Zuma after he came under fire from Dlamini-Zuma's supporters at the province's general council meeting last month.
Mkhize, who at that stage was still contesting the presidency, was called an opportunist by ousted KwaZulu-Natal chairperson Sihle Zikalala and heckled by delegates. Mkhize apparently approached Zuma to complain about the treatment he received and at a subsequent meeting an agreement was secured for him to back Dlamini-Zuma.
It is understood that the initial agreement was that he would stand as national chairperson on the Dlamini-Zuma slate, but he was then dropped in favour of Nathi Mthethwa. It is unclear whether Mkhize had agreed to be dropped.
Mkhize has been offered a position on the Dlamini-Zuma slate for the additional 80 NEC seats.
Mkhize's campaigners declined to comment but a source close to him denied that he had reached an agreement with the Dlamini-Zuma faction.
In earlier protracted negotiations with the Ramaphosa camp, Mkhize had been offered the position of finance minister.
NEC member Nomvula Mokonyane declined nomination as treasurer, clearing the way for International Relations Minister Maite Nkoana-Mashabane, who will stand on the Dlamini-Zuma slate against ANC Gauteng chairperson Paul Mashatile.
Two candidates, Febe Potgieter-Gqubule and Vuyiswa Tulelo, declined nomination as deputy secretary general. The post will be contested by the incumbent, Jesse Duarte, who is on the Dlamini-Zuma slate, and labour federation Cosatu second deputy president Zingisa Losi.
The secretary general's post will be contested by ousted Free State chairperson Ace Magashule and former KwaZulu-Natal chairperson Senzo Mchunu, who is part of the Ramaphosa slate.
Addressing the conference plenary session at which the nominations were made, Mkhize said he had decided to withdraw in a bid to prevent further tensions in the party.
"I have engaged with a number of comrades who want to contribute towards unity of the ANC. I withdraw nomination as deputy president,'' he said.
The 4 776 voting delegates cast their votes for the top six officials on Sunday night, with a result expected by Monday morning. Voting for the additional 80 NEC members will take place later on Monday.
Voting procedure was hotly debated by delegates in the main plenary, with disagreements over the electoral commission's refusal to allow them to enter the voting booth with a list of their preferred candidates.
The KwaZulu-Natal delegation vociferously made their presence felt on the nomination floor by shouting down the ANC's electoral commission on voting regulations that they disagreed with or when things were not going their way — as did delegates for Ramaphosa and Dlamini-Zuma.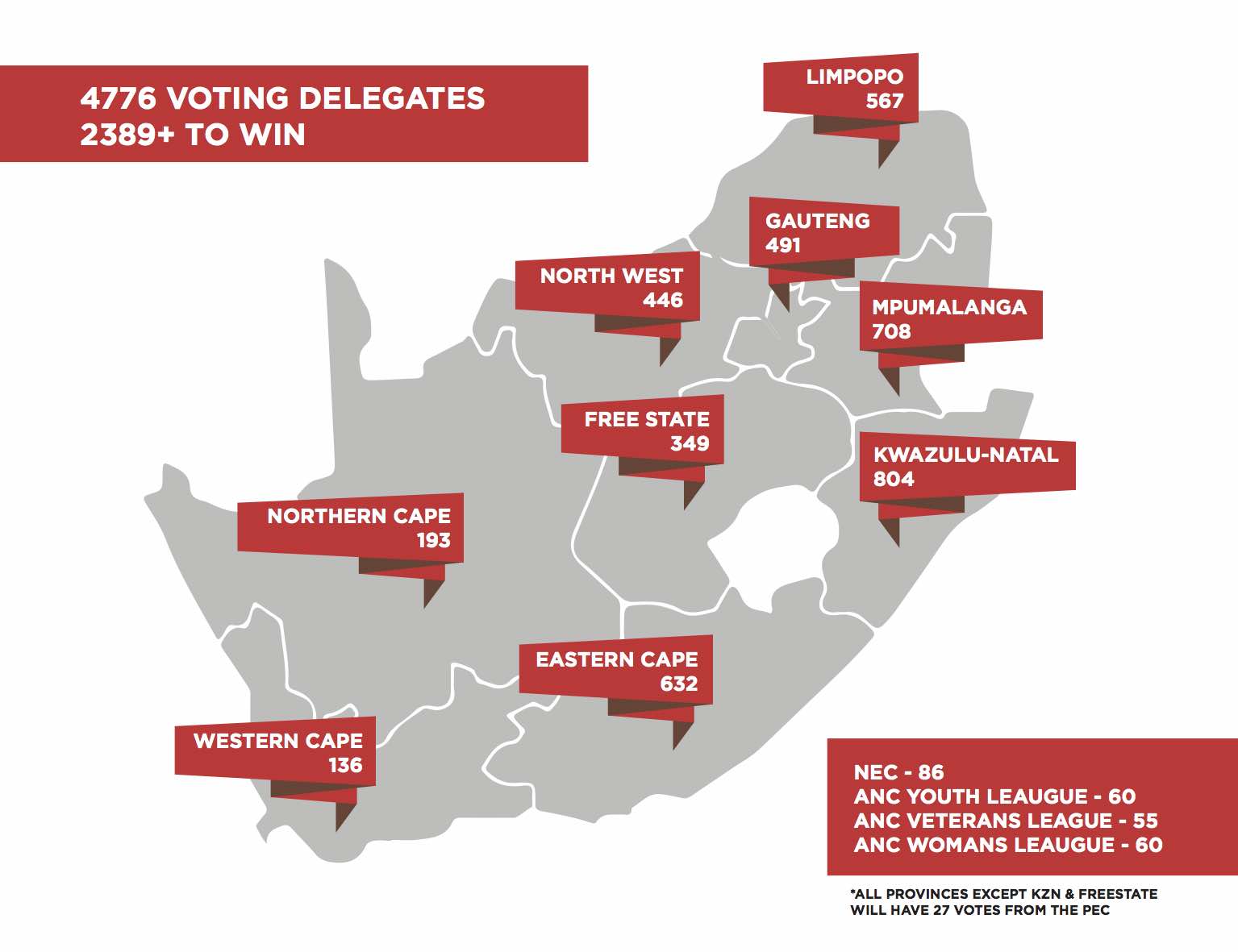 [Graphic by Lethabo Hlahatsi]
The electoral commission is appointed by the ANC from among its veterans. The commission's chairperson, Sindiso Mfenyana, said their decision on how to conduct voting was inspired by the ANC's commitment to do away with slates and strengthen the organisation at branch level.
The proposal was rejected by branches from KwaZulu-Natal, North West and Mpumalanga, which said it would be impossible to remember the names of 80 additional members of the NEC, thus a list of names was required.
It was clear that provinces were doggedly fighting for anything that would help their factions get ahead in the battles for delegates' opinions and perceptions. The conference hall in Nasrec was a cauldron of sweat and heated emotions. People were shouted down, others rose in song.
At some point the electoral commission's Mfenyane was heckled by a KwaZulu-Natal delegate: "Can you remove that man? That man must go! That man must go!"
Whenever provinces supporting Dlamini-Zuma's slate won a performative point, they would celebrate by rising, pointing to their watches and pointing their palms up in the air with the song: "Phakama Nkosazana, ixesha lisondele! Unity! Unity Maqabana [Stand up Nkosazana, your time has come! Unity! Unity! Comrades]".
A decision on carrying a list of candidate names into the voting booth was deferred until after the election of the ANC's top six officials, following an intervention by Pandor.
But outgoing secretary general Gwede Mantashe told the conference that the ANC constitution empowered the electoral commission to determine the rules of voting and what is allowed in the voting booth.
Pointing to section 14.1.1 of the ANC Constitution, and perhaps the intellectualism of some ANC members, Mantashe chided: "This, I think, is where we are refusing to read."
His remarks were quickly countered by NEC member Tony Yengeni, who said the conference was the highest decision-making body of the ANC and could ignore the electoral commission's proposals.
"There is no election commission or anyone for that matter that can make us follow a rule. If conference does not like it, we don't have to follow the rule," Yengeni said.
The other battle is over whether delegates will be required to provide an identity document and their delegate tag before voting, to ensure bogus delegates do not corrupt the outcome.
By the end of the nominations process, most delegates had agreed that identity documents were necessary during voting.