I am on my way Home. Following five weeks of expanding my super-territory I am soon to return Home somewhat fulfilled in ways I am yet to understand fully.
It seems that leaving the African continent on a solo journey to Brazil has given me the freshest and widest perspective. Being embedded in an environment for any number of years can have you reading people subconsciously. We build mental catalogues of faces and give meaning and silent power to stereotypes. We match violent or loving encounters with whole groups of people and certain neighbourhoods, swear them off or enclose ourselves in a privileged/disempowered bubble. Being in nova terra, new land, inclines you to reset your mental catalogue and receive the best of people based on your intuition.
The flight over the Atlantic felt longer. Why is that? I still don't grasp the time zone thing and how long the flight really is. What I do know is that a journey toward the unknown tends to be shorter. It's somehow more simple to pack my belongings in a room that was only a temporary residence than it is cleaning the dust out of my apartment and packing to go Home.
There have been many times when I have left Cape Town for Lusaka, and I have felt depleted. Perhaps my tank has to be empty to experience the full weight of what it means to be Home. To eat my mother's cooking (which is the only time I feel genuinely satisfied), to kneel at my grandmother's feet, to breathe in air that always carries the lingering smell of burning charcoal. To see my father waiting for me outside the arrivals door, the last-born piece of postcolonial baggage. Or, he is late and I wait outside for a few moments. I always forget my SIM card and must get a new one.
I usually land in Lusaka by taking the 7pm flight from Johannesburg. I remember hearing a song by a Cape Town band, John Wizards, called Lusaka at Night. An inexplicable thing about the guitar riffs matches the scattered lights of the city that refuse to be square and consistent.
It is my queen mother who picks me up from the airport this time. She appears to have aged backwards.
My last week on Ilhabela off the Brazilian coast was full of love and learning, as if I hadn't had enough. I spent time with schoolchildren who asked me questions about Africa. I showed them photographs and we created some new ones together. I rode on the back of motorcycles in the mornings and at sunset. I was welcomed into people's homes more and more. Frederico, a surfer boy I had met the previous weekend in Castelhanos, has a mother who loves me so. She invites me over for lunch: lulas, rice, beans, salad and a homemade green pesto. There's a waterfall flowing through their backyard.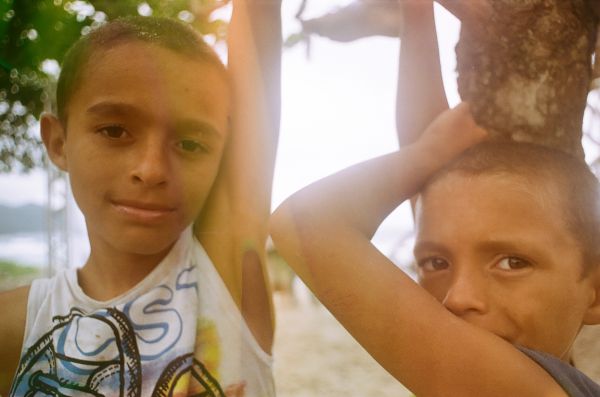 [Ismail and Itama (above) live in Castelhanos, known for its beautiful bay. And there are the children of José Benedito de Moraes School (below) in Reino]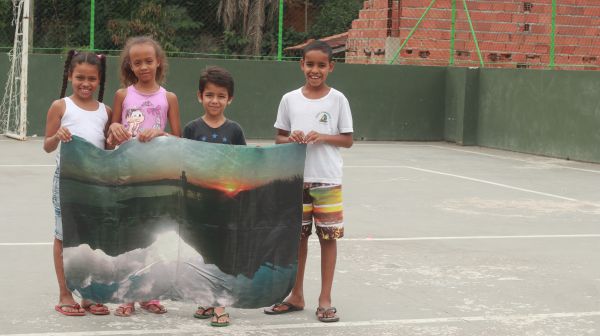 All the blessings were pouring in that week. Many strangers gave me a lift as I did last-minute hammock and hat shopping. One of the kind strangers was a poet, Daniel, a cheeky retired petrol attendant,who recited to me an ode to the slaves who once populated the island.
My project of archiving voices is finally baking in the sun into a crisp and solid experience and also feels like a continuation of something far bigger than myself. I feel deep gratitude for being embraced by Brazilians in the exact way I needed and deserved — like that aunt who kisses you on both cheeks; the cousin who has your back and wants to learn life secrets from you because you live in another town; that uncle who pats you too hard on the back and your laughter vibrates with his; and all the children who call you aunty (tia in Portuguese), even though your parents are only friends, or you've just met.
Being a stranger in a familiar land has been my way of life. At this moment I am experiencing the world in its kaleidoscopic totality, hearing phonetic connections and learning of myths of origin that are similar to my own. Isolation has made me realise how estranged we are becoming.
Everybody who travels often tends to feel as though their hometown airport is lacking something. I heard this about São Paulo but I use the free-phone charging ports with great joy and call my soul sister on the northern side of the Atlantic.
I feel it at OR Tambo International Airport, standing in the immigration queue. I have gone through this passage many times over, 99% of the time headed to the place where I am going, in this case, Lusaka.
Fela Anikulapo Kuti's sax soothes my ears in Shuf fering and Shmiling. And the lyrics go (after an 10-minute plus intro): "You Africans, please listen to me as Africans/And you non-Africans, please listen to me with open mind."
The immigration officer refuses to look me in the eye and directs me to the next open counter.
I greet her with a smile despite my emotional exhaustion.
"South African passport?"
I'm confused, oh! This line appeared to be a general immigration line, no signage or the aversive immigration officer directing the flow of travelling bodies indicated otherwise. I take two steps backwards and she subtly rolls her eyes up and to the right, redirecting me.
I tell the man inspecting my passport that I am excited to be going Home.
"SA is nice," he says "but home is always Home."
I giggle.
"What is nice about SA?"
"Opportunities," he said.
That's right, I'm in the land of tata ma chance. This land is exceptional, with its refined roads. Some locations have one road leading in and out. Others are roads with signs that forbid 14-seater taxis like the ones he and I probably hopped on in our respective provinces that are demarcated according to tongue.
Didn't I set out to untie my tongue on this journey? I can no longer be mad about things I am already working through. Like Aisha Wainjiru Osob Mugo taught me: secure your bag of happiness.
Approaching Lusaka at night, I recall our unfinished roads and lack of street lights, which forces us to drive slowly. I remember a dream I had on Ilhabela, where the elevations and the potholes in the road I travelled on were so distinctly Zambian. I knew I was Home. Lusaka at night is an imprint of the sky unfinished.
I made a new friend at the airport and inadvertently caused her to miss her flight. Our destination is the same and she's seated a number of rows behind me. It is a common phenomenon how one's mood and actions can affect another's life. I will make this journey home about raising my vibrations so that very essence of each human being I encounter is positively affected.
Exile in reverse is smelling a plant growing in your parent's backyard and recognising the species thousands of kilometres away. Exile in reverse is going to Brazil as a liberated African and asking Afro-descendants how they feel about the African continent.
Exile in reverse is asking what bores you about being Home and what gives you that feeling of saudades, deep nostalgia, when your visa is in process.
Exile in reverse is a lesson of fate. Like the womxn who sat next to me on the bus to the plane and asked if my name is Edith, which happens to be my mother's name. We were both on the brink of breakdowns and kind of saved one another. Her name is Aluta, as in continua.
This is the last of a three-part travel series by Chaze Matakala. 
Find the previous articles at: 
bit.ly/2CJZ7Dr and bit.ly/2z4jNE6