London town is an almost mythical city. Full of colliding worlds. Diasporic to the core. Ancestry in progress, to borrow shamelessly from Marie Daulne. And yet, it's not easy going for generations who have flocked to it in search of a better life. In the immortal words of Linton Kwesi Johnson, Inglan is (still) a bitch.
Last year, on June 16, penniless in my hometown of Durban, I had no friend but a hotel room and Sky News for viewing. As I sat there consumed by the horror of the Grenfell Tower fire, watching the people of West London cuss out Prime Minister Theresa May and callous developers, I turned to the only soul I know from the Big Smoke. A homeboy, from Durban just like myself, he broke it down to London's history of building vertical ghettos.
"The area never used to be so affluent but gentrification hit about 10 years ago. Looks like the building was an eyesore for affluent residents, keeping the house prices in check. So the council refurbished the towers with cheap flammable materials."
It's a typical story in London, I'm told, lives falling through the cracks of gentrification. The Grenfell Tower tragedy unfolded in the midst of a grime resurgence that saw the city's police clamp down on this genre, which has so deftly captured the circumstances of London's African diaspora, resulting in the repressive, racist 969 laws, which pre-emptively choked the prospects of young artists trying to earn a living in the city's nightlife. (The law was scrapped late last year.)
In the aftermath of the Grenfell Tower fire, I would keep running into Lady Skollie's painting titled Jump: Escape from the Tower, a work that emanated from her dreams after having spent a few weeks in London. For the artist, a dream of jumping off a tower represents renewal. What I couldn't get over was that she had completed the work a few days before that vertical inferno occurred, causing more than 70 deaths.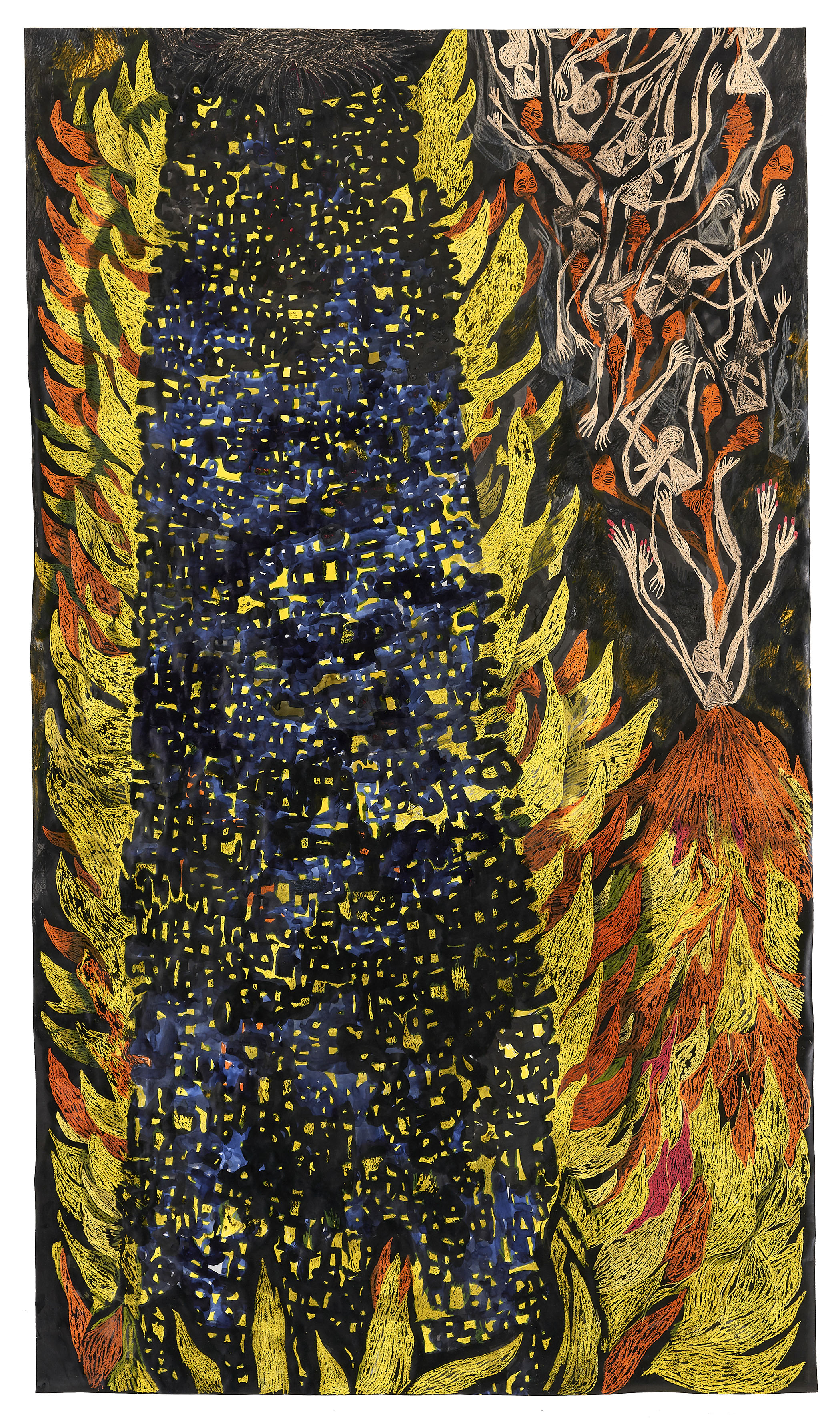 [Intense: Lady Skollie's 'Jump: Escape From the Tower' was finished just days before London's Grenfell Tower went up in flames. Her tower painting was about renewal; the Grenfell tragedy left more than 70 people dead]
I can't remember the sequence, except to say that it was at about this time that I was given a soft copy of Olumide Popoola's debut novel When We Speak of Nothing. A PDF copy, the book took me longer than usual to plough through, resulting in me missing several prearranged opportunities to interview her.
The world I speak of earlier is conjured directly and indirectly in the lives of principal characters Karl and Abu. Their lives, already eventful enough, are lived under the spectre of the reconstruction of King's Cross, a major London transport junction, and the 2011 Tottenham riots.
Key to the novel's impetus is how Popoola chooses to convey this sense of estrangement. While she orientates us within the physical environs of her story, we actually inhabit the story through the emotions and thoughts of the protagonists.
When Abu, adrift and not quite gelling with a new crew of friends, decides to head to fiery Tottenham anyway, Popoola problematises the image of disenchanted youth by offering us a snapshot of Abu's mind as he descends the bus.
"Abu grabbed the railing. He was angry with the country but it didn't boil the same way other things did. His neighbourhood. The wannabes who thought they could make his and Karl's life shit as if they weren't as left out from the regeneration. As if there was some shiny future dangling in front of them they could reach for. As if they were not all going to be left behind, pushed out eventually, out of the area, out of opportunities."
As London burns, Abu wants in because inside he is an inferno too.
Beyond grand societal issues, there are the dynamics of family and sexuality that the two friends are navigating, hence the reference to "wannabes" who terrorise Abu and Karl on their way to and from school, in particular because Karl is a transgender youth who is seen as a soft target in the face of their pubescent angst.
When Karl visits Nigeria for the first time to meet a father he has never met, he leaves Abu, his ace and protector, to wade through this freefall on his own, putting a strain on their friendship.
The counterpoint of London and Nigeria, on which this novel hinges, creates a powerful foundation from which to explore the experiences of diaspora and hybridity.
Although Popoola's prose is urbane, up to the time and steeped in the context of grime culture, the writing itself is neither flashy nor grandiose.
Popoola explores dialect and slang with the purposefulness of a linguist, sometimes earnest in these explorations, sometimes playful, but always with the intention of dissecting the multiplicity of a supposedly marginal existence.
Throughout the book, she uses dictionary-style definitions of words as a device to ground us, perhaps metaphysically, in an experience or theme. For example, as Karl — usually the recipient of curious stares —finds love in Port Harcourt, we learn that the definition of "hotness" is simply "intense".
Although this speaks to human desire and how it courses through the body, Popoola seems to be describing, in shorthand, the temperature and the overarching feel of Port Harcourt. These quirky turns of phrase are quite numerous in the novel and indicative of the interesting games Popoola plays with her positions as author and narrator.
In these dual roles she is neither static nor neutral. She inhabits the milieu of her characters but is able to zoom out effortlessly, stretching her audience. As a storyteller, Popoola is unburdened by the pressures of descriptiveness, often conjuring how spaces feel rather than premising the need to be architecturally precise. She spins deliberate, playful yarns that sometimes do not deliver consistent intensity.
Although the story resolves itself emotively in the final chapters, reading Popoola's novel is a reward beyond the joys of narrative arc. Hers is a triumph of the incorporeal joys of writing. The simultaneous habitation and juxtaposition of worlds. The complex, sensorial world of sensuality. And the crafty ability to make a text both complex and accessible.