The Democratic Alliance's Federal Executive has written a letter to Western Cape Premier Helen Zille warning her to stop tweeting about colonialism or she will once again be charged for tweeting positively about the legacy of colonisation.
Zille ignited outrage on Twitter after she responded to citizens' concerns over the Cape drought by praising colonialism for providing piped water.
The federal executive chairperson James Selfe confirmed that he had written to Zille last Thursday, but has yet to receive a response. If Zille fails to respond to the letter, he said, she will be charged, because her latest tweets on colonialism "was an infraction on the use of social media".
If Zille is charged, it will be the second time in a year that she will be investigated for violating the DA's social media policy, breaching her social media agreement with the party, and bringing the party into disrepute.
Last week, DA leader Mmusi Maimane said Zille would be part of the team that is now in charge of handling the City of Cape Town water crisis. She then provoked outrage on social media by posting tweets on Twitter suggesting that colonialism was good because it provided piped water.
When one Twitter user commented that poor black people had been collecting water throughout their lives and had already been living through Day Zero, Zille responded: "It must be a relief that you weren't burdened by the legacy of a colonial water piping system".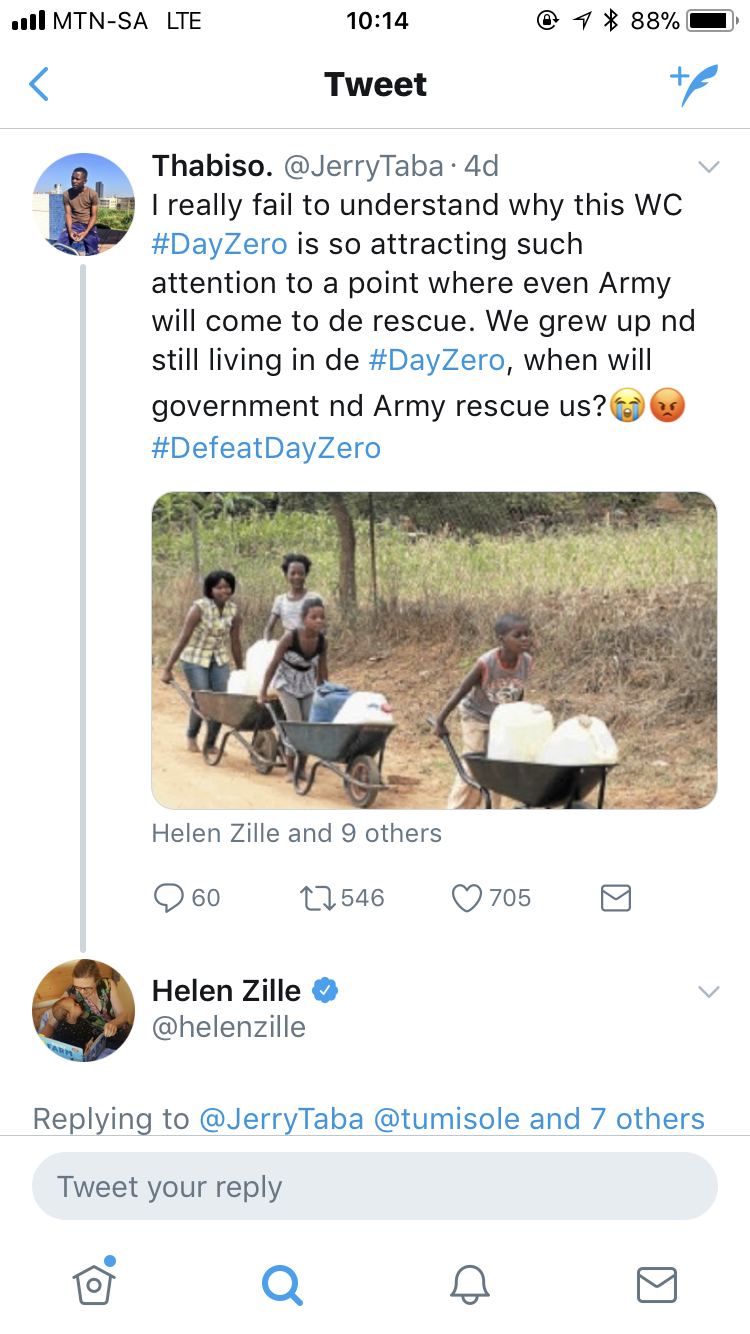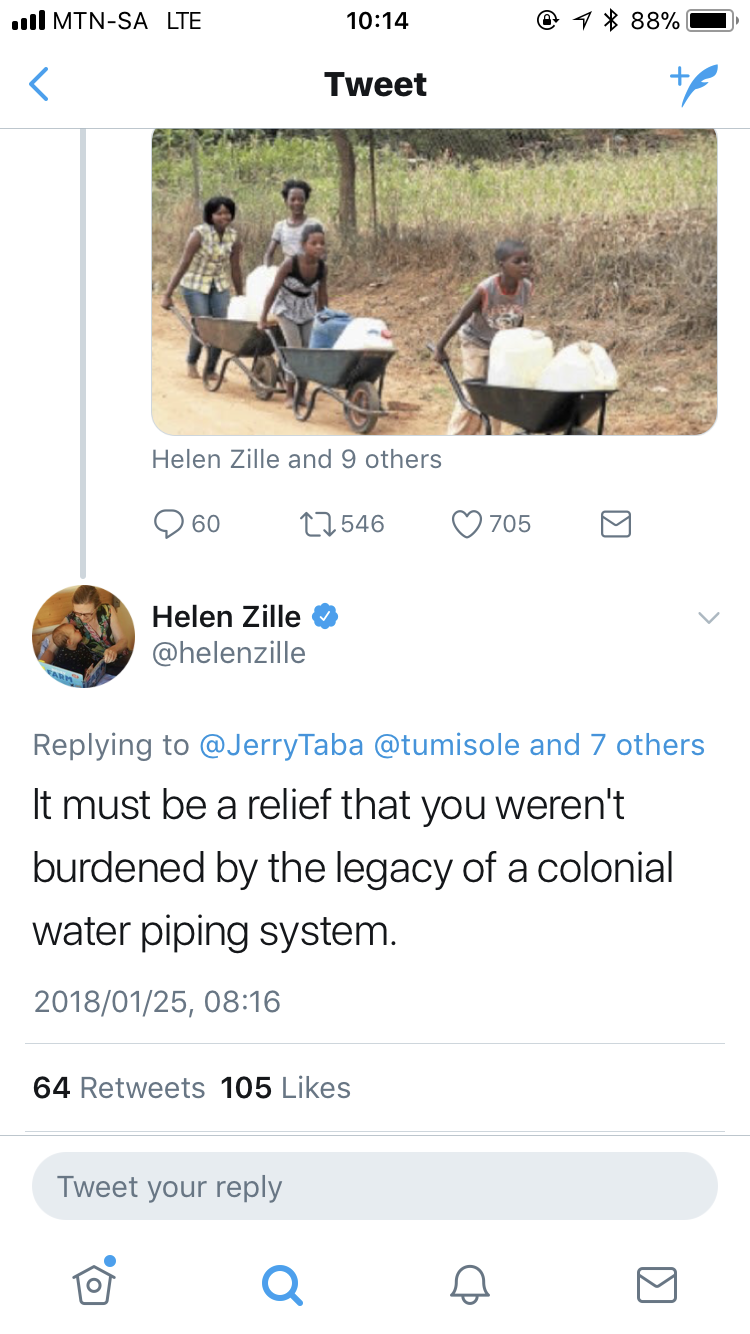 Another Twitter user responded to a tweet Zille posted of herself using a basin to bath, saying: "Nothing new Zille for us black people, we been washing in basins since the beginning of colonialism".
"And before that?," was Zille's reply.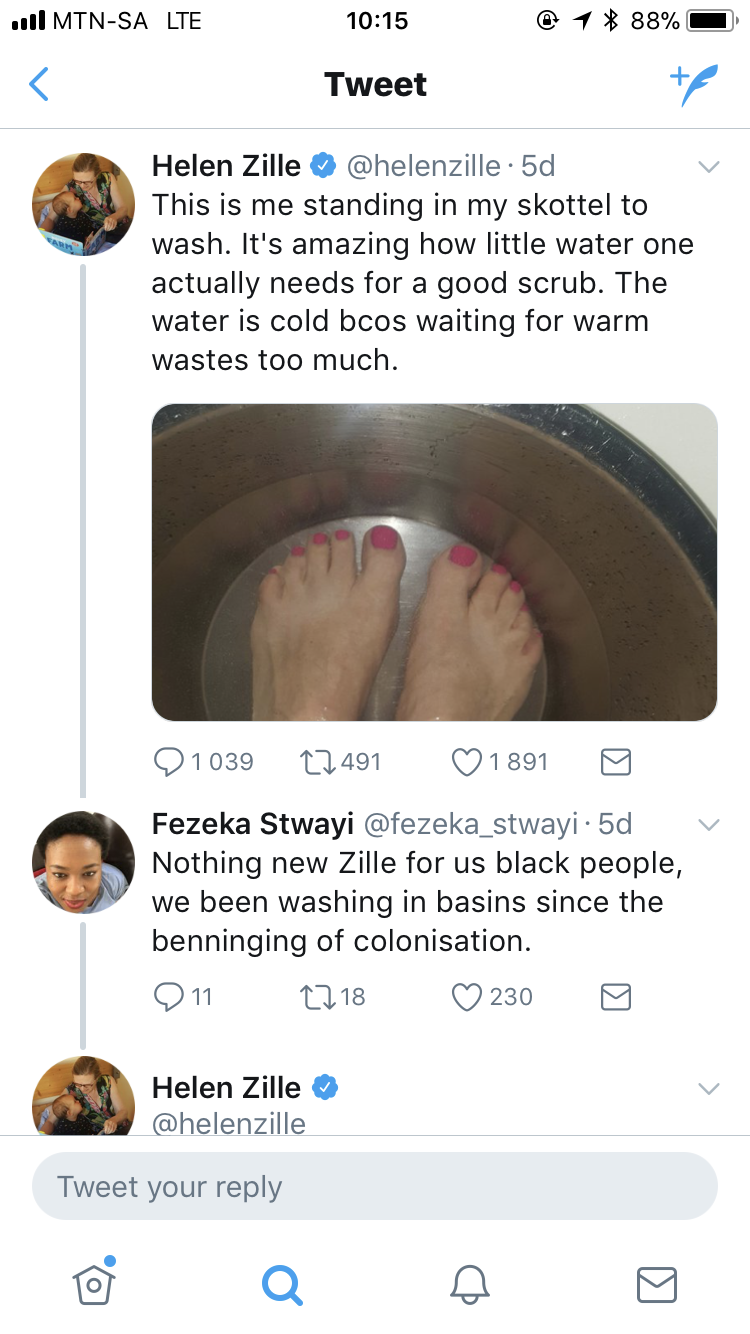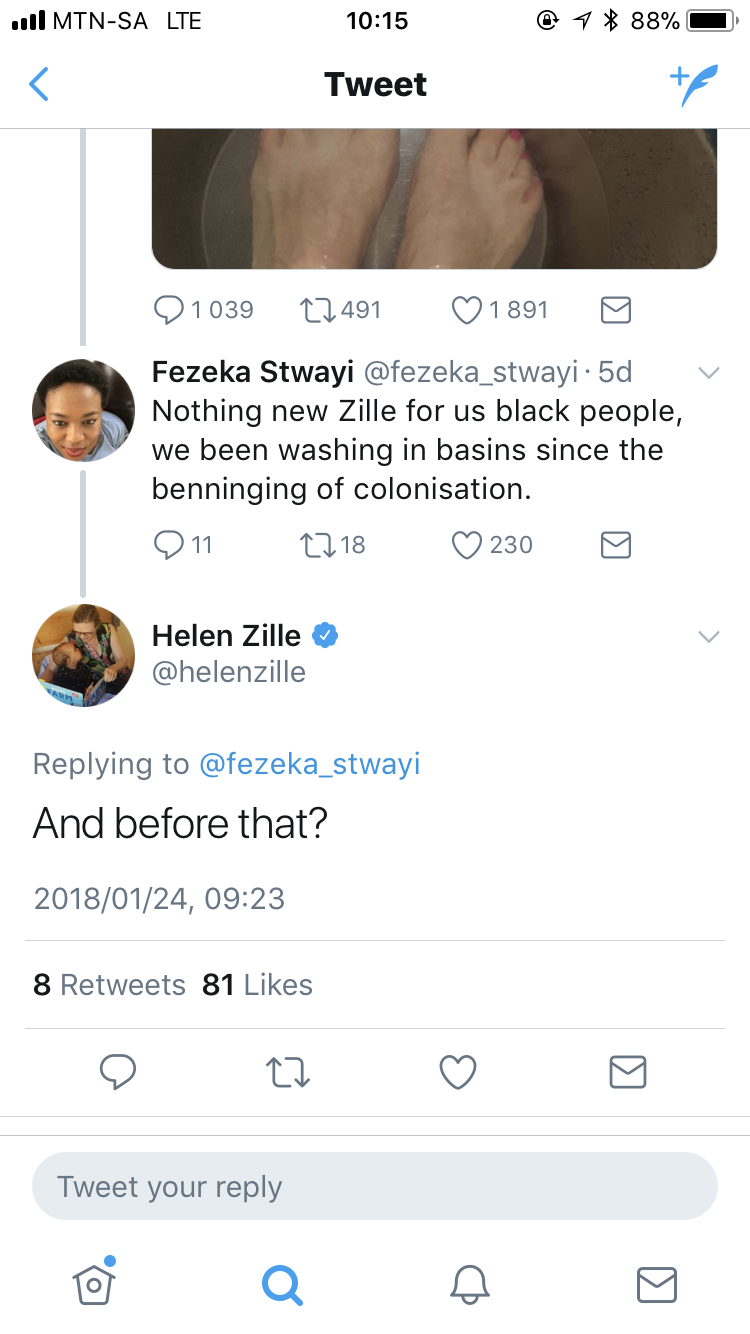 When asked separately if Zille would reply to Selfe's letter and if she would stop tweeting about colonialism, her spokesperson Michael Mpofu replied: "Our response to both questions is yes and yes".
The tweets come after Maimane criticised the City of Cape Town's handling of the drought, saying that he was "unhappy" about the way in which the City, under Mayor Patricia De Lille, had communicated the drought to Capetonians.
The DA is currently facing a crisis in the Cape where it has been accused of mismanaging the City's response to the drought, and for party infighting that has seen the caucus fractured after De Lille was accused of corruption by members.
Last year, Zille was suspended from DA activities after she was found guilty of the same charges she may now face again. In March 2017, she tweeted that the legacy of colonialism was not "only negative" because colonialism was responsible for giving rise to an independent judiciary and piped water.
Maimane vehemently condemned Zille's tweets, igniting a public spat between the two until Zille was forced to apologise later in the year.
On Monday, Zille once again apologised for a tweet, this time to people in Johannesburg, after she said that Jo'burger's were "gloating" over their access to water. She encouraged them to remember that "karma can be a real bitch".
Zille has yet to apologise for her tweets on colonialism. Selfe said that he had expected Zille to respond to his letter immediately.