South Africa has welcomed the appointment of new and better ministers to key departments in the economic cluster. All eyes are on Nhlanhla Nene, who faces formidable challenges as minister of finance, but it is Pravin Gordhan who has the bigger job as head of public enterprises.
Nene will have to deal with the unpopular decision to hike the value-added tax (VAT) rate and also negotiate a sustainable wage deal with public servants. He will also need to lift morale at the treasury after the departure of key staff under former minister Malusi Gigaba.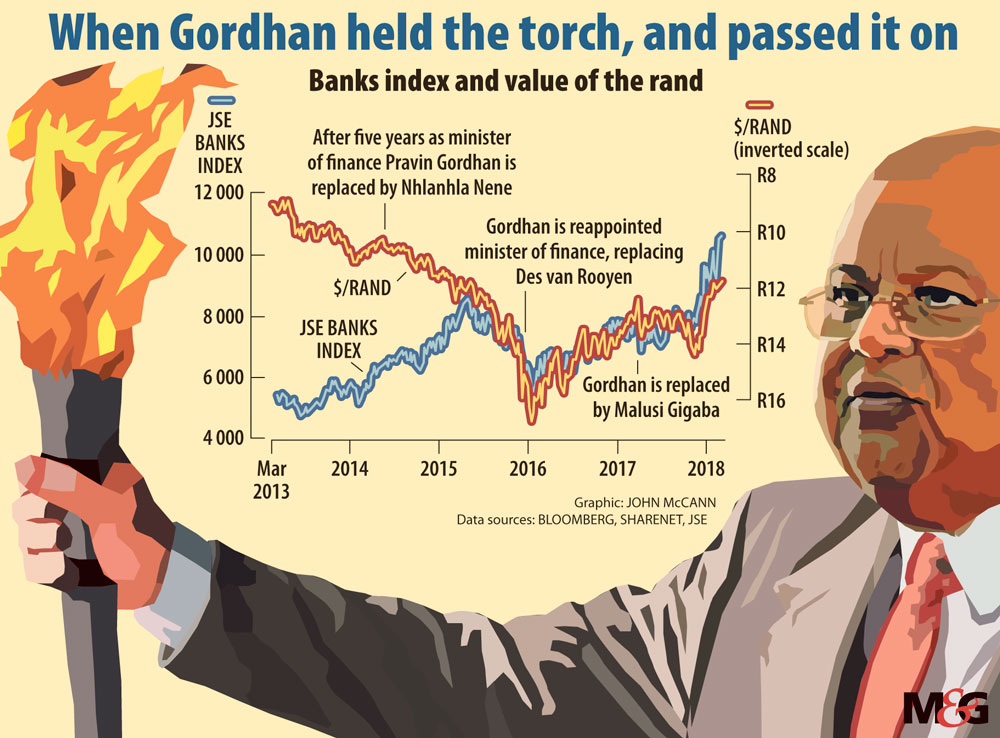 But at least he has something to work with. Gordhan will have to tackle deep-rooted corruption and mismanagement at hollowed-out state-owned entities (SOEs) to ensure a measured turnaround in their operations and finances. He will also have to get the public enterprises house in order, which, unlike the treasury, lacked quality people for too long.
Nazmeera Moola, Investec Asset Management's co-head of fixed income, said public enterprises needs to be rebuilt.
"The department is fundamentally flawed and leadership has been problematic for years," she said, noting that both the political and administrative leadership needs to be overhauled. "One man cannot do everything. The department needs to be broadly functional."
The first order of business may be to deal with Free State bureaucrat Richard Seleke, who has been accused of passing confidential departmental information to the Gupta family members who have been linked to state capture.
Moola said Seleke has presided over disasters at several SOEs, including Eskom, and Gordhan will have to start by stabilising the boards of the parastatals. That is not all there is to it, she said, but "it is an important first step so that the board holds executives to account".
The challenges to rebuild the SOEs will differ.
"Eskom and Transnet still have large layers of capable people on which to build but others like SAA [which falls under the treasury for now] are very much hollowed out," she said.
Themba Godi, the chairperson of Parliament's standing committee on public accounts, said Gordhan will need to look at "evergreen contracts" — those that are automatically renewed after expiry. "There's this idea that if you can sort out management then it's nirvana. But, no, there are all the arrangements that quietly benefit entities in a way that they shouldn't," he said.
The work has already begun at Eskom, where a credible board and acting chief executive were installed even before the Cabinet reshuffle. This week, because of efforts to restore confidence in the utility, it secured a desperately needed R20-billion loan from a consortium of local and international banks. Eskom poses the largest risk to the broader economy because the state has guaranteed about R350-billion of its debt.
Credit agency S&P this week downgraded Eskom's credit rating further because of "ongoing liquidity concerns and insufficient government support".
Chris Yelland, the managing director of EE Publishers, said that, in the short term, a new executive management team is needed and a credible action plan must be put in place. Next will be to deal with the liquidity crisis.
"That means, in the initial instance, they must borrow more money," he said. "They really have to do a bond issue to secure long-term finance. But that has got to come with some measure of confidence."
Eskom has already borrowed too much, he said. "They need to start looking at tightening belts, or selling assets, or get the shareholder to stump up the money. At the moment, government is the only shareholder, but they must look at other shareholders then."
A large part of Eskom's funds go towards building the mammoth coal-fired power stations, Medupi and Kusile.
"One thing they could do is slow down on the new build. They could even decide to not continue with unit four and five of Kusile, but that's a very hard decision for Eskom to make, and there will be penalties to be paid, but in the end it must be worth it," Yelland said, adding that this option should be investigated by an impartial person.
"Abandoning it will be very difficult to do; it's an admission of failure. It's hard to get over that psychological barrier. Those kinds of decisions might have to be forced on you from outside and maybe that's what Pravin Gordhan has to do," he said.
Once competent boards are installed, the government will need to take a strategic view of what it wants to do with the entities and, if the private sector is to play a role, to define this properly.
Godi said what the ANC does not want to see is these entities privatised because of mismanagement.
Moola said Gordhan, a former finance minister, is unlikely to approach Nene for cash. "I'm not saying he won't do it but he will avoid it at all costs."
Nene said this week he did not want to jump the gun and pretend to know what the key challenges are but he will concentrate on the 2018 budget and on what has informed the decisions taken.
The decision to raise VAT from 14% to 15%, announced by Gigaba last week, has elicited an outcry from several parties, who argue it will hurt the poor. It follows growing demands on the budget, such as free higher education for low-income households. But the treasury announced an above-inflation increase for social grants in the hope of buffering the poor from the increase.
Moola said a reversal of the decision, which has been called for, would be disastrous. "We can all agree it's not desirable. It's just the least bad option there is."
She said increasing personal income and company tax were unlikely to raise sufficient revenue. In addition, this would hurt confidence and weaken the currency, and the subsequent higher inflation would have a worse impact on the poor than a one percentage point VAT hike.
Moola said the parallel administration Gigaba set up could be quickly dismantled "to get back to the position when officials have control of the key decisions at the treasury".
The core team remains strong but the positions of head of procurement and head of the government technical advisory centre are vacant.
Nene said it is not possible to say whether people will be brought back into the organisation. "You don't know, people moved on to other jobs and they have committed, as did I. But when national service called for me, I had to relinquish those [roles]. It's not the same for others."
The public sector wage negotiations will be a huge challenge. When last at the helm, Nene failed to contain the large public-sector wage bill. Funds had to be shifted to cover a 10.1% rise in wages and benefits when 6.6% had been set aside it. The number of employees has changed little since the deal was clinched.
This year, the budget noted that a higher-than-anticipated wage settlement poses a risk to the budget framework and would require additional measures.
Tahir Maepa, the deputy general manager of the Public Servants Association of South Africa, said the union welcomed the return of Nene, one of the few finance ministers to have had interactions with unions. "He gave them an ear. He was always willing to engage. We were not always satisfied with [the] outcome but we can trust his word without questioning the motives behind it."
But, said Maepa, Nene will find it difficult to resist the union demands, in light of the increase in taxes. "We are basically paying for it ourselves," he said. "He must expect fireworks if there is not a tangible offer that can be accepted."
Maepa said free higher education for low-income households is welcome but it was done negligently and unsustainably. "We believe the majority of our members are not going to be covered by this. As far as we are concerned, we will still have to pay for higher education."
It will be hard for Nene to justify higher taxation and refuse to agree to an acceptable wage offer, Maepa said.