As much as Not in My Neighbourhood is a film that takes it viewers to the frontlines of the global battle against dispossession, police brutality and gentrification, it is not a dour or aesthetically limited film. In fact, it may perk you up a little, correct your posture and have you looking at that new neighbourhood development with new eyes.
Directed, written and partly shot by filmmaker Kurt Orderson, it weaves a thread between three locales — Cape Town, São Paulo and Brooklyn (New York) — creating an intercontinental dialogue that highlights the similarities and connections between disparate diasporic struggles.
Orderson, who was born in Cape Town and now lives in New Orleans, first came across the term gentrification when he saw graffiti in Harlem: "Gentrifiers, get out of our neighbourhood."
This film is an expression of how he has come to understand this complex issue; its ties to capitalism, racism and spatial planning.
Orderson is not content with keeping you a complacent spectator. He gets tactile when presenting the potency of memory and its connection to ritual and place.
Fuaad Isaacs, filmed in the evening in his De Waal Street home in Brakenfell, Cape Town, that he may soon have to vacate because of soaring rent prices, shares an anecdote about the especially festive nature of eating at the time of Ramadan. He remembers how, as children, they loved boeber, a sweet, milk-based drink that he tries to offer to his filmmaking visitors.
Later on in the film, we see him travel back to his former family home in District Six near Cape Town's city centre. It is an open piece of land. Here, he traces the structure of his family home from its remnants among the shrubs, remembering the stoep and specific rooms.
Orderson says he was partly driven by a desire to depict how people grapple with recollections from their lives. In these particular scenes with Isaacs, one gets a sense of a recurring trauma, helping you to realise that what you are witnessing are a people that have been twice wronged. Apartheid forced them to establish new lives. Once they did, capitalism and its ties to race and class has come again, like a hurricane, to displace them.
About the juxtaposition of the three locales, Orderson says he sought to represent how differently and similarly people dealt with the resemblances in their struggles.
"South Africa and Brazil, for instance, share a lot of similar cases of trauma, in terms of the psychosis that society is still grappling with, you know," he says. He's in Egypt, for the screening of his film at the Luxor African Film Festival. "In terms of the colonial footprint that was left behind and how the masses are still trying to find a healing process, specifically around land and access to land, and access to private urban property."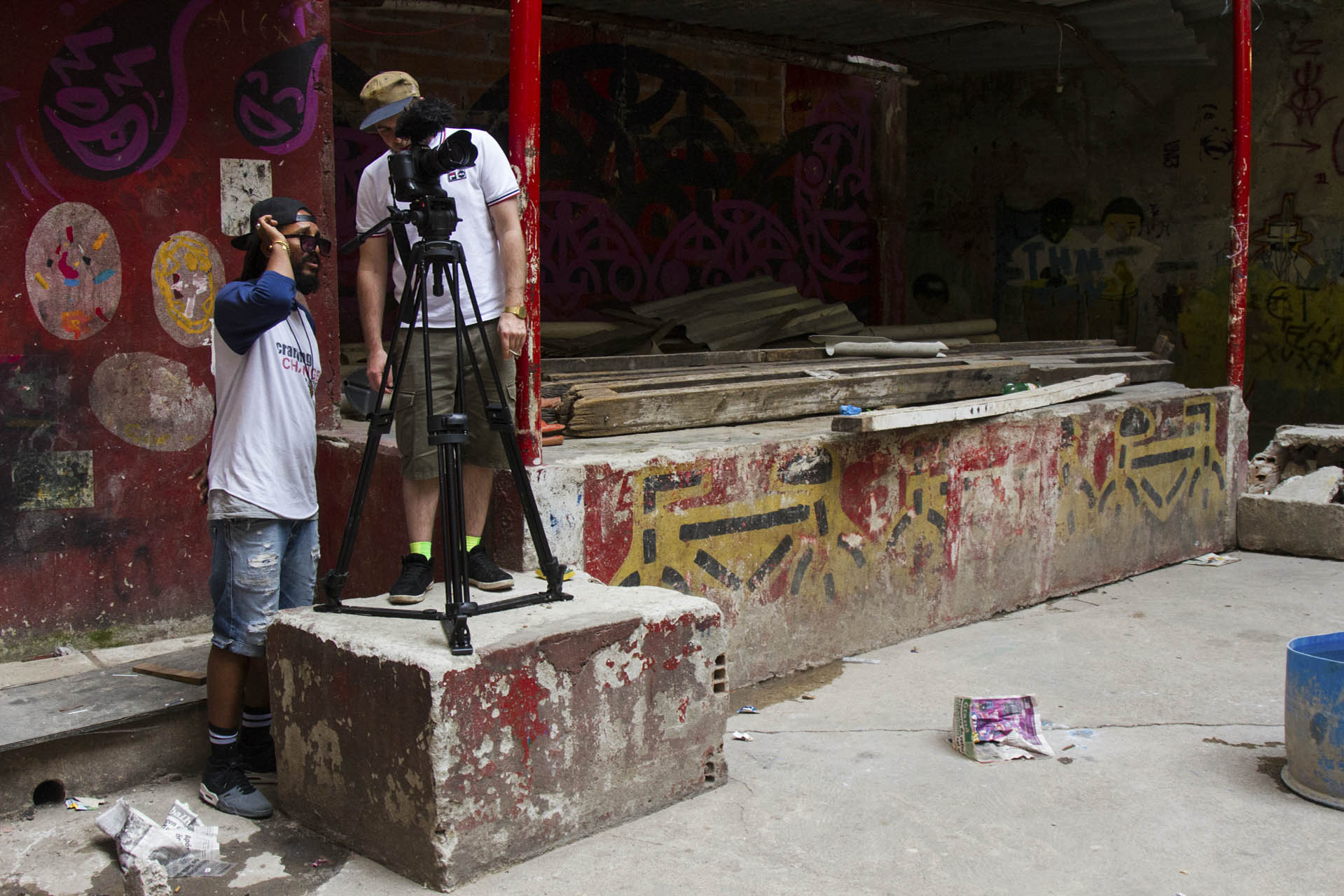 [Building blocks: Filmmaker Kurt Orderson's film Not in My Neighbourhood profiles the tensions around gentrification in Cape Town, Brooklyn and Sao Paulo (Alessandro Vecchi)]
What he also captures are the juxtapositions. In São Paulo, for example, we see seasoned activists speak about how, as part of different organisations with a common purpose, they co-ordinated the occupation of a prominent residential tower in that Brazilian city.
The Movimento dos Trabalhadores Sem Teto (MTST), a homeless workers' movement based in Brazil, uses loopholes in the Constitution to occupy buildings and lessen the housing backlog. Text on the screen tells us that, although the city believes there is a deficit of eight million homes, MTST believes there are five million units available. Occupation then becomes a different confrontation with the city and its housing policies.
Ivaneti de Araújo, a leader in the organisation, is charismatic as she walks through the building, introducing various roleplayers and letting us into her own history of struggle.
The more she speaks about her history as a farm labourer, the more you realise that she is being autobiographical. When asked about her early childhood, her vulnerability returns and she cries and asks for the camera to be turned away.
In Cape Town, we meet activists forced to develop a voice to deal with the untenability of their living situations.
We observe Charnele Commando from Bromwell Street in Woodstock, an old inner-city suburb, grow into an activist, leading a protest at the Old Biscuit Mill, a site of gentrification that has seen longtime residents being pushed out under the guise of "temporary relocation".
Images show people enjoying organic ice cream and cold-pressed juices alongside security guards pushing protesters away. A Woodstock Hub promotional video speaks about "bringing residents back to the area".
With a blend of drone aerial shots we are transported to Brooklyn. Here we meet entire families of activists. Old methods of struggle come up against new imperatives.
"I remember when Amadou Diallo got shot," one says, recalling the 1999 New York Police Department murder of the unarmed Senegalese immigrant. "I've been an activist ever since. And now I go harder because I've got two boys."
We meet Safiya Williams and her son Darian, who can't cross the street from his Bedford-Stuyvesant apartment "without getting touched" by the police.
In later scenes, we see Darian (probably no older than 28) sharing methodologies of struggle and their ideological underpinnings with a group of his peers inside a community centre. We see copwatchers, looking Pantheresque but reserved about their documentation of police behaviour in their neighbourhoods.
Orderson, who has been looking at themes of land, belonging and displacement through his body of work for more than a decade, has evolved an aesthetic that recognises the brutality of his subjects' lives without portraying them as helpless.
It is very much about "how the camera moves and how the characters allow the camera to move. It's not about me going: 'Can you stand here, I just want to shoot you doing this.' It is about having people in their space and me moving around them and to best represent them —visually and aesthetically and their politics as well."
The exhaustive research conducted during the course of making this film means that, as the viewer watches, visual cues and additional text connect what is happening in the contemporary realm with its historical foundations.
Apartheid spatial planning is evoked by Blikkiesdorp, a tin shack township about 25km from Cape Town city centre established in 2007 as a temporary relocation settlement. As townships are labour camps, new developers see the residents of Woodstock as not being pushed out into oblivion but as a ready-made labour pool.
Belinda Walker, a spatial planner who works for the City of Cape Town, is filmed saying: "The people that make curry and koeksusters that live in Woodstock are not going to leave Woodstock. They are going to be catering to the nice restaurants and coffee shops that are springing up."
It's all very Magda Wierzycka, if you ask me, the true colour of money.
Echoing from Brooklyn, I hear Darian Williams say: "With capitalism, it already supposes that one person is going to be better than the other."
Not in My Neighbourhood will be screened at the Tri-Continental Film Festival taking place at Constitution Hill in Braamfontein, Johannesburg, from March 23 to 25