Over 400 young people from the Eastern Cape are beneficiaries of a skills training initiative launched by provincial premier Phumulo Masualle in Grahamstown recently.
The Infrastructure Maintenance Youth Programme (IMYP) was undertaken with the help of the department of defence at the 6 South African Military Battalion in Grahamstown. To date 406 young people have completed their training as maintenance officers.
The launch of IMYP on March 28 coincided with the launch of the Youth Employment Services (YES) initiative launched by President Cyril Ramaphosa the previous day, which aims to create employment for youth in partnership with the private sector.
Masualle said the IMYP is meant to tackle high unemployment rate in the province, and will equip youths with technical skills that can be used to fix infrastructure at government departments. Thousands more will be trained in future, he said.
"We need to train 5 000 of our young people. Here we have 406, the first cohort. This is just the beginning; we want to have further intakes. We have revised our internship policy within parameters of what is acceptable. We are trying to increase [the training] periods from 18 to 24 months so that people can gain more experience. The prospects ahead are immeasurable and will depend on how much we want this," said Masualle.
He said the coincidental launch of the YES programme by Ramaphosa showed that the government was serious about tackling unemployment.
"We are very happy today because just yesterday the president launched the YES initiative, which seeks to respond to the plight young people face in our country. Without this sector of society we can't pride ourselves about our future. We can only talk about a future that is bright based on how we respond to the concerns of the youth."
He commended the national defence force (NDF) for availing its facilities for the training, saying the army would be remembered for its positive impact on society.
"This partnership is possible because we have this democratic dispensation. Years ago the NDF had to augment the work of the police; at some point we'd have state of emergencies. But today we have conditions of peace that enables the defence force to play a meaningful role in society. We are grateful to the minister of defence [Nosiviwe Noluthando Mapisa-Nqakula]," said Masualle.
The premier said there were opportunities for the youth trained through IMYP to use their skills in schools, clinics and hospitals. The province's MEC for health Dr Phumza Dyantyi made a pledge to support the trainees with internship opportunities.
"In the department of education, every year the MEC has to make an announcement by September 30 as to what the requirements of the schools will be. Nobody thinks about the general maintenance of our schools. There is an opportunity. Here are young people who are getting skilled to do exactly that," Masualle said.
"If we had these facilities management officers in all our institutions, it would make a great difference for those who use these facilities. In our rush to build new facilities, we forget about maintenance. The country's economy is not growing fast enough to absorb job seekers. We have to creatively use what we have to create those opportunities. We can only say we wish that you have much resilience and determination — nothing comes easy."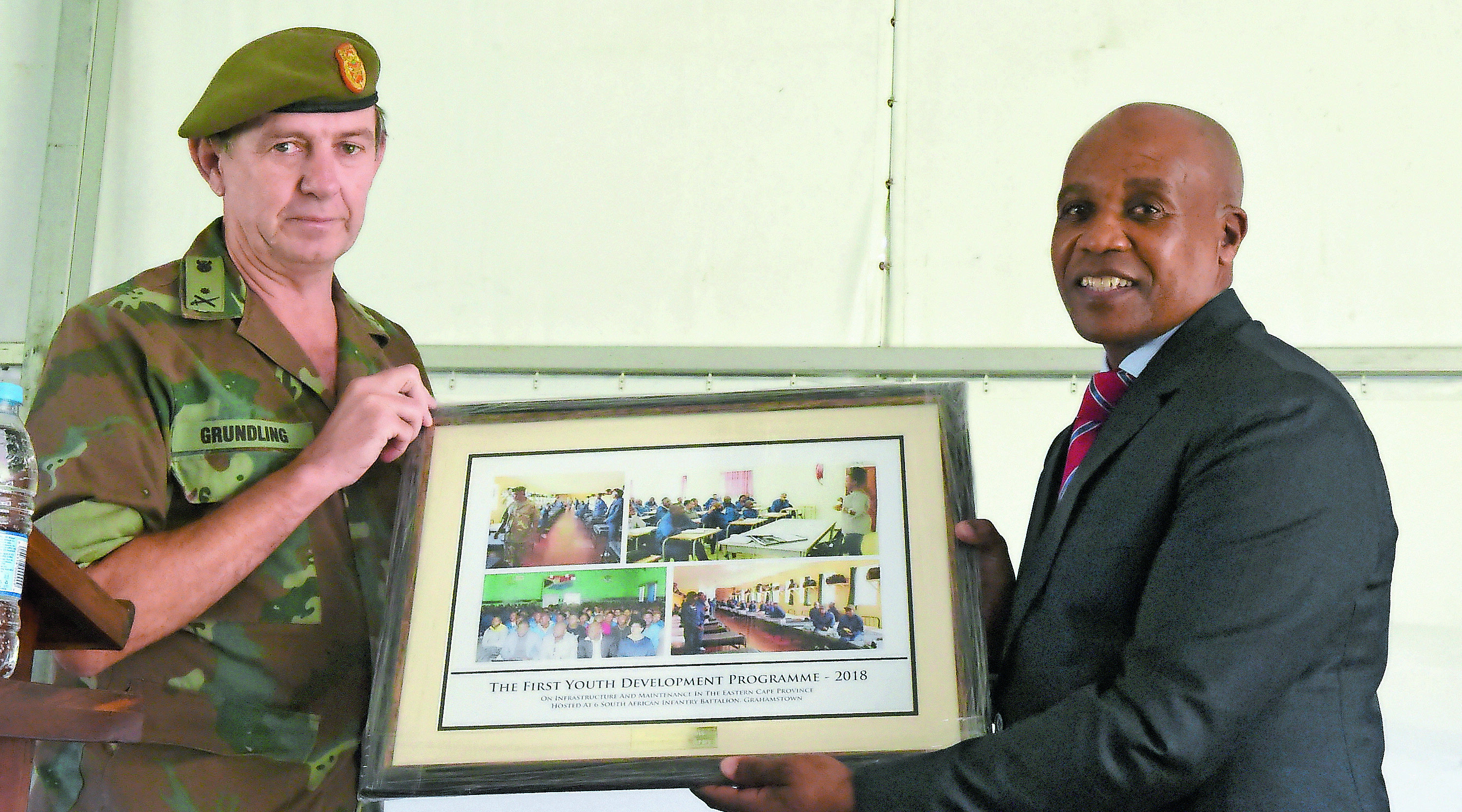 Brigadier General Anton Grundling and Eastern Cape premier Phumulo Masuelle with a photo record of the 2018 Infrastructure Maintenance Youth Programme
Eastern Cape director general Marion Mbina-Mthembu said that unlike the majority of government programmes that target those with tertiary education, the IMYP caters for those with some high school education.
"What can we do for those who cannot go further, have at least attained grade nine or did not do well in matric? We need to attend to issues of hopelessness for the youth who can no longer work in mines."
Mbina-Mthembu said it was important to reduce unemployment, and thus social ills.
"The problem of unemployment is '3D' — discouraged, disillusioned, depressed — such people often become delinquents, which leads to serious social problems. It's a catastrophe for the security cluster and for social development. We engaged the department of defence because they build a lot of infrastructure in Africa. The curriculum was drawn up by the departments of health and education. Character building and discipline was always going to be part of the curriculum. We need to partner with defence not only for character building, but also discipline," she said.
The director general said there was sufficient capacity to absorb youths who have completed the infrastructure maintenance programme in the country. "You need to prove yourself for another 18 moths at the department of education or health before they can take you on permanently. It should not matter where you were born or what your circumstances are, the government cares for you."
Chairperson of the South African Youth Council (SAYC) Vuyiseka Mboxela said the council applauded the premier, because his pronouncements on dealing with youth unemployment have been followed by action.
Mboxela cautioned the youth to remain disciplined and take their responsibilities seriously.
"The fact that if your training starts at six, you get up at four, is responsibility. There's a lot of money put into this programme, there's a lot of work and you ought to be responsible. You have to be professional and determined; it starts with you respecting time. The army generals are here to mould you in the right direction," she said.
"You must be the change that you want to see. If the statistics of unemployment are as they are reported, you must know that it depends on how you are going to conduct yourself. Yesterday the president of the SAYC shared a stage with President Cyril Ramaphosa, launching the YES programme. We are here today for a similar programme meant to make a dent in youth unemployment, and we are pleased with the steps government is taking."
Dyantyi said: "On behalf of MEC for education Mandla Makupula and on behalf of those who are the beneficiaries of this programme, we commit to promote synergies between youth policies and the broader development policies of this province. We pledge to take care of the youth, provided they take their responsibilities seriously."
Trainee Nomala Mboniso from Dutywa said she was grateful for the opportunity. The young mother said she left an infant to take part in the training programme that has equipped her with maintenance skills, in the hopes of changing her family's fortunes.
"I am married with four children and I left my baby to come here hoping to change my life. We struggle a lot. I would like to send a message to my colleagues; some have families of their own. I encourage everyone to take what we learned here back to our homes and make a difference. Let's use every opportunity we get to prove ourselves."