Denderah is the title of a Georgia Anne Muldrow album from 2013, in which she assumes the guise of Jyoti, her jazz virtuoso alter ego. Denderah Rising, though, the title of her collaboration with South African jazz pianist and composer Thandi Ntuli, is an entirely different ball game.
Speaking about it two days before the showcase, taking place at the Keleketla! Library (King Kong, 6 Verwey Street, Johannesburg) as part of the launch of Chimurenga's The Invention of Zimbabwe issue, Ntuli and Muldrow were somewhat mysterious, a mystery based on the fact that they had only gone through one rehearsal at the time of this interview, and were still trying to figure things out. The other reason for their caginess is that they both hold the tenets of free jazz close to their hearts, where the pathways of free expression and music as a process meet.
"I didn't think it was wise for me to come and play my songs verbatim," says Muldrow, a prolific singer, producer and rapper who recently signed a deal with the Flying Lotus-led label Brainfeeder. "There's a time and place for that, but I think Chimurenga requires more. The writers and everybody else are pushing themselves towards self-actualising into the artists they want to be. And I've been trying to figure out who I am and why I am here. And it always comes back to being an instrument of the ancestors."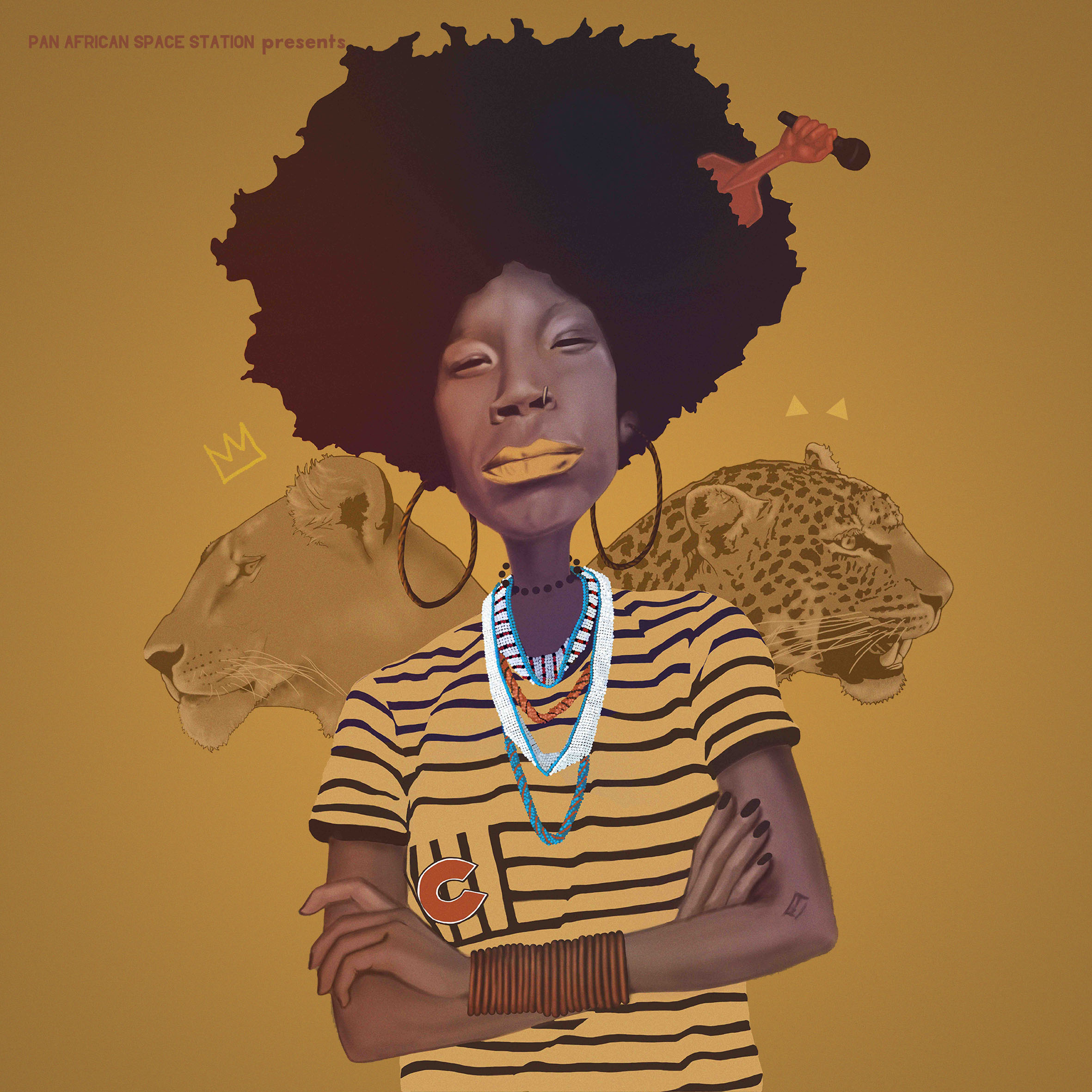 Georgia Anne Muldrow and Thandi Ntuli will not be performing their individual songs, but a collaborative free jazz experiment. (Breeze Yoko Studio)
Muldrow referenced Chimurenga because this particular issue wrestles with the use of music as a catalyst for new conversations around Zimbabwe and ideas of statehood.
Expanding on the scope of Denderah Rising, Ntuli, who has recently released her emotional and sonically expansive second project Exiled, says listeners should not arrive "expecting Georgia to announce a song, then we count to three and then the drummer starts the song".
She proceeds to make an analogy about John Coltrane's A Love Supreme, how it was completely mapped out before the saxophonist hit the studio. "That's what I mean when I say it's not going to be a jam session either."
The conceptual framework of the show, in so far as it involves the audience, is one where the recipients of the music form part of a reciprocal circle of "embrace," Muldrow says.
A discussion about music with both Ntuli and Muldrow is one where the ideas around its meaning are not only limited to its aesthetic qualities. "The ancestral voice needs to become a regular thing that we talk about, because the kids coming through, they have these gifts, but a lot of people traded them out for different things. A lot of people traded them out for Abrahamic religions," says Muldrow.
Perhaps significantly, the show also arrives at a moment of fragility, when people are reeling from the losses of elders many regarded as their guiding spirits. Ntuli says: "I was having this conversation recently with Thandiswa [Mazwai], and she was like when Bra Hugh died, and then Mam' Winnie, she was like, 'Wait guys, we are not ready to be the adults here, where are you going?'"
In a sense, these are themes encapsulated in Exiled, an album about personal loss and finding your light through it.
"It was [about] a complete upheaval of everything, and spiritually too," Ntuli says. "The last two years have probably been the most accelerated transformative period in my life. That album is my story, but it's also not my story alone… I just realised that a lot of people are in sync with this… whatever it is. Also, a lot of my closest friends were in this similar place."
As a framing device, imagine Denderah Rising as a safe space, but also a physical place too. "I think of it [Denderah] as an institution," says Muldrow. "It's the home of astrology, it's the home of birthing sciences. And birth is a vibration strengthening itself into form."
Muldrow and Ntuli will be joined on stage on Friday by Thembinkosi Mavimbela (bass), Marlon Witbooi (drums) and Sthembiso Bhengu (trumpet).
The show, presented by the Pan African Space Station, will also include a performance by The Monkey Nuts, an alternative hip-hop ensemble and visual arts collective based in Harare. Tickets are R200 at the door and R150 via Quicket.