Mthobeli Gangatha often coughs up blood. This has become a normal part of life for the former mineworker. He has learnt to accept that nothing, not even part of the R5-billion settlement announced by lawyers recently, will ever reverse his condition.
Although he appears to be a healthy and fit man, he is not. He has silicosis, an incurable lung disease caused by many years of exposure to silica dust in mines.
READ MORE: Silicosis: Too late for some as gold mines pay up
Gangatha contracted silicosis during the 16 years he worked at the Unisel Gold Mine in Welkom. In 2001, he became gravely ill and was retrenched. He was told to go home — essentially to wait to die.
But on Tuesday, the very much alive man joined other former gold mineworkers in Mthatha in the Eastern Cape to sign legal documents as part of an out-of-court settlement in which mining companies have agreed to pay R5-billion to former employees who contracted silicosis and tuberculosis after March 12 1965.
Gangatha is one of the litigants in the class action brought against 29 gold-mining companies in the Johannesburg high court by lawyer Richard Spoor in 2001. Between them, the companies have owned 78 gold mines since 12 March 1965.
READ MORE: Landmark silicosis ruling allows class action against gold firms
"We have really, really suffered," says Gangatha, who now runs a driving school with his wife Nosisi in the town of Lusikisiki.
The court must still review and approve the settlement. But news of the agreement reached between lawyers for the former mineworkers and the Occupational Lung Disease Working Group has brought about renewed hope for men like Gangatha.
The working group represents the respondents — mining companies African Rainbow Minerals, Anglo American SA, AngloGold Ashanti, Gold Fields, Harmony and Sibanye-Stillwater.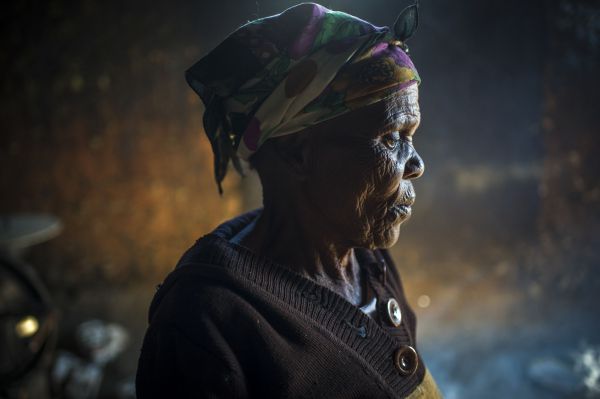 [Legacy: 'Let them pay my grandchildren. I have suffered enough,' says Notungana Kwekwe (above). Kwekwe took in her granddaughters (bottom right) after their mother died of grief after her husband died from silicosis. Former miner S'thembele Mtheza (below) hopes the settlement will bring his family some relief. (Delwyn Verasamy/M&G)]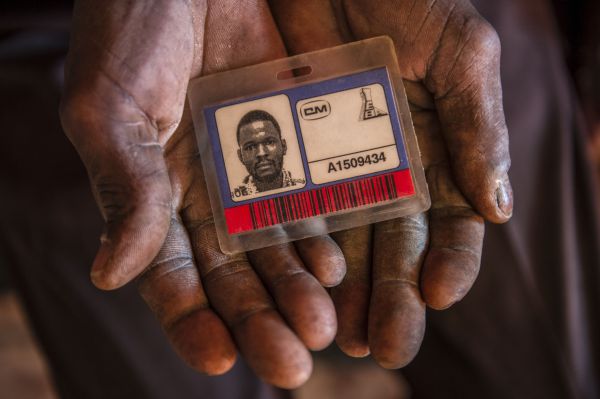 Gangatha was diagnosed with silicosis in 2012. After he was retrenched, he was not provided with records of his exit medical examination. He was paid out R29 000 from his provident fund.
"I have always believed that we will win this fight. Now I just wish they could pay us out this year so that we can improve our lives," he says.
But the settlement has come too late for many. Zwelendaba Mgidi, one of the litigants, died in February. His widow, Noziqhamo Mgidi, says that, during his final days, he agonised over the class action. He was paid out just slightly more than R70 000 after working on the mines for more than 30 years.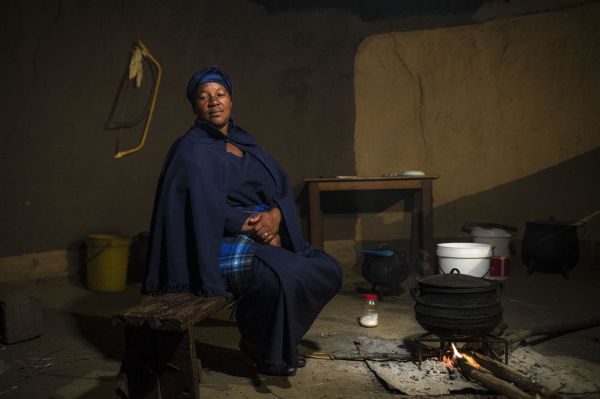 [Noziqhamo Mgidi's husband died before the settlement was reached. (Delwyn Verasamy/M&G)]
"He was always worried that the case would be finalised long after he had died," says Noziqhamo, who is dressed in the traditional navy-blue mourning outfit.
Mgidi, who was also diagnosed with silicosis, supported his family with the monthly R1 600 state disability grant he had received since 2011. It was barely enough to sustain Noziqhamo and their four children. Now that he is gone and the grant has been discontinued, life has become even tougher for the unemployed widow.
The family has to survive on the crops Noziqhamo cultivates in the garden alongside where Mgidi and four other relatives are buried.
"I don't know how much they will pay us but I hope it will be enough to change our lives," says Noziqhamo, three of whose children are without jobs and are sitting idle at home. The other is in high school.
"Life is hard. It has become even more difficult since my husband died," she says.
The death of breadwinners has been devastating for their families. Many of them rely on social grants and live in poverty in rural villages. So the news of the settlement has brought hope to former miners, their widows and orphans such as Kanyisa Fono.
Now 21, Kanyisa was a baby when her father, Malulu Fono, died from silicosis-related complications in 2001. His wife, depressed because of losing her husband, died a few months later. She was still wearing her mourning clothes.
Kanyisa and her sister, Andiswa, now 30, were left in the care of their paternal grandmother, Notungana Kwekwe.
She raised the girls and orphaned cousins on her state old-age pension. The strain has left her sickly and worn out.
"Let them pay my grandchildren. I have suffered enough. I am old and, if I were to die now, these children would be left all alone. I am the only one they have. I just hope they will not forget how I suffered with them when they get this money," Kwekwe says.
Kanyisa, who is among the litigants, says she expects to receive about R300 000. She hopes to move out of their crumbling mud-built house and build a new one. She is also hoping there will be enough left to help them to pursue their studies.
But some of the former miners, such as S'thembele Mtheza, still don't fully understand what the settlement means.
Mtheza, of Bolani village in the Tombo area of Port St Johns, hadn't heard of the latest developments when he was approached for comment this week. He was retrenched in 2008 after working at the Westonaria Gold Mine for 28 years.
"They said I was too old," he says.
He was never provided with records of his exit medical examination when he was discharged. In 2000, he contracted tuberculosis and was treated for six months. He was paid R700 in appreciation of his long service and R123 000 from his provident fund. He used part of the money to build a house for his family. When the money ran out, the family was forced to survive on his eldest son's disability grant.
"We really suffered because sometimes we had nothing to eat," he says.
Mtheza (64) receives a state old- age pension, which has alleviated the family's dire situation. But he hopes a settlement payment will improve his life. — Mukurukuru Media