Irvin Khoza would tell you red is present on the iconic Buccaneer kit to strike fear into those who cross them on the pitch. Much like the Jolly Roger itself, which would bear down on its terrified victims with bullying menace. The science allegedly proves it, after all.
Ask the old guard, however, and you might hear the tale of a chairperson who sold the club's soul for the treasures of modern marketing, who bartered the very identity of the team to appease one of South African football's biggest benefactors.
"When this red stripe wormed its way on to the kit," lifetime Bucs fan Nick Hauser explains, "many Pirates supporters, especially over a certain age, were like: 'What the fuck is this?'
"We felt this was a compromise negotiated by Irvin Khoza and one of his biggest sponsors, namely Absa. Red just got stronger and stronger until there was a full red strip. To a diehard Pirates supporter that's sacrilege. Once that red stripe started coming in, there were a certain number of fans who were just like: 'No, no, no.' It affects the supporter base; it affects the relationship between the club, its heritage and the supporters."
Orlando Pirates players were atypically decked out in their traditional colours this season. Adidas provided a simple black design, with bulky white stripes on the shoulder and equally plain sponsorship logos. The away kit is essentially the same jersey with the colours reversed.
It's a rarity both in a world of luminescent yellows and swirly patterns, and in the recent history of the Buccaneers themselves, who have added heavier and heavier dollops of experimentation in the past 15-odd years, particularly when it comes to the colour red. Introduced in hints in the early 2000s, it has spread throughout the kit, ultimately becoming a full-blown jersey in its own right.
For chunks of Ghost faithful, the shirt carries with it the entire legacy of the skull and crossbones. Decades of illustrious football that flowed out of one of the country's oldest townships. History that extends back to 1937. Glory that saw Edward Motale lift South Africa's first ever Confederation of African Football Champions League trophy.
Adding anything but black and white is nonsensical; a ludicrous misrepresentation of a symbol designed to strike fear into the opposing side.
Red is not the first colour to transgress that boundary. Nor is it the first to anger fans — or even players, as the legendary John "Dungi" Moeti attests.
"We used to play in green and gold," he recalls of the 1994 season. "There were some players that did not like these sorts of colours. They would say: 'We are used to black and white, or white and black.' Some were not comfortable and didn't understand why we used these colours. If we lost a match, some would attribute it to these colours," Moeti says.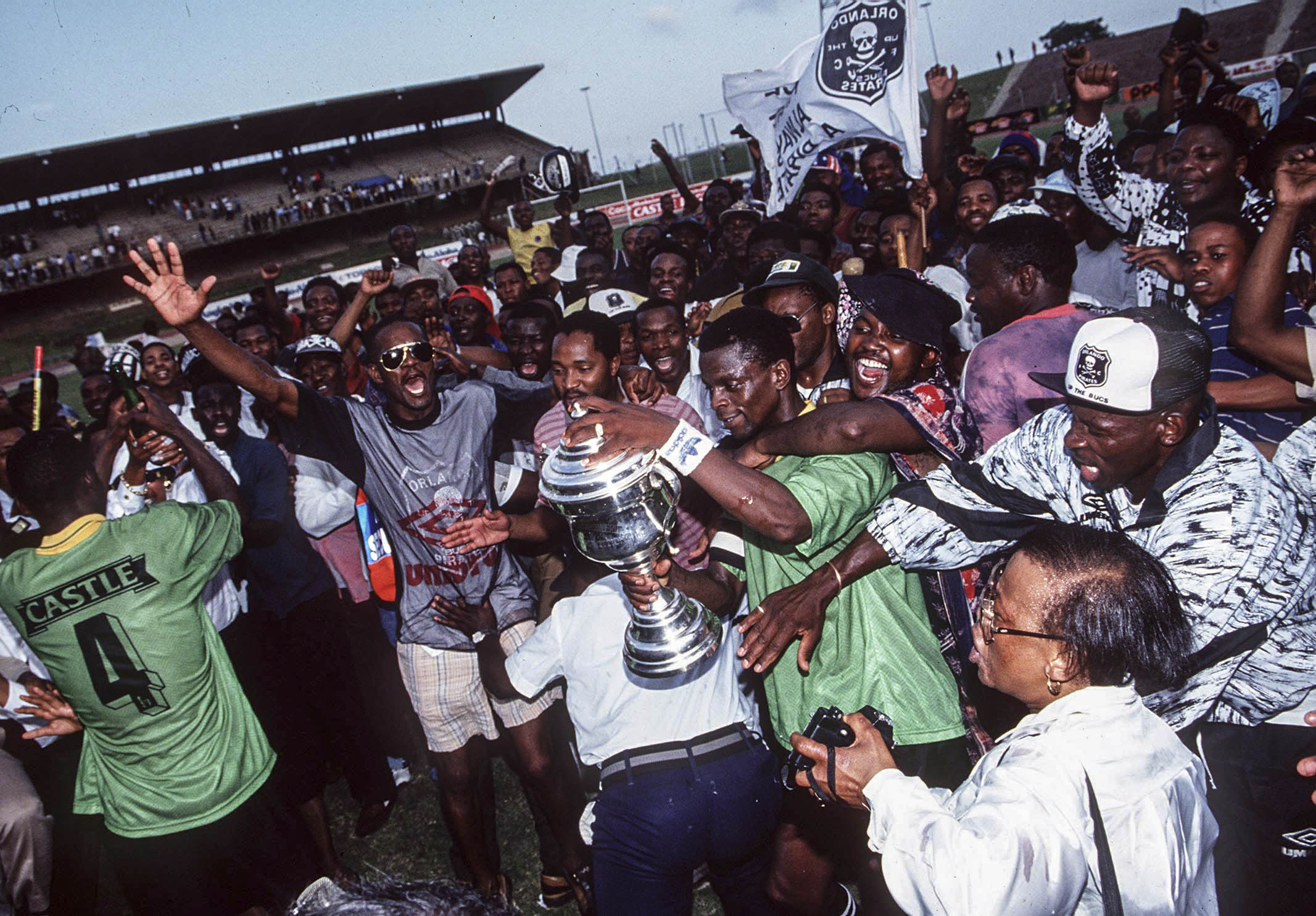 [The team won the league in 1994 wearing green. (AFP)]
"It's what you believe and how you view things. Others are very superstitious; they believe these colours are bad luck."
Moeti, who refuses to take on any form of superstition himself, laughs incredulously as he remembers how his former teammates would plead to return to their traditional kit.
"There was one instance where we used the green and went some seven games without winning; it was just drawing and drawing. Some players said: 'No man, we must change these colours.'
"Fantastically, they would say to our team manager, the late Big Bear Ngubane: 'Mr Ngubane, we must change these colours; they are not treating us well.' It would sound like a joke but to some, it was reality that these colours were not bringing us good omens."
Green suspicions were crushed come season's end, however. The Sea Robbers cruised to the 1994 championship, the first league victory since 1976 after a vexing two decades. It was also the maiden domestic trophy in a democratic South Africa.
Adidas would later commemorate the achievement in 2016 with an 80th anniversary special-edition green jersey.
Still, it remains a fleeting hue in the Buccaneers sartorial voyage. The red, meanwhile, has lingered. In 2008, chairperson Khoza took the extra step of adding scientific justification to its inclusion. The Iron Duke referenced a study conducted by British researchers from the University of Durham, which found that the colour may subconsciously intimidate opponents. Based on data surveyed from Euro 2004, the conclusion was that it delivers messages of danger to the brain, thus giving a team that dons it a psychological advantage.
"While it is important to commemorate and acknowledge our history, it is equally important for us to embrace the future," Khoza said at the time. "The design and choice of colour for the away kit is a result of intensive research and discussion conducted among ourselves and Adidas."
Jomo Sono is someone who knows a little bit about that history, having featured in it himself. He's also a little superstitious. "I didn't tie my boots until the game started," he reveals. "I would never tie them until the referee blew the whistle and then I tied my left boot [first]."
Yet for him, the introduction of new kit colours is nothing but the reflection of reality: the inescapable commercialisation of the game. It's not something to be hysterical about. In fact, if it weren't for their innovations, we wouldn't be able to appreciate the Bucs at anything close to their current form.
"A lot of things have changed but you know it's new owners now, so they have to do what is good for the company," he says. "Pirates doesn't belong to people anymore; it belongs to a company. The company can chop and change everything, any colour they want. They have their reasons, which we don't want to get involved with.
"All clubs belong to businesses now, which I think is good. If Pirates was handled the same way it was handled before, it would be dead by now. It would have been finished. To be honest, Khoza was Moses for Orlando Pirates."
At the very least, one cannot deny the viability, or even necessity, of constantly innovating on the kit front. It's hard to comprehend that, until relatively recently, a new season didn't necessarily mean a new shirt.
By contrast, it's not uncommon for major clubs today to bring out three shiny new uniforms for kids to bother their parents about and fans to burn their money on. One need only look at the mere minutes it took Nigeria's World Cup kit to sell out to understand the demand.
Jerry Sikhosana, hero of that 1995 Champions League triumph, played in nothing but the black and white. Watching from the sidelines, however, he has no sympathy for players who might feel afflicted by the colours on their jersey.
"The curse — it's a curse, that's what people are saying," he says. "But if you've got footballers, they should be able to play in any strip.
"For me, it's all about this South African mentality — you know, we always want to put muti first, the muti in our heads. I think a strip is a strip. For me, it's all about the players getting into the pitch and making sure they do their job well. They play for the team that pays them their bills; they must play."
Pirates hasn't yet released its kit for the 2018-2019 season. Having draped its players in traditional garb this term, the realistic bet would be on them throwing in some spice to guarantee sales.
Purists might counter, however, that under that kit, and Milutin Sredojevic of course, the Buccaneers have finally put their directionless ship back on course. And perhaps we have begun to reverse that trend. Does encroaching on the legendary black-and-white besmirch the club's legacy? Does it curse its wearers? It's likely we'll never satisfactorily answer those questions as we wade further and further into the murky moral waters of modern football.