OBITUARY: David Goldblatt
On June 26 2018, David Goldblatt was buried near a hedge close to electricity pylons, with wires undulating from the Melville koppies past the Jewish section of Westpark Cemetery and out into Johannesburg's suburbia.
One of South Africa's most distinguished documentary photographers, Goldblatt had died the previous day, aged 87, from cancer.
His final resting place, with nature composing itself alongside humanity's steel and bricks, had stretched out the elements of a photograph he had taken of the koppie at Marikana in North West. This was where, in 2012, mineworkers had gathered to protest for a "living wage" of R12 500 before 34 of them were killed by police in a massacre that stands out as post-apartheid South Africa's darkest moment.
The photograph, like so much of Goldblatt's work, was consummately composed in its inquiry of what is left behind after mining's violence and the state's bloody-mindedness. It quietly, subtly, coaxed new questions from a pile of rocks that had been photographed a thousand times before.
That is what David Goldblatt did. He penetrated a landscape, a concept, a church — a country and its people — while being fastidiously mindful of the principle that "the obvious is not necessarily the obvious". He created work that constantly demanded we look again — at the land we live in, and ourselves.
Goldblatt had, among his myriad achievements, received the Hasselblad Foundation photography award in 2006 and he became the first South African photographer to have a solo exhibition at the Museum of Contemporary Art in New York in 1998. Another retrospective of his work opened at Paris's Centre Georges Pompidou earlier this year.
Yet he self-deprecatingly described himself as a "plodder, not an artist" and a "coward" in various interviews and talks. Both introspections, however ironic, go to the essence of Goldblatt's methodology.
He was a "plodder" because, constantly driving around the country in his bespoke camping van, he took his time in looking at South Africa. He would return often to a building or a bush, a community or a character, developing a relationship with what he sought to photograph — and seeking a deeper connection and understanding with every long stare or expression of empathy. The familiarity added layers to his work and often suggested a communion with the more intangible and spiritual aspects in what surrounds us.
"He was mentally conditioned to return to places," says Neelika Jayawardane, an art critic and associate professor at the State University of New York-Oswego.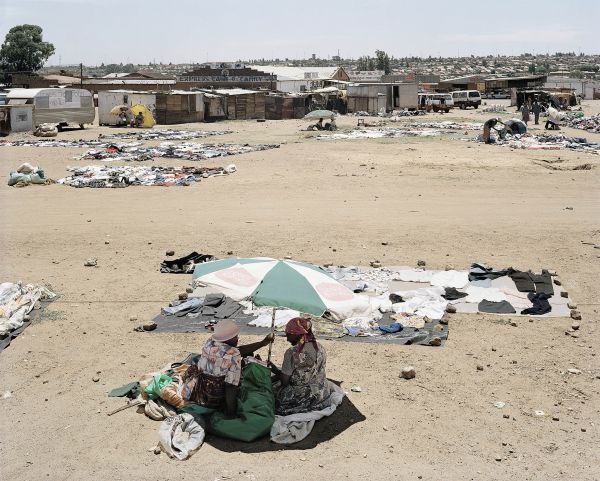 Here, in the time of apartheid, on June 26 1955, under harassment by the police, some 3 000 people of all races, from all over South Africa, gathered in a Congress of the People, and adopted the Freedom Charter, a template for the governance of nonracial, democratic South Africa. The charter became the basis of South Africa's democratic constitution.
"His relationship with landscapes and the people who inhabited them deepened when he returned to places and attachments … By maintaining those conversations, he developed a deeper meaning to his own life and his work, and could develop a better vision of what he wanted to articulate with each return," said Jayawardane.
This process imbued Goldblatt's work with its immense depth, detail and the nuances only revealed by time and communion.
His professional companion and translator, Thabo Mamiane, speaking at a prayer service at the Goodman Gallery in Johannesburg on Tuesday night, remembered sometimes waiting hours with Goldblatt as he watched and waited, before a single click of his camera for a single photograph.
"David's way was practise: practise, practise, practise," his son Ronnie (Rasada) told those at the service. It was this constant attention to his craft that ensured Goldblatt became a master of it.
In a 2006 interview at the Arles Festival in France, where he was exhibiting a retrospective, he emphasised why he sought out history's "quiet moments" to tell his stories: "I'm not a good photographer of events. I'm a coward; I run away from violence, I don't like violence and confrontation. And I'm not interested in events as such as a photographer. As a citizen of the country, yes, of course I am. But as a photographer, I am interested in the causes of events."
Born in 1930 in Randfontein, a mining town on Johannesburg's West Rand, Goldblatt started photographing after his older brother returned from World War II with a Contax camera that his parents bought from him and gave to David.
The 1960s saw Goldblatt seriously pursuing photography after the death of his father and the subsequent sale of the tailoring shop where he had, until then, been working.
As the apartheid project gained momentum, Goldblatt did consider leaving South Africa but decided otherwise: "I realised I had a sense of involvement in this society, in South African society, that meant a great deal to me, and that, however uncomfortable that might become, I wanted to stay here," he told a Design Indaba seminar in 2016.
Working on commissions for mining company Anglo American's in-house magazine, Optima, Goldblatt nurtured the access this allowed into what would become the seminal book On the Mines (1973) — a collaboration with Nobel literature prize-winner Nadine Gordimer.
His work traversed several "obsessions": people's bodies, the mining towns similar to where he grew up, migrant labour practices, whiteness, structures and the powers and paranoias they were imbued with, criminality and reconciliation. Working in black-and-white, he published several photographic books — Goldblatt admitted to never working in single pictures but in narrative photo essays — including Some Afrikaners Photographed (1975) and The Transported of KwaNdebele (1989).
Although he shied away from the noisy big events, Goldblatt did nevertheless document the caprice and cruelty of apartheid with what his friend, former New York Times correspondent Joseph Lelyveld, described as a "cool fury".
Writing in the New York Review of Books, Lelyveld said Goldblatt's engagement with the apartheid reality "went far beyond racial conflict and oppression without ever becoming distanced from those unavoidable realities. His way was always to go deeper, to find an oblique angle that went right to the heart of the matter: an image bespeaking loneliness, stunted aspiration, fragile pride on both sides of the racial divide, not infrequently with an intimation of imminent violence, or its result."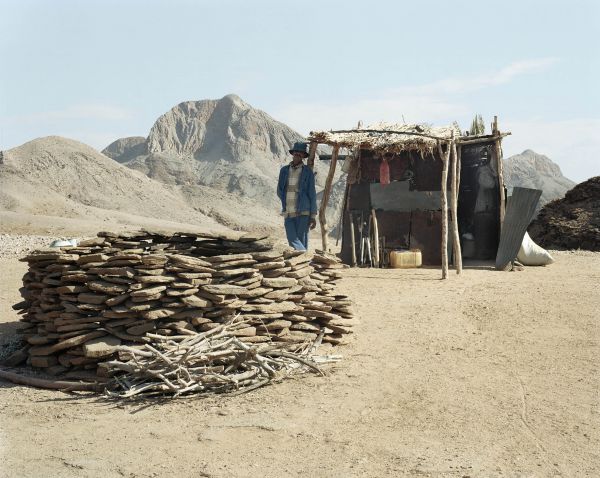 Johnny Basson, goatherd, Roopad se Vlak, Pella, Northern Cape, 2004
His fascination with structures, and the values with which they are imbued, resulted in the book South Africa: The Structure of Things Then (1998), which provided deep insight into the shifting political and economic fortunes and paranoia of Afrikaner nationalism. It documented expressions of strength, triumphalism and the church as a "megaphone".
"And then," Goldblatt noted in the Arles interview, "came the 1970s and 1980s when the Afrikaner folk believed that they were being attacked by the rest of the world, but the communist forces and the forces of liberation and humanitarism and the churches then became like this [closes his hand to form an egg]."
Despite his work being imbued with a political humanism, Goldblatt refused to use his camera as a revolutionary tool. He maintained that the photographer had a higher purpose: away from being a propagandist for any side and towards a deeper truth that lay in the nuance, contradictions and tensions that come with navigating a human life — often in the most inhuman conditions.
A vociferous advocate for freedom of expression, he moved his archive from the University of Cape Town (UCT) to Yale University in the United States after artworks were burned at the former's campus during the #FeesMustFall protests in 2015 and 2016. UCT then removed 75 more artworks, including works by Irma Stern and Willie Bester, that were deemed to have the potential to offend students.
UCT, in a statement at the time, said Goldblatt "could not be persuaded out of his view that freedom of expression, artistic freedom and the rights of artists are no longer protected" by the university.
A few years earlier, Goldblatt had declined the National Order of Ikhamanga awarded to him by then president Jacob Zuma, because the ruling ANC was trying to push through what was commonly known as the "Secrecy Bill" — the Protection of State Information Bill — in Parliament, which sought to restrict the flow of information and the work of activists, social movements and journalists.
In his letter to Zuma in November 2011, Goldblatt wrote: "I decline the award in protest against what has been done to the spirit in which the award was created. South Africa's rebirth was characterised by its march towards humanity, a new culture of human rights and a respect for human dignity. The government and the party which had passed the Bill were in contempt of that spirit — which was the spirit in which the national orders were conceived. To accept the Order of Ikhamanga from you … would be to endorse your contempt. I refuse to do that and, very sadly, I decline the honour."
Aside from his extensive body of work, founding the Market Photo Workshop — which has developed a new generation of South African photographers trained to examine critically, but with empathy, their world — remains Goldblatt's other generous contribution to South African culture.
Goldblatt was a singular documentary photographer, mentor and South African.
David Goldblatt (November 29 1930- June 25 2018) is survived by his wife, Lily, three children and two grandchildren