Eleven wildlife rangers were flown to Cape Town on Tuesday to be honoured at the first Africa Ranger Awards for their critical rolein conservation. As each ranger walked past the stage's forest-green backdrop to receive their $3 000 (about R40 470) grant, the view-finders followed, losing sight of the honorary ranger sitting front centre.
It was Chinese billionaire Jack Ma, the co-founder and executive chairperson of Alibaba Group and one of the wealthiest people in the world, according to Forbes's top 20 billionaires of 2018.
Fifty rangers working in 17 African countries received the inaugural 2018 award, co-sponsored by Alibaba Group's foundation and the Paradise Foundation, a new environmental conservation organisation founded by a group of Chinese heavyweights.
Africa's wildlife rangers work in dangerous environments, and an estimated 20 000 frontline staff members risk their lives daily to protect wildlife. Armed poachers are one of the greatest threats to rangers and wildlife alike.
Demand for ivory led to the killing of 100 000 African elephants between 2010 and 2012, and 64% of all African elephants over a decade, according to National Geographic. China and its market for ivory is widely recognised as a major driver of elephant poaching.
Amplified music that would have suitedan action moviebuilt anticipation for the start of the Chinese-orchestrated event, but there was no avoiding the elephant in the room. Why wasa group of Chinese businesspeople investing in African wildlife protection?
"It seems like a bit of a paradox," says Craig Williams, one of the rangers selected for the awards from a total of 146 nominations. "But we need all the support we can get."
Anti-poaching comprises 90% of Williams' job as a section ranger at the Kruger National Park. "Around 30 groups of poachers enter my section in a day," he said. "I've been shot at, my dog has been shot at. They missed us from 10m away," he said, describing one of many perilous situations that rangers typically encounter.
Williams succeeded in reducing rhino poaching by 20% in his section of the park, one of the worst-hit for rhino killings.
"We need more honest, reliable people on the ground. The integrity of staff is important," he said. In a field in which corruption enables illegal wildlife trafficking, corrupt rangers can do more harm than good.
Voster Mweene, another award recipient who attended the Cape Town ceremony, believes that educating locals about conservation is a priority. Mweene's work intercepting elephant poachers over the years brought death threats against him and his family, and forced him to relocate. His work in Western Zambia's Liuwa Plain National Park has led to numerous arrests and the seizure of over 100 kilograms of ivory.
"Once there was a human-wildlife conflict, where an elephant destroyed crops and killed one person. A mob of people came to the office with the intention of attacking the officers. They expected me to be rough but I talked to them nicely," says Mweene. "I explained that conservation is important in the area. Once wildlife is properly protected, it brings in tourists. They create jobs, they create business."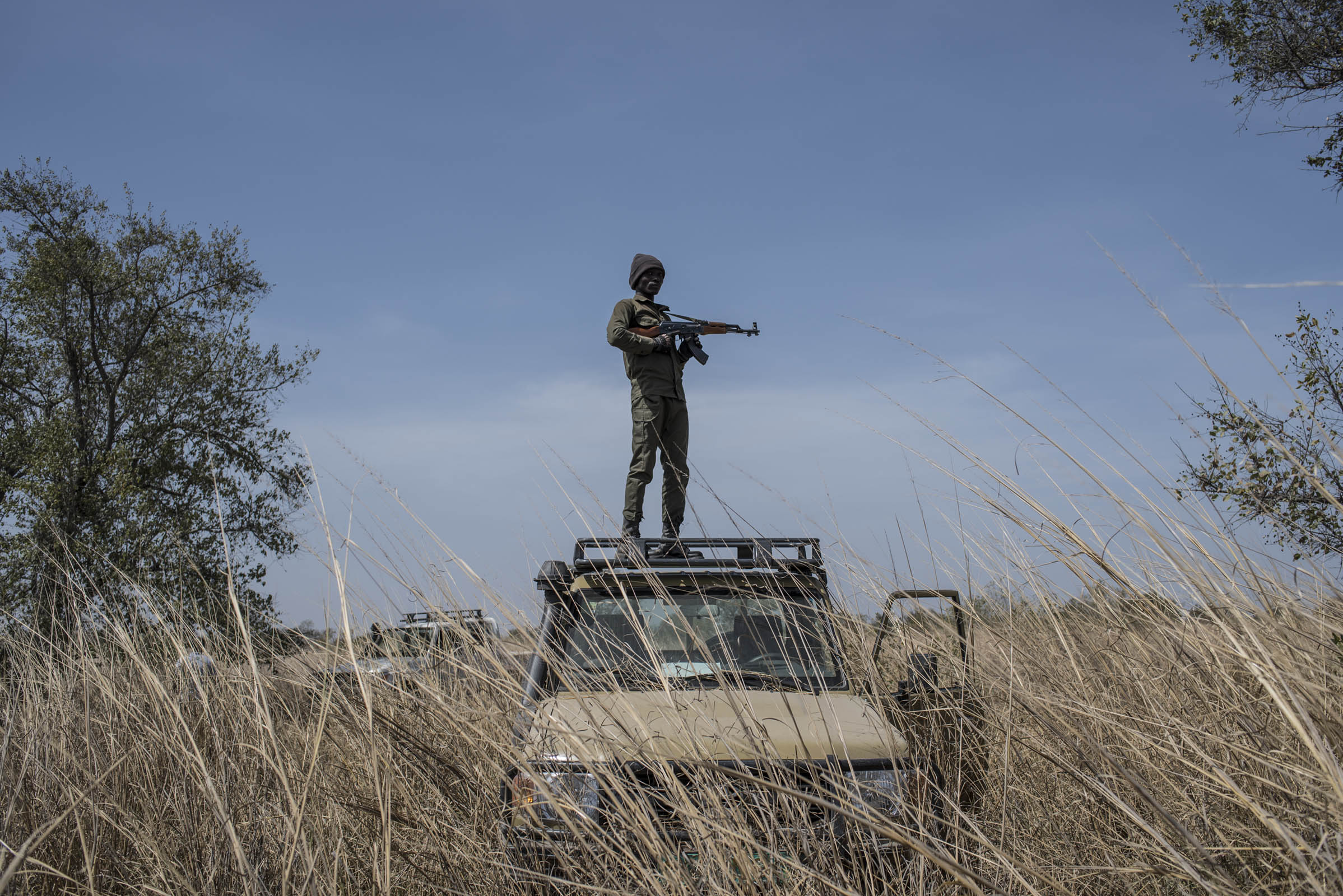 A ranger stands guard during an elephant collaring exercise in Benin's Pendjari park; and a Kenya Wildlife Services ranger (below) with a sedated Southern white rhino. (Rodger Bosch, Stefan Heunis and Yasuyoshi Chiba/AFP)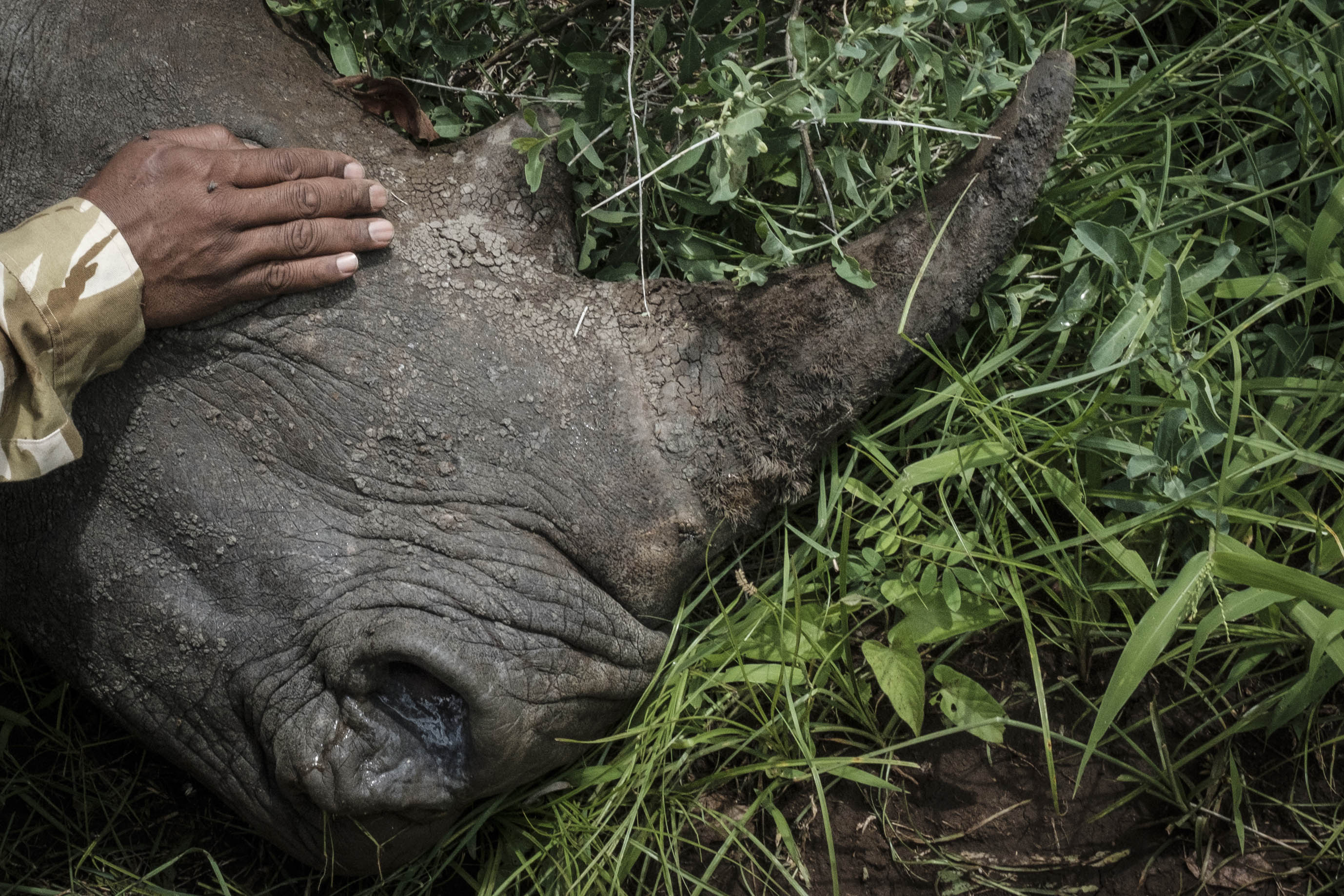 But comprehensive solutions are needed to put an end to illegal poaching. "Globally, we need to work hard to look at who is sponsoring the wildlife [poaching] trade," says Mweene.
Kimon de Greef, journalist and author of the forthcoming book Poacher: Inside the Abalone Underworld, agrees that targeting wildlife traffickers should be a priority.
"Anti-poaching PR is one thingbut taking action against trafficking kingpins —usually enmeshed in organised criminal structures —would be of far greater consequence for curbing poaching."
The reality is that poaching is often one of few potential income sources for peopleliving in poverty.
"Chinese demand for rare items such asrhino horn and abalone has introduced entire new economies, often into rural areas where there are few jobs, if any," says De Greef. "Until there are viable alternatives, these trades are likely to grind on."
Ma declared on his first visit to the continent in July last year that the Alibaba and Paradise foundations would spearhead a 10-year wildlife conservation programme in Africa. Key goals include building links between Chinese nonprofit organisations and Africa's nature reserves and curbing the trade in illegal wildlife products.
Ma was visiting Kenya as a special adviser for the United Nations on youth entrepreneurship, where he addressed a group of 500 aspiring business leaders at the University of Nairobi.
In the past two decades, China has become Africa's most important economic partner. According to consulting firm McKinsey & Company, across trade, investment, infrastructure financing and aid, no other country has the depth and breadth of involvementin Africa.
But mutual misconceptionsbetween China and Africa and their peoples are a barrier to ending illegal wildlife trafficking, says Huang Hongxiang, founder of China House, a Nairobi-based organisation that aims to connect Chinese overseas investment and global sustainable development.
"China is part of the [illegal wildlife trade] problem, and that also means China needs to be part of the solution," says Huang. "However, there is a big communication gap between China and the world. So many people in China still don't understand what NGOs [non-governmental organisations] are and what wildlife conservation is."
Not so long ago, Ma was one of them. Visiting the continent was a lesson, said the English teacher-turned-entrepreneur. "When we thought about Africa, we thought about poverty, diseases and the dry season. I visited three countries last year. I had my first safari and, for the first time in my life, I learned about a job called a ranger."
The work of wildlife rangers seems to have made a real impression on Ma, who announced the 10-year award programme during his 2017 visit to Rwanda.
"All the animals that we only saw on BBC documentaries, we could see and feel. The people here keep those animals so well, like a paradise," he said.
The Paradise Foundation is "smart corporate social responsibility", says Dr Max Graham, founder of Space for Giants, a nonprofit conservation organisation that focuses on protecting Africa's elephants and their landscapes.
The Paradise and Alibaba foundations have jointly agreed to sponsor the cash rewards for the project's duration, at an expected total cost of $1.65-million. Ma co-chairs the Paradise Foundation with Chinese billionaire Shen Guojun and Pony Ma, founder and headof Tencent, the social media giant that owns the mobile app WeChat, in which Naspers has a 31.2% holding.
"Some of the biggest companies in the world are demonstrating that they are serious about the environment," says Graham.
China is seldom short of superlatives, and the conservation space is no exception. China introduced a ban on all trade in ivory on January 1this year.
Although the ban hasn't come close to stopping the trade in ivory, it has noticeably slowed elephant poaching.
"We are five years away from the peak of the crisis," says Graham. "The changes have been significant."
According to Forbes, soon after Chinese President Xi Jinping announced the ban in 2015, ivory prices began falling from a peak of $2 100 a kilogramme of raw ivory to about $500. By January this year, the new laws had led to an 80% decline in the confiscation of ivory entering China. This is, unfortunately, not the same as an 80% decline in ivory entering the country.
But, along with having the fastest-growing number of billionaires (a new billionaire is minted every five days), Graham believes that China will also see the most significant growth in philanthropy.
"Philanthropy is brand-new in China, and to have this new philanthropy come to Africa in the cash-strapped conservation space is very exciting. Some of the biggest gifts in conservation in the last 24 months have come out of China."
Perhaps the most notable consensus at the Africa Ranger awards was that there is still a huge amount of work to be done to protect endangered species, particularly the elephant and the rhinoceros.
"I am the honorary ranger," said Ma. "I will work for you, I am so proud to be a member. I hope that when our grandchildren ask us what we did that is meaningful in the world, we will be able to say that without [rangers] you would only see lions or elephants on BBC documentaries, but because of rangers you can still go and see them in the wild."