Stepping into the pool before the sun has risen is numbingly familiar for Tatjana Schoenmaker; after all, she's been doing it since she was 14.
What's different now, and has been for a few months, is that she takes the first dive into the water with a re-aligned purpose.
Going to the Olympics has always been a dream of hers. Now, with two Commonwealth Games gold medals behind her, those reveries are crystalising into a targeted reality.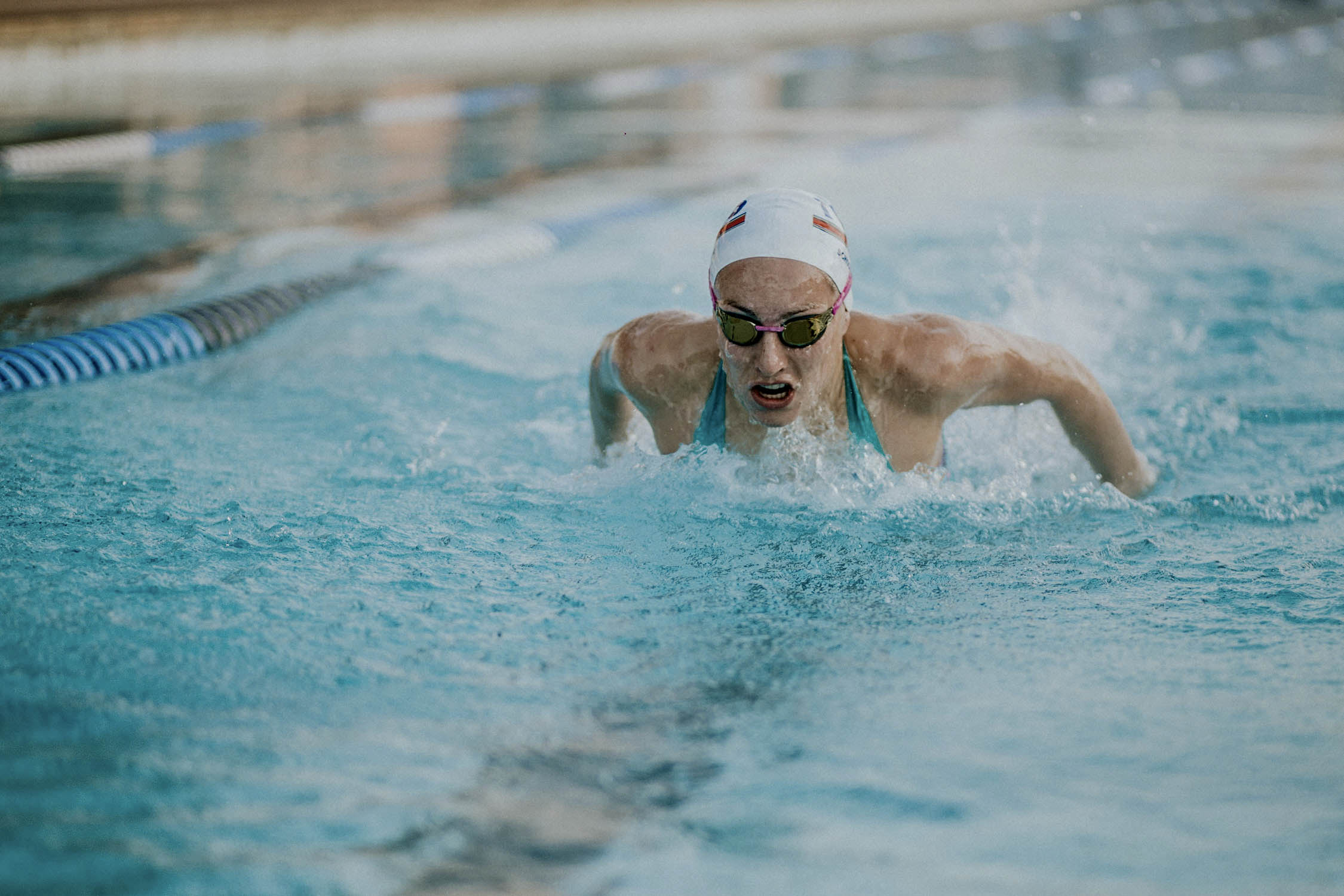 [(Renata Larroyd)]
It's not the attitude she had when she flew to the Gold Coast back in April. Then, such global events still stood as monuments of intimidation. At the World Student Games a few months before, she was introduced to a world where she didn't run the race; the days of dictating the pace and intensity at which her competitors swam, as she had become comfortably accustomed to doing at national level, had come to an abrupt end.
Despite capturing silver in the 200m, she felt out of her depth and wasn't able to push herself to the capacity she knows she can achieve. The level of competition made it irresistible to glance to the side — a habit any coach would preach isa sin.
"Especially in breastroke when you touch and you turn sideways you can kind of see where everyone is," she says of her first forays into high-level contests. "You definitely do see those people and that is one of the factors that make younger swimmers, especially, start panicking because our national level and international level are completely opposite things."
Those experiences taught her that concerning yourself with the speed of others can only slow you down — those tendencies, like a tethered weight dragging you into the deep, have to be severed.
In Australia, the fear remained but Schoenmaker made the decision that it was the ideal platform to ascertain what she was capable of. To see where the long hours of training and endless hard work had taken her. With such a mind-set, it's irrelevant what those around you are doing — no need to peek at the adjacent lanes.
"That's the first time I have swum just myself in such a big, international competition. Before the Commonwealth Games, no one ever thought that I could win a gold medal there, not even me. I would have been happy with a PB [personal best], knowing that I'm improving. Winning the gold is just … doesn't feel real actually. It still doesn't feel real."
Schoenmaker obliterated all of those expectations — finishing first in the 200m and 100m breastroke finals, both with African record times. The last time an able-bodied South African woman won a gold medal at the games was Joan Harrison in 1954. Penny Heyns, regarded as one of the greatest of all time in the stroke, managed bronze in 1994.
That success has given birth to the vision that Schoenmaker brings into the steaming pool when natural light is only just beginning to introduce itself to Pretoria.
Tuks Sports Campus LC de Villiers Sports Ground is alive before 6am. Joggers line the road to the gala area. Outside, five spinning bikes have riders furiously digging into their pedals. A sole figure is practising shooting on the basketball court in the distance. There is the unmistakable scent of competition; no one need utter a word — you already know they are here for a purpose. Hurdler Cornel Fredericks and sprinter Akani Simbine are two other successful athletes who would have graced these grounds in recent times.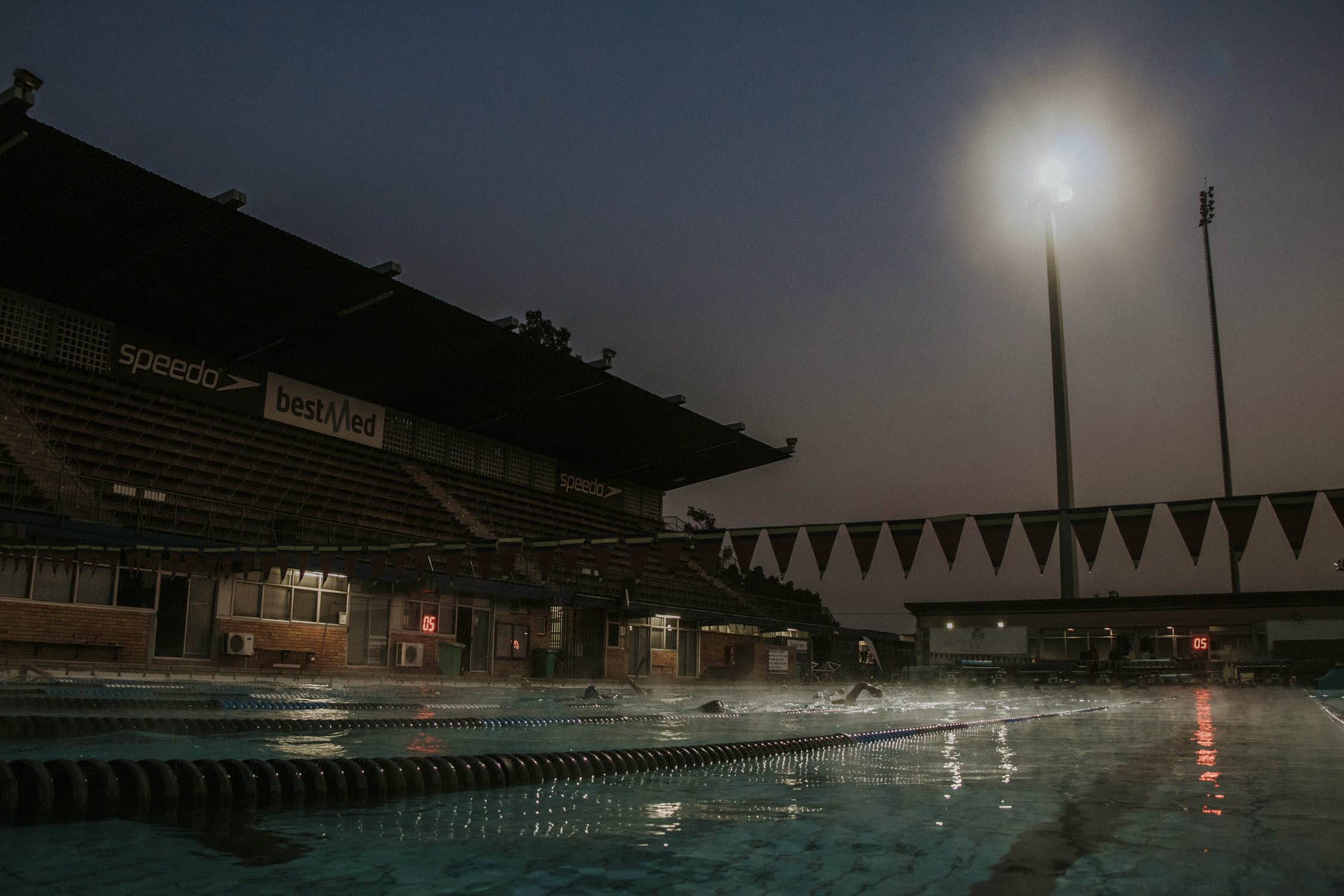 [(Renata Larroyd)]
Two squads are here today, about 20 swimmers in total. Schoenmaker is on her way to becoming a sensation but she still practises with the same coach and team she has been with ever since she was a teenager.
"I don't think I'll ever train alone," she insists. "That's very boring. When it was winter and it was very cold, the coach would cancel training but then I would go to the gym and have my session. If I was alone I could never finish a 6km session."
If Schoenmaker wants to be one of the best in the world then she can't afford to miss a day's workout, no matter who does or does not show up. Self-discipline, as much as talent, will be integral to achieving her grand ambitions.
It's a competition weekend so no such strenuous distances today. Mostly some routine laps back and forth and a few test dives here and there. A solitary floodlight towers over the area, its gleaming gaze sleekly reflected in the splashes below.
The water, at first a beautiful midnight blue, begins to lighten as the sun rises higher in the sky. It's a cold day but not the worst spring has to offer; some mornings the rising steam from the heated pool is reportedly so vast and thick that you can't see the other end.
A coach patrols the sidelines, dipping a stick with a GoPro attached beneath the surface — the footage to be used later to iron out little imperfections in a stroke.
The swimming practice is one of an average of eight Schoenmaker will do in a week. Add in three visits to the gym and it's 11 sessions of training she has done in a seven-day period. This has been her life ever since her coach Rocco Meiring scouted her as a teenager and recruited her into the Tuks sports school.
You either have breaststroke or you don't, she says, is the old adage that identified her as a potential star. She certainly has it.As much as Commonwealth gold was validation for that almost obscene amount of training, it was also a reminder that a lot more is going to be necessary to repeat the feat at Tokyo 2020. Schoenmaker won the 200m in 2:22:02. Kyoko Iwasaki finished it in 2:20:30 at the Rio Olympics. Similarly, the last Olympic winning time in the 100m was Lilly King's 1:04:93 compared with the South African's best of 1:06:41.
Less than two seconds is nothing to the layman but is everything at this level. For instance, the time would have been good enough for third in the race against Iwasaki but Schoenmaker would still have finished nearly a body length behind the winner. Importantly, it's not an unobtainable difference, especially considering she still has many years in whichto improve into her prime.
"I think she'll definitely make finals but she's still got a lot to improve," says Linda de Jager, a swimming coach on the same campus. "She just needs to work a little bit more on her speed. Also try and improve her turns a little bit more.
"She's already swimming the qualifying times for Olympics quite easily so there's no doubt in my mind that she'll be on the team but she must get there and go to the final, which I'm sure she can do."
Everything is there to bring home the gold. "She has got a lot of talent. Her physique is very good, she's nice and slim — no hips like the girls usually get at a certain age. Technique is good. It's very different to other swimmers but it works for her. Very diligent and trains hard."
Still 21, there's no reason why Schoenmaker cannot rise beyond any concept of limitation in less than two years' time. Put in the effort and she becomes a national hero — it's looking that simple.
"It's a lot of work," she laughs nervously, as though she is envisioning countless more practices like this one on cold mornings.
"That's one thing that I kept on saying to myself before my races — I made it through all my sessions that I thought I wasn't going to so I'm sure I can do it."