I have never been on the other side of the money counter, but it is safe to assume that putting together a festival gives its fair share of headaches. There are relationships to maintain, complimentary tickets to be doled out in expectation of some kind of return and gremlins that exist only to undermine the production.
From the outside, it seemed as if the Joy of Jazz Festival 2018 organisers were very relaxed about late media accreditation, in the knowledge that these patrons would only broaden the festival's coverage.
Certainly, this is what we were led to believe in our initial dealings with them.
However, my and photographer Hugh Mdlalose's mission for the 20th edition of the festival started off on a positive note with open communication between ourselves and the Khanya PR public relations team we were engaging with.
On the day we went to collect our accreditation wristbands, however, we were told that the envelope containing Mdlalose's could not be found.
Nduduzo Makhathini (Hugh Mdlalose)
This was how we found ourselves outside the Sandton Convention Centre for almost an hour calling the number we had been given earlier to no avail.
We were eventually helped by a man named Neo, also employed by Khanya PR. It was only half-way helpful though as Mdlalose was merely given a day ticket. We realised that, after covering day two, day three would invariably involve more of the same wheeling and dealing.
Egos were put aside for the sake of the job and we eventually entered via the Conga Stage.
Our first stop was a food hall, where an unbilled band was providing ambience to a hall full of people more focused on their food than anything else. I guessed this to be the group fronted by vocalist Ncamisa Nqana.
Pianist and singer Thandi Ntuli (Hugh Mdlalose)
With no seating room in the food hall, I took a seat by the Conga stage to catch the tail end of Tlale Makhene's ensemble.
As the band wrapped up its set, which doubtlessly featured lots more interesting interplay between drummer Sphelelo Mazibuko and Makhene than I got to see, the MC drew our attention to an artist who had been painting a canvas.
The artwork, apparently inspired by the music, turned out to be a portrait of the band leader, I think, in the middle of a Standard Bank logo. The bank, a long-time sponsor of the event, had apparently become one with the music.
A quick smoke break outside led to an unpleasant encounter with heavy-handed security personnel. What followed was another 15 minutes of haggling as they demanded tags and not only the wristbands we were equipped with. They didn't let us go, as such, but turned their attention back to the door, which allowed us to slip past and back inside.
The Conga Stage was taken over by Wazimbo and Banda Kakana, a marrabenta outfit featuring Yolanda Chicane on vocals. From the duet they performed, the elder Wazimbo and the younger Yolanda had an easy chemistry. Chicane, who handled much of the set on her own, has a voice that soared high above the often varying tempos of the music, her phrasing often reminiscent of London singer Gabrielle.
Musicologist and songwriter Mbuso Khoza (Hugh Mdlalose)
Letta Mbulu's set, on the vast Mbira Stage, was pure nostalgia, with hits such as Jikijela, I Need Your Love and Not Yet Uhuru causing sections of the audience to erupt in unison. It hardly seemed to matter that a substantial part of the singing was, in fact, performed by Faith Kekana and Khululiwe Sithole.
The lighting was, for the most part, unflattering, covering Mbulu in a bright, ghostly glare. She seemed to be the undisputed draw card — more a treasured national symbol than the singer of yore.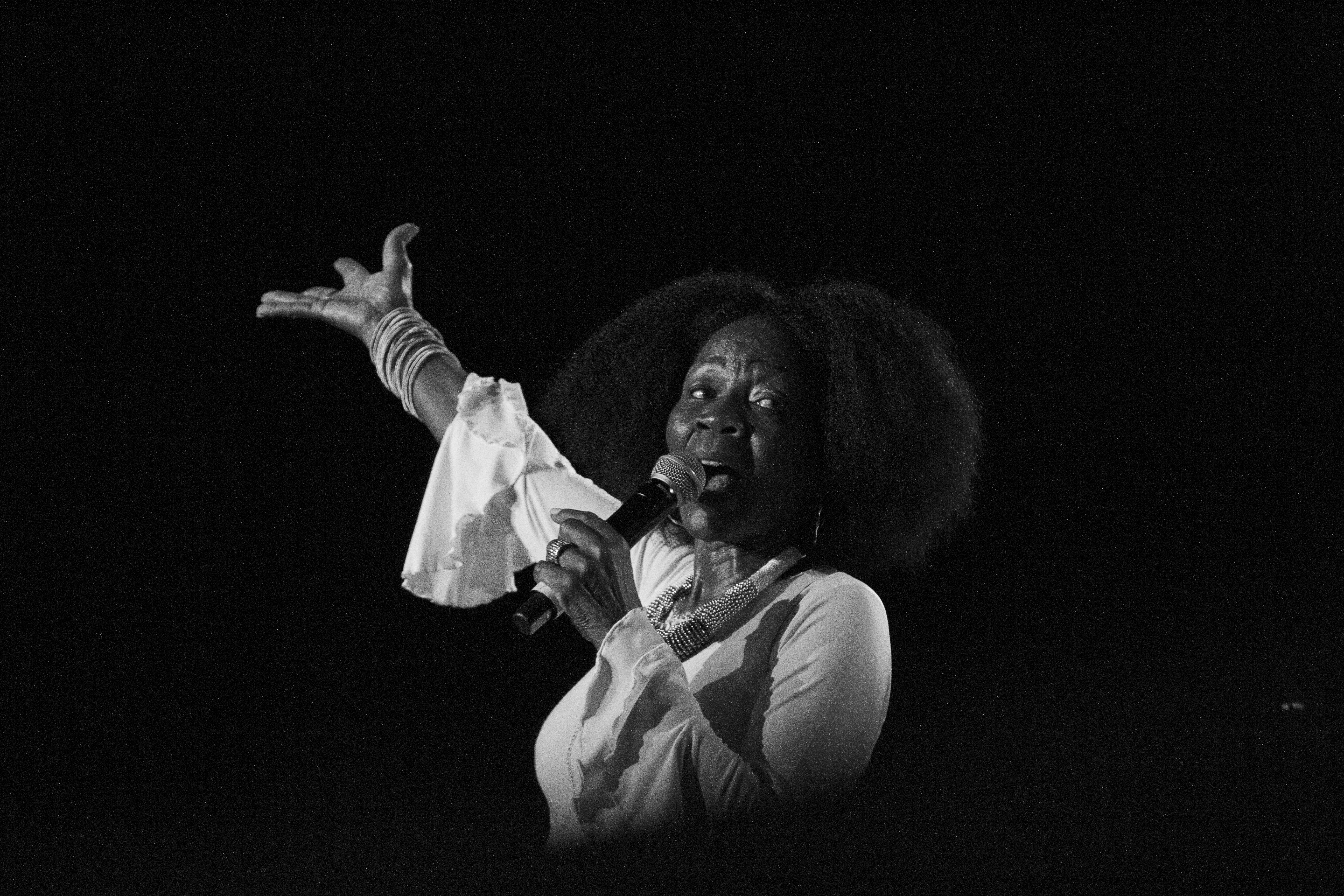 Letta Mbulu sent the crowds down a path of intoxicating nostalgia. (Hugh Mdlalose)
The person I had been looking forward to seeing that night was Philadelphia-born singer Bilal. A sonic traveller with little regard for the inanities of genre, his modus operandi is to segue from one song to the next, not dissimilar to a DJ mixing tracks.
Bilal held his own, even though everything else seemed to be working against him. Emptied of Mbulu's fans, Bilal played to an echoey Mbira Stage, almost dwarfed by the expanses of space surrounding him. If you were training for a view, you would have noticed that the visual display screens were out of synch.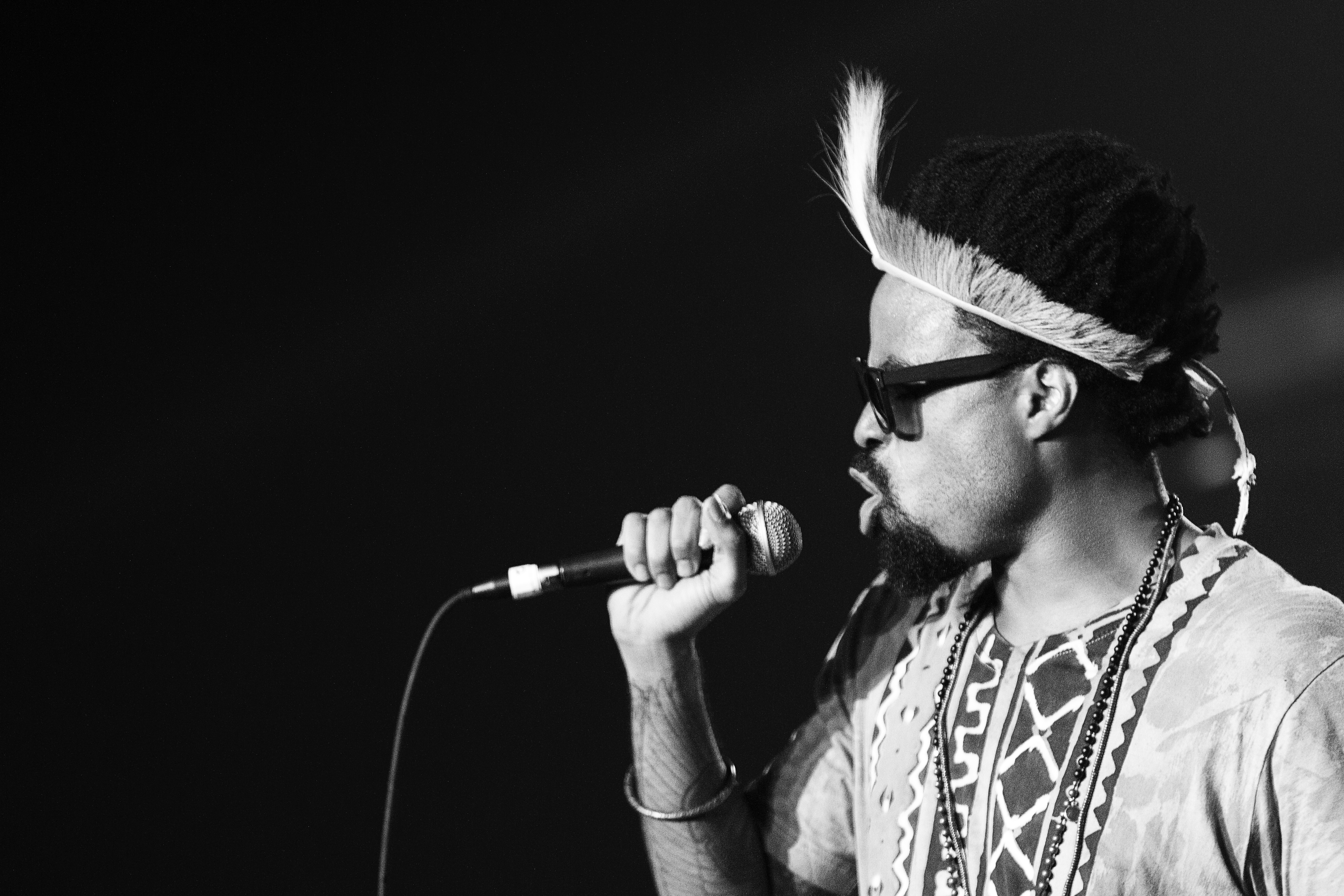 Versatile sonic traveller Bilal (Hugh Mdlalose)
I also watched Joey DeFrancesco on the Diphala Stage. The American organist and composer moved between the blues, jazz and funk with blistering speed, backed by a tight band that included Troy Roberts on the saxophone, Michael Ode on drums and Dan Wilson on guitar.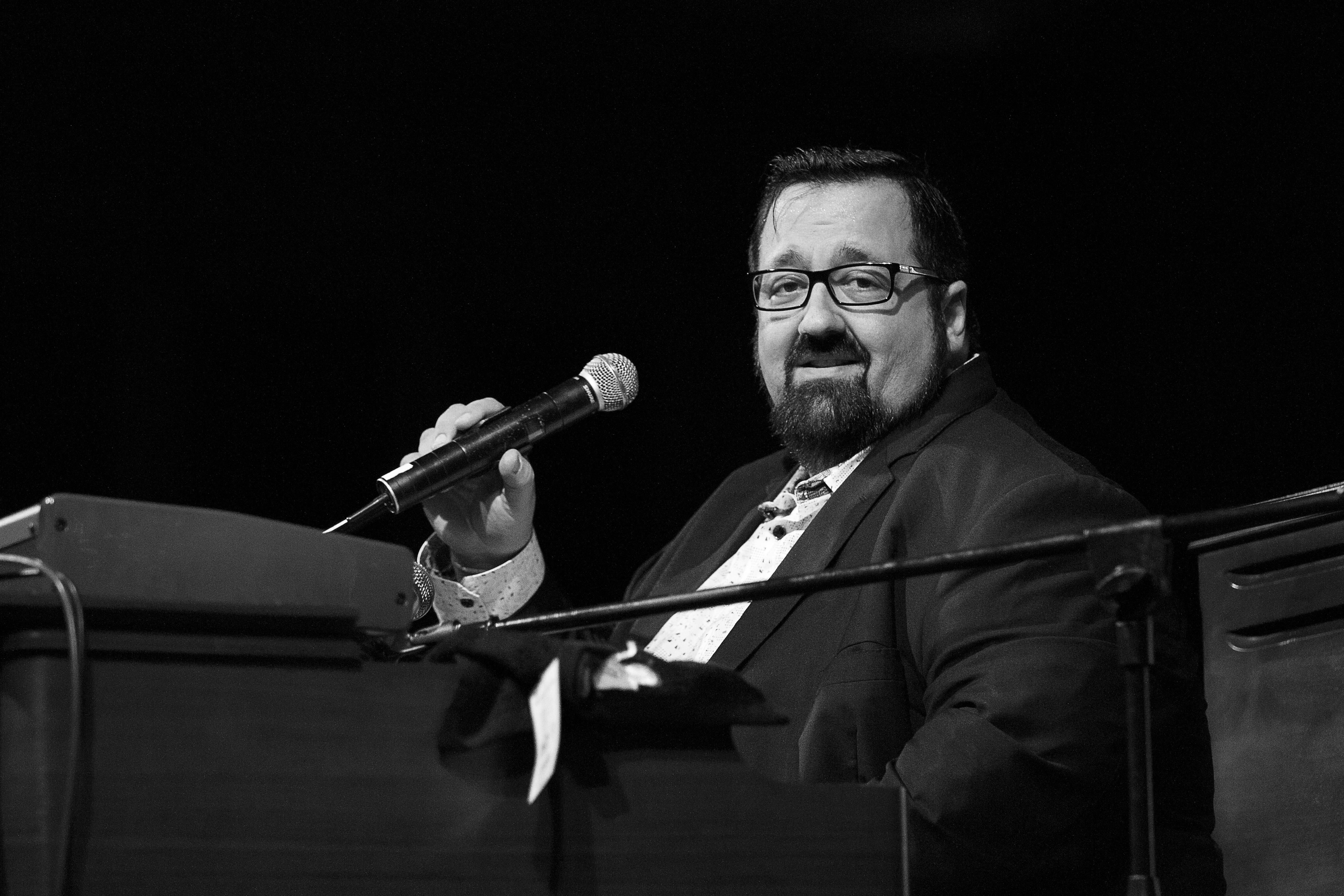 Joey DeFrancesco (Hugh Mdlalose)
Dan Wilson, guitarist in Joey DeFrancesco's band (Hugh Mdlalose)
The Diphala Stage had an austerity to it that centred the music but lacked intimacy. Although the large halls work for acts such as Mbulu, for less popular acts such as Kengo Nakamura and Carl Frederik Orrje, it can feel as if you are enjoying them in a basement parking lot.
I would only be willing to pay the nearly R1500 ticket price for a two-day event that was better produced from a staging point of view. Still, despite the detracting factors, the music seems to translate for the people who flood the festival every year.
Friday night's last show (an ensemble led by McCoy Mrubata and Paul Hamner) featured running commentary — at least from the corner I was seated in — by a woman moved to tears by the music and, I presume, other spirits. She was particularly affected by trumpeter Sakhile Simani's poise and his subtle solos with a wide emotional twists. More inhibited than she was, I could only agree silently that, "Ja, no, uyafutha uSakhile Simani".
Trumpeter Sakhile Simani plays with poise and emotional range. (Hugh Mdlalose)
As for Saturday, my enthusiasm was thwarted yet again by the inconsistent treatment we received. Calling to secure accreditation for the final night, Mdlalose was told that his entry to the festival could not be guaranteed. Out went my joy and in went my day-three wristband — into Mdlalose's pocket. His photos are a testament to his dedication, despite flighty PR operatives.
The images capture the elegance and transcendence of this music we call jazz. Hopefully, by looking at them, you can appreciate the selflessness of those who have chosen to document the music and the obstacles they have to overcome to do so.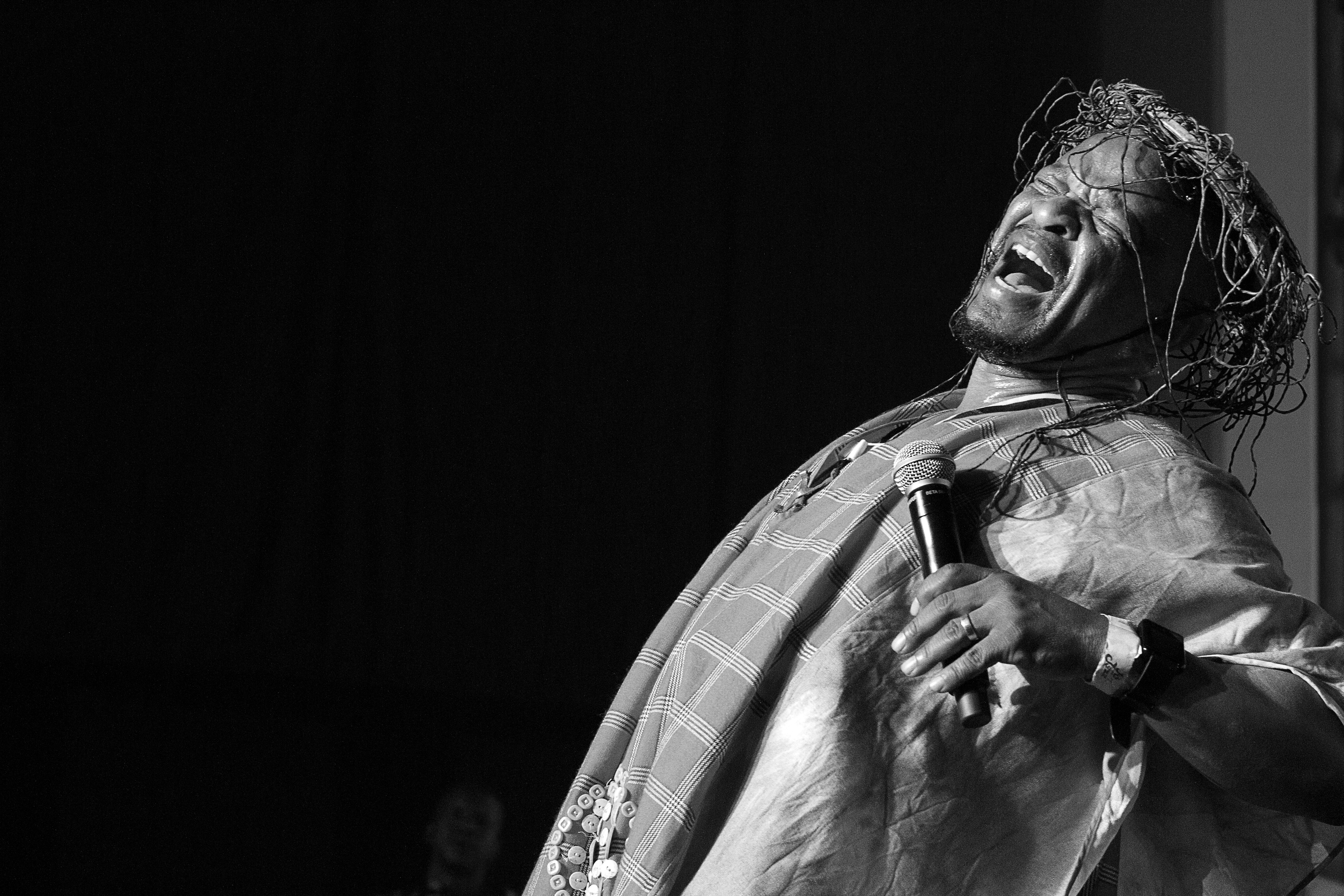 Dr Sello Galane (Hugh Mdlalose)