Public protector Busisiwe Mkhwebane will investigate Finance Minister Nhlanhla Nene over an alleged breach of ethics during his tenure as chairperson of the Public Investment Corporation (PIC).
Spokesperson for the public protector Oupa Segalwe confirmed to eNCA on Tuesday that Mkhwebane will investigate a complaint laid by the Democratic Alliance regarding allegations surrounding a PIC investment in S&S Refinarias, which included a $1.7-million "referral fee", which may have benefitted the minister's son, Siyabonga Nene.
Last Friday, a Mail & Guardian and amaBhungane report revealed the details of this alleged deal, contradicting Nene's statement before the Zondo commission that week in which he said: "I deny any and every allegation that I knowingly acted to promote any funding from the PIC for any business involving my son."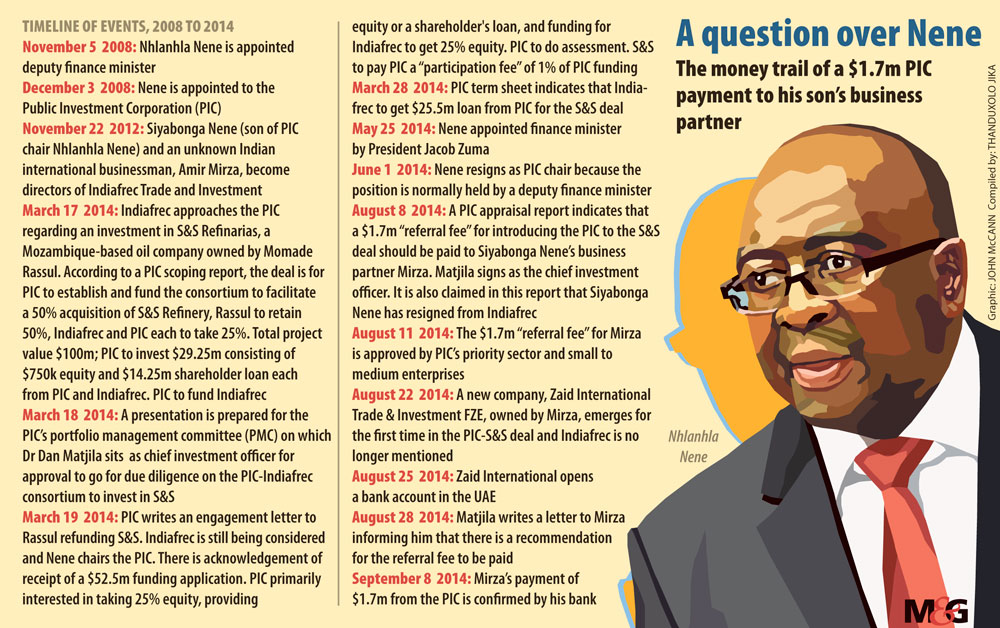 Following revelations made at the commission that Nene had privately met with the politically connected Gupta family — despite previously denying this — the finance minister issued an apology on Friday. By Monday, it was reported that Nene had asked President Cyril Ramaphosa to relieve him of his duties.
The details of Nene Sr's knowledge of the S&S Refinarias deal and subsequent actions is still to be heard by the commission.
Friday's report noted that "the available evidence suggests a picture of the PIC rushing eyes wide shut into a R1-billion investment that could only bring trouble, made not in the interest of government pensioners but founded on the need to gratify Nene Jr and his business partner".
"The public protector is compelled to investigate," Segalwe said. "In other words, she does not have … the powers to decide whether or not to investigate. She has to investigate and that is exactly what she will do."
Segalwe explained it is too early to outline exactly what the investigation will entail. "The public protector must develop what as known as an investigation plan, which will investigate all of those issues," he added.
Segalwe further added that an investigation into an alleged breach of the ethics code by a member of the national executive ought to be completed within a month.
"But also important to note that as the public protector of South Africa, we have never really met that deadline due to issues of resource constraints," Segalwe said. "So the investigation will go ahead, but we can't say at this stage how long it will take and so forth."