Nomfundo Nxumalo says she sometimes experiences electric shocks from her washing line and that the clothes need another scrub if they are not brought inside when it gets windy.
Her laundry hangs almost directly under the crackling electricity wires that undulate out of the nearby Duvha power station south of Emalahleni in Mpumalanga. And the black mounds of Eyethu Coal's open-cast mining operation are less than 50m from her backyard — listless, and ready to dance a dervish twirl with the wind.
When the wind blows, the coal dust consumes the houses that border the mine. This is one of the most polluted parts of the country, according to a 2017 Centre for Environmental Rights report, and would appear to be unsafe for the raising of children, such as her niece, Nomvula, who is just a few months old.
With the rest of her family, 22-year-old Nxumalo moved from KwaZulu-Natal to their house in the informal township of Masakhane in Emalahleni's ward 19 in 2006. Her father had found employment as a truck driver.
Nxumalo says she has been suffering from chest problems for the past four years. "I can't walk long distances, I can't run and I have a shortness of breath."
She had never previously experienced respiratory problems and is unsure of its causes, but it has not been diagnosed. "I have been to the clinic but, you know, they just give you Panados and send you home," says Nxumalo, whose mother is in the nearby Impungwe Hospital with tuberculosis.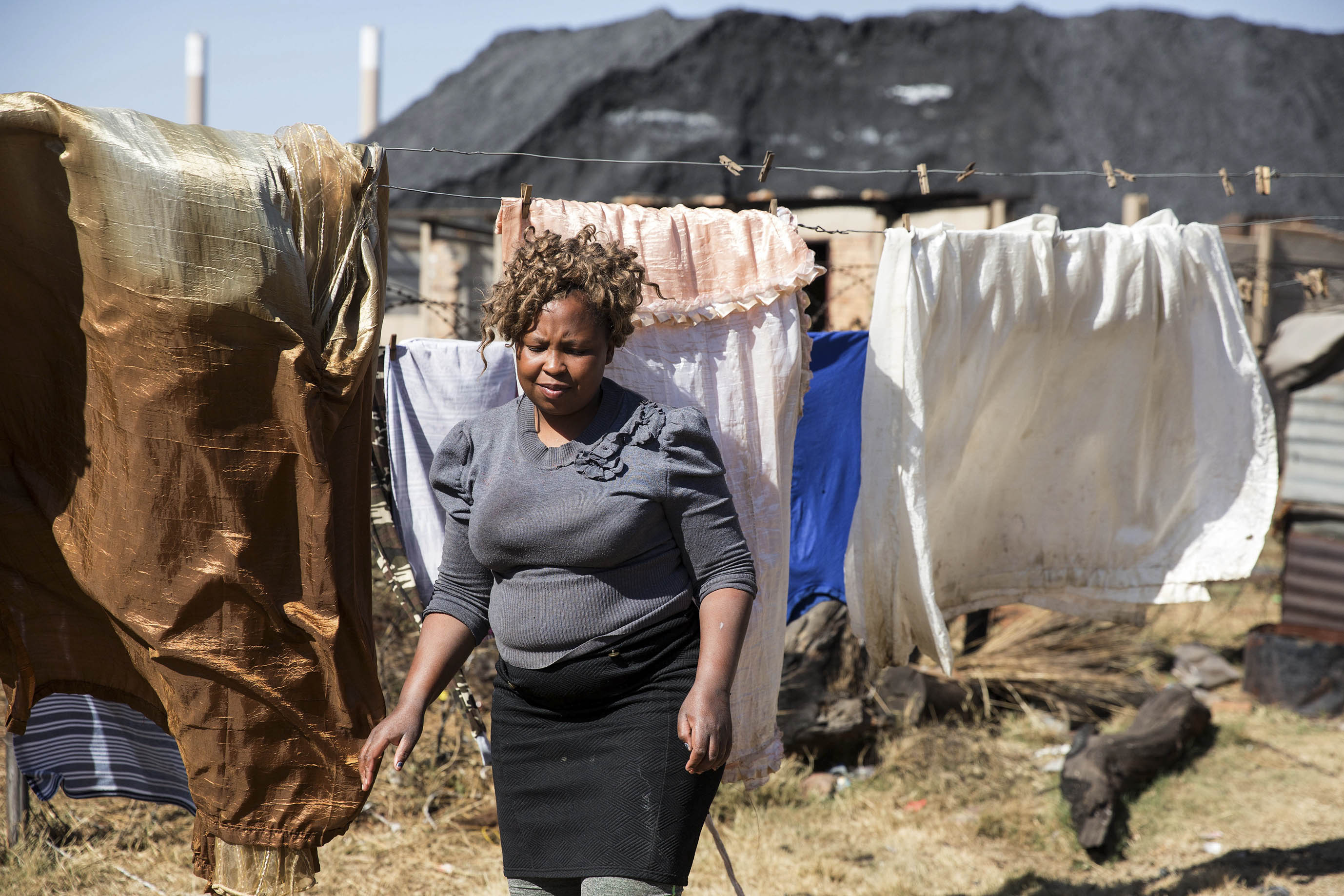 Nomvelo Nxumalo's washing gets covered in coal dust when the wind blows from the nearby coal mine. (James Oatway/M&G)
Health problems are just one of many experienced by the Masakhane residents — people have no running water, no electricity and no flushing toilets, and they increasingly have to navigate local politics where self-enrichment seems more important than community development.
The Masakhane informal settlement is about five decades older than Eyethu's Mooifontein colliery, which it adjoins.
There is no significant buffer zone between the mine and the people. There is only a shallow trench separating Masakhane and the shiny, crow-black scar of extraction. Well-trodden pathways lead up to the colliery's top, where heavy machinery and vehicles rake coal around an oily lake of lurid greens and oranges.
The homes were initially built on farmland by labourers and the area was known as Sbhamu — for the guns the farmer used to carry. Unlike so many other South African informal settlements, most of the houses are built with bricks, which are cheaply available from, or cast away by, the nearby Corobrik factory.
Masakhane is in the heart of what is known as the "energy Mecca of South Africa".
Coal deposits proliferate in the area and three other nearby power stations, Kendal, Matla and Ga-Nala, feed into the country's grid. A fifth, Kusile, is being built close by.
"This is where electricity comes from — it goes right above our heads — but unfortunately we don't get any of it," says Elizabeth Motloung.
It is April this year. Anger and irritation charge her lament.
Motloung runs the local Thusanang day-care centre to which the elderly also come for assistance. She is a no-nonsense person who likes to get things done, and usually does, whether it is demanding sincere community engagement from the nearby industries or a swift calculation of heads and pizza slices to feed hungry activists at a meeting.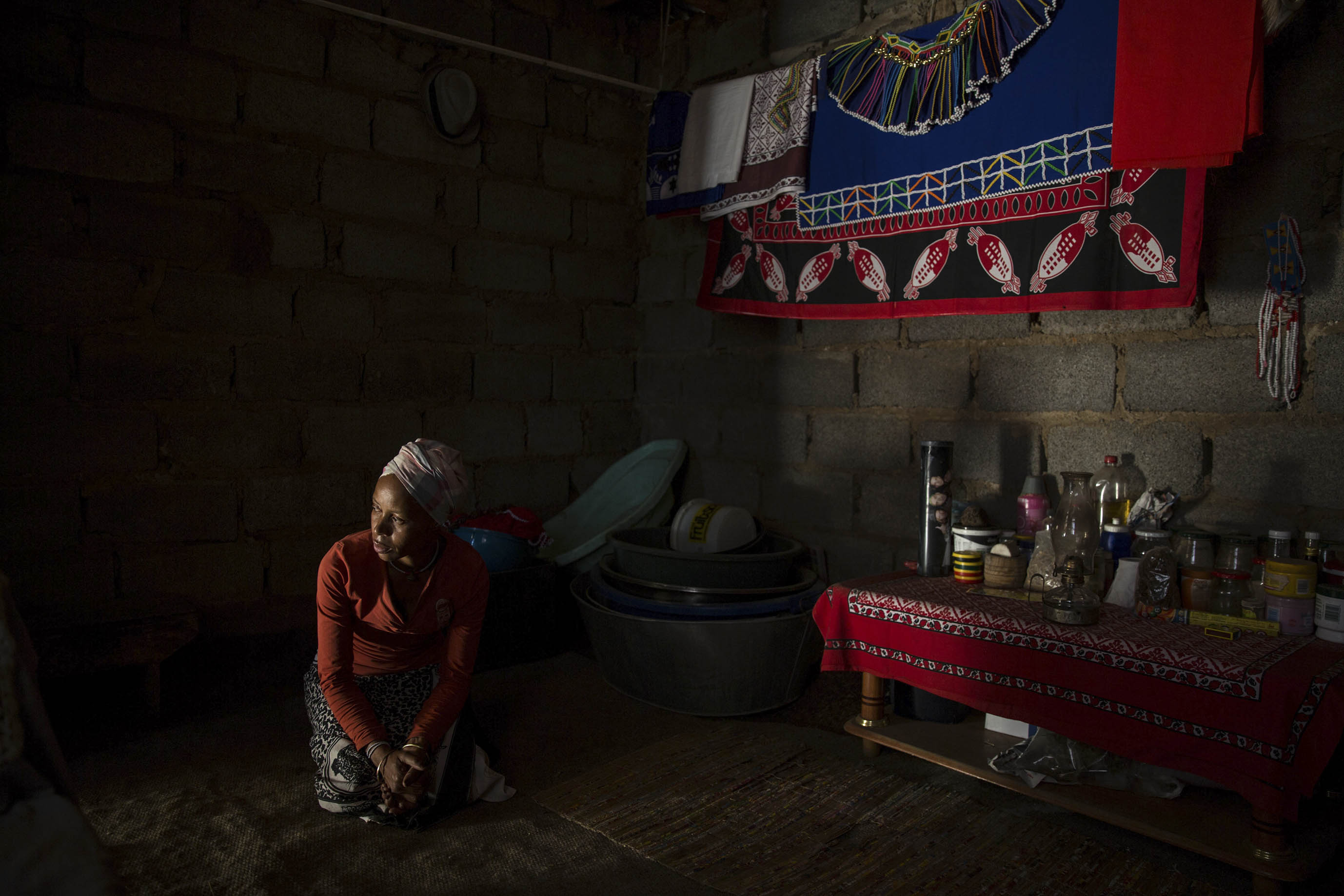 Elizabeth Motloung is not prepared to sit by. A sangoma, she runs a day-care centre, fought for Masakhane to get electricity and believes politicians are self-serving. (James Oatway/M&G)
The 42-year-old Motloung remembers arriving in Masakhane 11 years ago, "after following my heart here" from Johannesburg and being confronted by the lack of electricity.
"I was furious with people and couldn't understand why they had not illegally connected to the domestic power lines that you see there." She points to electricity running to a nearby tavern and bottle store.
"People in Jo'burg would have done it one time; here they are scared. If we did, Eskom would have come running to provide us with electricity by now," she says with an impish smirk.
It is September, and Motloung is irrepressible. "We are getting electricity," she exclaims, "and directly from Eskom."
The day before, the power utility had agreed to make provision to electrify Masakhane in its 2019-2020 budget.
The agreement with Eskom is a victory for Motloung and other local activists, who have continually approached industries in the area for social projects, with varying degrees of success.
Sometimes the residents of Masakhane are able to negotiate essentials, such as the provision of electricity or a stay of eviction from what is now Eyethu's land. At other times, the "companies just give us things that we don't need or haven't asked for on [Nelson] Mandela Day and then get us to smile with them for photos for their website".
Masakhane is part of the 20% of households in the Emalahleni local municipality that have no access to electricity. That Eskom, and not the municipality, will be providing Masakhane with electricity is an important distinction for the residents, who would rather bypass the state whenever possible for services.
"Politicians are always getting in the way, wanting their cut from whatever services are intended for us," says Motloung bluntly. "If it's a government project, they take a cut for themselves or their friends — and who suffers? Us.
"If it's an agreement that the community makes with someone like Eskom, they will come and say, 'No. No. No, you can't speak to the community; you need to go through the councillors'. Then they negotiate their cut. Who suffers? Us."

(James Oatway/M&G)
Twenty-six years old and unemployed, Sidney Tjatji says it works both ways: "The problem with councillors is that, after they are voted in, they become products of the mine. When we go to the mines to ask what is being done about something, like skills development for the youth, they tell us, 'We are working through the councillor; speak to him.' But we hear nothing from the councillors. Their main concern is their own stomachs."
Masakhane residents distrust local politicians, especially their ambitions and intentions. Many allege that politicians act as gatekeepers to communities with the intention of skimming off the social and labour programmes that mines such as Eyethu Coal are legally obliged to provide.
According to the latest Mining Charter, the percentage must be proportionate to the amount invested in the extraction of resources.
Emalahleni, with a budget of R3.3-billion for the 2017-2018 financial year, is, like almost every other municipality in the country, barely functional, as detailed in the recent report on municipalities by the auditor general's office.
According to the 2017 State of Local Government and Financial Management Report, the municipality is in financial distress. It has poor cash-flow management and, as of May this year, owed Eskom R1.6-billion. It is in the top 10 municipal defaulters on debt to Eskom, despite being at the centre of the country's energy production.
Only a court interdict stops the state electricity company from shutting the lights off in the town.
Nkululeko Ndlovu, who works for the nongovernmental organisation Planact, which seeks to increase civic participation at local government level, has been working with the Masakhane residents for several years. He says, in many cases, people have given up believing that formal democratic channels will lead to a better life for themselves or their children.
"People are not stupid. They see service delivery being drowned out by debt, which is deepened by corruption. They expect very little from either the state, or, for that matter, from the companies that operate where they live," says Ndlovu.
Emalahleni's financial and infrastructure mess also extends to water.
As of May 2017, the municipality owed Rand Water almost R25-million. Eleven percent of the municipality's households receive water from a tanker or by methods other than being piped into homes, such as communal taps or boreholes.
There are 3 822 households in Ward 19 and 56% of them wait for water to be delivered every two weeks — in half that time if they are fortunate. Otherwise, people buy bottled water or pay R2 for 25 litres from someone who has a borehole.
At 3pm on a Wednesday afternoon in September, signs of spring are starting to show on the cherry trees and Masakhane's gloomy cloak of brown and black is punctuated by firework-like explosions of pink.
A water tanker trundles through the settlement and people line up with wheelbarrows and plastic buckets to collect water.
The tanker will fill just one of the large green tanks that dot the area. The water may last a few days, especially if it is being filled while being emptied.
Sifiso Makamo is one of the first in line and he has brought several plastic receptacles with him in a wheelbarrow. A strapping 25-year-old who lives with his mother and stepfather, he is ambivalent.
"We always boil the water. Sometimes it tastes of mud; sometimes it's too salty. This week it looks clear; the next time it is milky. I don't trust the water," says Makamo, who has been unemployed since completing his engineering qualification two years ago.
The water for Masakhane comes from Emalahleni's Lynnville water treatment plant but the town has a history of providing unhygienic water, according to media reports.
The town, like most in South Africa, is rundown. For Ndlovu, how that came about amounts to a betrayal of the post-apartheid ideal of an equal society in which everyone lives with dignity. "Unfortunately, services to the poor do not seem to be prioritised in plans and budgets of the municipality," he says.
This article was sponsored by the Accounting for Basic Services journalism fellowship, a project of the Heinrich Böll Foundation, Afesis-corplan, the Built Environment Support Group, Planact and the Isandla Institute, with support from the European Union