Last week the high court in Pretoria let the Passenger Rail Agency of South Africa (Prasa) keep its safety permit. But the court order that was handed down comes with a sting in the tail and has highlighted the extent of the commuter rail agency's problems, including almost R1-billion in losses, and questions over its status as a going concern.
The court issued a supervisory order compelling Prasa to comply with safety requirements set out by the Railway Safety Regulator (RSR). Its compliance will be monitored under judicial case management by judge Cassim Sardwalla. In turn, the RSR must report to the court to confirm that Prasa is, in fact, doing what it says it is.
The requirements set out in the order reinforce the special directives that the regulator attached to Prasa's most recently issued safety permit, which was granted at the start of September. These include that Prasa must implement a costed human resources plan with monthly feedback to the regulator, which incorporates the filling of critical safety positions at Prasa. The agency must also provide a "comprehensive integrated asset condition assessment" of its railway infrastructure, including stations, level crossings, signalling and rolling stock.
It must also appoint section managers in terms of its human resources plan, in part to ensure that the countersigning of manual train authorisations is properly implemented.
Manual train authorisations, which require officials to manually authorise a train to be on a specific route, have risen sharply over the past year as Prasa's infrastructure and signalling equipment has fallen into disrepair or has been vandalised.
The practice, though not uncommon in the railway industry, has been described as a fallback position which cannot become the norm.
According to a presentation by Prasa made to Parliament last week, manual train authorisations increased by more than 276% between January and August this year. The agency's new interim board chairperson, Khanyisile Kweyama, and its interim chief executive, Sibusiso Sithole, told MPs that this was largely because of theft and vandalism, followed by faulty tracks and signal defects.
An accident on October 4 in Kempton Park is reported to have occurred while manual train authorisation was being used. This accident led to the RSR serving Prasa with a notice to suspend its safety permit, and prompted Prasa to challenge the regulator's decision in court last week. The suspension of the permit was rescinded on the basis of the court's supervision under the terms of the order.
Prasa's narrow escape from a total shutdown is only the latest in a series of difficulties facing the organisation, which has been weighed down by allegations of corruption and financial mismanagement.
Its latest results for 2017-2018, tabled in parliament this week after some delay, revealed another qualified audit from the Auditor General, who raised concerns about Prasa's ability to continue as a going concern. The group reported aloss of over R924-billion. Irregular expenditure increased to over R24-billion, while fruitless and wasteful expenditure grew to over R1-billion across the Prasa group.
This includes its rail division, incorporating Metrorail and Shosholoza Meyl, and its bus operation and property subsidiaries, Autopax and Intersite.
At the same time, it is battling aggressive theft and vandalism of its signal cables, equipment and trains. About R636-million has been lost because of train fires, with 71% of the total, or R451.6-million, taking place in the Western Cape.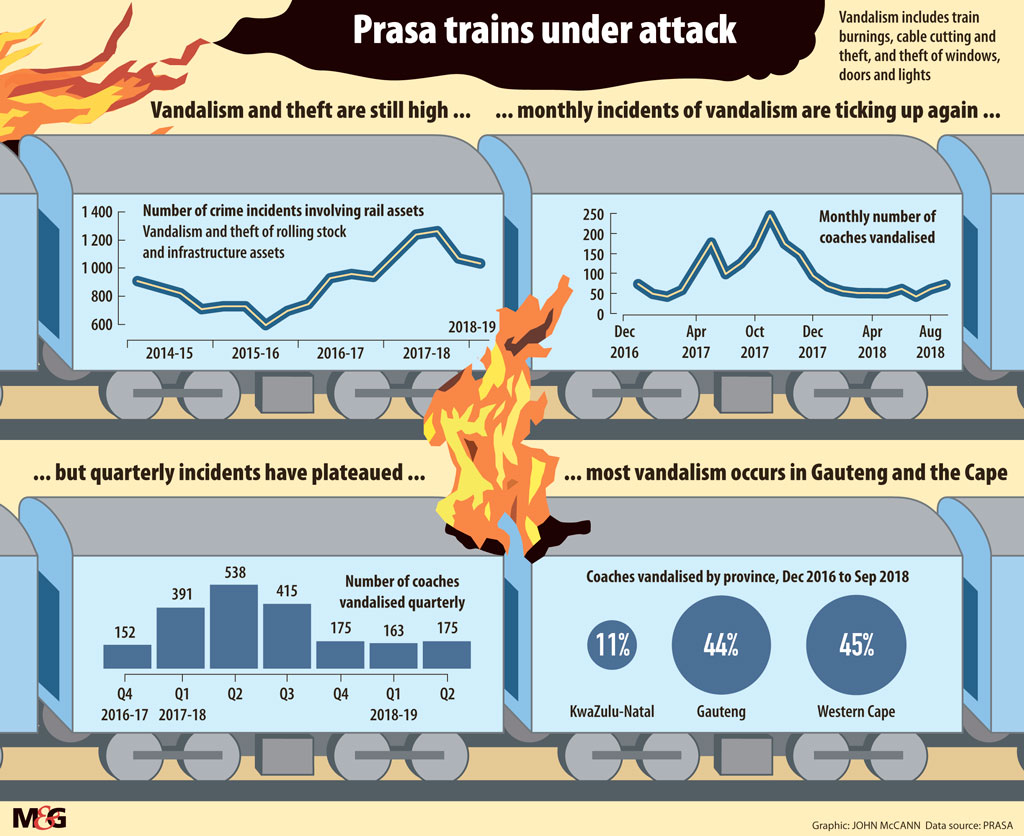 As a result, the company has seen a decline in passenger numbers, with Metrorail's tally of paying passenger trips falling from 543-million in 2013-2014 to 269-million in 2017-2018.
Prasa said in response to questions that there "is no suggestion" that it will not meet the conditions of its safety permit. It welcomed the court's supervision saying that it "will ensure that where there are differences opinion between the parties on … the conditions of the Safety Permit, the parties are assisted by an independent party".
Prasa shares the concerns around manual train authorisations, it said, and is currently engaged in the overhaul of its signaling system.
"We believe that we are at a stage where the deterioration has reached its peak," it said.
In Gauteng, the installation of the system is at an advanced stage,it added and with its commissioning at more sites and the finalisation of an agreement for the provision of spares and maintenance services, the manual train authorisations will reduce significantly.
Prasa will be embarking on an accelerated recovery of its rolling stock, it said which will helpd address declines in commuter numbers.
The situation has become so bad that the civil society organisation #UniteBehind and the Cape Town metro have called on Transport Minister Blade Nzimande to declare train services, at least in the Western Cape, a national disaster. This is the only way to unlock the funds and resources needed to save this "vital mode of transport", according to #UniteBehind's communications officer, Matthew Hirsch.
The current arson attacks alone are sufficient cause to declare a national disaster in accordance with section 23 of the Disaster Management Act, when a single province is unable to deal with the disastrous event effectively, according to #UniteBehind.
It would provide unified action between the relevant authorities, including Prasa, local government, national government, the police, the Hawks and the National Prosecuting Authority, Hirsch said.
The organisation has delayed the launch of commuter safety-related court action against Prasa to give the new interim board and management under Kweyama time to "get their house in order" and to root out agents of "state capture" who still occupy positions at Prasa, he added.
"However, their work is made harder by Minister Nzimande, who refuses to permanently appoint this Prasa board. Stable leadership at Prasa is vital if we are to fix our trains," he said.
The City of Cape Town's mayoral committee member for transport and urban development, Brett Herron, said the "scale and urgency of the potential collapse of Metrorail requires an extraordinary response". The effect on rail commuter services is affecting the city's productivity, he said.
"The impact is clear for all to see — traffic congestion has worsened with a morning peak hour period of nearly three hours on the busiest routes, and maintenance costs are rising due to the increase in the number of vehicles using our road network," said Herron.
But the residents who are suffering the most, he pointed out, are the low-income households who spend 43% of their monthly income on public transport. "Road-based public transport is more expensive than rail, and the rising cost of fuel is carried by commuters," he said.
In a bid to address the problems, the city, provincial government and Prasa are jointly funding a dedicated Rail Enforcement Unit, which will be operational later this month, said Herron.
"This is a unique and unprecedented intervention by two spheres of government which have no direct role or control over the rail function."
This will include the recruitment of 100 rail enforcement officers, who will focus on the safety and security of Metrorail commuters and infrastructure.
The agency however does not agree with calls to have rail operations declared a disaster.
"We are working with law enforcement agencies to deal with the apparent sabotage that is being unleashed on our rolling stock and electrical installations and have implored them to assist with intelligence capacity and specialised investigative capacity," it said.
But opposition MPs remain sceptical, and the Democratic Alliance's spokesperson on transport, Manny de Freitas, said in a recent statement that the board provided no new solutions or ideas.
He added that cities should be allowed to take over the running of Prasa's networks.
Meanwhile, Nzimande has dismissed pleas to declare rail services a national disaster.
His spokesperson, Ishmael Mnisi, said in response to questions that the minister "dismisses this call with the contempt it deserves", describing it as "a political ploy and posturing by some political parties masquerading as civil society groups".
The agency is developing a recovery plan to address the sustained decline in operational and financial performance, he said.
Thanks to this, Prasa is in a better position to redeem its services in all the Metrorail corridors throughout the country, Mnisi said, adding that the interim board was appointed with the full powers and responsibilities set out by relevant laws and that the process of appointing a permanent board "is under way and will be aligned to the end of term of the interim board".