Rhulani Mokwena understands the significance of the Soweto Derby more than most. Growing up in Orlando it became part of his identity, his earliest childhood memory.
The entire township would come to a standstill as thousands descended on the game. Mokwena describes himself as privileged to be born into a circle that afforded him an opportunity to sit on the threshold of the action. An athletics track made from gravel and sand surrounded the old version of Orlando Stadium and it was on its edge that he found his vantage point.
Victory meant free beer would stream from the shebeens — he would get swept away in the resulting jubilation despite not grasping the full significance of the gesture as a young boy.
Buccaneer failure, however, ­signalled the reality that merely ­getting home would be anything but straightforward.
It's this lush history that the Pirates assistant coach takes with him into every derby and is the gunpowder that he loads into those charges that have yet to breathe the occasion's air.
With a pervasive sense, or hope if you prefer, that this is the clash to erase recent stagnation in the ­fixture it seems destined that they're in for a profound introduction. Their ­inaugural runout also provides a ­few noteworthy subplots for the afternoon.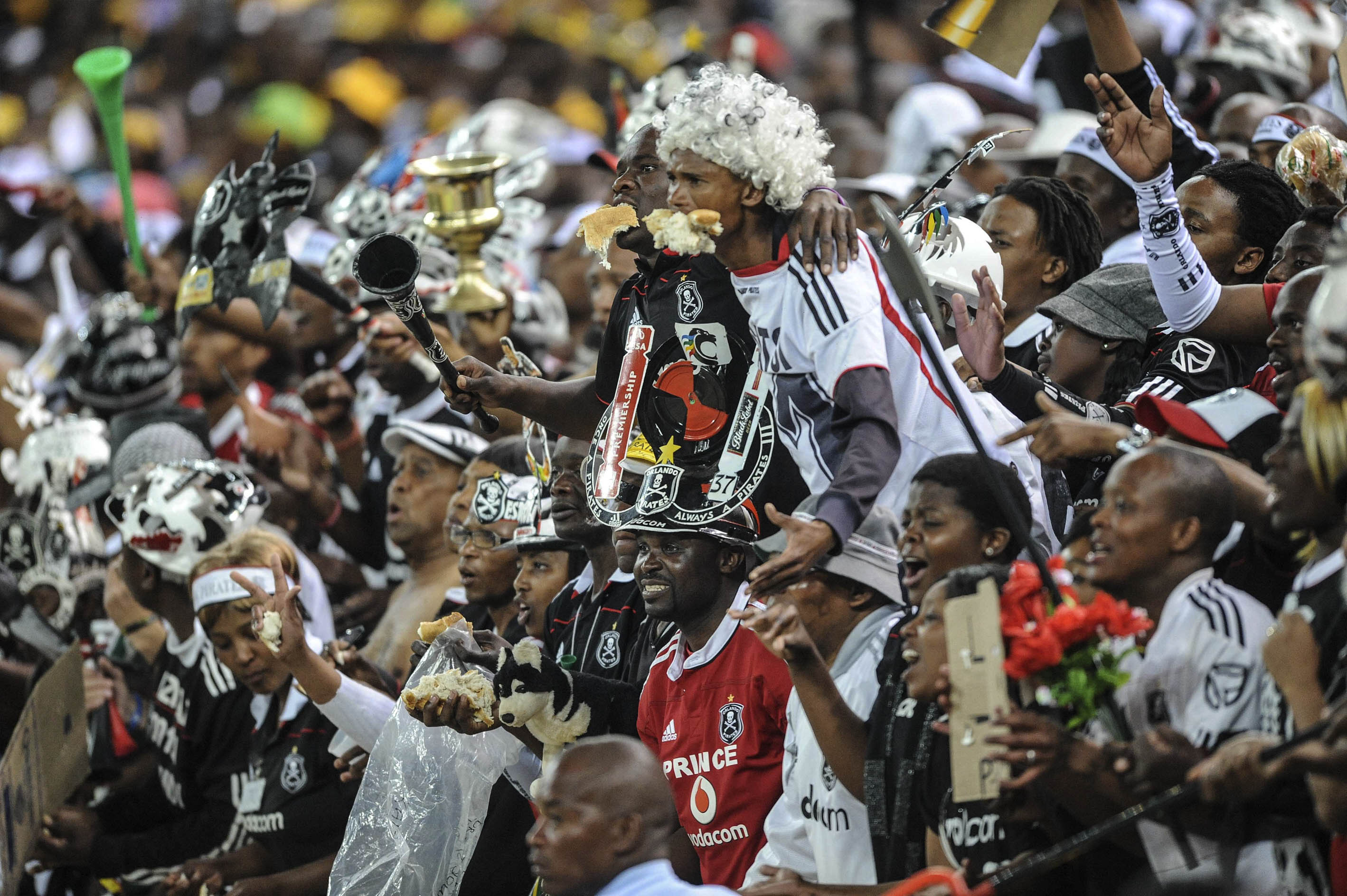 (Philip Maeta/Gallo Images)
Brazilian initiation
Making his anticipated debut this month, defender Marcelo da Silva (Caio Marcelo Pinheiro da Silva) now faces the prospect of swimming in not only his first gala against one of the big fish but also the biggest game South Africa has to offer. For Mokwena, the burden is void for a player who has already risked ­everything to switch continents in pursuit of his footballing dream.
"What I can say to you is that, if you look at his character, you look at his personality," he said after his side's maiden training session of the week at Rand Stadium in Springfield. "You're a 20-year-old, you come into a foreign country, you can't speak a word of English and you left your family behind and you're about to embark on the biggest step of your career … the boy has done that with aplomb, no whining, no whining.
"Being able to stamp your authority the way he has, I think speaks of the young kid's character and his ability to stand and withhold pressure. That's what the derby's about."
Although Marcelo has impressed in the past few weeks, the centreback's starts have all come against some of the less stellar sides — Golden Arrows, AmaZulu and Chippa United.
What will happen when he lines up against the quality of Khama Billiat or Dumisani Zuma remains to be seen.
"We expect him to be able to do that," Mokwena insisted. "To invest in these 90 minutes of his career and we expect him to play many more derbies, and this for him will be one of many."
Pirates goalkeeper Jackson Mabokgwane, who is the favourite to get the start ahead of former Amakhosi No 2 Brilliant Khuzwayo, added that most of the senior members have chipped in to help prepare the Brazilian for this moment.
"We're already used to one another," he said. "I'm very vocal and I guide him. [Captain] Happy Jele is also there. He's a top player so we have no issues with communication. Obviously it will take him a little time to speak English but he understands the football language and football is the same everywhere so we're comfortable at the back."
Trades and trade-offs
Marcelo's opponent, Billiat, brings another intriguing narrative to the derby.
Mokwena spoke openly about Bucs' pursuit of the star Zimbabwean, whom he had worked with during his tenure under Pitso Mosimane at Sundowns. According to him, talks had reached an advanced stage and implied that the only reason he pulls on the yellow-and-black every week is because they cancelled their own pursuit.
"We decided in the last minute not to sign Khama," he insisted. "We decided on protecting the change room more than anything else. Because the ratio between expense, and when I say expense I'm not only talking about the salary but with regard to injury and certain other factors, and profit, did not make sense. It's not that Pirates lost out on the race to sign Khama."
With their standout of the season, Vincent Pule, having reportedly been minutes away from joining Chiefs instead, it's fair to say the technical team succeeded in its mission to bring in suitable marquee signings at the break.
There's not much more to say about Billiat that hasn't been repeated excessively. Most recently he grabbed the Premier Soccer League's ­honour for September for spearheading Chiefs' charge back into the title race conversation.
Pule, meanwhile, has four goals and two assists to his name so far this season, securing him the club's player of the same month. Whether he can outshine his illustrious opponent will likely go a long way forwards determining whether Pirates leave the FNB Stadium with three points.
Although he's a player of few words, to the extent that you'll rarely see him on television, he was clear in his estimation of the derby's significance. "They're two of the biggest teams in South Africa and this game is known all over the world," he reiterated. "We have to focus and do what we do."
---
View from the sticks
With a number of flashy Soweto Derby debuts expected on Saturday, the decision about who to place in goal is not an automatic one for either coach.
With Brilliant Khuzwayo back to full fitness, Orlando Pirates coach Milutin "Micho" Sredojevi has four (four!) keepers he could realistically choose from.
Having been relegated to the MultiChoice Diski Challenge side of late, it's unlikely Wayne Sandilands will get the signal but solid arguments could be made for any of the others. Jackson Mabokgwane is the favourite after starting the last two games but Micho is unlikely to have forgotten that Siyabonga Mpontshane was instrumental in the last derby, securing a 3-1 victory for Bucs.
Khuzwayo is the wild card of the foursome. He decided to swap Amakhosi for a black-and-white jersey after failing to dethrone Itumeleng Khune and will greedily be craving an outing to prove his worth. The hopeful looked determined and formidable in training earlier this week, towering over his teammates during the side's two-touch-and shoot exercises. The derby often yearns for a gamble and Micho might decide it starts with him.
At the opposite end of the field, Khune himself spoke of being desperate for a win on Wednesday after not savouring victory in the fixture since 2014.
"It's not nice that it's been four years without a win over our rivals," he said.
"But Saturday is going to be a different ballgame, and we have to turn it around and go for a victory.
"It's a big one, special one, exciting one. Already when I was in the Bafana camp, people were already talking about the derby."
Although Khune is likely to make his 26th appearance against Pirates, trailing only Siphiwe Tshabalala with 31, coach Giovanni Solinas could throw a surprise at Micho and choose Virgil Vries instead. The new signing impressed in the Knockout at the weekend, knocking Black Leopards out of the last 16 after two excellent saves in the shootout.
On top of his good keeper problem, the Italian is sweating on last-minute fitness calls for stars Khama Billiat and Leonardo Castro. Lebogang Manyama is out for over a month after being involved in a car accident.