Banyana Banyana
Banyana Banyana received the ideal mental boost this week after being named the national team of the year at the South African sports awards. It added fuel to a belief they have already sparked in themselves.
Desiree Ellis and her team believe this could be their year to forge a new path to greater achievement. They head into the Africa Women Cup of Nations (Awcon) this weekend having never won it before. Nor have they ever qualified for a World Cup, something which they could achieve with a top three finish this month.
"It started at the beginning of the year when we knew this was going to be a big year," Ellis said after the side arrived in Ghana. "We have had a very good year, but it can be a great year depending on Afcon and how we perform. We have prepared really well. They say preparation doesn't guarantee success but it prepares you not to fail."
Despite defending the Cosafa Cup this year, all the positive talk will fall flat if the team flops in Ghana. It's time to walk the walk, as captain Janine van Wyk has stressed.
That march begins on Sunday against Nigeria. There couldn't be a harder start. The Super Falcons are the undisputed queens of African football. Their 10 Awcon titles mean there have been only two editions in the competition's history that they haven't won, in 2008 and 2012.
On the way to the title two years ago they finished with an aggregate score of 13-1. They have been to every World Cup since 1991. You could throw out facts like these all day long.
"It's the first game so it sets the tone for the rest of the tournament," Ellis said. "You know if you want to be the best then you have got to beat the best. There is none other like Nigeria, the defending champion; they have earned that respect. But we will go out there, 11 versus 11, and show what we have worked on this past year."
The last time Nigeria lost an Awcon match, incidentally, was against South Africa in 2012. Van Wyk scored a belter of a long-distance strike to secure that historic first victory against the Super Falcons and book a spot in the final.
Now, having recently earned her 150th cap, the team's talisman says the side does not fear the mighty champions, giving a rousing speech before departing for Ghana.
"For us as a team we have spoken about it," she said. "We know we're facing Nigeria and we are ready for them. We are ready, we have beaten them before and I don't see why we can't do it again.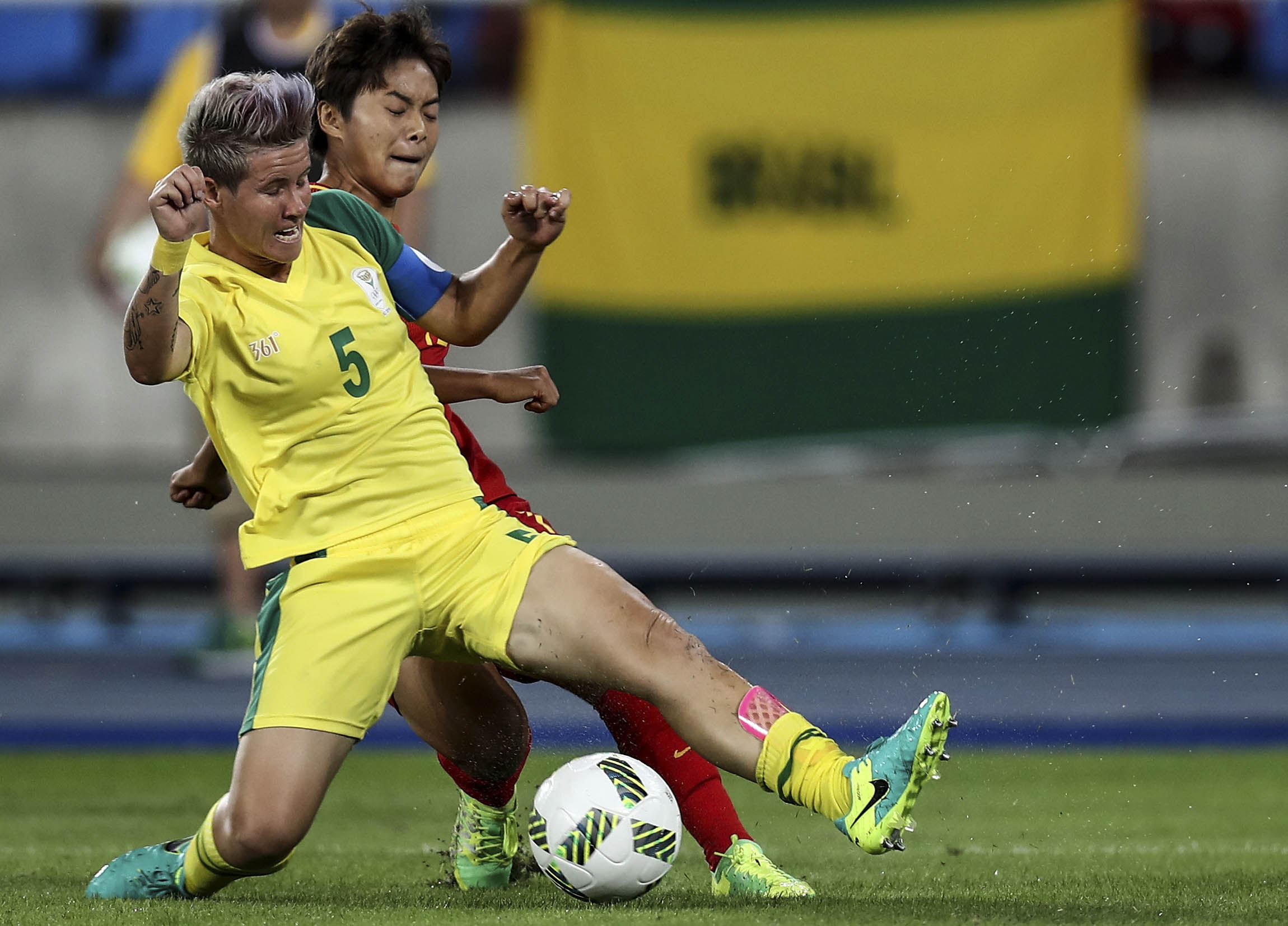 Banyana captain Janine van Wyk knows her team must produce the goods against Nigeria in Ghana, the opening game of the Africa Women Cup of Nations tournament this weekend. (Buda Mendes/Getty Images)
"Our main objective when that opening game kicks off is to go with full force, a fearless approach and just do the best that we can and move on from there."
The weather is reportedly sweltering on the Cape Coast, the scene of the battle. If Banyana survive the sweat against the best on the continent, expect the existing expectations for the "pride of the nation", as Ellis describes her side, to reach unprecedented levels.
Bafana Bafana
A year and a half can feel like a long, long time in the football world. Bafana's superb, if at times comical, 2-0 victory in Uyo, Nigeria, almost belongs in another era, such has been the frequency of noteworthy events since then.
Despite Themba Zwane's attempts to settle a vendetta with the upright, Stuart Baxter returned home with three points and a bright forecast — sunny days ahead after not qualifying for the last African Cup of Nations (Afcon).
But evidently we like it when it rains down here in the south. Bafana fell to Cape Verde twice in a row, in effect throwing away the opportunity to travel to Russia for the World Cup.
Equally, after that Nigeria win set up Bafana's Afcon qualification beautifully, draws against both Libya and the Seychelles have signalled the struggle once more.
Fail to beat the Super Eagles this weekend and all of sudden the trip to Libya next year takes on massive importance for Bafana.
On Saturday, they will face a side much improved from the one that fell in their backyard.
Percy Tau's rounding of Daniel Akpeyi to cap off the game marked the end of a challenging period for the West Africans, one that saw them also fail to qualify for the 2017 Afcon.
They responded by finishing World Cup qualifying games unbeaten, despite challenges from Cameroon and Zambia.
At the event itself, they put in a solid if not amazing shift, coming within a late Marcos Rojo goal of knocking Argentina out at the World Cup.
While Itumeleng Khune and teammates posed for photos in the Seychelles, Nigerian coach Gernot Rohr was setting a ruthless path to the top of the qualifying group.
He commands a squad with a healthy mix of youthful experience and it would seem the Nigerian Football Federation has great faith that the German can take them to the pinnacle of African football once more, as they were when they won Afcon on our soil in 2013.
From a Bafana perspective, Thulani Serero's call-up after sulking a year ago has obviously dominated the build-up. If we're being cynical, then it's likely no coincidence that this is the moment when Baxter decided to build a bridge over that particular stream.
"I spoke to Thulani to make sure that we are on the same page and I also need to find out if his availability was unconditional," the Scot said this week.
"He assured me that it was, and I was obviously delighted with that because he is one of the players that are playing at a high level in Europe."
Up front, he will hope to rely on Tau and Dino Ndlovu, who bring hot form into the game. Playing now in the Belgian second division and China respectively, however, this will be an intriguing subplot to how they cope against a team in no mood to mess around.