Three months ago, Banele Khoza launched his open studio and gallery BKhz and it is living up to its purpose — to be a place for young artists to commune.
Last year, when he won the Absa L'Atelier Gerard Sekoto Award, he was given the chance to curate a group exhibition, in addition to a residency in Paris and a solo exhibition at the Absa Art Gallery next year. On Sunday he cashed in the group showing with an exhibition titled A Letter to My 22-year-old Self.
The mixed-medium exhibition consists of the works of 35 established and emerging artists with whom Khoza (24) has built relationships over the years. In addition to a collaboration between Zanele Muholi and Khoza, the exhibition boasts paintings and illustrations by the likes of Heidi Fourie, Nina Torr and Alexandra Karakashian, along with photography by Andile Buka and Lesedi Mothoagae. Sculptural works include Ed Young's Biscuit, Zimbabwean Moffat Takadiwa's Smell of Harare and Sifiso Mkhabela's Hybrid Twist.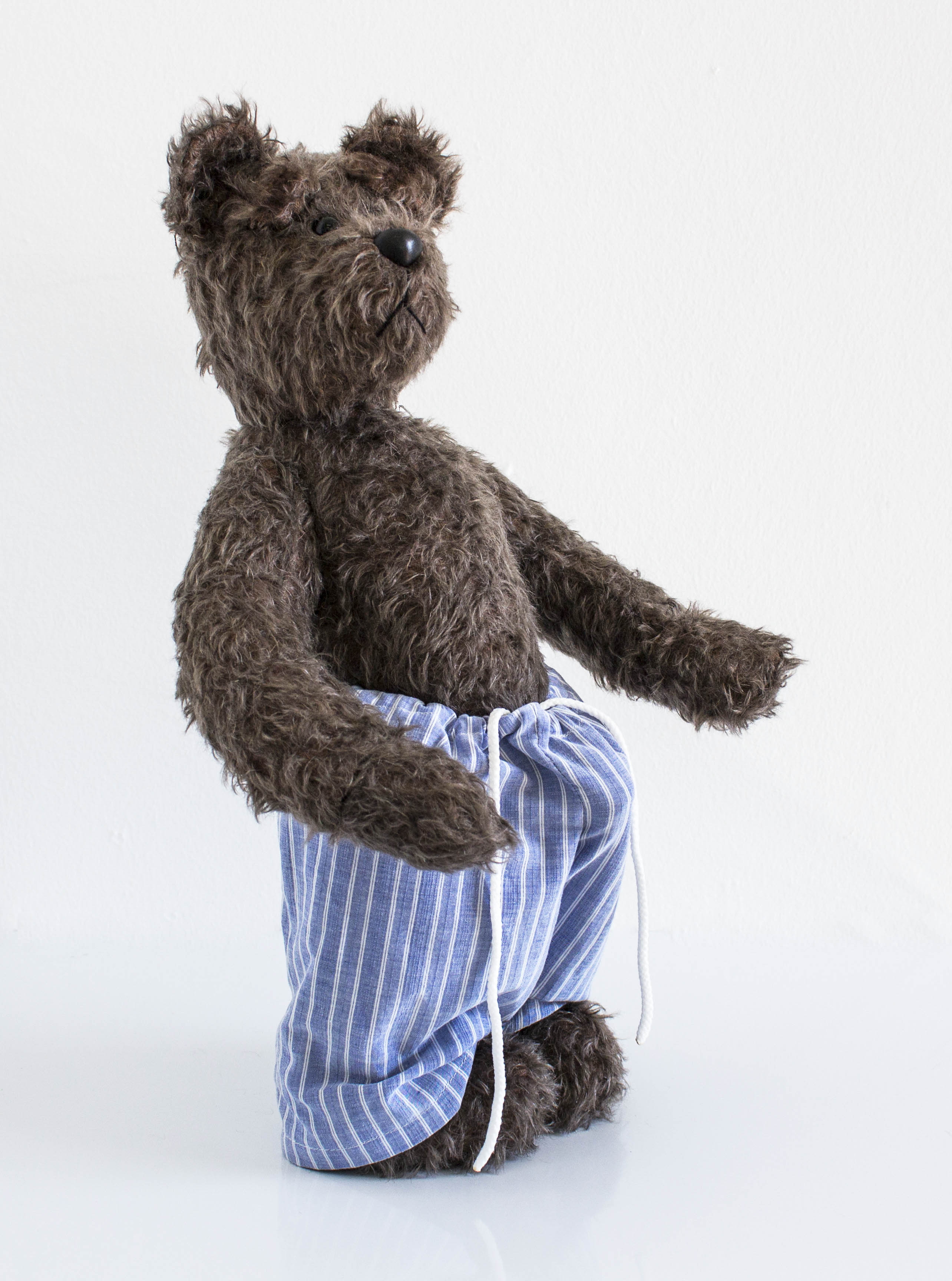 Biscuit by Ed Young
Although the pieces in the exhibition showcase the reach of Khoza's artistic network, as a whole, it does not read cohesively. Perhaps this is because the exhibition addresses the incohesive murkiness that comes with trying to navigate one's 20s. To articulate this, a part of the curator statement that accompanies the exhibition reads: "I'm 22. I've just graduated. Here is my qualification, but I don't know where to go. I don't know who to reach out to that can lead me in good faith in the industry. How do I reach out? To whom? I feel alone."
Each artist's contribution is accompanied by a letter they have written to their 22-year-old selves.
"I thought 'okay, the best advice is if you can ask them to write to their young self' because they're addressing their insecurities while addressing the insecurities of the next generation of artists," says Khoza. "I was 22 two years ago and my career blossomed so quickly. I find myself in a spot that takes some people many years to get to. I needed someone to explain how to navigate that space. General advice isn't always the best advice because it doesn't lead you anywhere. Yes, I get it. I should continue working hard, but you're not telling me what I really need [to do] to ease my insecurities."
The works of emerging artists have been placed in the gallery's prime spaces and those of the more established artists, such as Nelson Makamo, Justin Dingwall, Lady Skollie and Khoza's collaboration with Muholi, are in the more secluded parts of the gallery. Khoza says the positioning was deliberate because he wanted the audience to engage initially with the works of artists who are not yet well known.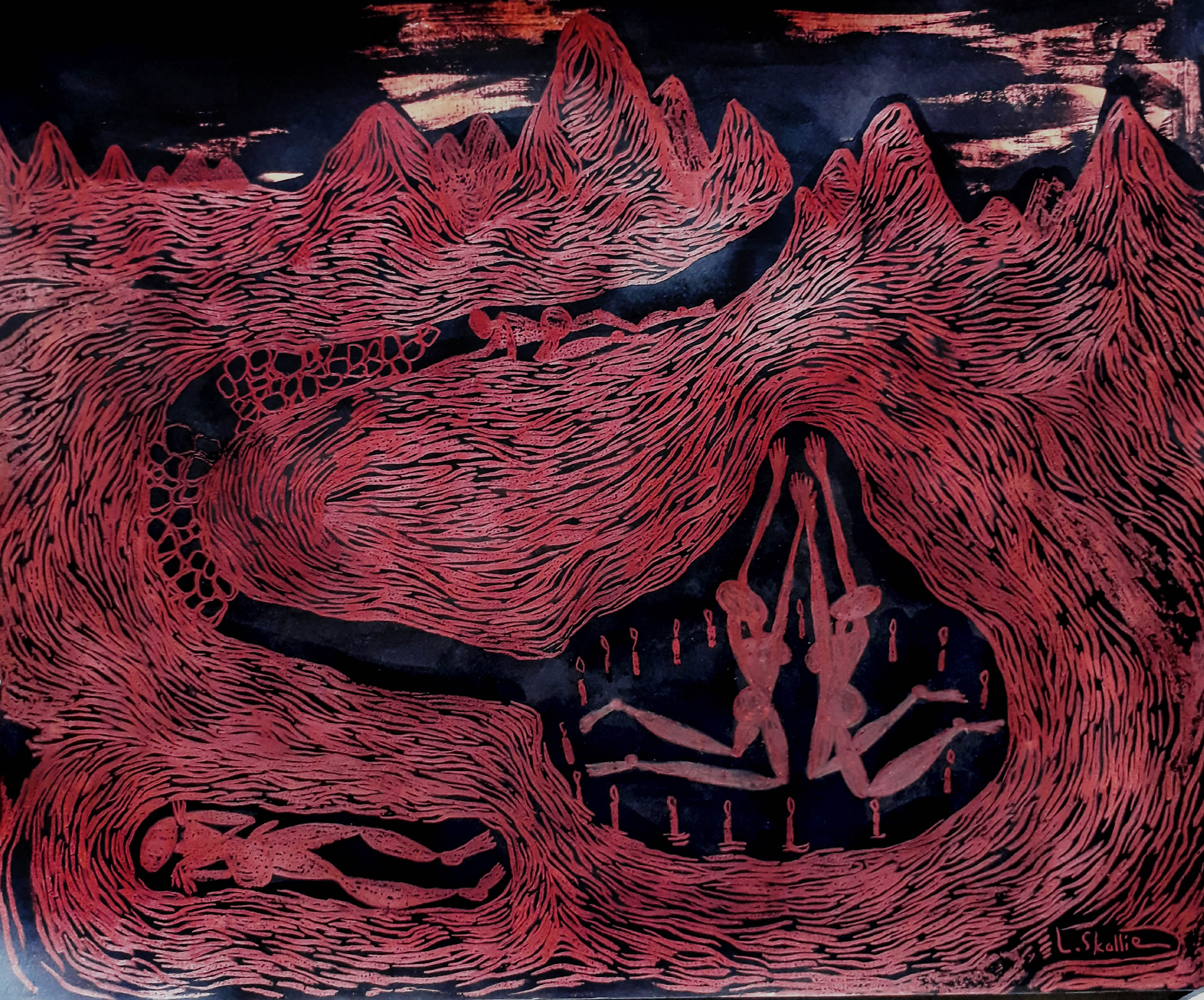 Self Sabotage: A Coloured Love Song by Lady Skollie
This echoes the ethos of BKhz, where one of the primary objectives is to give a home to the work of wandering artists.
In the same way, BKhz, which is in Braamfontein, Johannesburg, has been designed to defy the aesthetic norms of galleries to create a sense of home, so the works in A Letter to My 22-year-old Self sit against a backdrop of muted pinks, creams and purples.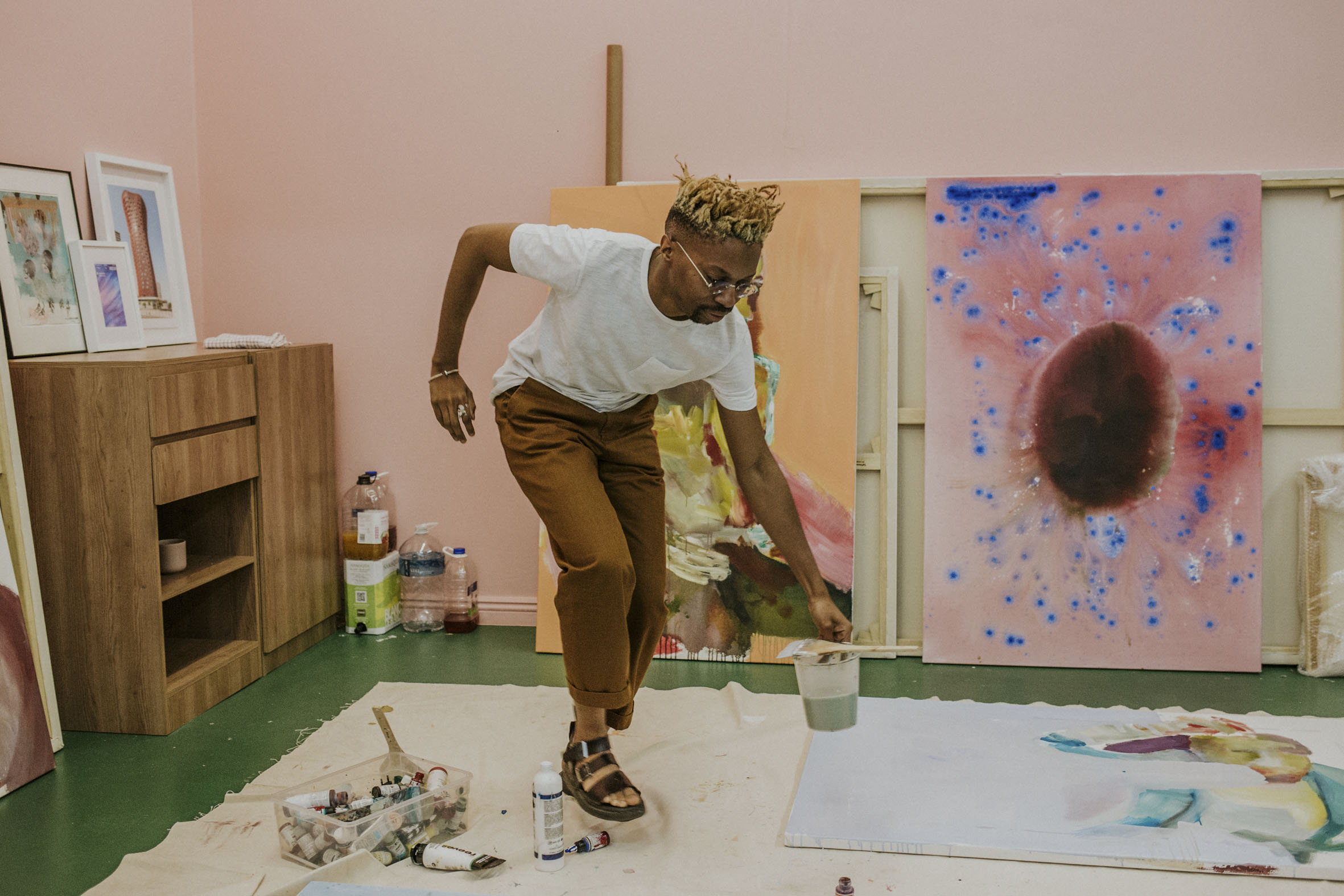 Banele Khoza at his open studio and gallery, BKhz. Photo: Renata Larroyd
In addition to creating a forum where established and emerging artists can speak to those who will follow, A Letter to My 22-year-old Self also aims to have a more tangible outcome — all the proceeds from the works will go into a foundation for art students.
Before studying fine art at Tshwane University of Technology, Khoza was at Lisof where he studied fashion for a year. He recalls how the cost of his tuition left him without enough for food and transportation. He expands on the matter in the curator's statement: "In 2011, I had days where I would sleep without food and had to go to school with a grumbling stomach (if I had money for the taxi fare). My concentration levels were impaired. I couldn't tell anyone, because I was afraid to ask for help. Also, I felt ashamed of my situation. I failed my first year due to my poor decision-making that was driven by hunger and a lack of help."
A Letter to My 22-year-old Self is the artist's cathartic response to this period in his life. For this reason funds will not be given to students based on merit, but on their need for financial assistance. "We're looking to help with registration fees, money for food, transport and other basic needs. People saw I was struggling but they didn't know how to reach out. And also me not being from wealth, I didn't know how to tell them that I was struggling. That's where I thought of asking artists to support me in the foundation that I am building. Having work from 35 artists was more than I expected. Everyone said yes. I can't believe it, and it was all just from asking. I couldn't ask then, but I am asking now."