Phehello J Mofokeng's book, Sankomota: An Ode in One Album, might be about a recording that took place in Lesotho more than 35 years ago, but its cues are more recent.
Though squarely about the cultural significance of Sankomota's self-titled first album, it is inspired as much by writer Tseliso Monaheng's article An Ode to Sankomota (published in Mahala online magazine in 2011) as by Percy Mabandu's Yakhal'inkomo: Portrait of a Jazz Classic, which he self-published in 2016.
The Sankomota album was recorded in Shifty Records's mobile studio in 1983. The studio was driven to Maseru because the band had been banned in South Africa.
The pocket-sized book is compact in size yet measuredly impassioned in expression.
Mofokeng, founder of Geko Publishing, is not a musician, so his ode, self-consciously perhaps, traverses many terrains, finding room in the articulation of orature, as expounded by scholars such as Ngugi wa Thiong'o and Pio Zirimu. But, as he explains in this interview, the book dissects this cultural treasure from many angles.
What does this album mean to you?
For me, music, and especially music that we make as Africans, is a thing of metaphysics. It is something of spirit, more than major progressions and chords and all of that.
And you get that sense from Frank [Leepa] because he is not musically taught; he taught himself to play. It's a spiritual conversation of sorts, not a scientific meaning.
Second, it was their use of language. In very short phrases, they can say so much. You find that a lot in Sesotho and in any language if you use it as close to the original as possible, although I'm not sure what original means in this case.
Did this album have a huge cultural impact?
These guys were big by then. As AntiAntiques they were highly sought- after. AntiAntiques were started by Frank in high school. As AntiAntiques and as Uhuru [their initial formations], they didn't release an album. They released their first album as Sankomota. At that time they were one of the top bands in Lesotho. The only musicians that could give them a hard time were litsamaea-naha musicians Apollo Ntabanyane and Tau ea Matshekha because Basotho have got that big following, just like maskandi. But they managed in very many ways to sort of cut a niche for themselves.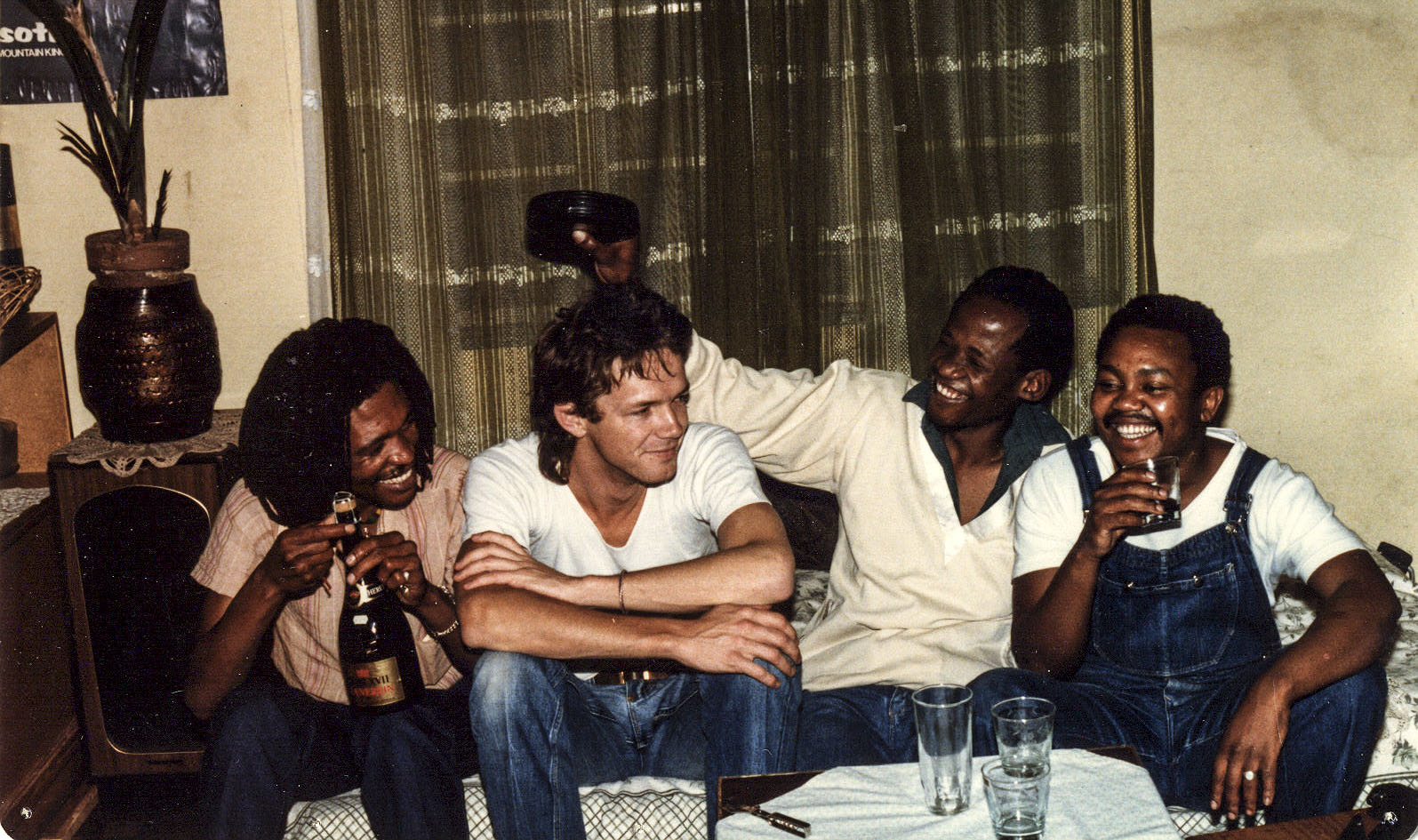 Music-makers: Moruti Selate, Lloyd Ross, Frank Leepa and Moss Nkofo (above) of Sankomota take a break from recording. Photo: Courtesy of Shifty Records
When you listen to other albums like The Writing's on the Wall, do you think there was move to make the sound bigger and more polished?
Frank said that he wanted to have a huge band. He wanted, like, six guitars, two drum kits, at the very least, two keys players. Close to 10 vocalists. That's why at some point he had Nana Coyote and Ts'epo Ts'ola as leads. So yes, it was intentional to move towards that big sound.
Was it daunting to write about such a seminal piece of music with you yourself not being a musician?
I really wanted to go more ethnomusical but I didn't study that, so I really couldn't go more into that. Also the technical stuff. What do these progressions do? What are they? What key is this song in? I couldn't do that, because that's not my strength.
And then there was the language. Ke Mosotho, but the language that these guys used in the lyrics … I found myself writing to three, four, five other people to ask them what does this word mean? What does this phrase mean? Is it correct? Is it Sesotho? Is it Setswana? Because there's parts where they mix Sesotho and Setswana in one phrase. Not even in one stanza or set of lyrics.
Did the language become more accessible with later albums?
With subsequent albums I didn't feel the traditional music connection to things like mohobelo, mokorotlo, which are traditionally deeply, deeply Basotho kinds of musical styles. But if you take an album like The Writing's on the Wall (1989), there's the song Obe, which is, like, a choral classic. But the extent with which they did that was not the same, that much I can argue.
Sankomota: An Ode in One Album is published by Geko Publishing