There was good news this week when gross domestic product (GDP) figures released by Statistics South Africa for the third quarter showed positive growth, lifting the economy out of a technical recession.
But if we have seemingly put the dreaded "r" word behind us, economists were quick to raise the "e" word — Eskom, the albatross, which threatens to be a brake on growth because of load-shedding.
StatsSA reported growth of 2.2% in the third quarter, bringing GDP growth for the past year to 1.1%.
"We're reporting a better number into an environment in which load-shedding is a real risk and it does threaten this recovery at the margin," said Adrian Saville, the chief executive of Cannon Asset Managers.
On Wednesday, Parliament's justice committee experienced a power cut while discussing the Democratic Alliance's request to speed up the process of removing public protector Busisiwe Mkhwebane from office.
Absa economist Miyelani Maluleke said it was not easy to quantify the effects of power cuts because they not only affected economic activity, but private sector confidence as well.
"We have seen from StatsSA data that private sector investment declined in each of the first three quarters of 2018. If not resolved quickly, the ongoing electricity problems raise the risk that the growth rebound that we saw in the third-quarter will be short-lived," he said.
Nedbank chief economist Dennis Dykes said there was no doubt that load-shedding negatively affected industries and business sentiment, but luckily the power cuts started fairly late in the fourth quarter when production was beginning to slow down because of the holiday season.
He said he hoped Eskom would use the power cuts strategically to rebuild its coal supplies during the December period.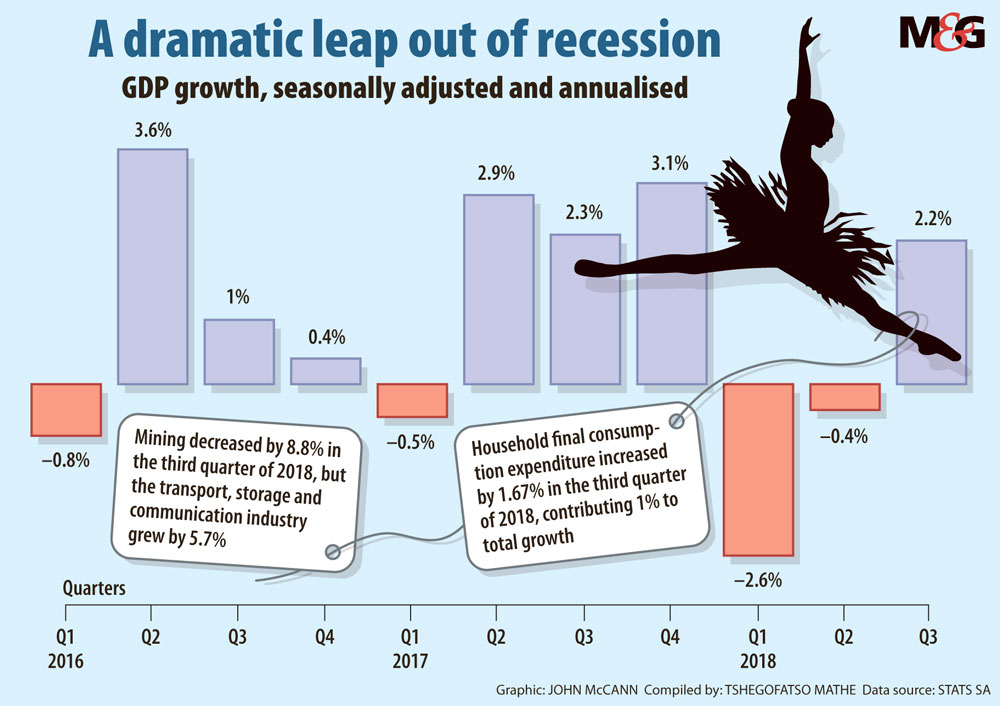 "If we hit next year and it's a continuation of the same thing, then the country is in some trouble because we can't go into another few months of load-shedding like we saw in 2014-2015 and, of course, in 2008. That will be very negative against what is already quite a weak background," he said.
Towards the end of 2007, mines were forced to cut production because of load-shedding, losing out on the potential gain when palladium and platinum prices hit record highs in early 2008.
But lower fuel prices are also potentially good news. The energy department announced on Tuesday that petrol would cost R1.84 a litre less from Wednesday.
Dykes predicted that fuel prices might decrease further in January. "If the oil prices stays where it is and the rand does not depreciate too much, petrol prices might go down by R1 a litre."
He said the overall growth in GDP this year would be roughly 0.6% or 0.7%, but that huge structural change and reform was needed to see greater growth.
FNB senior economic analyst Jason Muscat made a similar prediction — 0.7%. Despite the recent increase in economic activity, negative growth in the first half of the year would see overall GDP for the year at a mere 0.7%, he said.
"Many obstacles lie ahead for the domestic economy, [including] electricity supply, confidence, elections and ratings pressure," he said.
Last week, Eskom implemented stage two of load-shedding, which lasts for at least 13 hours a day, to cut consumption by 2 000 megawatts to prevent the system from collapsing. Eskom says on its website that it implements load-shedding when the demand for power exceeds the available capacity.
Saville said the mining sector, which has the potential to boost South Africa's economy, was struggling structurally to achieve much-needed production and the power cuts were making matters worse.
"There is a cloud hanging over us in the form of the load-shedding risk," he said.
Eskom's Khulu Phasiwe said some of its generating units, which are undergoing maintenance, should come back on stream soon and Eskom is expecting a large consignment of diesel, which will help to stabilise power generation.
On Tuesday, StatsSA announced the economic performance data that showed the country had come out of a technical recession. Growth in the manufacturing industry increased by 7.5%, the tertiary sector by 2.6%, transport by 5.7% and trade by 3.2%. Growth in the agricultural sector increased by 6.5%.
The primary sector was disappointing, with a contraction of 4.5%. This was largely driven by mining, which performed dismally at -8.8% because of a decrease in the production of the platinum group metals, iron ore, gold, copper and nickel.
Tshegofatso Mathe is an Adamela Trust business journalist at the Mail & Guardian