The end-of-year season is associated with holidays, socialising with friends and entertaining family. It is also the month when the most pourable custard and two- litre soft drinks are sold.
Market research company Nielsen tracks retail purchases from retailers such as Shoprite, Pick n Pay, Jetmart and Fruit & Veg City. It says that, along with custard and cool drinks, the average shopper during the Christmas week would have long-life milk, biscuits, bulk chocolates and meat in their basket.
A spokesperson for major retailer Shoprite adds that half of all the retailer's watermelons sold annually are sold during the month of December and that sparkling wine accounts for 30% of the year's sales this month. A Pick n Pay spokesperson said that sparkling wine, gin and tonic did very well last year and are again doing well so far this year.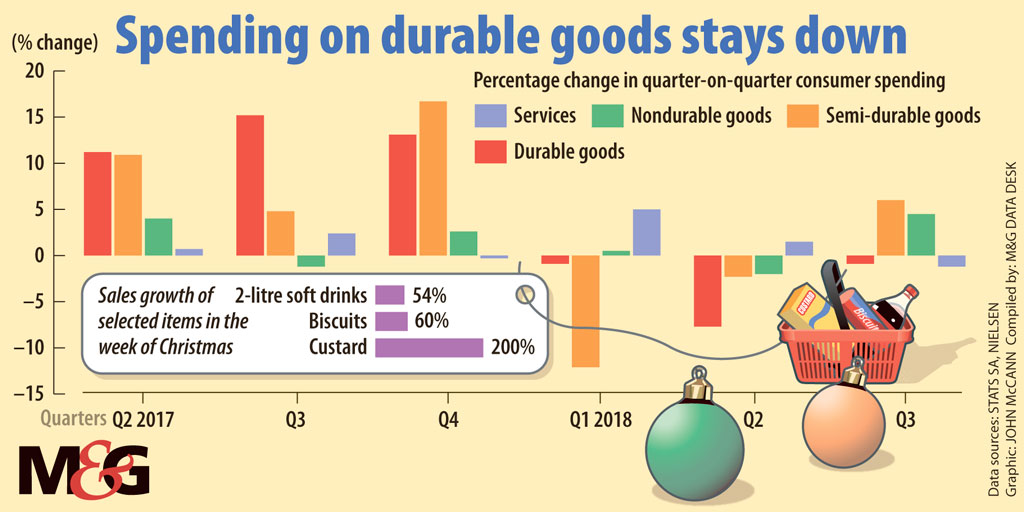 Stats SA figures show substantial retail growth in December, and a drop in January and February.
But the underlying numbers show that, although people are spending more on goods such as food and drinks, they are spending progressively less on more expensive items such as cars and appliances in the past year.
Nedbank economist Busisiwe Radebe points out that, although there is an increase in overall spending, especially during the festive season, most of the sales contributors are nondurable and semidurable items such as food, beverages, furniture and clothing. This, she says, is a sign of a weak consumer.
"If people were doing brilliantly they would have been spending their money on durable goods," she says. "They would've been buying cars and things like that, but they're not. They're mostly buying food and beverages."
Figures from Stats SA confirm that people have been spending increasingly less on expensive items since the last quarter of 2017.
"Those petrol increases earlier in the year, the consumer will start to feel," Radebe says. "The VAT [value-added tax] increase, even though there are zero-rated goods, you'll still feel it. The consumer had quite a few things put on them."
Jacques Coetzee is the Adamela Data Fellow at the Mail & Guardian, a position funded by the Indigo Trust