It is the second week of South Africa's favourite season: Dezemba. Stokvels are dividing the dividends from their earnings, camp chairs and cooler boxes are being taken out of storage, office Christmas parties are being planned and some people are budgeting big with the expectation of a 13th cheque. Every day has the potential of being a Friday.
During this time, a large number of the population cast their cares and burdens into an archive that they will address next year because the only item on the agenda is to phuza, jiva and spenda your Dezemba away.
Gqom, trap and variations of house music — such as Nkwari, Bacardi, Direkere and Amapiano — have made the soundtracks that fuels this season. With catchy, repetitive and humorous lyrics, these songs encourage the gluttony, hedonism and recklessness that Dezemba has become known for. Along with this, an often unrealistic or unattainable visual illustration of the lifestyle is paired with instrumentals that encourage listeners to gwaragwara, tobetsa and vosho the night away.
"We're living in this world where we are exposed to images of luxury and excess from every angle," says Lebohang Masango, a writer, United Nations Children's Fund South Africa's advocate and an anthropology master's candidate. "We are exposed to people who seem to be living well above what is deemed ordinary. More people want access to this."
Her thesis examines the blesser phenomenon and how social media is being used to reconfigure the way young middle-class women navigate relationships. As part of her research, Masango has spent some time in circles that drive the culture of excess.
She explains how social media and pop culture will inevitably influence one another. "The lifestyle that people are taking photos of and curating inspires the need of a soundtrack to document it. And of course the more people are hearing this, the more people are then wanting to curate their lives accordingly. A lot of the Instagram captions come from music, they're informed by that notion of 'monate mpolaye'."
Festive songs include DJ Clock's Ngomso, 4000 by DJ Tira featuring Mampintsha, Ayepyep and Monate Mpolaye by DJ Sumbody, and Team Mosha's Senya Retla Patela.
Simply put, the lyrics "Senya retla patela" are a comical way to tell your friends not to worry about the bill. But, within the context of the song, the line translates into an instruction or encouragement to be careless because there's room for dysfunction because the speaker has enough money to cover the behaviour's consequential costs.
The song repeats the simple mandate several times before chanting "1 000, 2 000, 3 000, 4 000, 5 000, 6 000, 7 000, 8 000, 9 000, 10  00, rekere", which refer to the bricks of money he is willing to spend.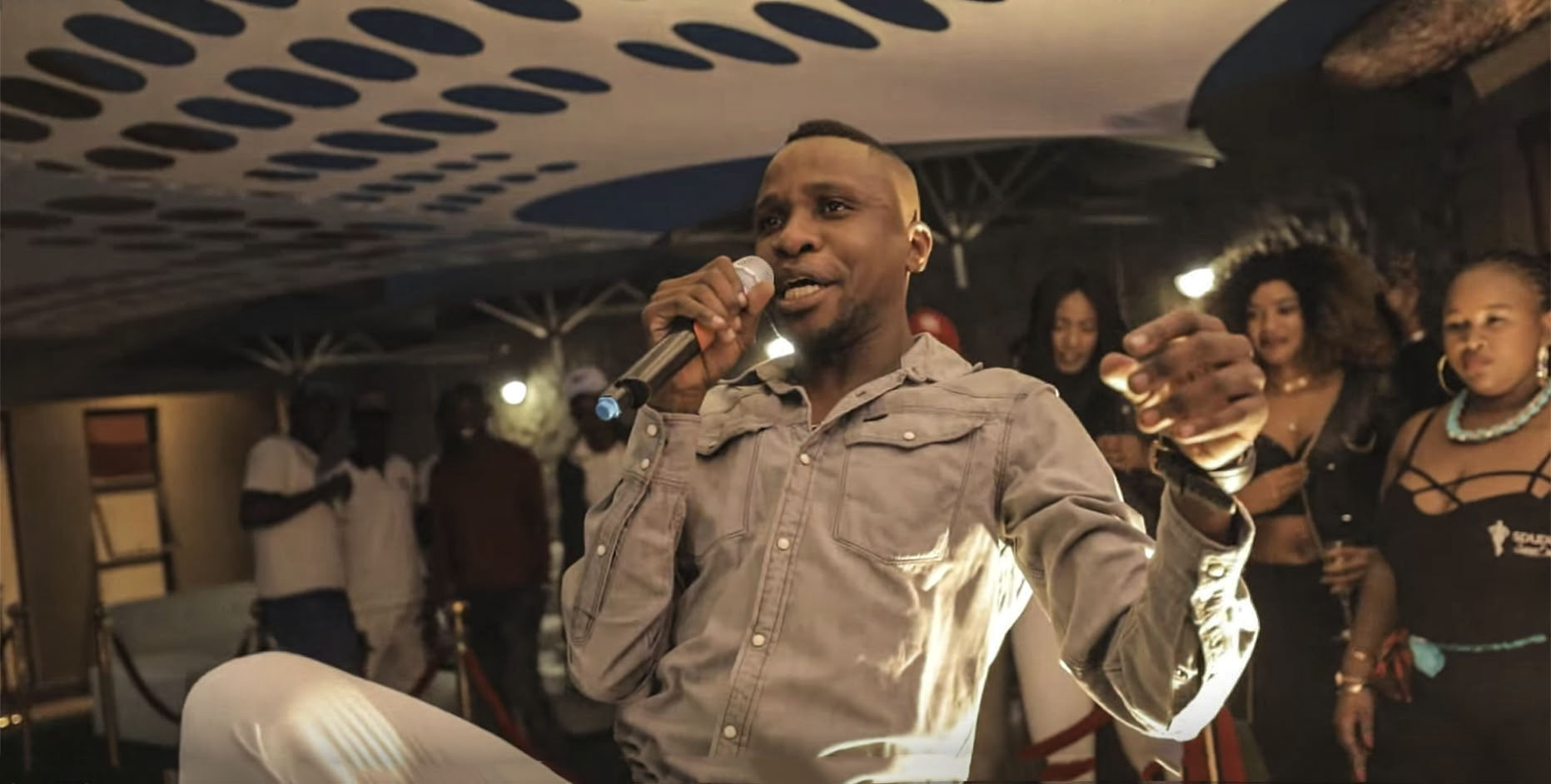 Ke Dezemba: Senya Retla Patela (which translates as 'mess things up, we'll cover the cost'), the hit song by Team Mosha, perpetuates the pleasure-seeking, self-indulgent attitude that December brings
The video cuts between slow motion scenes of a silver "Vrrr Pha" (the Polo GTI) and several party scenes in which an abundance of alcohol is available to drink and pour over expensive watches because they can afford to be wasteful. A few partygoers are even seen washing their hands with whisky.
Here, men are revered by their peers if they have an excess of designer possessions, money to blow and women to entertain them. Team Mosha goes on to praise the men who are in the company of attractive women. In contrast, men without these things are asked "UBlesser enjani enganamoto? [What blesser doesn't have a car?]", because the default esteemed role of the man in such a setting is to "bless".
To this Masango adds that, although it is unfortunate that the women are props, her work hopes to reveal that the women's willingness to be accessories stems from the decision to be compensated in a controlled environment in which they can practise agency. Unfortunately, the majority consuming the music do not read it with feminist nuances. "They're seeing these women being props and so the dangerous thing is we are creating more men who want to throw money at women and not recognise women's humanity. It's a difficult thing to navigate because that's what most people's understanding of capitalism is: money equals ownership, mavuso. The danger with that is a person's agency is then diminished by you having given them money. Women are being objectified and violated."
In DJ Sumbody's Ayepyep, kwaito veteran Thebe sums this up: "Ke nale le baka/ why ke morata/ Ompha monate. Ke mofa mavuso. Ayepyep!" Here he explains that the reason he likes a particular woman is she gives him a good time in exchange for mavuso. Mavuso is a stokvel-like event at which men pay a fee to have sexual free rein with the women participating in the event. The word mavuso also refers to the fee or favour the women receive in this exchange. This could be alcohol, safety, a ride home or a place to stay for the night. Thebe hollers "Ayepyep!" because the lifestyle lounge that goes by that name is a well-known petri dish for this Dezemba culture, similar to Durban's Eyadini Lounge where Zodwa Wabantu often performs.
In another DJ Sumbody song, Monate Mpolaye, Thebe continues to fan this flame alongside Cassper Nyovest and an artist named Vettis. Thebe cries: "Chelete. Koloyi. Banyana. Champopo. Yho! Monate! [Money. Cars. Girls. Champagne. Yho! Good times!]"
The title of the song is a Setswana phrase often used while partying, which directly translates to "kill me, good times". The phrase is derived from having so much fun that you couldn't care whether it kills you. Although the artists may not necessarily look to promote alcohol poisoning and other substance overdoses, listening to this while downing one too many quarts makes it palatable for consumers.
In the same way, there are some other things about the music videos and songs that the consumer at home may not be aware of. The women in the videos are consenting participants, who are often paid models. The cars and houses may be rented. The alcohol, clothes and jewellery may be from sponsors. The lyrics could be a harmless hyperbolic representation that is not intended to influence how we Dezemba. But the correlation between the two cannot be denied.
There is a slight shift from what artists like Thebe used to be known for and what they are currently doing. His repertoire includes classics such as Bula Boot and Groover's Prayer, which both managed to encapsulate the love for a good time without objectifying women or encouraging unrealistic excessiveness, so one has to ask where this culture stems from.
Is it the race for artists to win the Song of the Year award at the Metro FM and South African Music awards? Are more and more artists starting to engage in this because there is traffic for such music? Did the culture influence the music or was it the other way around?
To close, Masango poses two possibilities: "It's either we are in this situation because people are working these hard, oppressive jobs the whole year and so December is the first time that they can breathe and feel fully free. Or is it a case of being reckless nje? Do we tie it to conversations around fair wages and capitalist business practice? If anything, all of this should be placed at the feet of capitalism because it's the one that's generating all of this ugliness."