From the climate to food, drinks, art and unique stays, South Africa has a far-ranging offering of treasures that reflect our cultures and opportunities for cultural integration. As locals who reside in a country as beautiful South Africa, we must learn to stop taking for granted what is on our doorstep and allow ourselves the luxury to try out new experiences. Let's abandon the idea that the good life is only for the select few and start exploring the small and often hidden treasures that South Africa has to offer. Here are 10 treats to add to your radar as you move around this summer.
Laze around the Knysna lagoon in a houseboat
Knysna's estuary is one of the most protected biomes in the country, and with good reason, because some special and endangered species such as the seahorse live here. The lagoon is the crowning jewel of this stunning coastal town that is also home to some beautiful and pristine forests. The best way to immerse yourself in the estuary and the lagoon is to spend a night on the Knysna Houseboat. Upon checking at the Houseboat, you will get a 45-minute course on riding the boat, followed by a demonstration in the lagoon. When that's done and you've passed the short and simple test, you are handed the boat for the night. You can drive the boat around the lagoon, fish, swim, watch the sun go down and then rise with it, all in the lagoon on a houseboat. From R2 500 per night for a boat that sleeps four. knysnahouseboat.com, 044 382 2802
Tap into South Africa's growing gin spirits
The South African gin industry is growing in leaps and bounds with new distilleries constantly opening and new flavours constantly being introduced to the market. The Woodstock Gin Company is a wonderful place to visit; there's Time Anchor Distillery and Tonic in Joburg, as well as the newly opened The Little Fox at 1 Fox in Marshalltown. There are also distilleries in the Cape winelands that are worth visiting and offer a chance to tap into this trend. At the rate at which the gin industry is growing and the trends that are emerging, with gin-makers playing around with flavours, it won't be too long until we are one of the leading nations in producing the finest version of this spirit. So get in line and become part of this journey to fully realise the growth.
Enjoy gourmet food with a view
Sprout and Sprocket is run and owned by the former head chef at Black Horse and The Griffin in Illovo, Renoir Sardinha. He has now opened a quaint spot in the Magaliesburg that serves that most delicious food in the most scenic of environments. Located on a farm overlooking the Magaliesburg mountain range, Renoir serves tapas on his stoep that has a window through which you can see him preparing food and get to chat to him. The vibe here is as though your friend was cooking for you in their backyard. As a result, you will stay longer. A mere 35-seater with six tables, Sprout and Sprocket is an intimate eatery with a seasonal menu made with ingredients from the surrounding farms. The food and the vibe are absolutely worth the one-hour drive form Joburg. Renoir doesn't have a liquor license yet which means you can bring your own wine without having to pay corkage – and remember to bring cash.
Visit the prettiest fishing villages
Listed on the Forbes list as one of the coolest neighbourhoods in the world, Kalk Bay has a relaxed vibe to it that's found throughout the year with plenty of sea-facing restaurants and the best tidal pools. There are plenty of quaint stores and bookstores to visit, and you are also guaranteed to find seals basking in the sun undisturbed. Kalk Bay is a short train ride away from Boulders Beach, where you can famously spot a colony of African penguins.
Sip one of South Africa's best cocktails at Sin + Tax
This little bar hidden away on Joburg's Bolton Road is owned and run by Julian Short, who won South Africa's best bartender title last year and represented South Africa at the World Class cocktail competition. Julian takes the art of cocktail making to a whole new level, evidenced by having won the World Class award for best bar in 2017 and the best bar team award. He is dedicated to getting better and better, always trying out new mixes and often prefers to mix up a cocktail based on your what you feel like, your favourite spirit or even a mood rather than what's on the menu. This is a hidden gem that'll be worth your while if you live in the city or ever find yourself visiting Jozi. 0109002559, sintaxbar.com
Discover Soweto on a bike
Instead of just heading to the touristy Vilakazi Street, explore Soweto differently and in-depth on a bike with Lebo's Soweto Backpackers. Lebo's Soweto Backpackers offers bike tours that include a wide-ranging experience of Soweto beyond Vilakazi, with a lunch stop and mqombothi-tasting. This is a fun way of exploring one of South Africa's historic townships while also learning a great deal about the different parts that we don't get to read about so often. More and more people are realising that townships aren't frightening and unwelcoming to tourists as they're made out to be and that there is a lot to be done and explored in townships, so go ahead and try something new by exploring Soweto on a bike.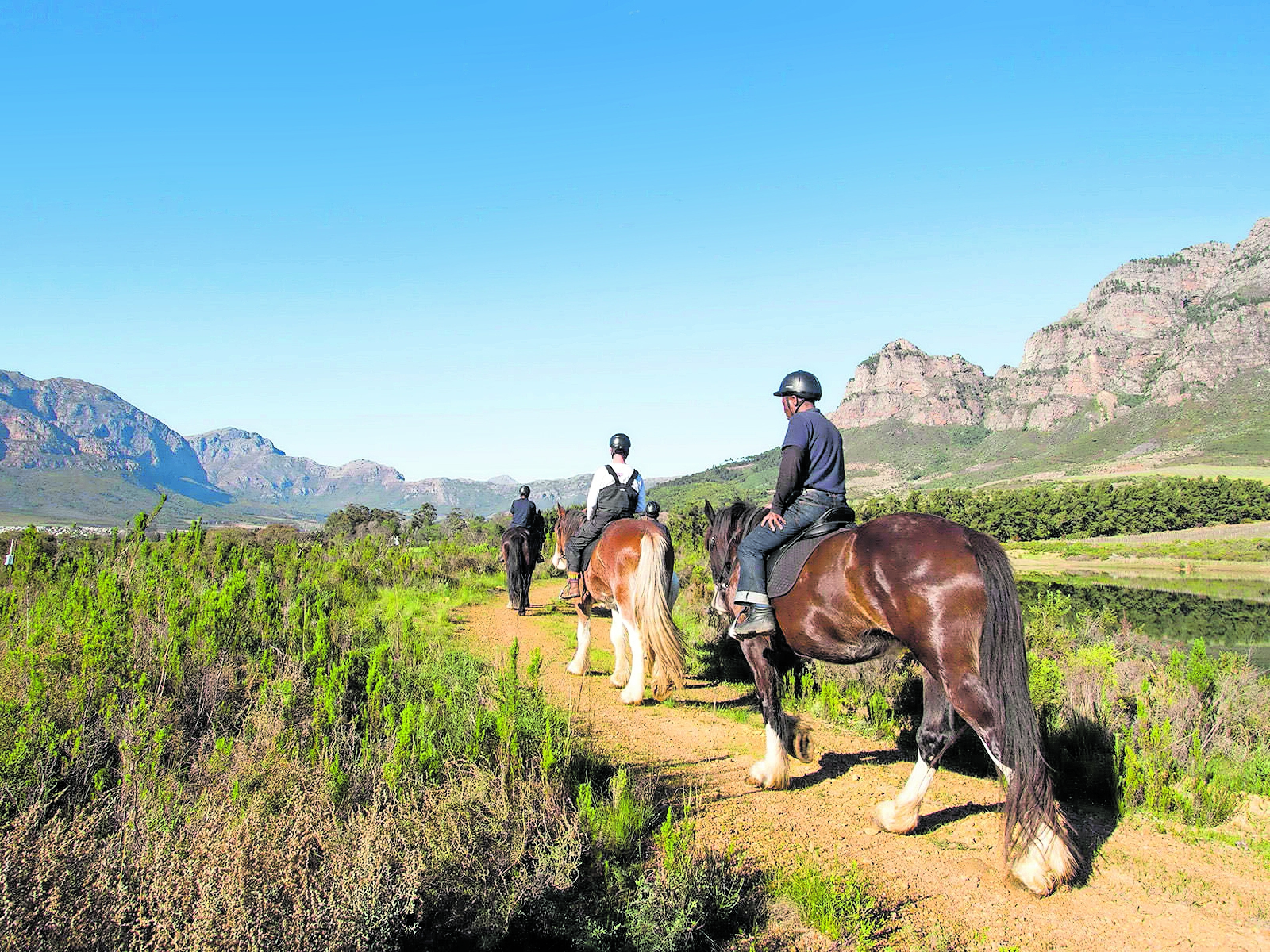 You haven't truly experienced the Cape winelands until you've seen them from horseback. (Photo: pureafricaexperiences.com)
Explore the scenic Cape winelands on horseback
Cape Winelands Riding offers a way for visitors to experience the Cape winelands on a horse through day-long or multi-day trips. The combination of the scenic Cape winelands mountains, the lusciously green vineyards and a horse combine to make up a dreamy experience of exploring one of the most beautiful parts of South African in a unique way. If you don't have any experience with horses, look into their two-hour sunset ride in high summer for a chance to take in some of the most glorious views on a horseback. For those who are a bit more advanced, there's a full-day ride with wine tasting and lunch – and the (even) more advanced and financially capable can try out the 8-day Cape Gourmet Wine Trail that includes visits to more than 20 wine estates on horseback.
Immerse yourself in nature at Magoebaskloof
This area boasts some wonderful forest streams and ancient mountains, which make it the ideal destination for those looking for tranquillity and respite in the mountains. It's also a great destination for a hike that'll immerse you in nature. If you're visiting the area, stay at Kurisa Moya, which is tucked into the indigenous forest. Magoesbaskloof has some of the oldest indigenous forests with streams and waterfalls that add to the texture of natural sights and sounds that will certainly clear out the city noise for a much-needed escape. There is also game to spot, such as bushbuck, jackal and others.
Indulge in Joburg's artistic vibe at Victoria Yards
One of the latest and most exciting developments in Joburg's inner city is Victoria Yards, which hosts artisanal artist's studios, an urban farming project that grows produce, art galleries, restaurants and more. There is also a gin distillery. The new urban development was designed by Brian Green, who remodelled old warehouses and industrial buildings to establish this cultural hub. On every first Sunday of each month, resident artists open their studios, offering visitors the chance to witness their creative processes. This is a new establishment that'll grow with time and is worth checking out. There's already some hype around it, go before it becomes the next obvious spot.
Riemvasmaak hot spring pools offer one of the most beautiful vistas that African has to offer
Swim in hot pools in Northern Cape
Located in the mountainous and desert wilderness of the Northern Cape, the Riemvasmaak hot spring pools are surrounded by the most beautiful high cliffs of rocks that open up into the shape of the African continent when looked at from one of the pools. The pools are located between Kakamas and the Namibian border in a small town called Reimvasmaak. There are community-run guest cabins that go from R525 for a four-sleeper and some camping options. You can also stay at Kalahari River and Safari Company, which is an hour away and offers some wonderful experiences of the Orange River, such as kayaking and fishing.