We're at a wonderful point in the year when the Premier League is open to varied and dramatic outcomes. For the first time in recent memory none of the races are by any means concluded at the halfway point. From top to ­bottom there is a struggle to earn a desirable spot in the food chain. Whoever can best exorcise their demons will probably rise above the skirmishes and claim 2019 as the year they came good.
Can Sarri Ball sustain itself?
Maurizio Sarri's Chelsea regularly straddles the line of beautiful ignorance and dangerous experimentation.
Capable of looking like title ­chasers and woeful mid-tablers in the same 90 minutes, this is the most ­exciting it's been to watch the Blues as a ­neutral in recent years. Manager Antonio Conte spent his two seasons as either dominant or inept, never wandering into the ambiguous. But now our attitudes could perhaps best be described as excitingly ambivalent.
The fulcrum of this confusion is, quite literally, the centre. Namely, Jorginho.
Italy's deadly passer is essential to the implementation of Sarri Ball. It is primarily his responsibility to spread the ball and keep it moving. By creating triangles in midfield with Mateo Kovacic and N'golo Kante, he's able to maintain possession and hold off on riskier plays until they present themselves. Much of Eden Hazard's good work this ­season has come from ­exploiting the pockets that these exchanges leave behind after opposition players are sucked into challenges.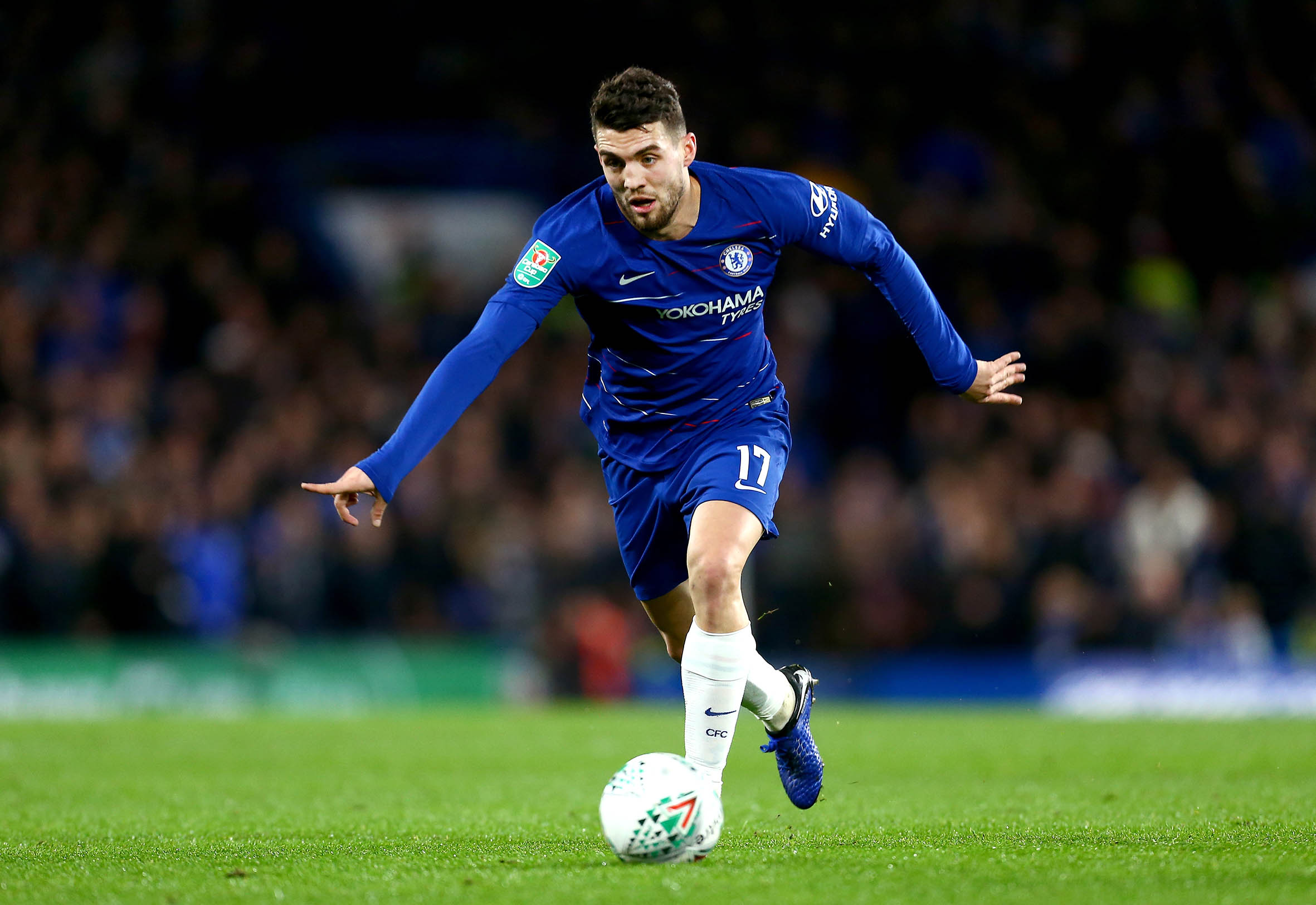 Mateo Kovacic and his Chelsea team-mates provided moments of excitement this season. (Jordan Mansfield/Getty Images)
Luka Modric is probably the best comparison to Jorginho we've had in the league in the past eight seasons; similarly a player that didn't often feature in the goals or assists column, but was integral to everything good Tottenham Hotspur did under Harry Redknapp.
It was contemporary Spurs, however, that exposed the flaw in the Chelsea system: Jorginho can't assert his authority when not afforded space and time. Tottenham Hotspur's Moussa Sissoko ran the midfield like a god that day to drive the West Londoners to their first loss of the season. With their deep-lying playmaker position smothered, the talents of Willian and Hazard were rendered null and void.
That was a peak counter-measure, but it hasn't been the only one. We've seen enough to remain sceptical about the long-term sustainability of hitching an entire set-up to a dainty, albeit amazingly skilful, anchor.
This is the Premier League and there's a reason a player such as Lee Cattermole was allowed to call it home for so long.
Ranieri plots the impossible
"The objective at Fulham should never be to merely survive in the Premier League," Claudio Ranieri said, straight after accepting his new job as Fulham's manager. "We must at all times be a difficult opponent and should expect to succeed. This Fulham squad has exceptional talent that is contrary to its position in the table."
That's the kind of idealistic thinking Fulham fans don't have time for right now. Those years away from the top flight hurt to the bone. How painful it is to be forced to peer back into that chasm so soon after promotion. Survival is the dominant pheromone in the West London air at the moment.
Achieving that goal will, ironically, once again require Ranieri to buck the nickname he earned earlier in his career. Tinkerman guided Leicester City to an impossible title by religiously sticking to a trusted core of 14 players and praying that they remained healthy. His current club has been forced to scramble their first XI with uncomfortable regularity and will welcome some consistency.
That's what has largely been responsible for their mishaps — where Ranieri is not wrong is in talking up the talent of this squad. André Schürrle is a World Cup and Premier League winner, Ryan Sessegnon has the potential to flick on an ­unplayable mode, Jean Michaël Seri was two minutes away from ­signing for Barcelona and Aleksandar Mitrovic often looks as much a deadly striker as he does a Serbian mobster. This collective has no right to be struggling in the manner that it is.
It's at the back where Ranieri's consistency is required most. Fulham has conceded a stupid number of goals.
We've seen some improvements in December but we'll need a lot more if the Italian is going to do the improbable once more.
Southampton's doldrums
There are dream introductions and then there was this. In an effort to butter up his new supporters, little-known Ralph Hasenhüttl sent beer vouchers to all St Mary's ticket holders under the pretence that he wanted a jolly atmosphere for Arsenal's visit. He needn't have bothered.
In the 85th minute Charlie Austin rose beyond Bernd Leno to give his ­manager a cheer that no amount of free alcohol could ever achieve. For the first time in more than six months, the Saints faithful had a reason to smile. An occasion to celebrate. A cause to believe in.
Followers of Southampton will never accept anything but Premier League football. One of the original 22 founders, they have always ­carried an aura of exceptionality — a sentiment keenly felt by admirer and neutral alike. The pain of that ­unfulfilled destiny has not been eased by exports such as Sadio Mané and Gareth Bale, to name but a few, acting on the highest stages Europe has to offer.
This season they've once more slugged well below their potential.
Surprisingly, shooting down the Gunners brought only a second win of the season — a fitting return for the lacklustre game they've played every weekend.
It always seems like the same story too: an attack bereft of ideas that ­falters until the opposition inevitably finds its way through.
In Austin, Nathan Redmond, Danny Ings and Shane Long, St Mary's houses the competition's largest contingent of nearly men. At one point or another, for one club or another, all four have threatened to be great. None have dared to be. Playing in the red-and-white they haven't come close.
Hasenhüttl scored the manager's job by ­taking a newly promoted RB Leipzig to a second-place Bundesliga spot and Champions League ­qualification. He undoubtedly has experience in moulding misfits into something worthwhile. So although British commentators can't say his name properly, he might just be the tonic this ailing English ­stalwart needed.
The great Manchester clean-up
There are a few reasons Manchester United were never going to appoint a full-time manager at this point in the season. The obvious is that dreams of luring a man like Mauricio Pochettino were always going to be more vividly entertained at the break. But whoever signed on, presumably they would prefer them not to walk into an office that looks as if it was recently hand-grenaded.
Despite Louis van Gaal and José Mourinho being given ample time to assert their identity, there was always a sense that they were cleaning up their ­predecessor's mess. It's a responsibility that detracts from what they should have been focusing on: ­winning. What we have now is a veritable rubbish heap.
The entire structure of the club, including caretaker Ole Gunnar Solskjær, is presumably focused on repairing what has so royally been broken. At least that would be the rational thing to do.
January thus takes on more importance than is generally ascribed to the damp-squib excuse for a transfer window.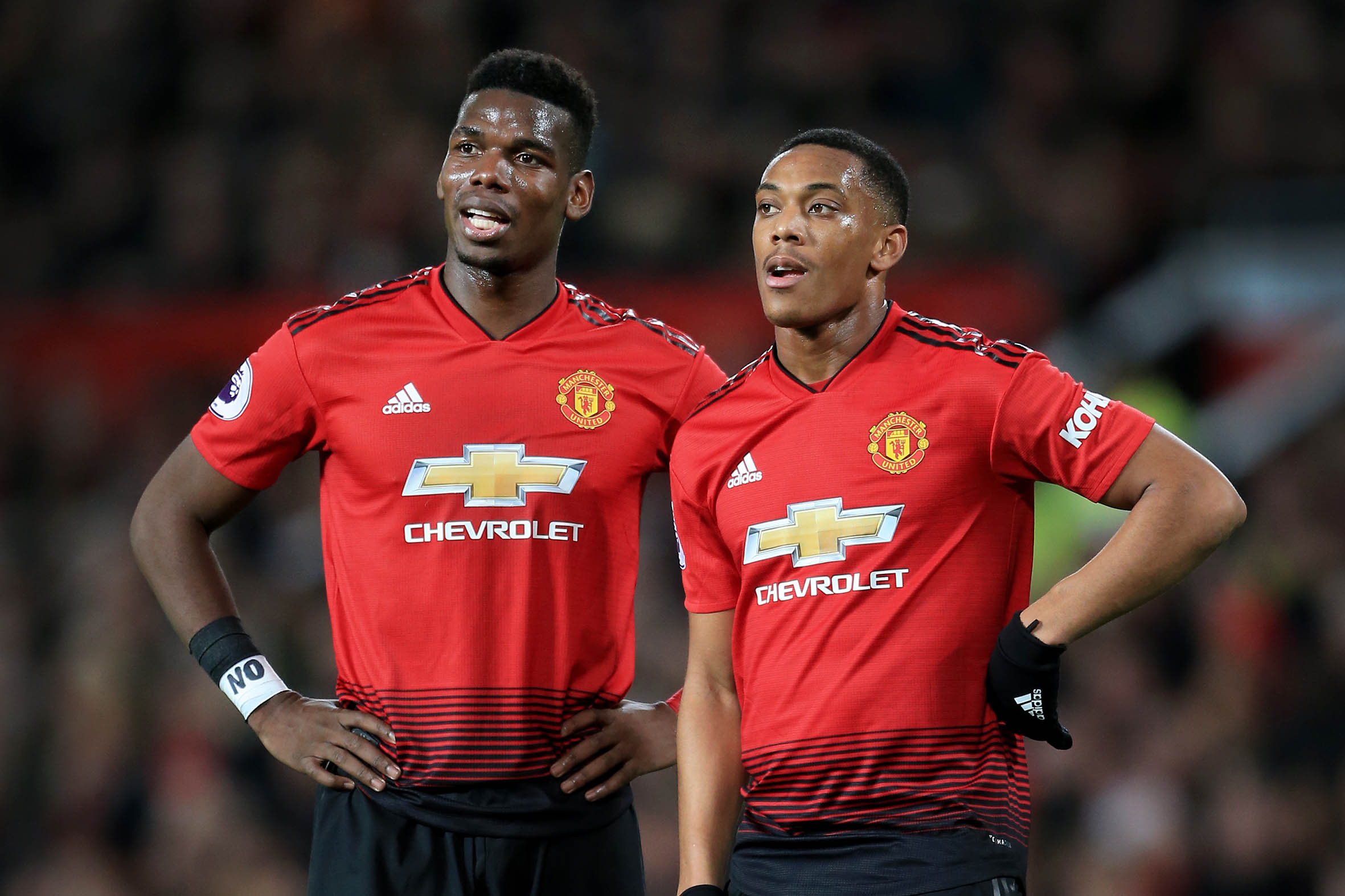 Fixers: Can Manchester United's Paul Pogba and Anthony Martialbe counted on? (Simon Stacpoole/Offside/Getty Images)
First and foremost, the futures of Mourinho wantaways Anthony Martial and Paul Pogba need to be nailed down to certainty. In this treacherous era of player power, it was clear the duo weren't going to be let go merely because they and the manager had a mutual distaste for one another. Whoever comes in after May needs to know with certainty whether two of his most promising players can be counted on.
The Special One equally failed to secure, or was not sanctioned, improvements for Eric Bailly and Victor Lindelöf. Despite the lack of a permanent coach, bringing in a defender who can instantly come in and plug the holes of a boat that already has its mast beneath water can only be a positive move.
Then there are the white elephants treading about the place. Monthly millionaire Alexis Sánchez and £52-million Fred have, needless to say, not quite lived up to their ­billing. Whether they can come good or are destined for the exit door needs to be determined immediately.
Next season starts now. How United kick off will go a long way towards determining their timeline of resurgence.
Can this Liverpool team finally survive in the 12th round?
Luis Suárez is not the first player you would accuse of being soft. For obvious reasons. Yet in May 2014 he stood sobbing uncontrollably into his shirt as Kolo Touré struggled to guide him off the pitch. These were the tears of a man who knew he and those around him were directly responsible for letting it slip (please excuse the pun, Mr Steven Gerrard).
It's a controversial opinion, but arguably, that side, and the Fernando Torres-inspired 2008/2009 outfit, didn't have the mental fortitude to give that little bit extra and capture a first Premier League title. Like the death zone on Mount Everest, the high altitudes of the top-flight regularly ­render hesitation in the final steps fatal.
The parallels between this season and those past tragedies are not abstract. Like those respective Torres- and Suárez-led attacks, Liverpool boast one of the best and most exciting forward lines in the league. Mohamed Salah still very much has the capability to be a talisman that can lead a summit attempt. Sadio Mané is a star in his own right and Roberto Firmino will never rele­gate himself to a mere support role.
With the midfield brew coming together nicely for Jürgen Klopp, this is a side that has signalled its intent and then some. It seems simple: if they repeat their performances in the second half of the season, they will win the league.
The reason Manchester City remain the bookmakers' favourites is that they can call upon a cache of expensive and experienced talent. If one link in the chain falters, it is swiftly replaced by another.
That luxury doesn't exist on Merseyside. Everyone in Klopp's ideal XI needs to remain switched on and driven for hope to remain. We'll soon know whether they have the ­psychological strength to survive the death zone.
Arsenal's exorcism
Arsène Wenger has been rather busy collecting silverware of late. From a lifetime achievement award to being honoured by Liberian President George Weah, there's been no rest in his sabbatical. He even joked that had he known he had to leave Arsenal to win trophies he would have done so a lot sooner.
The zeitgeist in the footballing community changed overnight; it is now preferred you pay respects to the emperor rather than question his recent predilection to expose himself.
Behind closed doors, however, Unai Emery could never have afforded those attitudes. To him, much of Wenger's legacy was a contagion that needed to be banished. It's a task he's done efficiently.
French niceties presided over this side for far too long. Marquee players were allowed to flex their star power and bully their way to their interests. This had huge ramifications for the side and a culture of unaccountability crept in.
Emery has made it clear that this laissez-faire relationship between player and coach would not be ­tolerated. Mesut Özil is the prime example. Under the Wenger regime, the German was allowed to meander his way around the Emirates, as though looking for geese to feed, with no consequence.
His new Spanish master has already banished him to the bench and suggested he will remain there as long as the physical demands of the league remain too high for him.
With no threat of the whip lashing their backsides, the Gunners also often crumbled when squeeze was used in the past five-odd years. That come-from-behind landmark 4-2 North London Derby win proves Emery has demanded diamonds when the pressure ratchets up.
The new demeanour is almost palpable.
Wenger will continue to rake in his accolades, but if Arsenal grab some of their own it will be because his ghost was thoroughly banished.