Twenty-eighteen was undoubtedly the year of the land. There has been no other time in our recent history that the land issue has become the subject of such heated public and political debate than in 2018.
It was humbling and eye-opening to be part of a team that was documenting the stories of folks in villages from Sekhukhune to the Wild Coast, from the hills of ­northern KwaZulu-Natal to the congested narrow streets and alleyways of Alexandra township and the ­mineral-rich Northern Cape.
Although the stories were in many ways different, there was one common element: people's unmatched love of and connection to the land.
We sat at the feet of elders in the twilight of their years and listened to them speak passionately, deeply and longingly about the land. Many had seen and lived through the horrors of apartheid's land dispossession and displacement policies. They had voted for the first time in April 1994, yet, 24 years later, they were still waiting for the change they had been promised: the return of the land.
It was also sad, horrific even, to meet people whose every right had been violated by big business in the form of mining companies. In their quest for profit they had resorted to apartheid-style tactics to evict residents from their ­ancestral lands.
The boiling anger and impatience of the youth, unemployed and landless, was another constant feature.
Officials sometimes tell a story of success and progress on land restitution and distribution, but, on the ground, people and circumstances tell a different story.
It is a story of long waits for the settlement of land claims, of bungling and indifference by government officials, a story of communities left to their own devices in the battle against monied mining companies taking away their ancestral land.
I will never forget that moment during public hearings into proposed changes to Section 25 of the Constitution in Lenyenye, near Tzaneen in Limpopo, when a youth representing the Democratic Alliance (DA) was almost lynched for ­suggesting that black people had no capacity to use and own land productively. It was only the timely intervention of security personnel and loud calls for calm from Economic Freedom Fighters (EFF) leader Julius Malema that helped to restore calm and save the young man from what threatened to deteriorate into a physical free-for-all.
Days later, during hearings in Thohoyandou, Limpopo, police intervened in a physical attack by EFF supporters on a group of DA Youth who had made submissions opposing the motion.
Such was the emotion and anger during the hearings that, on a number of occasions, in Limpopo and Mpumalanga, tempers flared.
This was probably the only time since the Truth and Reconciliation Commission hearings in the late 1990s that the country's citizens of all races and levels of social standing were forced to gather together in one space to discuss a matter of national importance.
The hearings gave the older people who had suffered under apartheid and the masses of unemployed black youth an opportunity to vent and lay bare their frustrations, whereas white people used the platform mainly to express their fears about the passing of additional laws to allow for expropriation of land without compensation.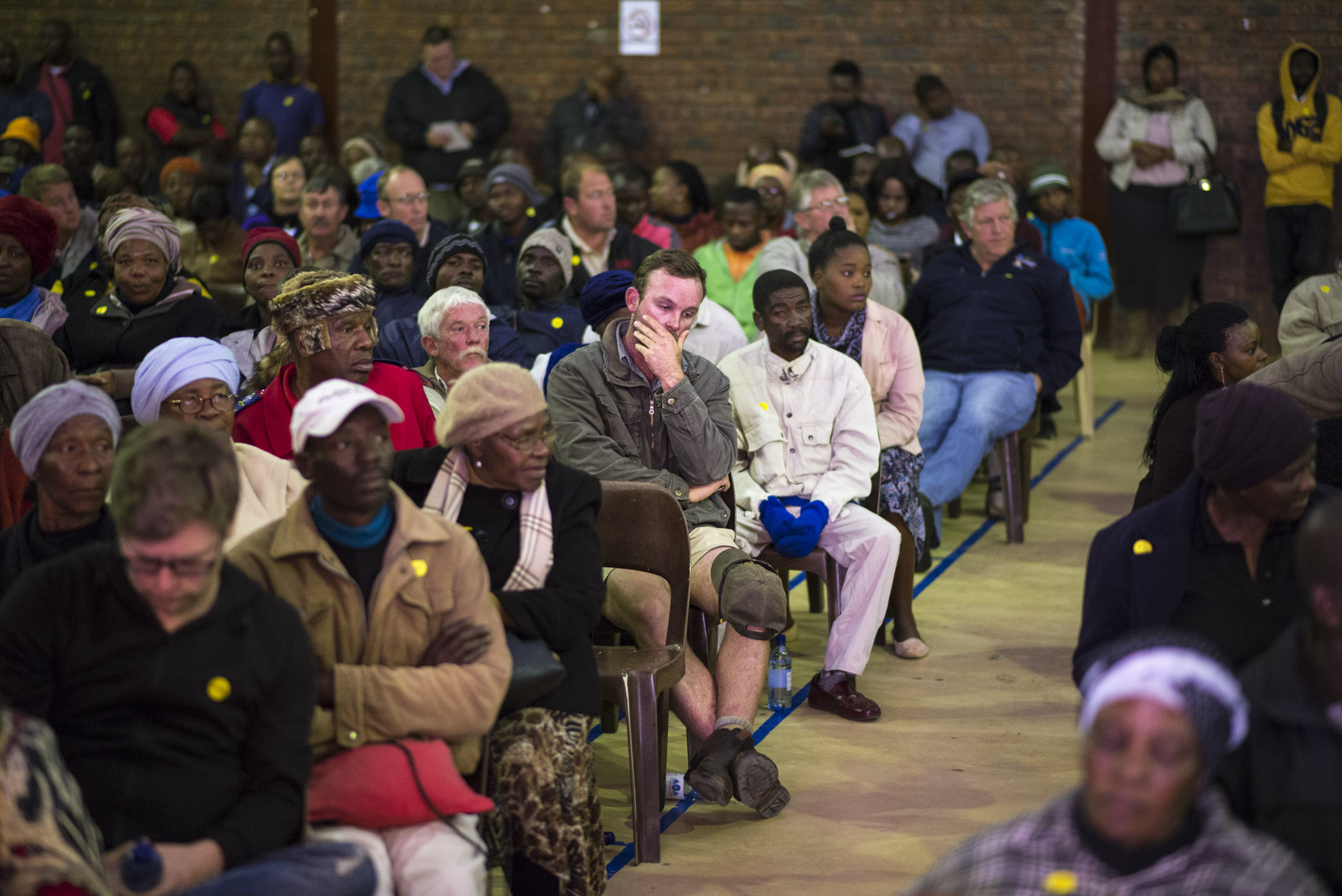 White farmers voiced expropriation fears. (Lucas Ledwaba/Mukurukuru Media)
Politicians opposed to the proposed changes, such as Congress of the People leader Mosioua Lekota, were not spared the angry words.
"I thought you were one of those who fought for freedom. But I see you are a project gone wrong," Pastor Godfrey Mushwana fired at Lekota during his submission in ­support of the proposed constitutional amendment. Mushwana went on to say that committee chairperson Vincent Smith should convene a meeting to educate young MPs and exclude Lekota, saying: "You are old [and] you can die [at] any time."
In January, Pondoland uprising veteran Mfihlelwa Mnyamane was recovering from an ailment that had troubled him for most of the year. But he was adamant he wasn't going to allow his home of Mzamba near Xolobeni to be turned upside down as a result of mining.
His neighbour and activist Nonhle Mbuthuma articulated their situation in simple but powerful terms: "We are the richest [people]. We have plenty of things that lots of people don't have. We have land. We have clean water throughout the year. That is why we do agriculture throughout the year. We only buy what we can't produce. There are no taps here. Even the municipality doesn't deliver water here. We have clean natural water. And you call us poor?"
In November the Pretoria high court ruled in the community's favour, saying that communities needed to be consulted and give consent before any mining activity could take place in their areas.
Waiting for the land
Mthakathi Simon Makhanya could not attend the hearings into land expropriation in Nelspruit because of ill health. The 93-year-old instead sent his son to deliver his message to the parliamentary portfolio committee. He described how his family was plunged into poverty and deprivation after they were forcefully removed from their land in 1954. The family lodged a claim to the land before the December 31 1998 deadline. But, 20 years on, he is afraid he may never live to return to his ancestral land in Ten Bosch.
"The whites never bought this land. After [Adolf] Hitler's war, the whites were given farms around here. The blacks, who also fought in the war, lost their land and were given only coats and bicycles. They [white people] are wrong because they never bought the land," Makhanya said from his home.
The unresolved land issue touched even ANC struggle veteran and ­former MP Andrew Mlangeni, who visited his place of birth in Free State for the first time since his return in 1989 from serving a life sentence.
Weighing in on the land debate, Mlangeni said: "The government's land distribution has actually failed in the last 23 years because the 'owners' of that land, the white people, when the government wants to buy property or farms from them, they increase the prices when they themselves got it for nothing. Our discussion to resolve the issue of land peacefully has failed. That is why we want to change the Constitution to allow the government to confiscate land without compensation."
Who says we can't use the land?
High up in the Magaliesberg mountains in Mamelodi, inyanga and former Umkhonto weSizwe operative Ephraim Mabena turned a former dumping ground into a place of healing, the Mothong Heritage Trust, dispelling the myth that black people, especially in urban areas, have no need or use for land.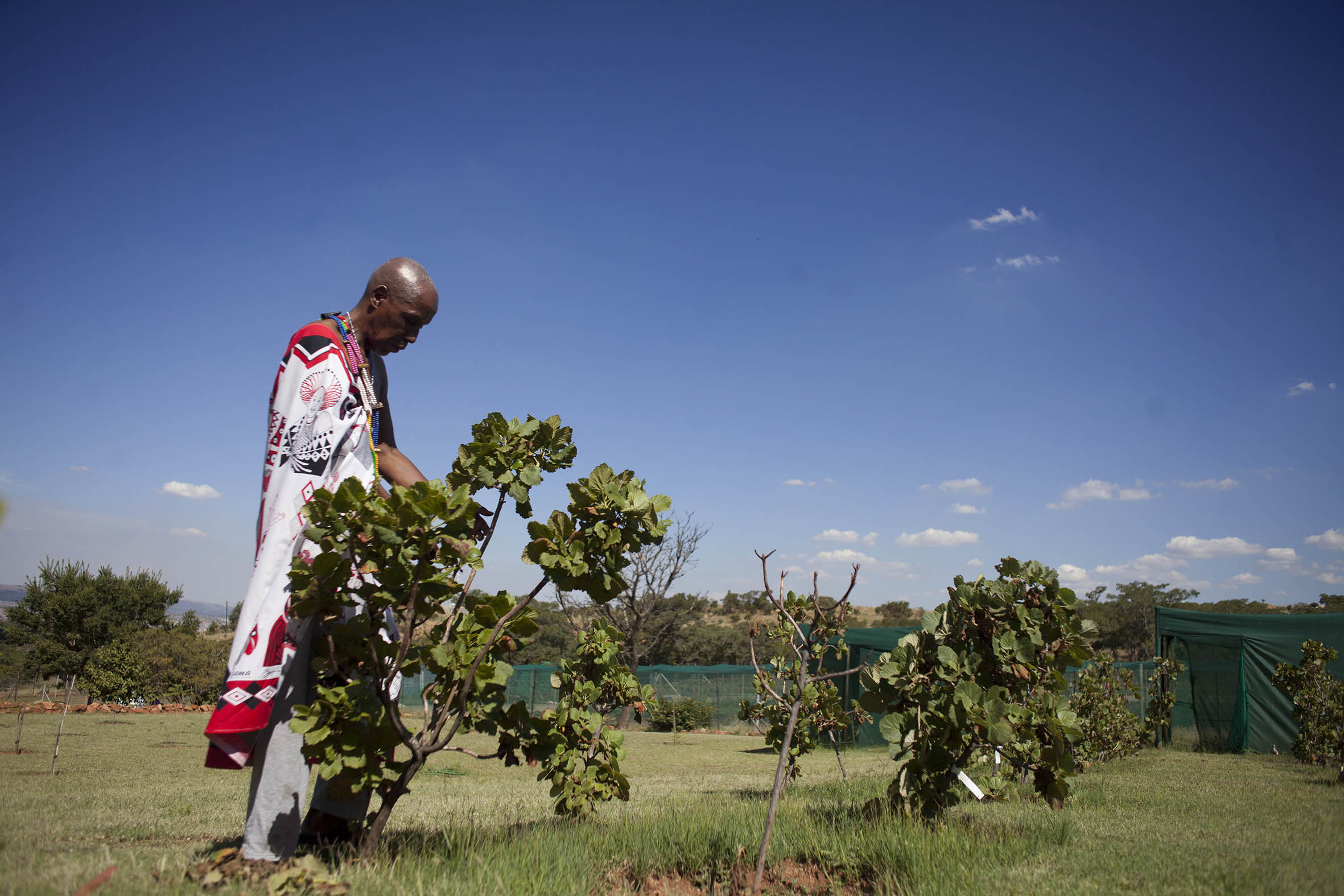 Inyanga Ephraim Mabena says Africans are tied to the land. (Oupa Nkosi/M&G)
"The biggest humiliation you can visit upon an African is to take away his land. You can't separate us from the land. We are one with it," said Mabena.
Across the country, during community meetings in tiny halls and classrooms in forgotten villages, the eyes and faces of the people attending told a haunting story of frustration and anguish over the long wait for the land. Those who spoke gave meaning to those haunting expressions. — Mukurukuru Media
---
Land issues: In their own words
"If they take away the land, we would die." — Herbalist and trader Thabo Elias Marotola
"I don't want to leave this world not having got my title deed. I want to leave my grandchildren with something." — Alexandra ­pensioner Lydia Shadi Nhlapo
"Our customs don't agree with that. You cannot dig up a grave. We have never seen a dead person being exhumed. But the mine will go ahead because they have the power." — KwaZulu-Natal land rights activist Lucky Shabalala
"We are not stealing from anyone. I have been chased with helicopters, horses. They [police and mine security] were looking for permits. My brother was arrested. Then he asked the police: 'Show me anyone who brought diamonds to this world when they were born?' They beat him up. They come from God. Diamonds come from God. Nobody should stop another from making a living from them." — Northern Cape artisanal miner Samuel Tlhole
"All these sacred sites are vulnerable to the greed of men. How do you destroy a whole ecosystem to build a hotel? When they [developers] see a river, they just want to block it. They see a forest, they want to log. Human beings are destroying their own habitat." — Limpopo land rights activist Mphatheleni Makaulule
"We are people of this land. God made us to look like the soil of this land because we belong to it. We were born to farm on our land and trade livestock among ourselves. Money was never our thing as Africans." — KwaZulu-Natal farm labour tenant Mndeni Sikhakhane
"We were doing nothing with the land. We would just wait for our pensions. When the money came we would spend it and wait again. That is when we decided to use our land to feed us." ­— Limpopo ­pensioner Kiba Frans Mmola