The ANC's manifesto has me flipping between a desire to examine each idea in it carefully without regard for the ANC's record in government and an inability to do that without looking long and hard at what the party has failed to do after a quarter of a century in power.
This is good news for opposition parties. They have a chance to frame these elections as a referendum on the ANC's 25 years in government. Of course, they shouldn't do only that. Still, there is something special about the number 25. It has a feeling of being momentous and political strategists in opposition parties should exploit this psychological milestone.
It should be long enough for any serious failures in government not to be reduced to the intertwined legacies of colonialism and apartheid. No government anywhere in the world can, after 25 consecutive years at the helm, use the knee-jerk defence of blaming history for what it has failed to achieve or for what it has actively done wrong. That simply will not cut it.
This means that, before we even dig into the particularities of the broader ideological character of the ANC's 2019 manifesto and the policy proposals flowing from that ideological architecture, there are issues the opposition should exploit in their response to the ANC's manifesto.
First, the ANC has a credibility problem. Second, it lacks the capacity to implement an ambitious manifesto. Both are closely related.
Voters are tired of the promissory notes that the ANC tosses at them every five years. We cannot eat promissory notes. Everyone from Nelson Mandela to Jacob Zuma promised that, by now, they would have created enough jobs to decimate our infamously high unemployment figures. That did not happen.
So why should a voter believe that, from its 26th year in government and onwards, 275 000 jobs will be created every 12 months under an ANC government? That is the essence of the credibility deficit the ANC is saddled with, given its haunting history of consistently failing to meet its own targets.
The truth is that exogenous economic factors, which all governments face, are not the major reasons for the failure of the ANC to reach the economic and social policy targets it set for itself since 1994. Since demo-cracy's dawn, the ANC has had enormous and adequate opportunities to develop a mixed economy that would have been strong enough to both correct historical ills, such as unequal access to labour markets, and to reduce the cost of doing business to stimulate local and international investment in our economy.
Why did it fail? The short answer is corruption. The longer answer is a failure to anticipate the possibility of systemic corruption after 1994, given that many ANC freedom fighters would unexpectedly find themselves in positions of unprecedented access to state resources, which had been in the hands of a white minority. The ANC failed to anticipate temptation and human weakness, even in the most exemplary of freedom fighters, when they suddenly took up roles in the state that had always seemed a distant dream.
Consequently, the party, once in government, was caught off-guard by the rapidity with which men and women stole from the state, in cahoots with private interests — a spectacular display of morally awkward continuity with the colonial state that existed before 1994.
Not even the great Mandela, with hindsight, grasped the nature and size of the sins being committed in the state almost immediately after political victory was achieved on April 27 1994.
The Zondo commission of inquiry into state capture is now often regarded as if it is simply about that most horrible of constitutional delinquents, one Jacob Zuma. That is convenient for an ANC that desperately wants to make a scapegoat of him.
The more comprehensive historical truth is that the genesis of state capture precedes even the transition to democracy. Colonialism and apartheid were the gold standards of state capture. After 1994, the ANC did not make a revolutionary break from them. It broke politically from colonialism while, all too often, mimicking the rapacious ways of the colonialists.
Simply put, you cannot faithfully implement any manifesto if you are too busy eating at the trough. No one can be both an energetic servant leader and a full-time glutton. Sadly, not enough ANC politicians seconded to the state resisted temptation, which is why, after 25 years at the helm, there is a shopping list of failures in not meeting the promised manifesto targets that have been set since 1994.
What does this mean for the opposition this year? They should not misread voters' irritation with negative campaigning. When we say we are tired of negative campaigning, we mean several things. We want to see opposition parties dial it back a little. Stop shouting at us. We know, just as well as you, how kak the ANC has been, especially over the past 10 years. How could we not? We live in the same country.
Do not lecture us. We are neither idiots nor children. We have experienced the same ANC as you have.
We also want our problems fixed with haste. Shouting, however, isn't the only way to demonstrate urgency. A magisterial grasp and convincing articulation of the substantive issues we need to tackle also demonstrate urgency.
In diagnosing the ANC's weaknesses, opposition political parties must do work they may be annoyed to have to do. The opposition must accept that millions of South African voters have such a complex relationship with the ANC that you should not infantilise them when engaging that relationship. The opposition does so at its peril.
You do not shout at close friends who are hooked on a substance. You try persuading them, you show empathy, you sometimes speak tough truths to them and, at other times, you leave them alone to realise the effect of their unproductive relationship with a substance.
Analogies, of course, are always both useful and inherently limiting. The point simply is that ANC voters need opposition leaders to be thorough, and even generous, in their analysis of where the ANC has fitted into all our lives for more than 100 years to honour that complexity and explain why that relationship is no longer sustainable.
Shouting at loyal ANC supporters will get you nowhere. Behaving like a know-it-all political expert will get you nowhere. Like churches and football clubs, membership and support of the ANC isn't a psychosocial phenomenon to be taken lightly.
Part of the reason for Ramaphoria isn't only because Cyril Ramaphosa is objectively better for the ANC and for the country than Zuma was. It is also a relief for many ANC supporters to feel that they do not need to leave home. At that level, politics isn't only about material and technocratic analyses. One could argue that politics should be simply about what a party can do for each of us materially.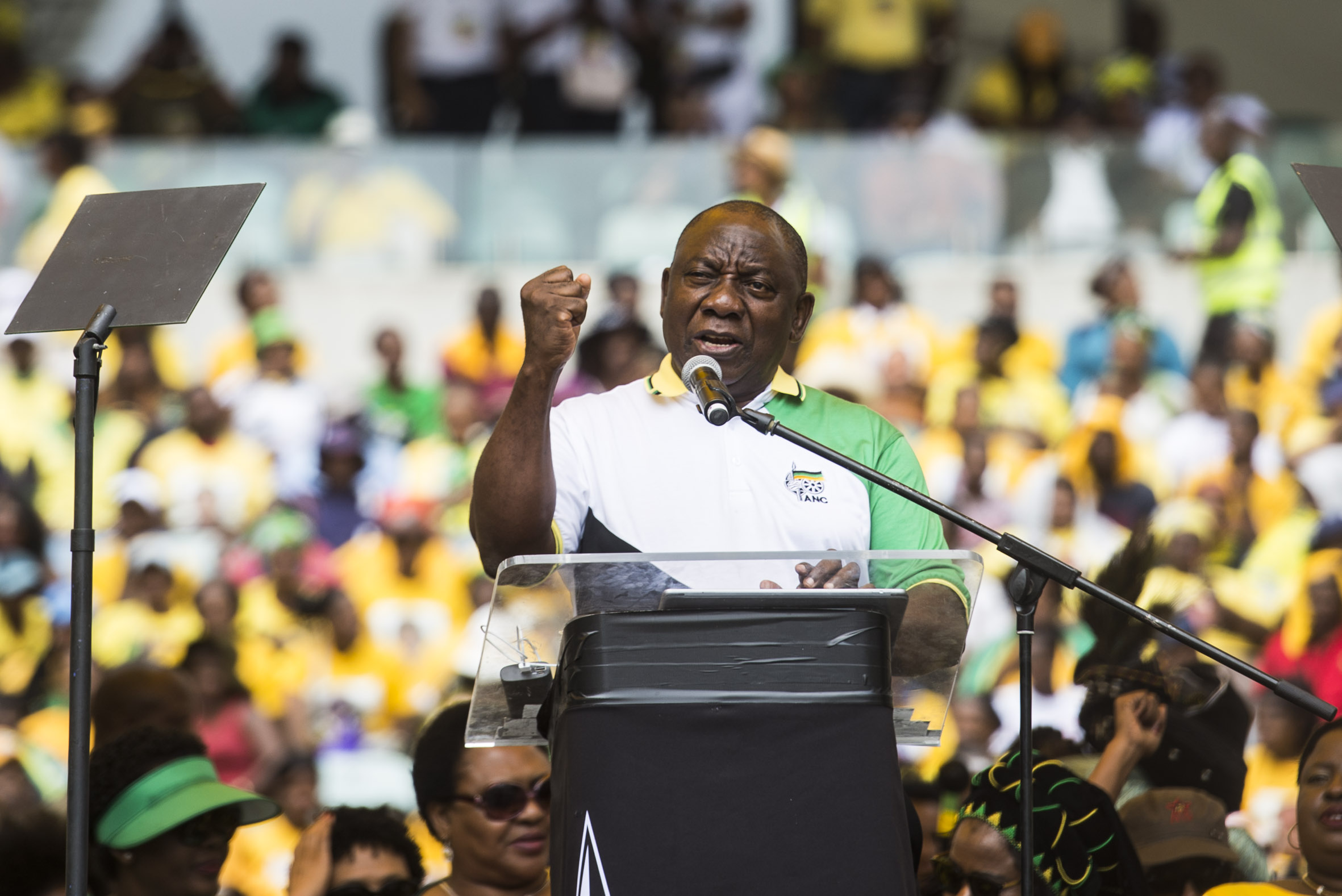 But the party, led by President Cyril Ramaphosa, faces a host of problems after 25 years in power that could negatively affect its performance in the elections scheduled for later this year. (Delwyn Verasamy/M&G)
But normative analysis, right now, is for university seminar rooms. We have about four months until the elections. Opposition parties' election campaigns must address the reality we are in and not the ideal realities we have not reached.
Speaking about the past and about the sins of the ANC isn't negative campaigning. What you say about the ANC and how you communicate that determines whether you are being negative.
Last, it will never be enough to turn 2019 into a referendum on ANC governance. We need a clear alternative vision for the country around which we can rally regardless of our racial, ethnic, linguistic, class and other divisions.
Opposition parties are not great at picking either clear alternative visions for our country or one or two signature policy proposals that are both easy to communicate but not so thin on the ground to be trite.
Opposition political strategists and communicators have their work cut out for them. So many of us are becoming floating voters that all political parties can have a shot at electoral glory — if they do not set a foot wrong between now and the day we vote.