If you think gin these days, you probably think hip or cool, but you're unlikely to think deregulation. The current uptake of the clear spirit, infused with botanicals of various kinds, has become a growth industry, thanks to an easing of liquor laws that reined in the power and reach of Big Liquor in favour of smaller operators.
Gin lovers in South Africa previously had the choice of just a few brands, but now there more than 200 gin producers in the country, with an estimated combined annual turnover of R1-billion. According to the South African Wine Industry, gin sales were up 50%, from six million litres to nine million, in the period 2015 to 2017.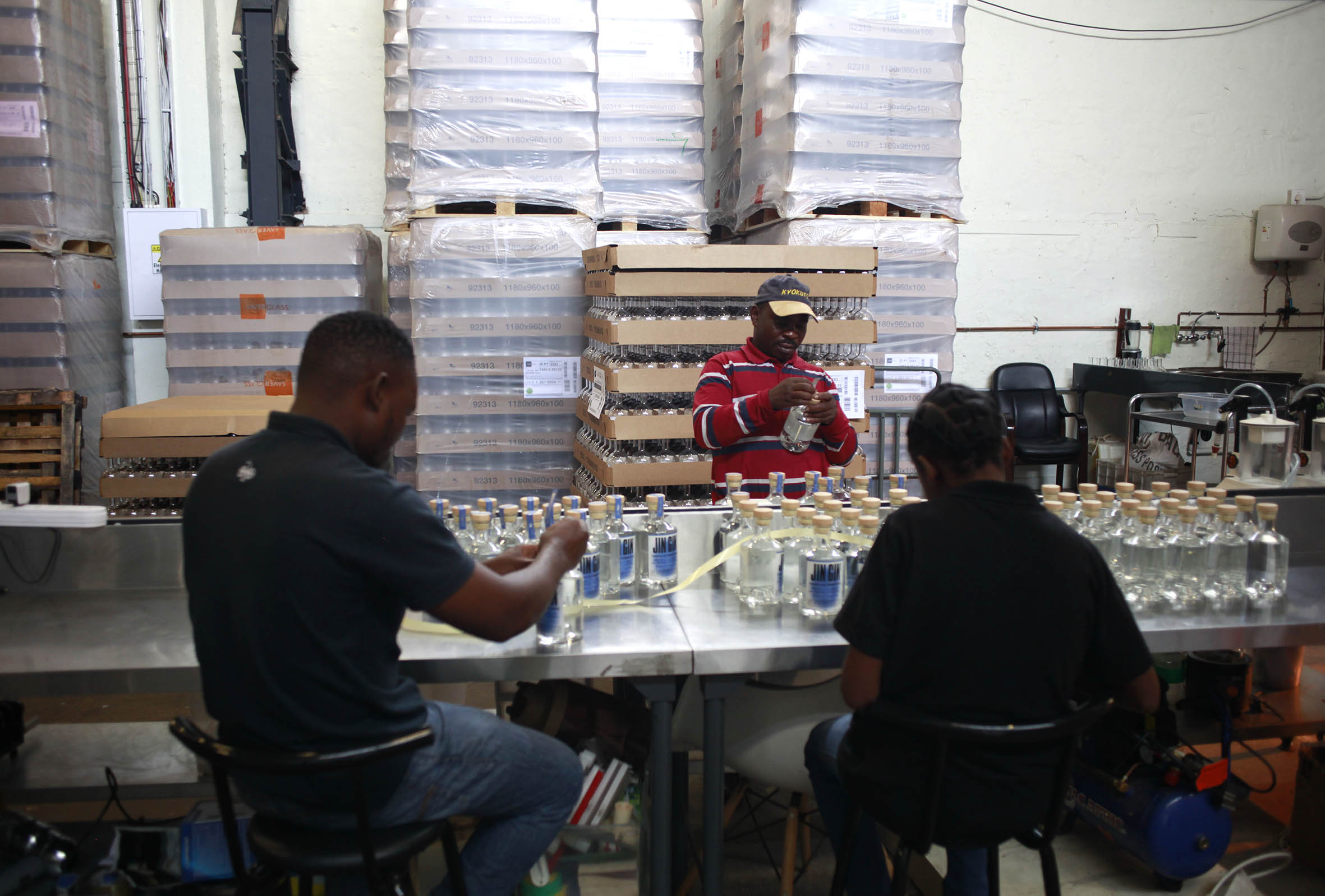 Ginologist employees bottle the final product. Photo: Oupa Nkosi
One new producer is Ginologist, which has its headquarters in the Mad Giant precinct in Johannesburg's historic suburb of Ferreirasdorp. Mad Giant features bars, markets and function space. Ginologist makes its gin on the premises in an area it calls the Lab and operates a gin bar that serves food too.
The venue is hip, with colourful couches and a rose-gold coloured distilling equipment, which can be seen in the Lab through a glass door behind the bar area.
Head of marketing Nick Taliakis said "gin is growing in popularity, especially on the continent. There is a gin revolution in the world."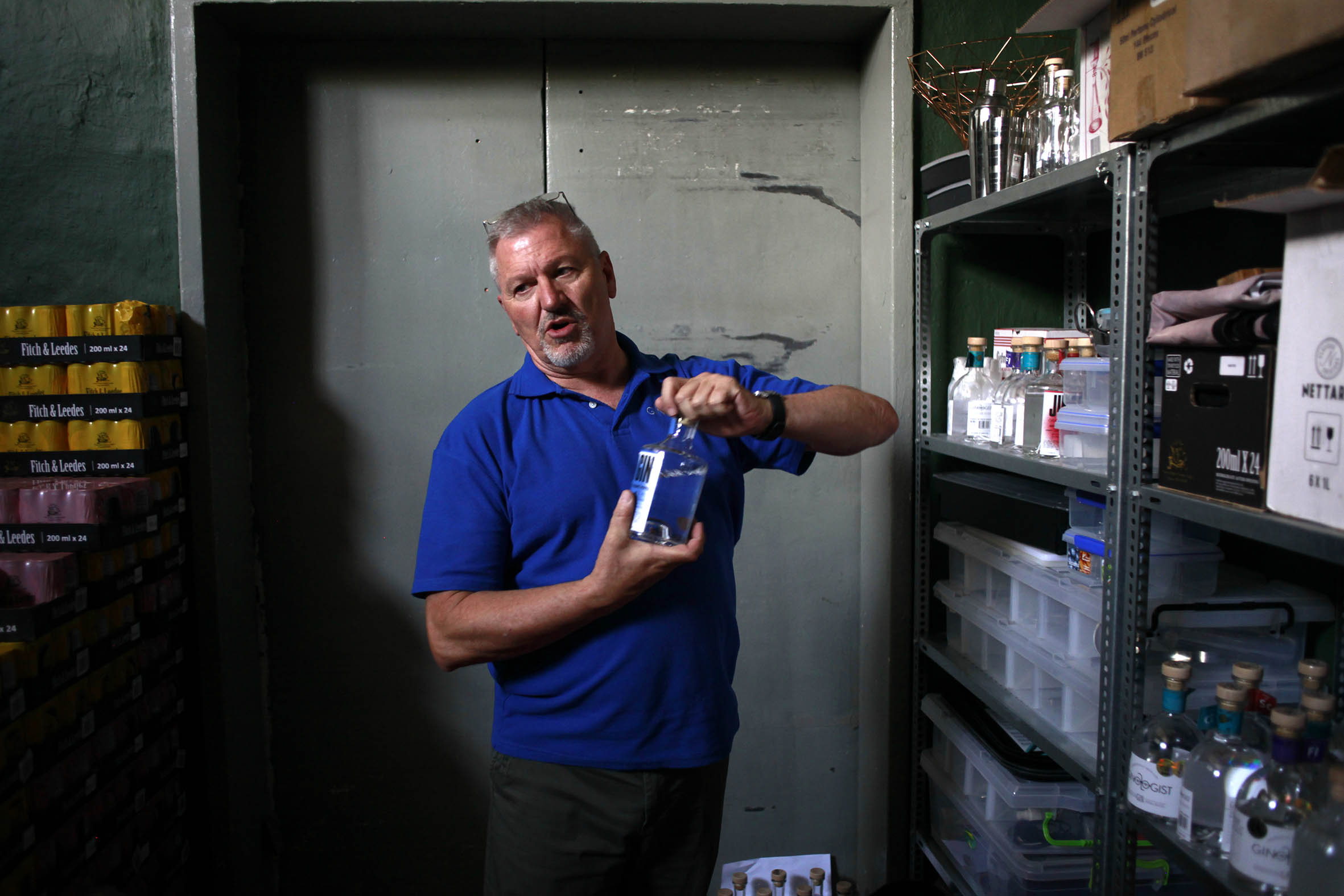 Nick Taliakis gets the word out by promoting Ginologist. Photo: Oupa Nkosi
Just two years old, Ginologist had a successful 2018, recording 106% sales growth of its craft gin. It started its operation in industrial premises in Jet Park, Boksburg, and since then has collected many awards. It produces floral, citrus and spice gins for the local market and also exports to Namibia, Botswana, Zimbabwe, Germany and the Scandinavian region.
The gin business is flourishing now, but it was not always so.
Roger Jorgenson, the owner of Jorgensen's Distillery, said that in the 1990s, he encountered difficulties in obtaining his first private distilling licence. The government in the 1960s cancelled all micro-distilling licences to favour big producers.
"The National Party government took private individuals out of the playing field and gave their licences to the big companies. The little guys were taken out; thousands of pieces of equipment were destroyed," said Jorgensen.
After many attempts, he and three other distillers received private distillery licences in 1994. "We paved the way for everyone to be able to obtain a distilling licence," he said.
Now the South African gin industry is "alive and well, booming and our gins are world class".
"Producers use local plants such as fynbos and rooibos to create a South African gin story instead of a European story," said Jorgenson, adding that "Cape Town is the new gin capital of the world".
Mayine Premium Gin, which started in 2016 in Khayelitsha, Cape Town, is the first local gin produced by black entrepreneurs.
Luvoyo and Nodumo Jongile decided to market their own gin because they wanted to make a change in Khayelitsha.
Luvoyo said: "We wanted to participate meaningfully in the township economy and take money circulating in the township to create jobs and improve the education infrastructure.
"We want to have a distillery in Khayelitsha and be able to accommodate tourists from as far [away]as Europe to have a township experience."
Mayine Premium Gin has two flavours, grape and rooibos, which are sold on its website and at chisa nyamas and at alcohol outlets in Khayelitsha and Cape Town.
Luvoyo said they have plans to make their gin distinctively local by infusing it with imphepho (Helichrysum species) , a plant used for rituals to banish evil spirits, call ancestors and offer up prayers, and zanemvula, which he described as an incense used by the Xhosa to call the rain.
The couple sell about 1 000 bottles of gin a month, priced between R290 and R360 a bottle.
Jean Buckham, who runs a gin delevery service The Gin Box in Cape Town, said the gin market was peaking, "but in the end the best gins will survive. The main reason gin has exploded is that gin is versatile. You can drink it neat or add tonic water, garnish it with strawberries, lime, olives. You can drink it as a sweet drink or [as] a martini".
Retailer Pick n Pay has also recognised the popularity of gin and sells a package of citrus fruits — lime, lemon and grapefruit — for R39.99 to gin lovers to add to their drinks.
"Gin continues to be a favourite with customers," said Pick n Pay's Janine Caradonna. "We wanted to enhance their gin experience over and above offering them an increasing range of tonic options, including artisanal and sugar-free tonics.
"We recommend slicing the citrus, giving it a light squeeze to release some of its juice, then placing it in a glass with ice and topping with your mixer of choice," she said.
Gin lovers should expect to pay much more for the cool, artisanal brands. Gordon's Gin, the feedstock for G&Ts everywhere, retails for slightly less than R200 a bottle. Those infused with a range of trendy flavours sell for closer to R400.
Tshegofatso Mathe is an Adamela Trust business journalist at the Mail & Guardian