NEWS ANALYSIS
Lawrence Mrwebi was seated at the far end of a long conference table. "Colleagues, I presume you have come here to test my powers," he said.
This is how Glynnis Breytenbach described a meeting at which she and her then boss, North Gauteng director of public prosecutions Sibongile Mzinyathi, confronted Mrwebi about dropping corruption charges against former crime intelligence head Richard Mdluli.
It was December 9 2011. Two weeks before, Mrwebi had been appointed national head of the specialised commercial crime unit (SCCU). Breytenbach headed the unit's Pretoria office. The prosecution of the allegedly "well connected" Mdluli for fraud and corruption was being managed by her office.
Breytenbach was testifying at an inquiry into whether Mrwebi is fit for office. The inquiry — chaired by retired Constitutional Court justice Yvonne Mokgoro — is also looking into whether embattled deputy national director of public prosecutions Nomgcobo Jiba is fit for office, after a number of court judgments had criticised how they conducted litigation in politically sensitive court cases.
The inquiry is the culmination of a long history of allegations of political interference, factional battles and power struggles at the beleaguered National Prosecuting Authority (NPA), which have left it discredited and dysfunctional, some even say captured. So far not a single national director of public prosecutions has lasted a full term.
The inquiry has heard the evidence of three people closely involved in the Mdluli prosecution: advocate Jan Ferreira, one of the prosecutors who was hands-on in the case, his direct manager Breytenbach and Mzinyathi.
The Supreme Court of Appeal set aside Mrwebi's decision as unlawful, saying that it was meant to be taken "in consultation with" Mzinyathi and it was not. But an unlawful decision does not necessarily mean that someone is unfit for office, so the inquiry would look at different considerations.
What happened at the December  9 meeting, and in its run-up and aftermath, points to whether Mrwebi had what Breytenbach described as "nefarious" reasons for stopping the prosecution. If the inquiry agrees he and Jiba were trying to protect Mdluli, it is unlikely it could find the two are fit for office.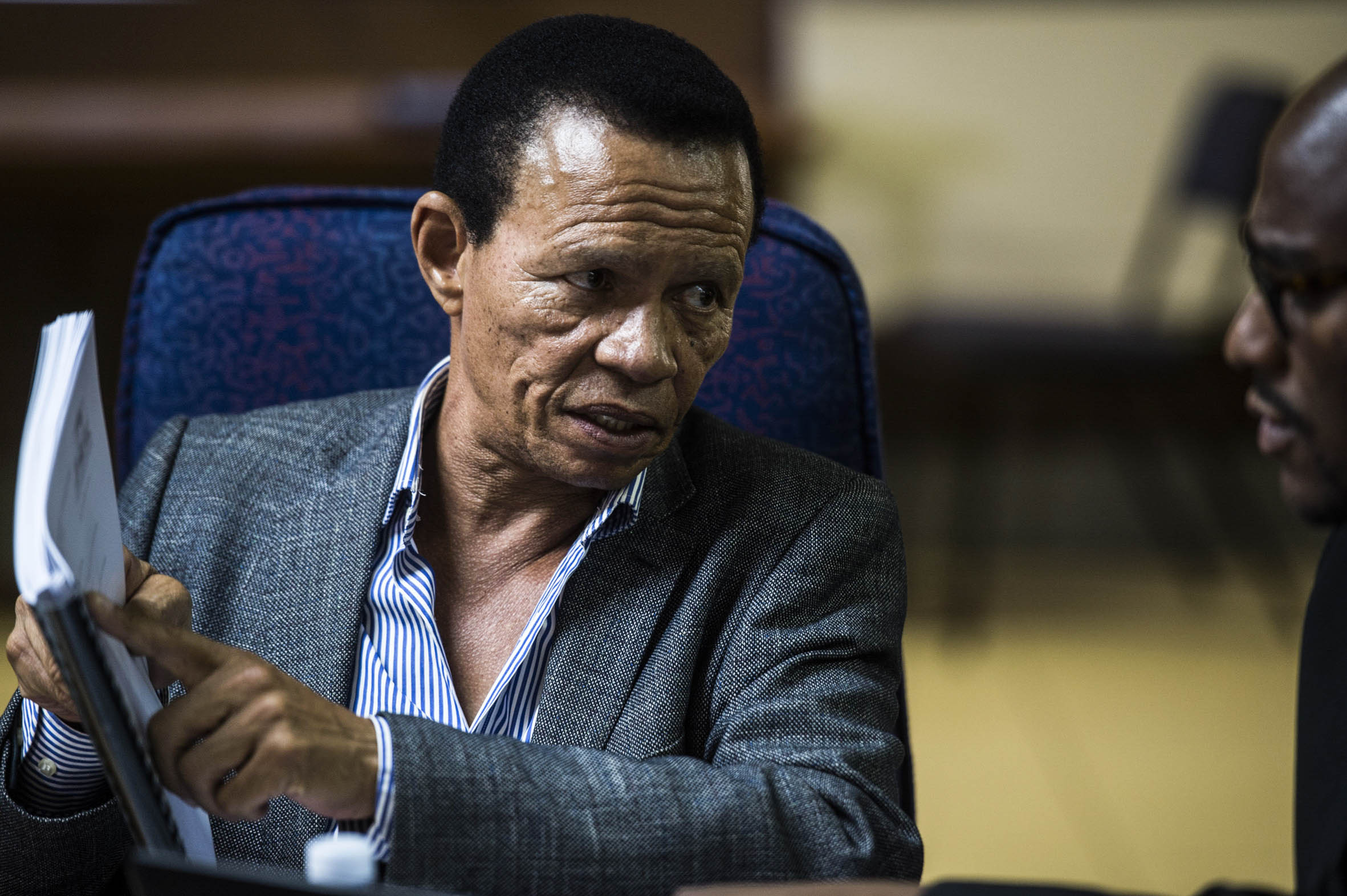 Top National Prosecuting Authority official Lawrence Mrwebi. (Delwyn Verasamy/M&G)
In affidavits filed in previous court litigation, Mrwebi and Jiba said that Mdluli's prosecution was only "provisionally" withdrawn, because of outstanding evidence. "It was my understanding that the case was withdrawn to enable the police to finalise the investigations as at that time there was no evidence that linked Mdluli to the offences to which he was charged. To me there was nothing untoward about this," Jiba said in an affidavit.
Mrwebi's counsel, Mervyn Rip SC, suggested to Breytenbach that Mrwebi had said as much in the December meeting but she disagreed.
Breytenbach began her evidence by saying that Jiba's elevation to deputy national director of public prosecutions was unprecedented and "shocking", because she leapfrogged over many others more senior and with more experience. It was only a matter of time before she was appointed to act as national director. Responding to Jiba's counsel, Norman Arendse SC, Breytenbach said Jiba's rise could not be explained by transformation because there were more obvious black women choices — such as the former deputy national director, Thoko Majokweni.
Mrwebi's promotion to head the SCCU was also surprising, she said, because he had been "vitriolic" about shutting down the specialist units, which he regarded as elitist. "Out of the blue, just as things get going with Mdluli, Mr Mrwebi of all people gets appointed as the head of the SCCU. That person [who] has said we had no right to exist is appointed as the special director. It was quite astonishing."
Then, even before he was officially appointed, Mrwebi took representations from Mdluli's legal team. Two weeks later he instructed that the case should be withdrawn.
Both Ferreira and Breytenbach were adamant, despite a grilling in cross-examination, that the Mdluli prosecution was ready for court, bar minor details. One postponement may have been necessary, but there was no reason to withdraw the case.
When Mrwebi decided to withdraw, the "only" reason he gave to them was that the investigation "was the exclusive preserve of the inspector general of intelligence", a reason that was not sound in law, said Breytenbach. There was no mention that Mrwebi had considered the evidence and found it lacking.
She was also of the view that it was not Mrwebi's decision to make. Former prosecutions boss Menzi Simelane had changed the reporting lines in the NPA, redirecting much of the power of the national office of the SCCU to the provincial directors. As a result, it was Mzinyathi's decision, she and Ferreira said. This was disputed by Mrwebi's counsel, who said there was a difference between reporting lines and decision-making powers.
In any event, Mrwebi was not allowed to take the decision on his own; he had to do it "in consultation with" Mzinyathi. On Wednesday, Mzinyathi described the meeting that Mrwebi claimed had discharged this duty. Mzinyathi said Mrwebi came to his office on December 5 2011 with the Intelligence Services Act in hand. He said he had received representations from Mdluli's legal team and that he knew he needed to consult Mzinyathi.
He said he still had more research to do. "The expectation on my side … was that he was going to come back to me for further discussions," said Mzinyathi. He had not even seen the representations, said Mzinyathi. Strange also was that the instruction to withdraw the prosecution was dated December 4, the day before their meeting.
In cross-examination, Rip suggested that Mrwebi had raised his problems with the outstanding evidence in the December  9 meeting. But Breytenbach said her understanding was that the only things that needed to be sorted out before the matter could be re-enrolled was whether the police and the NPA could deal with this matter, "so there was a discussion with the inspector general's office in that regard that needed to be sorted out. And then of course there was the issue that existed between Mr Mzinyathi and Mr Mrwebi about whether or not they agreed."
Mzinyathi's evidence was unclear on this score. At first he agreed with Breytenbach that any discussion about evidence arose in the context of a debate about the role of the inspector general of intelligence. But in cross-examination he also agreed that in the meeting they had discussed the need to obtain more evidence. But Mzinyathi said that he was not close enough to the case to counter Breytenbach's view.
In a letter to former Hawks head Anwa Dramat on March 30 2012 — responding to the office of the inspector general of intelligence saying it had no mandate to deal with the Mdluli allegations — Mrwebi had said his decision was "final, and this matter is closed".
Rip suggested that what Mrwebi had meant was that the decision to withdraw provisionally was the final decision, and that when he said the matter was closed, he meant
the back-and-forth with Dramat and the inspector general of intelligence was closed. Breytenbach did not agree and Mzinyathi was also doubtful.
Later, apparently new reasons were proffered by Mrwebi for his decision. When Breytenbach and Ferreira turned to Jiba to try to get Mrwebi's decision reversed, he wrote to them on April 26 2012. In this letter he referred to the NPA being abused, and said he had been "privy to other classified, confidential and high-level discussions". He was concerned that their actions may justifiably be interpreted as a "serious abuse of the legal process".
Those who have testified so far and who were asked said they did not know what discussions he was referring to and knew nothing about it.
---
NPA targeted 'obstacles to state capture'
There was a "very concerning" trend at the National Prosecuting Authority "to prosecute those who were perceived as obstacles to corruption and the capture of the state", said deputy national director of public prosecutions Willie Hofmeyr on Thursday, testifying at the Mokgoro inquiry into the fitness for office of Lawrence Mrwebi and Nomgcobo Jiba.
At the time of writing, Hofmeyr was yet to be cross-examined.
He said the trend — of prosecuting those who got in the way — "emerged under Jiba" and gave examples, including the prosecutions of former Hawks head Anwa Dramat, former Gauteng Hawks head Shadrack Sibiya and head of the Independent Police Investigative Directorate Robert McBride. Many of these never even got to trial, he said.
He said the first was the prosecution of KwaZulu-Natal Hawks head Johan Booysen, who had launched investigations into corruption in the province, including allegations against senior ANC politicians MECs Peggy Nkonyeni and Mike Mabuyakhulu.
"He had exposed significant corruption, and the AFU [Asset Forfeiture Unit] worked very closely with the Hawks to seize assets in both these matters, so I became very familiar with the facts at the time," Hofmeyr said.
"I submit that the charges laid against Booysen were an attempt to remove him from office, or at least to ensure that [a] more pliable acting head would be appointed in his place," he said. — Franny Rabkin