The menu at La Petite Maison is designed to take you on a culinary expedition of South Africa, from the choppy waters of the Atlantic to the lush tropical town of Tzaneen.
"The menu will eventually be a map, a scroll rolled up that will take you on a journey through South Africa," says Timothy Stewart, a chef at the bistro in Melville, Johannesburg.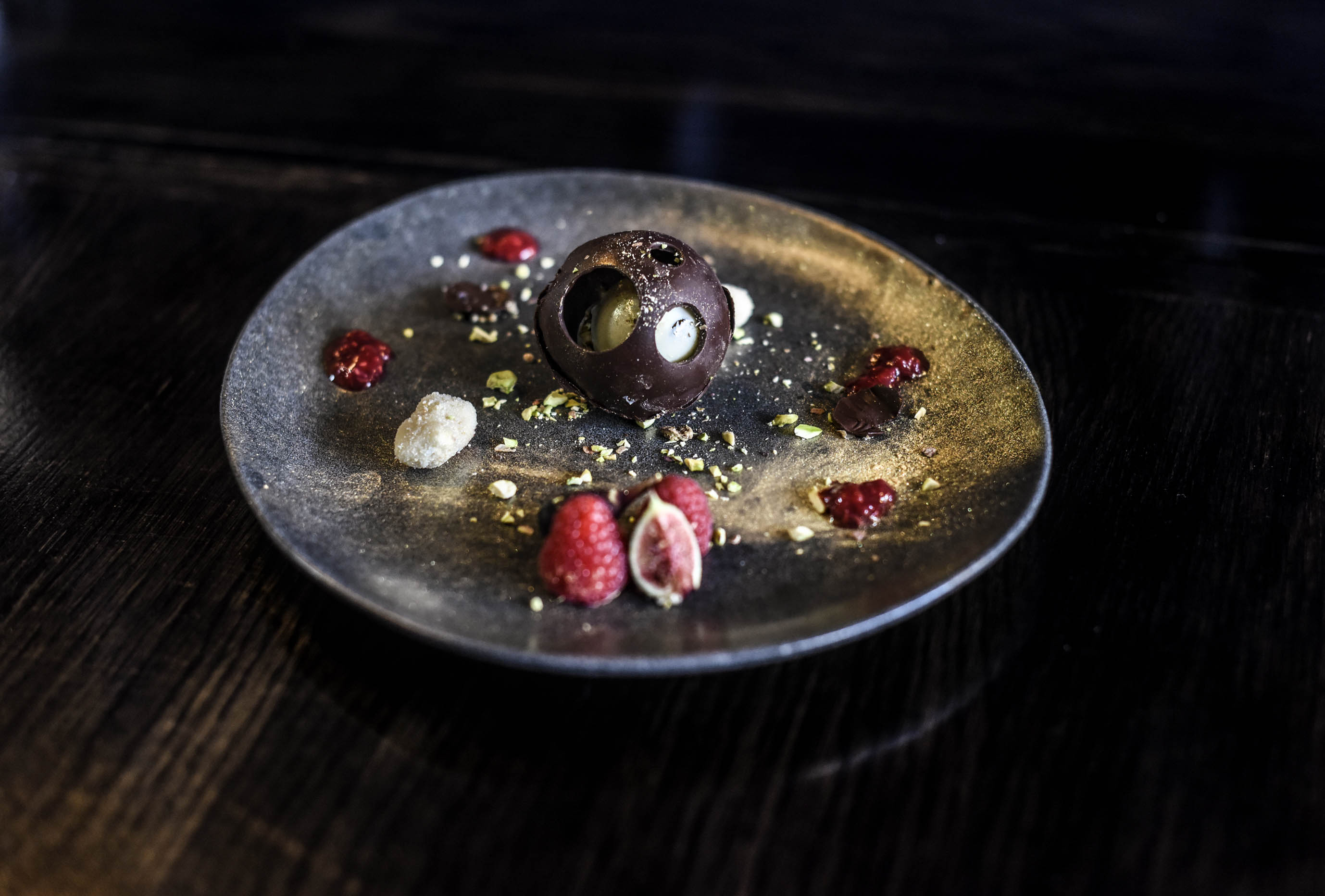 The dishes are designed to take you on a journey through South Africa. Photo: Paul Botes
The owners, Stewart and Tyeya Ngxola, opened La Petite Maison earlier than planned to cover the rent. The team didn't even have time for a trial run; they plunged into the deep end in January. As a result, they are still refining the menu and dining experience.
Stewart and Ngxola want to create a sensory experience for their customers: you don't just taste the land, you smell it and feel it too.
"We want to have a precursor to every meal. So we'll maybe burn cinnamon at the table before your Atlantic dish arrives, to emphasise the spiciness and the Cape Malay flavours. We want you to crush coriander at the table to season your own tartar," says Stewart.
"Each dish is named after a different locality. With the Hogsback we wanted to put things that you would get in a forest — the smells, the earthiness of mushrooms, the idea that there are berries and stone fruit and wild duck."
The duo first met while studying at Prue Leith Chef's Academy in Centurion.
"They're very good at giving you the basic skills of a professional kitchen," says Ngxola, "I remember there was a time when we literally spent an hour cutting into flour and the lines would show you how consistent your chopping is."
The first six months of their studies focused on the theoretical side of cooking: understanding the basics of a kitchen, the ethics and discipline involved, as well as kitchen hierarchy.
The Prue Leith academy has a restaurant on campus where students have a chance to learn and experience a real kitchen scenario. In the first term students assist chefs and progress to working in the kitchen in second term. Ngxola explains how the experience helps students to understand the high-pressure environment of a fine-dining restaurant: "One mistake can impact the whole service so you have to know what's happening. For instance, you can't just take things and throw them away. You could be throwing away a sauce that's been reducing all day but you see it and think, 'Oh, what is this brown stuff?'"
Ngxola believes that practical experience in a kitchen is invaluable and the essential skills are acquired through years of work.
"For prep to go well, you have to be organised, you have to be quick, you have to know what you're doing. You need to understand that in a kitchen you can't be doing one thing at a time — there's stock going, things frying, there's things in the oven," says Ngxola.
Although Stewart and Ngxola met at the academy, they didn't become friends until they studied together at Alma, the international school of Italian cuisine in Colorno, Italy. They were two of five South Africans accepted into the programme after applying through the academy.
"Every night we would sit and have a glass of Lambrusco, this fizzy red wine, and we'd draw and write notes. That's where it all started," says Ngxola.
Even when they were working in separate kitchens in different parts of Italy — Ngxola in Tuscany and Stewart in Parma — they would phone each other regularly to exchange ideas, new experiences and recipes.
For Ngxola, the greatest difficulty of living in Italy was the language barrier. The students attended Italian classes, but the language was still difficult to pick up. "When you move in Italy, the dialects change. The south and the north are completely different, it's almost as if it's a different language," says Ngxola.
But Ngxola is no stranger to travel. Before chef school, she was a flight attendant with SAA for 11 years.
"When I started, I thoroughly enjoyed it. I enjoyed the travelling, I enjoyed the shopping, I enjoyed meeting different people. It was easy to have friends all over the world," says Ngxola.
Her passion for food bloomed during her travels with SAA. She dined at restaurants around the world, fascinated by the unique flavours of each country. At the age of 31, she enrolled at the academy to master her culinary skills, and graduated top of her class at Alma.
Even before studying, Ngxola enjoyed cooking with her siblings: "When we're home in the Eastern Cape, cooking is the main thing. We spend most of our time cooking. We'll slaughter a sheep or a pig, and there's always a fire outside, we love cooking on live fire. There's pots inside the house and pots outside the house, and there's just food going constantly."
Similarly, Stewart didn't begin his working life as a chef. He completed his undergraduate degree at Rhodes University, focusing on psychology and anthropology. He was intrigued by the stories told through food — the political and historical narratives.
"My dad loved to cook, but he was a steak and pepper sauce kinda guy," he recalls. "He would be experimental though, perhaps trying a balsamic glaze on his steak. I found my passion for cooking from my dad. It was either at the braai, or at his side while cooking steaks."
Before studying in Italy, Stewart gained critical kitchen experience at restaurants in Cape Town. Having experience behind him, he could easily keep up with the intense workload of an Italian kitchen. "I was in charge of the primi section at the restaurant I worked at. It's all your typical Italian dishes. Once the chef saw I could manage, he told me to run it," says Stewart.
After graduating from Alma, Ngxola and Stewart travelled to San Sebastián, Spain, for a much-needed holiday before returning home.
"San Sebastián was one of the most influential places we went to after our course. It's in the Basque country in Spain. They probably have one of the most unique culinary cultures in the world," says Stewart.
There, all the men meet up on a Friday night. It's like a men's club, but they're in the kitchen. The women sit and wait to be served.
The restaurants focus on small bites called pinchos, which are served on a toothpick. "You'll walk down the streets and see all these toothpicks on the floor or on the bar. You can go and look at the floor to gauge how good a pinchos place is," says Stewart.
The small, idiosyncratic eateries in San Sebastián and most of Europe inspired Ngxola and Stewart while they were developing their own restaurant. La Petite Maison seats just 21 guests, creating a warm and intimate ambience.
"This space spoke French to us. When you think of walking down the streets of Paris, then — boom —there's this little tiny space, this little hole in the wall," says Ngxola.
The little bistro at the top of 7th Street has received good feedback from customers and critics since it opened. The deep blue walls and velvety burnt orange banquettes give the space an opulent yet modern appeal. The furnishings, such as the crimson shelving and wooden bar counters, were custom-made.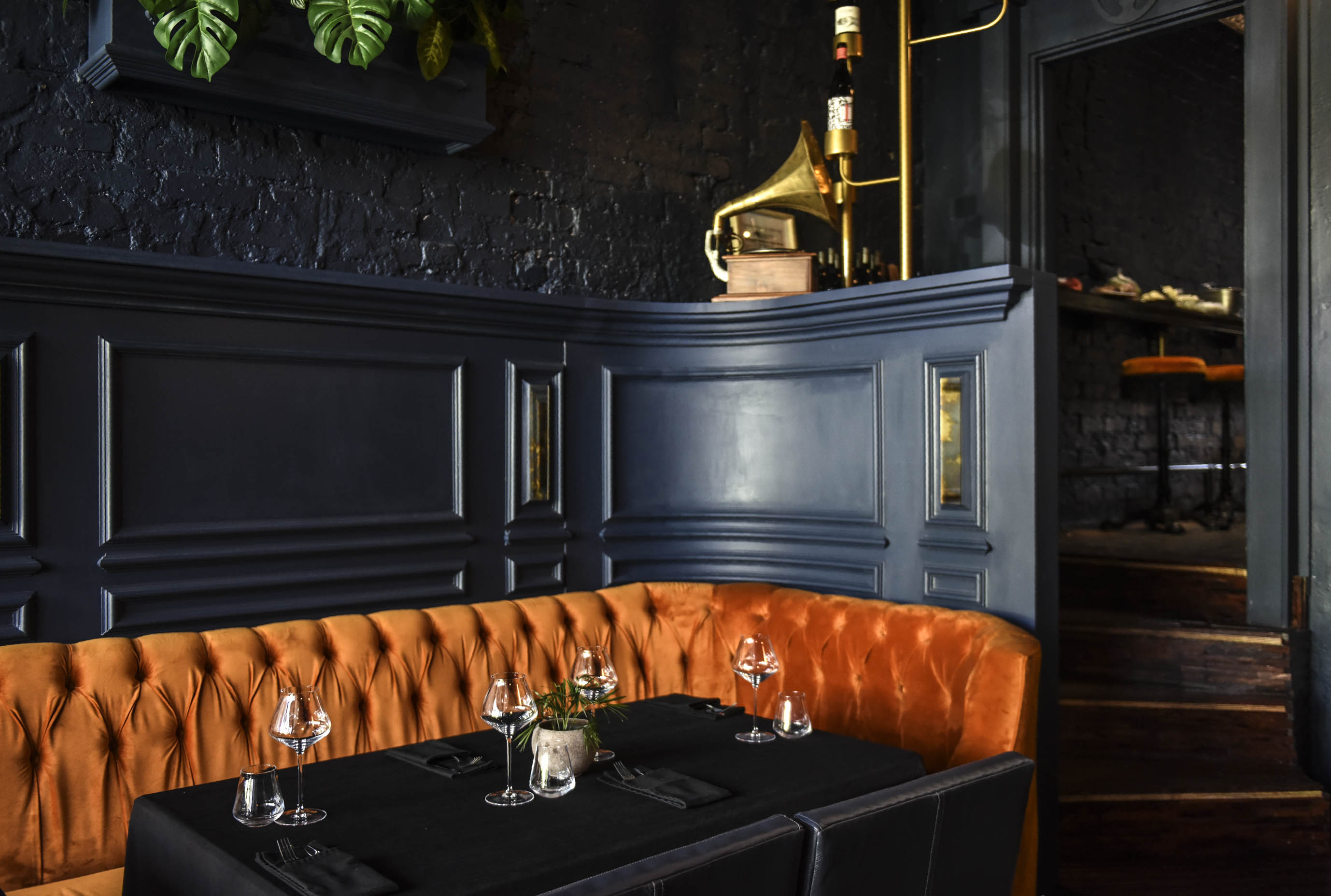 Intimate: La Petite Maison's interior, with deep blue walls and velvety burnt orange banquettes, gives the space an opulent yet modern appeal. Photo: Paul Botes
The menu construct at La Petite Maison, which encompasses the history, geography and culture of each town represented, creates a sensory map of South Africa. Ngxola and Stewart will be launching the refined map next month, and are hoping to introduce a full tasting menu soon.